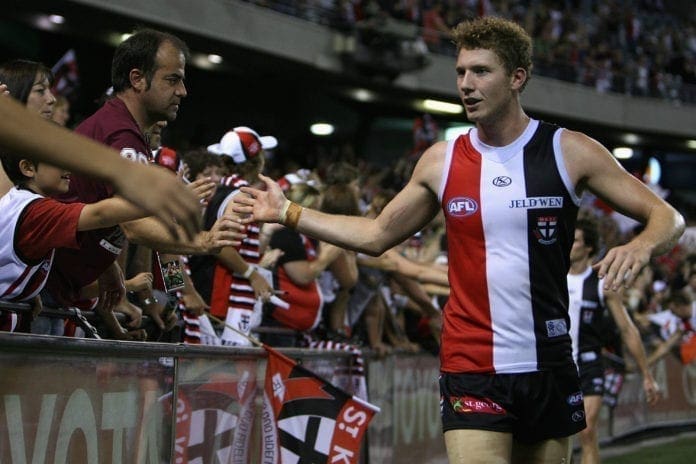 In spite of the fact that he was much maligned across his 166-games at the AFL level, former Hawk, Saint and Dockers' defender, Zac Dawson, says he is now more than content with how his stint as a stopper panned out.
Speaking with the unofficial St Kilda podcast Unpluggered, Dawson revealed that the early stages of his career saw him questioning life as a footballer, and whether or not to throw in the towel and move on with "normal life" outside of the game.
"That kind of torment... really caught up with me by the end. I started to question why would I want to play footy anymore?" @zacd_3

ZAC DAWSON:
🔴 SPOTIFY: https://t.co/90R4bw5a7Q
⚪ APPLE: https://t.co/7EQEZI6Nwk
⚫ GOOGLE: https://t.co/SCI0m6nyqj#TogetherWeRise #Unpluggered pic.twitter.com/JEmtZ936ZI

— Unpluggered Podcast 🔴⚪⚫ (@unpluggered) July 1, 2021
Despite playing his under-age football as a forward-come-ruckman for the Calder Cannons, the now 35-year-old told the podcast's trio of hosts that once he joined the Hawks ahead of the 2004 season, head coach Alastair Clarkson threw him to the wolves down back.
SEE ALSO: Stewart Loewe a Bomber? It nearly happened ... 
After being manhandled by big key forwards like Saverio and Anthony Rocca, becoming acquainted with kicking the dew from the multitude of suburban grounds around Melbourne and copping unwarranted earfuls from mugs in the grandstand, Dawson explained that he was ready to call time on his career before it had even really started.
"I started to question why would I want to play footy anymore," Dawson said.
"I thought, 'Why am I doing this? I'm meant to be living my dream, and I'm sitting here in the VFL just absolutely copping it every single week'."
The Calder product also explained that the verbal haranguing didn't end when he unlaced the boots and put on his civvies, stating that these same hateful know-alls would perennially ruin nights at the drip tray too.
SEE ALSO: Every club's biggest 'what if' moments of the AFL era: Part One
After his opportunities dried up at senior level and the abuse had begun to take its toll, Dawson revealed that he was just about done with football after just the 14-games in brown and gold.
"By the end of the fifth year, I was just mentally worn down," he said.
"So, when it got to that point that I was delisted, it was almost like a sense of relief.
"As weird as it sounds, it was really like a pressure release at that point. That's how bad it had gotten."
Still, ahead of a summer in which he set himself the goal of forgetting about football, Dawson was taken by St Kilda at pick 13 of the 2009 AFL Rookie Draft.
The 63-game Saint explained that he had not anticipated the fact that he would find a second footballing home.
"I was ready to move on [after the Hawthorn delisting], I was ready to focus on a much more positive part of my life. Because I've always studied, I've always had a passion to improve myself off-field.
"I was ready to go 'Alright, let's get back to Uni, let's graduate, let's finish my degree and start feeling good about myself, because footy wasn't giving me that satisfaction anymore.
"I was comfortable with that decision. I was disappointed, but I was comfortable that it was the best thing for my mental state at that time."
After a solid pre-season under a man who would become a mentor for the formerly beleaguered back in Ross Lyon, the ex-Hawk would finally soar to prominence with a halo instead.
Dawson said that the rise from boiled lollies with the Hawks to the chocolates at Moorabbin proved to be the most pivotal period of his career.
"It was definitely a sliding doors moment in my life," Dawson conceded.
SEE ALSO: Every club's biggest 'what if' moment of the AFL era: Part Two
Even though the then 22-year-old was content with his choice to walk away from the game, a phone call from an unlikely source reeled him back in.
"I had signed up back at Uni, I'd re-enrolled and I was ready to go and then got a phone call from a random number one day, and it was Ross," Dawson said.
"He was like 'Steve Silvagni (St Kilda's then defensive coach) and I have been having discussions, and we want to bring you in and have a chat and see where your head's at and what you're thinking and whether you'd be interested in playing footy this year."
With his footy boots traded in for books, Dawson revealed that he initially rebuked Lyon's advances.
"In no uncertain terms, I pretty much said, 'No, I'm not interested anymore. I've got to the point where I'm mentally checked out,' he said.
"I think he was a bit taken aback that I was saying no, but left it at that and he goes 'How about I call you back in a weeks' time?"
Dawson explained that due to the fact that he would only be offered a Rookie-list position, he wondered at the time whether the risk would ever be outweighed by the reward.
SEE ALSO: Every club's biggest 'what if' moment of the AFL era: Part Three
Still, after consultation with his family, the boy that had been man-handled by both of the Rocca brothers threw his hat back in the ring.
In the opening chapter of the much spoken about relationship between the coach and the player, Dawson claimed that Lyon pulled no punches in their initial conversations.
"I had some pretty serious on-on-one meetings with him. Just between the two of us," he said."
"He was pretty clear in making me understand why I didn't make it [at Hawthorn] and what my deficiencies were and not trying to spin any bullcrap with me.
"So, I was really clear on what my growth areas were, which is what I probably needed, and had the raw truth hit home right from the beginning."
SEE ALSO: The Oval Ball Book Club: AFL 2020 - A Season Like No Other
The master's apprentice stated that it was this transparency that saw the two build such a strong working relationship across two clubs and why they are still close friends to this day.
After Lyon's truths hit home - and he had put some size onto his once linguini-esque frame over the pre-season - Dawson was both mentally and physically ready to once again tackle the rigours of AFL football.
He just needed an opportunity.
Following defensive stalwart - and St Kilda fan favourite - Max Hudghton's calf injury during the Saints' final pre-season hit out of 2009, Dawson would be given his shot in the defensive 50 and made his debut for the Saints in Round 1 of that year.
The former Hawk would become a mainstay in Lyon's side in '09, only missing selection late in the year due to suspension, riding the wave with his new teammates across a season that saw the Saints win their first 20-games.
After feeling left out, downcast and battered at the Hawks, the defender started living life on the flip side of the coin at Moorabbin.
"I felt like I had a lot of impact," Dawson said confidently.
"Coming from Hawthorn and bringing across their defensive structure, I felt really comfortable in helping Ross implement his.
"At that point, our defensive system was as good as anyone's, and I think that is what really helped integrate me really quickly."
SEE ALSO: Saints "littered with incompetency and bad decisions"
This change of fortunes was evident when Dawson was once again tasked with manning Anthony Rocca in that year's Qualifying Final.
In a reversal of roles, it was the first-year Saint that drew Rocca a bath that afternoon, as Dawson kept the hulking forward to just five touches in what would be the monolithic Magpies' final game of AFL football.
Despite proving to all, including himself, that he could play at the level, the former Cannon never allowed his head to inflate.
Like every good defender, Dawson kept his emotions in check and his eye on the ball.
"I don't think I ever felt comfortable for one game in my career," he conceded.
"I always felt like I didn't want to let myself feel comfortable, but I always knew that there was areas for growth, and I always knew my deficiencies as a player."
Again, like all good backmen, Dawson explained that he was always happy to sacrifice his game for the betterment of those around him.
SEE ALSO: Mongrel punts, nude modelling and masterpieces: Team of the Century artist uncovered
"I just focused on making sure that I was the best teammate I could be, and supporting the guys around me, and trying to make my teammates the best player on the ground every week," he told Unpluggered.
"That was my main focus every single week, and I think that's what really helped me stay in the team and form a really close bond with the guys I was playing with."
The 2009 season was a breath of fresh air for everyone that called the then decrepit Moorabbin Oval, home.
The playing list had gelled, the forward line was firing, and the backline was operating like the security team at Fort Knox.
Having bombed out at the penultimate hurdle in three of the five seasons prior, Dawson and the Saints propelled themselves across this previously impenetrable barrier and earned the right to surge on the MCG on the last Saturday in September for the first time in 12-years.
Although the vast majority of Lyon's list was primed and ready to take on the Cats for the right to hold aloft the cup, Dawson, having been struck down by food poisoning, was a husk of his ultimate self in the hours before the first bounce.
The man tasked with standing the likes of Cameron Mooney, Tom Hawkins or a resting Brad Ottens on a sodden afternoon that would eventually end in tears recalled just how imperfect the preparation period for the biggest day of his life had been.
"I was in a really bad way the afternoon, the night before and the morning [of the Grand Final]," Dawson described.
"I hadn't eaten anything since lunch the day before [at the Grand Final parade]. I wasn't able to keep anything down – fluids or solids. I was on the drip the night before. [I was] up until midnight the night before and I got up at six in the morning and [was] at the club again until nine and then at the ground.
SEE ALSO: Hop and hope: Melbourne legend David Neitz's cold cans help put the big freeze on MND
"It was really 'touch and go' whether I was going to play or not and had a pretty serious 'convo' with Ross right before the game, and he pretty much said 'make the right 'effing' decision, because this is going to make our break the friendship if you don't'.
"So, if I wasn't feeling shit before that, I was feeling pretty nervous after that."
Even though Dawson was able to play out the game with close to no fuel in the tank, the defender performed admirably.
And - give or take an inch - St Kilda fans would never have been subjected to endless replays of Matthew Scarlett toe-pokes and late Chapman snaps.
Give or take an inch, there could have been two premiership trophies on display at Linton Street.
With scores level at 67-apiece during red time of the decider's final term, Geelong's Steve Johnson held possession of the Sherrin at half back for the Cats.
Ever the risk taker, Johnson wheeled and delivered a looping ball into the centre of the ground for the unusually open Gary Ablett Junior.
Viewers of the footage will see a red, white and black blur come into screen and deny Ablett clean possession - that blur was Dawson.
Irrespective of illness, the maligned Dawson had left his man, firing on all cylinders in an attempt to keep the wolves - or in this case, Cats - at bay.
When asked about the contest that could have brought glory to Moorabbin for the first time in 43-years, Dawson revealed to Unpluggered listeners that even though his effort would eventually be in vain, it was one that still warmed his cockles.
"That was what I was proud of more than anything throughout my whole career," he said.
"I was always willing to do that.
"Sometimes it doesn't work. Sometimes you don't get there. But I was always willing to help 'Jonesy' [St Kilda tagger, Clinton Jones] if his man spat out, and come off my man.
"I put myself at risk to look like an idiot and it could have backfired, but as I've said, [in] that defensive system that I was really comfortable with, I would always back my judgement to get to those sort of contests throughout the year.
SEE ALSO: The draft class that is coming of age
"Even if it's just making them earn a mark or getting a knee in or getting some body on them, I would always love to be able to make an impact that way and not just be a witches hat sitting in the middle and come off too late and let them hit it off over the top.
"I was so confident in the moment that I never really had an issue or never felt worried that I was doing the wrong thing."
"I tried to go around his body without touching him (and giving away the freekick. I'd do it 100 times out of 100 if I had to do it again."

🔴 SPOTIFY: https://t.co/90R4bw5a7Q
⚪ APPLE: https://t.co/7EQEZI6Nwk
⚫ GOOGLE: https://t.co/SCI0m6nyqj#TogetherWeRise #Unpluggered pic.twitter.com/FhMQh2mU9R

— Unpluggered Podcast 🔴⚪⚫ (@unpluggered) July 2, 2021
As a side that perennially played under the Docklands roof, the forecast of rain on the 26th of September 2009 was never going to be welcomed by the Lyon-led Saints.
Although Stan Alves - the last pedagogue to lead the Moorabbin men to a Grand Final prior to Lyon - often stressed the importance of only ever focusing on what was within your control, Dawson raised the notion that had the surface, and Sherrin, been dry on the day, history could well have been written with a different hand.
SEE ALSO: Stewart Loewe a Bomber? It nearly happened ... 
"If it hadn't have been wet, I think things would have been a lot different," he mused about the aforementioned Ablett contest.
"When I got there, I knew that if I would have taken the body on Gary, I would probably have given away a free kick because I got there just a little bit too late, and I knew that if I had of cleaned him up, I would have given away a free."
Due to this foresight in the less than ideal forecasts, Dawson opted for an alternative route.
"I tried to go around his body without touching him, and because I had to go around him, I just got a glance on that ball. I didn't get a firm purchase on it."
Although Cameron Ling and Mark Thompson would eventually claim the cup within the space of the next hour, the former Saints stopper expressed that he held no regrets.
SEE ALSO: AFL trade news recap: Bulldogs trio pursued while Kangaroos come again for Kelly
"The decision in itself, I would do it 100 out of a 100 if I had to do it again," Dawson stated steadfastly.
"You're an inch away from being a hero in a game – which I'm very proud of.
"I took the risk and didn't think twice about it… if I didn't go and we lose the game, we'd be sitting here and you wouldn't know anything about it, but I would know that I didn't go for it.
"That's what I'm proud of."
Dawson's rise from zero, to a moment away from being a hero, instilled him with a confidence that would remain across the remainder of his eight-seasons at football's highest level.
In spite of the fact that the he would go on to play a further two-seasons with the Saints before crossing the Nullabor with Lyon for another six with Fremantle, Dawson's tale is unlikely to ever be one of the most championed within the game's storied annals.
However, in terms of his ability to fight back from the doldrums he was unfairly placed in as a fledgling Hawk, Dawson is living proof that adversity can be overcome both physically and mentally.
His selfless nature as a person and as a player saw him win plaudits internally at clubland, twice being voted his team's "player of the finals series" (St Kilda 2010, Fremantle 2014) yet as a tall defender, Dawson often drew the ire of fanatics sporting the same colours as him.
SEE ALSO: SOCIAL TALK: What's making waves in footy social media this week?
Still, as someone that completed a career that he was once more than ready to turn his back on, Dawson doesn't appear to be someone that needs his tires pumped by those on the other side of the fence.
It may also sound as though 'near enough is good enough' for the ex-Hawk, Saint and Docker, but as someone that obviously reads the play from a philosophical standpoint, perhaps Dawson has shone a light on a lesson we could all stand to learn – you don't need medals, ribbons, trophies and even the un-flinching support of your team's fans to consider yourself a success.
You just need to be able to dust yourself off and get back on your man.
Despite almost walking away from the game after the 2008 season due to consistent abuse from the loud mouths of those unskilled enough to ever lace a boot, the man that stepped back into the fire in search of success has inspirationally come full circle.
"I look back on my career and the record that I had in finals, I've got no concern when people talk crap to me because I've done it," Dawson said.
"I've performed when I needed to perform."
With his commendable ability to prove to the myriad of doubters that he did belong, Dawson had to battle more than just the gorillas of the goal square to do so.
He had to edge his demons under the footy too.
SEE ALSO: The Top-10 biggest comebacks of the AFL era
"Looking back at things, I think it's very lucky that I came out the other side," Dawson conceded.
"I think if I didn't go back into footy, and I always was carrying around the stigma of Anthony Rocca [and] getting belted up as a young kid... and I never had a chance to change that perception, and change my own belief in myself, who knows where my life would have gone.
"That's the real worry with the mental health side of things. I wasn't willing to ask for help. I thought I could deal with it. I didn't want to worry my parents. I didn't want to worry my friends, so I kind of bottled it all up."
"Looking back on it, it's very lucky that I came out the other side. Who knows where my life might have gone - and that's the real worry..."

Open. Honest. ZAC DAWSON 👇
🔴 SPOTIFY: https://t.co/90R4bvNzgi
⚪ APPLE: https://t.co/7EQEZIooUU
⚫ GOOGLE: https://t.co/SCI0m6F9OT pic.twitter.com/gVpc7c2bsI

— Unpluggered Podcast 🔴⚪⚫ (@unpluggered) July 2, 2021
Despite understanding how bleak his life might have been had he not put in the work to rectify what appeared to once be a sinking ship, the 2017 Peel Thunder WAFL premiership player was able to pat himself on the back after looking inward.
"It probably wasn't until the back end of my career where I started talking about things that you really understand the enormity of how serious things get and how seriously bad things could have gone if I didn't get myself into a better headspace," Dawson said.
SEE ALSO: Is there a Brownlow smokey emerging?
"It is damaging. Living your life and all [people] see is your SuperCoach points, or all they see is someone has kicked eight [goals] on you in your third game, and people insult your family, and they get on your Facebook and they'll send you disgraceful messages about your kids.
"They think that this is alright, and it's all based on a game of footy."
At 197cms, Dawson is a bigger man that the average Australian male. However, it is his ability to show empathy to those that afforded him none that truly proves his size.
Like his days spent in the defensive 50, Dawson now simply rises above it.
"I got myself to a point at the end of my career that the people that were giving this crap to me, I almost felt sorry for them more than I got angry," he explained.
"I would always think, 'what's going on in your life for you to be sitting on your keyboard, or sitting at a ground heckling me?'
"If that's how they are getting gratification, that's quite sad."
RELATED: It's time to tackle online abuse
Dawson, a man previously tasked with leading Carlton's Next Generation Academy, also expounded that this ideological standpoint was one that he would often preach to young players that were looking to make the grade.
As someone that has perpetually had his career defined by the often uneducated opinions of others, Dawson was asked how he would like his time as a professional footballer to be summed up.
And in typical fashion, the mild-mannered defender stated that his efforts were his own rewards.
"I just want to be remembered as someone that gave everything, that was limited in my ability, but gave everything in terms of my heart and effort to make up for that," Dawson stated candidly.
"My mantra my whole career was to be a great teammate."
With the reality that Australian Rules Football is no longer just simply a game, passions can sometimes boil over, and diabolical views can often become voiced when really they should be suppressed.
As he was able to push past these voices from the outer, and take pride in his craft before the final leaf fell from the tree of his career, Zac Dawson's message should be heeded.
The players that have been afforded the chance to pull on a numbered guernsey and play in front of crowds may be doing so for a substantial wage in comparison to the punters scoffing pies in the stands, but they are human beings, first and foremost, too.
You can listen to the entire Unpluggered Podcast with Zac Dawson via the player below, or on Apple Podcasts, Spotify, or wherever you get your podcasts.