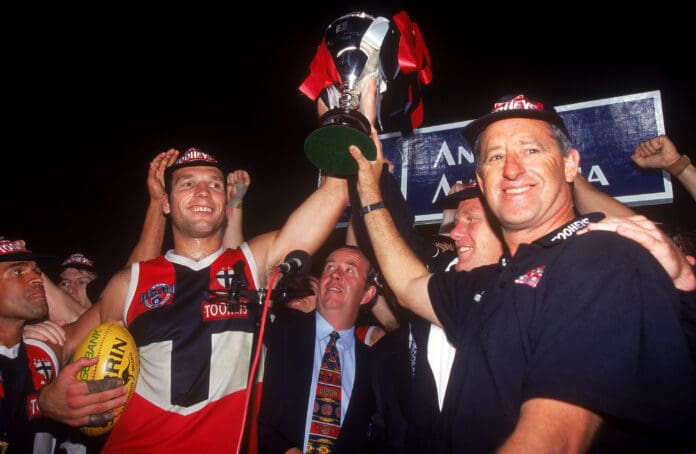 It's no secret that in 1995, the St Kilda Saints were struggling on and off the field, with a number of star players being eyed by rivals around the league.
It is well known that the newest team to the competition – the Fremantle Dockers – made a serious play to lure star centre half forward, Stewart Loewe, and midfielder, Robert Harvey, across the Nullarbor, with the West Australian club financially loaded at the end of their first season in the AFL, Loewe revealed on the Unpluggered Podcast.
However, what's not well known, is that powerhouse club, Essendon Bombers, also made a serious offer to lure him away from Moorabbin. The ramifications of that could have reshaped the AFL landscape.
The story, as Loewe tells Unpluggered, the unofficial St Kilda Football Club podcast: "'Harvs' and I were targeted by Fremantle… They flew me over which was common knowledge, I had a look at the facilities and met a few of the players. Had a couple nights with Neale Daniher, who was assistant coach at the time."
If you're a long-time @stkildafc fan, you probably know the story of Stewart Loewe's attempted recruitment by Fremantle in the mid-90's.

He was never really going to go…

— Unpluggered Podcast 🔴⚪⚫ (@unpluggered) February 21, 2020
The Saints legend was left torn by the lucrative offer, but eventually opted to remain at Moorabbin instead of a big move interstate.
"I thought to myself I'm not comfortable moving interstate from family and I'd sort of, without telling anyone, had made my mind up that I was going to stay."
Related: Stewart Loewe speaks on Spud's Game
In a startling coincidence, Loewe ran into Essendon veteran recruitment manager, Noel Judkins, shortly after returning from Perth, with the pair beginning discussions that soon led to a secret meeting with Bombers' legendary coach, Kevin Sheedy.
"Ironically that Saturday, I was putting a bet on down at the Sandringham TAB, and Noel Judkins, who was then recruiting manager for Essendon, was in there at the same time," Loewe explained.
"We ended up having a chat for half an hour and he teed up an interview with 'Sheeds' at Essendon."
The meeting was held at a private house across the road from Windy Hill.
"I walked into the meeting thinking I dont really want to change [clubs]. No one really knew about it… it was fairly intimidating meeting such a champion and a great coach. We sat down and he brought a white board up with all the names… Paul Salmon at full-forward, Stewart Loewe, Tim Watson in the middle… it was just this phenomenal side. I went home and gave that some serious, serious consideration."
Despite the potential and promise of such an offer, the man the Saints' faithful call 'Buckets' stayed loyal.
"At the same time, Trevor Barker was coaching our two's and I walked in… and had a chat.
"[I] told him "I'm not gonna go, mate… I wanted to be remembered as a one team player and I really believe in the direction the clubs' heading."
After the Saints went on to win the 1996 night Grand Final (Ansett Cup), before playing off in the 1997 Grand Final loss to Adelaide, Loewe went on to say, "I feel vindicated in my decision and I have no regrets and am really proud to be a one-team player."
Whilst this sort of thing must happen behind the scenes all the time, had Loewe moved to Windy Hill it could have changed the AFL landscape drastically. Through the 1995-1997 seasons, Stewart Loewe was one of the dominant key forwards in the game.
After a 76-goal season in '95, had he moved, the Bombers would have had half a decade with Loewe in his prime, and potentially giving him better service than the Saints were from the middle of the ground.
In 1996 he kicked a staggering 90 goals, before another 50+ goal season in the Grand Final year of 1997, where Jason Heatley joined him in the forward line, contributing 62 goals of his own in the home and away season. Without those goals, it's tough to imagine the Saints having even the limited successes, particularly storming home for the minor premiership in '97.
RELATED: The Best Individual Seasons Since 1998
A closer look at the record suggests that had Loewe left, there was a real chance the Saints wouldn't even have made the Grand Final. Loewe kicked 3 goals in the Preliminary Final win over North Melbourne, while he also kicked three against Brisbane in the earlier Qualifying Final. A deeper dive suggests their entire season would have been altered.
The Saints won four games in 1997 by less than 18-points, meaning they may have slipped all the way down to 8th spot on the ladder without Loewe's goals contributing to the tight victories.
Conversely, for the Bombers, it also could have been been very different after losing Paul Salmon in an end of season trade to the Hawks. Loewe would have been the focal point of a young forward line featuring the developing Matthew Lloyd and Scott Lucas, while fellow spearhead, Scott Cummings, was still at the club and 1996 Brownlow Medallist, James Hird causing havoc in the forward half of the ground.
Throw in the ever-dangerous, Mark Mercuri, and there's a strong case that the 'Dons may have made the finals in 1997, seeing as they only missed out by one game and percentage. That year they lost three games by under 18-points, and a fit and in-form Stewart Loewe may very well have been the difference.
Had the Bombers made finals that year, anything would have been possible, particularly given that two teams nobody predicted to even get near it at the start of the season, eventually played off in the decider.
See: Could re-signing this man cost the Bombers Josh Dunkley?
Ultimately, Loewe says what swayed him was the people at St Kilda, saying "It's the people… there was a hell of a lot of good people down there, doing some amazing things, achieving some amazing things. We never tasted the ultimate but we worked bloody hard. We've never been a powerhouse footy club but, by god, once we get going, we can pack stadiums and there's a real passion and feeling down there.
"To me, why I stayed was simply because of the people. People make a footy club, we're just custodians. Blokes like 'Barks' who had been so good to me as a junior… for me to walk out on that was just [too] hard to do.
"I felt strongly that we were in a position to win a flag… no regrets on staying at all."
As for the Bombers, this seems to have been a sliding doors moment, perhaps one that may have brought them another flag before their dominant 2000 where they swept all before them.
Stewart Loewe played 321 games for the St Kilda Football Club, kicking 594 goals. You can hear him tell this story on the Unpluggered Podcast.
This article was researched by Mitch Keating and Will Guthrie.