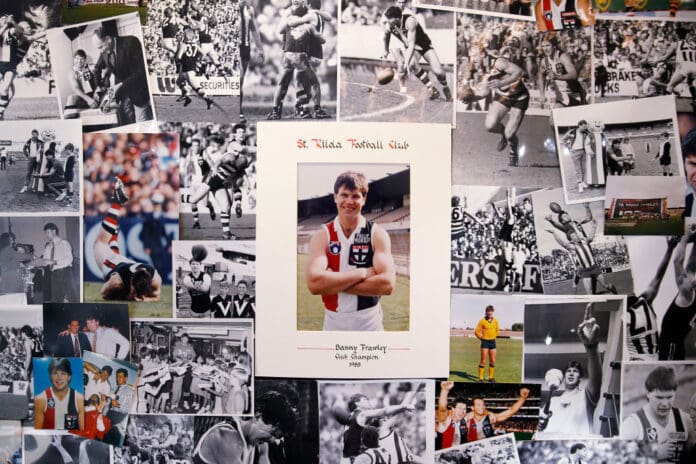 After an interrupted 2020 season due to Covid-19, the St Kilda Football Club finally had their chance to honour Danny Frawley, 18-months after his tragic passing.
The Saints' Round 2 clash against Melbourne was labelled 'Spud's Game' in honour of the man that led - and bled for - the club, on-field, and championed it tirelessly beyond the boundary line and behind the microphone.
The match also affords the socially conscious Saints the opportunity to continue Frawley's legacy as a champion of mental health remedies, by opening a conversation within the wider AFL community.
Both the St Kilda and Melbourne Football Clubs, the Frawley family and Danny's vast group of powerful friends and every day admirers have claimed that Saturday night is more than a 120-minute contest, it is 'Time 2 Talk', the ethos that Frawley lived by when educating others on his mental health experiences.
As a united football community, it's time to take a stand.

This is how we honour Spud and protect our mates.

It's Time 2 Talk. pic.twitter.com/m4hEDttoAE

— St Kilda FC (@stkildafc) March 8, 2021
For too long there has been a stigma attached to those afflicted with mental ill-health, that the stoic approach of buttoning ones lips is the only way forward and that to raise your hand and seek help is to admit defeat.
Throughout Daniel Patrick Frawley's 56-years of life, he was described as fun loving, passionate, emotional and loyal, and although 'Spud' only chose to speak publicly about his internal battles in the latter portion of his life, it cemented his legacy as a pioneer of change within the game of football.
Something his closest friends and family are unflaggingly working on continuing.
In the lead-up to "Spud's Game" at Marvel Stadium, Danny's daughter Chelsea and his former teammate and great friend Stewart Loewe opened up about the man they both knew and loved, as well as the importance of his life's work.
Speaking with the Unpluggered Podcast, the eldest of Danny's three children spoke about what the game - and the message it holds - means to her immediate family.
"It's incredibly special to be able to hold onto something that is so positive in his mental health legacy," Frawley said.
We spoke to Danny Frawley's daughter, Chelsea, in the leadup to #SpudsGame, about his legacy.. both at @stkildafc and as a mental health advocate:

🔴 SPOTIFY: https://t.co/90R4bvNzgi
⚪ APPLE: https://t.co/7EQEZIooUU
⚫ GOOGLE: https://t.co/SCI0m6F9OT#Time2Talk #TogetherWeRise pic.twitter.com/iqQJGXQY0M

— Unpluggered Podcast 🔴⚪⚫ (@unpluggered) March 25, 2021
"It makes it a much more positive situation after the tragedy that did happen. Being able to hold onto that legacy is going to be our driving force.
"It's my passion now and I feel like it's the same with the rest of the family to make sure that this doesn't happen to other families."
Although the second longest-serving (177-games) St Kilda captain's public persona had long been seen as that of a court jester, who often preferred amusement over that of solemnity, Frawley explained that her late father would be incredibly proud that his message would continue posthumously.
"It's so special that it [the game] is in his legacy and not just his name. I think that's the proudest part."
We can't wait to bring Spud's Game to life at Marvel Stadium this Saturday night.

It's #Time2Talk

— St Kilda FC (@stkildafc) March 23, 2021
Frawley also pulled back the curtain on her father's private persona and spoke glowingly about his openness as a parent, a friend, and as a member of society.
"From a young age, Dad was always pretty open about how he felt and how he was feeling. I think that that was probably more evident in the family dynamic." Frawley told hosts Darren Parkin, Nick Splitter and Aaron McGrath.
"He wanted us to grow up being able to share our feelings."
Although a champion for the cause behind closed doors, Frawley claimed that her father hadn't always found it easy admitting his troubles in a public forum.
"As the mental health stigma was reduced in the later part of his life, I think that he felt more comfortable sharing that publicly," Frawley said.
"He was such an open and honest person that I think that he does connect with the community on such a deep level and that's why his death had a ripple effect throughout the entire AFL community.
"He wore his heart on his sleeve and he wasn't scared to have the hard conversations and he wasn't scared to be vulnerable and I think that message is something that I hope is his lasting legacy and the people aren't scared to be vulnerable and have hard conversations.
"He did some incredible work on that space and I think that should be his lasting legacy."
Loewe reiterated Frawley's tribute to her father and divulged his own family's struggles with mental health demons.
"I've been touched with mental illness within my family... I lost my sister 18-months ago in similar circumstances, so it's something that I am really proud to jump on board with, to spread the message and to try and get something good out of what has really been a pretty ordinary two years since all of this stuff happened." Loewe told Unpluggered.
The man that replaced his great mate as St Kilda captain explained that although there are of course four points available to his old team this weekend, the game had already taken on a greater meaning.
"If we can make a football statement on Saturday night and start something that starts a conversation about mental illness and destigmatizes it and makes it a little bit easier for people to feel comfortable about coming out and saying I need help or those people that are struggling with someone that is close to them and dear to them to give them an opportunity to have a conversation with some people that might be able to give them some help."
It was an afternoon Stewart Loewe and Robert Harvey will never forget.

Speaking up about your feelings is never a weakness.

Donate to help support mental health programs through the Danny Frawley Centre and @MovemberAUS: https://t.co/vaT05ogBJq pic.twitter.com/Mid77tXaML

— St Kilda FC (@stkildafc) March 11, 2021
The 300-gamer spoke about how helpless both he and others around Frawley felt in the years before the tragedy.
"There is no doubt that there was stuff going on for a long time that he didn't let us all know." Loewe said.
"We suspected, but I think people with that illness and when they are suffering from it, learn to put band-aids over things and learn to cover them up.
"He always wore his heart on his sleeve. He knew exactly how he felt at that time. He was always emotional, as tough as he was.
"Sometimes I think there is just that inability to really open up and try and mask it doing other things. He did open up, but it was obviously a little bit too late and we couldn't help him get out of that deep dark spot he got into.
"We were both very proud of what we were able to get out of ourselves, but deep down, I think there was just a lot of demons there that he just couldn't get rid of and ultimately he lost that battle."
Frawley's legacy as a footballer can be understood by the 12-years he laced his boots to man the opposition's best forward. However, his lasting impact at Moorabbin are like the collective sands of the Sahara, in that it simply cannot be quantified.
Teammate. Best mate. Family.

Robert Harvey opens up on his life changing bond with Spud. pic.twitter.com/xScpfyONNh

— St Kilda FC (@stkildafc) March 25, 2021
Although football gave the boy from Bungaree his ticket to familiarity in the wider community, it was his humanity - more so than his dogged on-field defence - that won him many supporters.
Even though Frawley has departed us in a physical sense, he will live on both spiritually and in brick and mortar at Moorabbin, with the Danny Frawley Centre for Health and Wellbeing soon to be constructed on the spot that famously used to house the Saints' most anti-social fanatics - the Animal Enclosure.
It is not only here that both his former employer and his family hope those afflicted with mental health worries can find solace, but everywhere across our broad society as well.
In the later year's of Frawley's life, he hosted a show on SEN Radio dedicating his time to shattering the archaic idea that blokes need to bite their tongue, tuck in their lip and suffer in silence.
Spud's message that 'No Man Should Ever Walk Alone' is one that must be understood and welcomed if lives are to be saved and not stolen.
According to Lifeline, nine Australians die from suicide every day - this is apparently double the road toll. Upwards of 65,000 Australians are also said to make an attempt on their own lives each year and of those that we have lost, 75% have been male.
While you're watching the footy, check in with those around you and let your mates know how you are going.
This country of ours was said to have been built upon collective suffering and the steely bonds of mateship that were forged under duress, but if upwards of 3,000 Australians are losing their lives by their own hands each year, it is clear that all of us must do more both individually and as a collective.
Check in with your friends, check in with your family, check in with yourself, as the only thing worse than suffering, is suffering in silence.
If you would like to honour Danny Frawley's legacy and donate to and support research-based mental health programs at the Danny Frawley Centre for Health and Wellbeing and Movember's Ahead of the Game, follow the link HERE.
If you, a friend or a family member is in need of help, please contact Lifeline.