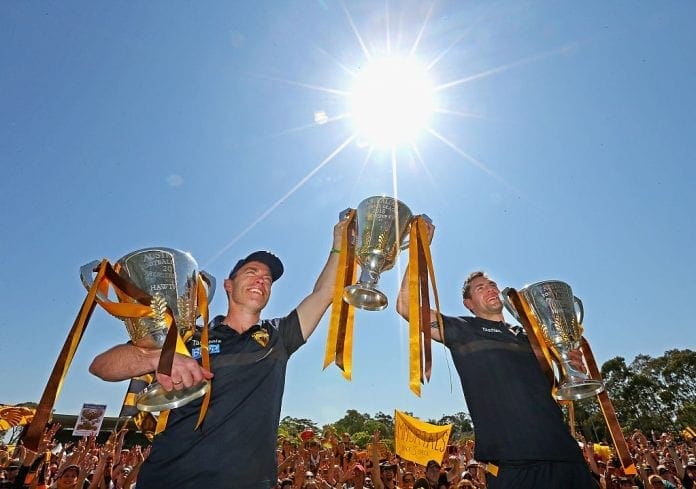 Regrets are an inevitable part of life. They come with the territory of breathing and are a part of the unwritten deal we all sign for the right to exist.
Although some contrition can feel enormous – such as the misery born when a relationship breaks down or after committing a far more criminal act – others are forgotten in the blink of an eye.
In terms of the unpredictable game of football, there are a plethora of scenarios that have made or broken careers.
What if your side picked a different player from a certain draft?
What if your star spearhead had kicked straight when it mattered?
What if sacking your coach led to your premiership drought continuing?

Well, for fans of every creed we have sought to answer the question that has rankled you for years and kept you up at nights for far too long.
We can't promise that we won't open old wounds, as let's face it, that is the entire point of the exercise.
PART ONE: Adelaide, Brisbane Bears, Brisbane Lions, Carlton
PART TWO: Collingwood, Essendon, Fitzroy, Fremantle
PART FOUR: Melbourne, North Melbourne, Port Adelaide, Richmond
PART FIVE: Sydney, St Kilda, West Coast, Western Bulldogs
However, if we can help you find closure by looking at the facts and asking what if the doors slid the other way, then we have done our job.
As always, feel free to critique our non-linear traipses, as we are tipping some of you are unlikely to enjoy some of the conclusions we have drawn.
With the first two instalments in this series behind us, here is part three of the game's greatest 'what ifs' since 1990.
What if 'Bomber' Thompson was shown the door at the end of 2006?
Often in life, it is the moves we don't make the leave us racked with regret. Some may be as small as rising late and finding yourself as the last in line for a share house shower, whilst others can have far more life altering ends.
However, in Geelong's case, their decision to sit on their hands at the end of an underwhelming 2006 season saw them breathing lengthy sighs of relief just 12-months later.
Although the aforementioned season would end in disappointment, it was the Hoop's fast start that year that had punters and pundits scratching to head as to why it all fell apart at the seams well before September.
After claiming the 2006 NAB Cup – remember, this was a time when clubs actually cared about pre-season results – against the Crows on enemy soil, the Cats continued their rampant form across the first fortnight of the home and away season by destroying Brisbane and North Melbourne by a combined total of 24-goals.
With a 2-0 record, and a gargantuan percentage of 236.4, The felines were purring.
Still, if you fast forwarded past their next 20 appearances, the Kardinia Park club could be found in 10th position with a percentage of 99 by the regular season's cessation.
But how could this be for a side that not only started brighter than one of those precocious spelling be kids, but also made finals runs in the two seasons prior?
The starting point for Geelong's annus horribilis of the mid-2000s came between Rounds 3 and 6, when they dropped four games in a row and slid out of the eight – a position they would never reclaim at any stage throughout the year.
Following the curtains closing on a 10-1-11 season that a devout Christian – ironically named Gary – had the Cats breaking their then 43-year premiership drought in, the heat, both internally and externally, was directed at one man – the head coach, Mark Thompson.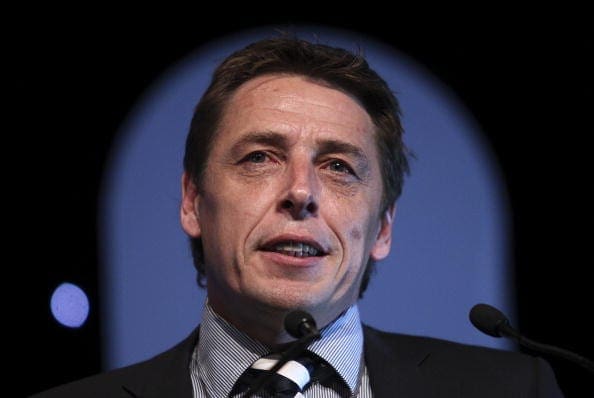 At the end of 2006, 'Bomber' may have held a 48.75% win-rate across his 160-games at the helm of the pivot city side, but with a star-studded squad underperforming, there was a view that a head needed to roll for the Cats to finally break their ceiling.
To truly gain an appreciation for this impasse, we need to wind the clock hands back a further seven years to the end of last millennium.
SEE ALSO: What if Mark Bickley never farted at half-time of the 1993 Preliminary Final?
In 1999, the Cats were a mess. With the club both mired in mediocrity on the field and up to their neck in debt off it, the writing was on the wall for the league's second oldest side.
According to Fairfax journalist, Jake Niall, Geelong were upwards of $9 million dollars in the red, with six of that owed to the bank.
With the view that both of these aforementioned issues needed rectifying immediately, club president Frank Costa appointed former Eagles powerbroker Brian Cook as CEO and Thompson was hired to replace the out-going Gary Ayres.
As the suits sorted the finances in due course, the remainder of this newly formed trinity was still yet to uphold his end of the bargain, but prior to the 2003 season, Thompson dialed the thermostat up on himself by claiming that Geelong would enter their premiership at the commencement of 2006.
For this reason, it was understandable that many were ushering in the winds of change following the disappointing campaign.
Nevertheless, history will show that following Geelong's decision to employ consultants 'Leading Teams' and Costa's choice to stick with 'Bomber' saw the bone-dry soil of Corio finally feel a taste of rain after nearly half a century of waiting.
Still, one wonders what would have happened if Costa and his board had itchy trigger fingers ahead of 2007.
Would the Cats have gone on to become one of the greatest teams of the modern era without Thompson or would have the status quo of disappointment and cobwebs in the trophy case continued?
When analysing this hypothetical scenario, a pair of factors must be considered.
Firstly, was the club's roster heading into the 2007 strong enough to claim a flag?
And secondly, who were the name's most likely to fill the vacant role, and were they up to the task of leading a list of strong personalities such as Mooney, Chapman, Johnson and Scarlett?
The first of these queries appears incredibly easy to answer, with the Cats claiming the '07 flag by a record margin of 119-points over Port Adelaide.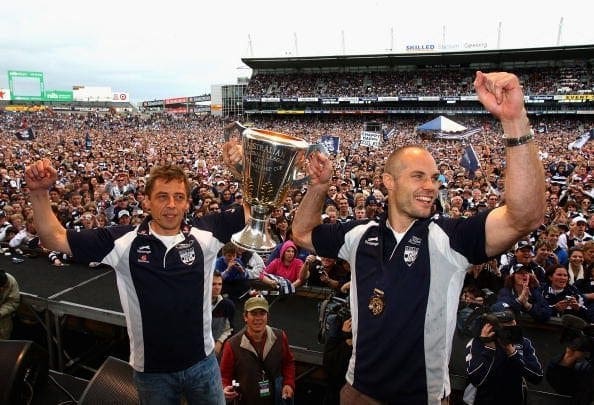 Yet, would the past have played out as it did without the club backing 'Bomber'?
If the band was broken up at the end of the previous year, there is a very real possibility that the players would have gone into their shells.
But as mentioned, it is hard to imagine that this would have hampered their cause too much considering how far above the rest of the competition that Cats truly were just 14 short years ago.
When pondering the second factor, another question needs to be raised – would Costa and Cook have promoted from within to fill Thompson's seat, or would they have looked further afield?
Should the former possibility have been acted upon, then the eligible candidates were Andy Lovell, Brendon McCartney, Leigh Tudor and Ken Hinkley.
If the later was selected, then Ross Lyon - a man whose name is still being linked with head coaching roles – could have been seen as the preferred hiring prior to his start with the Saints in 2007.
SEE ALSO: What if Nathan Buckley stayed a Bear?
However, if the Cats had elevated a name that already prowled within their four-walls, then a quick power ranking from least to most likely to earn the job would have likely read the exact same as already listed.
As Lovell departed the Cattery at the end of '06, his name was an early scratching from the race, and as Brendan McCartney had minimal coaching credits in the bank at that stage, he would have certainly been considered the short field's roughie.
Hindsight also tells us that McCartney's head coaching ability was debatable at best due to his tumultuous tenure at the Kennel between 2012 and 2014.
With the lead runners left in this theoretical contest down to two, it would be prudent to explore their credentials to truly get to the end of this alternative reality.
Having played 60-games with the club between 1993 and 1996, Leigh Tudor was surely familiar with the importance of the Cats within the city, as well as the status of the head coaching role.
A brief look across Tudor's coaching posts show that aside from the 2007 VFL premiership he led the Cats to, the now 51-year-old also spent time with the Saints and Swans when they were roaring successes.
As nobody is in the right place at the right time that often, it is clear that the Doutta Stars product had more than just a bit of ability.
For these reasons, it is apparent that Tudor would have made a fine coach had he been given the opportunity.
Hinkley, another member of the Cats' mid-90s alumni, has also gone on to carve out a successful coaching career after departing the Cats, with his current win-rate sitting at an impressive 59.02% with the Power.
Still, would either of this pair that tasted Grand Final defeat a collective five times in hooped jumpers have been able to get the job done after changing into a polo shirt?
As reductionist as it sounds, I am of the belief that either Tudor or Hinkley could have achieved what Thompson did in 2007, simply because the players they would have been leading were borderline unstoppable -  as evidenced by their averaging winning margin of more than 54-points across their 21-wins.
Coaches roles are often embellished when they shouldn't be and diminished out of turn as well, but as mentioned on a myriad of occasions already, any list that contained Ablett, Bartel and others previously mentioned would have broken the Cats' drought at the precise moment they did in reality.
However, whether they would have gone on to create one of the game's greatest modern dynasties is another question all together.
If the Mogs did manage to claim a further fleet of flags within this substitute timeline, then Mark Thompson would be owed more than just a modicum of praise, as it is clear that his efforts in constructing the empire loosened the jar lid for any one of his potential successors.