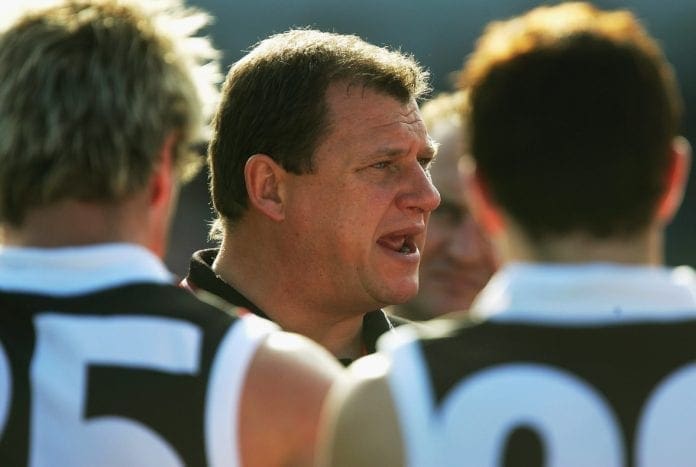 Former St Kilda coach Grant Thomas did not mince words when asked about the current plight of the Saints.
Thomas this week spoke with the Saints unofficial fan-produced Unpluggered Podcast, claiming a review into "what on earth is going on at Moorabbin?" was well overdue, with the outspoken ex-coach stating that those who wield power needed a look under the hood of the fractured club.
"This whole thing comes down to leadership any way you want to look at it, and the president [Andrew] Bassat needs to have really good hard look at his performance and what his expectations are," Thomas said.
There's no better person to ask about leadership and culture than former @stkildafc player, administrator & coach, Grant Thomas.

After yet another loss we have to ask @Thomo_Grant the question:
"What's going on down there?"https://t.co/9rmC2IqusO#TogetherWeRise #Unpluggered

— Unpluggered Podcast 🔴⚪⚫ (@unpluggered) June 24, 2021
"If they're in line, then he probably needs to make a decision about whether he wants to go past this year. He has the huge responsibility to direct the club [into the right direction]."
Thomas revealed that he had previously engaged in talks with Bassat, but that he would be seeking to communicate again in the near future.
"He's got a great track record, corporately, in business and everything else. I've had one chat to him when he first started. He came into the office and [was] an impressive guy. I haven't had a chance to chat to him since," Thomas explained, adding he was keen to get a better understanding of the strategic priorities moving forward.
"I'm going to take up that option to have a chat to him at some point in time in the next week or two to see what's going on, because I'd like to know what decisions they're making, what leadership they're providing, as there doesn't seem to be the right amount of connection amongst the team."
Thomas explained that from his point of view, the Saints had been unable - or unwilling - to produce unconditional commitment within performances this year, and that everyone involved with the club needed to have a look in the mirror.
"When you look at the leadership, whether it's the coach, whether it's 'Gears' [Jarryn Geary] advisor, whether it's recruiting, whether it's the people in charge of the football program… whether it's the board, there's no shying away from it – they've got to have a really hard look at themselves."
The club's head coach between 2001-2006 also stated that a deep review was necessary to steady the Saints' ship.
"I would strongly recommend a very, very independent and formal review. I've heard they're having an internal review at the moment, but that sort of worries me because it's sort of like the loonies are in charge of the asylum, in some way," Thomas stated.
"You wouldn't want people like [Simon] Lethlean and Bassat doing a review on themselves. I don't know who is conducting the review, but I'd like to see results of it, I'd like to see who is doing it."
The St Bedes graduate conceded that the club had returned back to their old ways of allowing near enough, to be good enough, and that a circuit breaker was required.
"Once again, we are littered with incompetency and bad decisions and we find ourselves in a similar position now," Thomas told Unpluggered listeners.
"Who is going to do it? Who is going to be the person now to lead the new charge? It might be Andrew Bassatt, but he's going to need to make some drastic changes.
"It's not going to happen with the current people we've got in place."
Never shy of sharing his two-cents, and never one to back away from a fight, Thomas suggested that irrespective of what any review is likely to find, the Saints should be heading back to the drawing board.
"I think it's time we made some really hard calls. We've had enough of trying to patch up things," the 72-game Saint voiced.
"I think it's time we had a complete overhaul, a completely blank canvas, and started to make the necessary decisions to ensure that the St Kilda footy club is going to be a force to be reckoned with going forward."
With the club's current record sitting at 5-8 ahead of a clash against the reigning premiers Richmond on Friday night, the man that led the Saints into a pair of back-to-back Preliminary Finals in 2004 and 2005 chastised the club for currently going through the motions.
"There are two types of clubs in [the] AFL," Thomas began.
"There's one type of club that is in the premiership business, and there is usual about 6-8 teams regularly … and the rest of them are just playing AFL.
"I think that St Kilda is just happy to play AFL at the moment."
With a 52.56% win-rate across his 117-games at the helm of St Kilda, Thomas is one of the club's most successful leaders in their history, however, he is still left frustrated when the Saints' squalid past continues to keep being added to.
"St Kilda has always had a propensity to adopt a victim approach about itself, so it's quite consistent with a lot of Saints fans you talk to," he philosophized.
"They're always lamenting 'what might have been' and 'we could have done this' or 'we could have done that' and everything else.
"At the end of the day, great organisations, or great clubs, are accountable for performance and their actions, and they probably tend to address those circumstances more regular and don't get into the ruts that St Kilda finds itself in on a regular basis.
"That's the frustrating thing for me, I'm just a footy fan like you guys. I'm a Saints fan and unabashed and I just get frustrated that we find ourselves back in the position we're in."
Thomas continued shooting from the hip by explaining that the club had been attracting and signing the wrong types of players in recent years.
"[Jack] Steele is a star, and I think our defense works pretty hard, but we don't seem to have made the right recruiting decisions in recent times… well, for a long time, to be frank," he conceded.
"We don't have that 190cm, strong-bodied midfielder that most clubs have got at least one of - or maybe two of - we've got 'Steeley' who is a battering ram and is fantastic, but he should be our third-stringer.
"We need people who can physically impose themselves in those contests, and most of our better players are midgets. They're small. They're little, which is great when we're going well, but [on] Grand Final day… bigger-bodied people, in my mind, is a better recipe for success."
In spite of the fact that Thomas raised the notion of a Grand Final appearance, he later stated that although he still supported the club vehemently, he couldn't envisage a second premiership trophy making its was into the Saints' cabinet within the next decade.
Thomas stated that although some of the players that had made their way to Moorabbin across the last decade appeared content just to fill their pockets, the blame should not lie with them.
"If you can get six, eight, nine hundred thousand dollars for three, four, five years and bludge your way through it, all credit to you. Good luck to you," he said.
"I'd be looking at the club. And for the club to allow that sort of behaviour and that sort of selectivity amongst the playing group, that's where the problem is. It's leadership.
"It's like your kids. Your kids will push so far - they are very good at knowing how far they can go - and if 'Mummy' and 'Daddy' let them go a long way, they'll take the whole lot."
In this instance, the mother and father of these players would be the selection committee and football department, and on trend, Thomas didn't miss when he narrowed his sights on them too.
"If you [the selection committee] had the opportunity a month ago… and dropped a couple of guys that absolutely needed to be dropped - in fact, they should have put their hand up and said 'I'm out' - they were playing that badly, but then you go the other way and actually protect them and don't make any statement whatsoever, you're actually letting us all know that standards aren't actually that important here.
"I wouldn't be having a crack at the players, I'd be having a crack at the people that are in charge of leading the actions and the behaviours and the efforts and the attitudes of the players."
Following yet another week of off-field distractions in the Saints long history of making bad press, Thomas weighed in on the situation that saw leaders Tim Membrey and Sebastian Ross earn public chagrin for departing the club's mini-hub in Sydney ahead of the Adelaide game in Cairns.
OPINION: 'Caro' comments on 'parenthood vs football' are irresponsible and dangerous
Thomas, a renowned family man and fiercely loyal friend, claimed that it was more than concerning that the story - originally broken by Caroline Wilson on Footy Classified - was even seen as an issue by some within the club.
"It [the apparent leak of information] concerns me that people within the club were disappointed, which tells me that culturally we're miles away," he stated.
"If you can't have the utmost appreciation, respect and support for any person within any environment or organisation – it doesn't matter if it's a player, or a person in marketing – if they've got a family to look after, you just go and look after your family.
"If you haven't got a culture or environment that creates that and fosters that, you haven't got anything.
"You can't force a player to play under those circumstances. You want every player available as much as you can, but you absolutely need to have an environment where any player - or person for that matter – can put their hand up and say 'Hey, listen, I need to be somewhere else this week.'"
"It says to me that everyone within the club is under extreme pressure, and they were really frustrated that a couple of their better players weren't going to be available for a game. So, they were looking to protect their own circumstances rather than the best interests of the player."
It is this apparent lack of leadership that has also led Thomas to dismay.
"We've got to have programs to have sustainable, perpetual leadership. That's what it's about," he stressed.
"If you have one loose link or one broken link in a chain within a club and it's a disaster. You have to connectivity, synergy, solidarity amongst all aspects from the board level, the through executive level, to the operational level to the football department to the playing group and the extended people who support them.
"it's just a fundamental requirement [and] we've never had that."
On the show this week:

❄️ A disastrous loss
❄️ Hunter Clark / David Mackay
❄️ Ross / Membrey / Caro
❄️ Leadership & club culture
➕ @Thomo_Grant

🔴 SPOTIFY: https://t.co/90R4bw5a7Q
⚪ APPLE: https://t.co/7EQEZI6Nwk
⚫ GOOGLE: https://t.co/SCI0m6nyqj
WEB: https://t.co/I3MxtB7vZP pic.twitter.com/ofOuU6fWCs

— Unpluggered Podcast 🔴⚪⚫ (@unpluggered) June 24, 2021
As the man best remembered for creating and implementing a rotating captains policy across his six-seasons with the Saints, Thomas has long held innovative views on the subject.
Still, when quizzed upon how to fix the apparent dearth of leadership at Linton Street, Thomas revealed that the antidote was a simple one.
"Everyone thinks it is a big mystery. It's so simple and basic," he stated unequivocally.
"People use the word 'culture', but if you get the right people in the right position, and you have the right connection, and attitude, and strategic planning for the one outcome and everyone [is] focused on that together, it becomes very simple."
With the former centre half back having just about emptied his clip on the club throughout the interview, Thomas was blunt when asked about whether he would put his hand up to help fix these perceived issues should an offer arise.
"No, I wouldn't. I've had my time," he told the podcast's trio of hosts.
Although Thomas' answer regarding a full-time return to Moorabbin was succinct and definite, the former player and head coach said he would never rule out aiding his club should they seek his advice.
"If I could ever help St Kilda Football Club from a counsel point of view, an advice point of view, or an involvement point of view, I'd always be there for them 100%, but that's up to the club and I wouldn't stick my nose in unwanted," he said.
"I really think that I've only got one good fight left in me and if I get pushed too far, I might waste it on the club.
"I'll wait for others to stand up first and have a crack. I had my crack and we nearly got there, but it's now time for someone else to do that."
The Saints will be afforded a chance to get their season back on track when they face the Tigers at a sodden MCG on Friday night at 7:50pm AEST.
You can listen to the Unpluggered Podcast via the player below, or on iTunes, Spotify and all major podcast platforms.