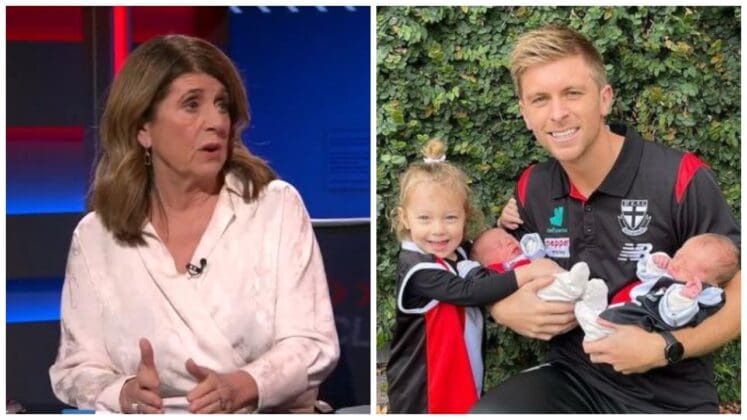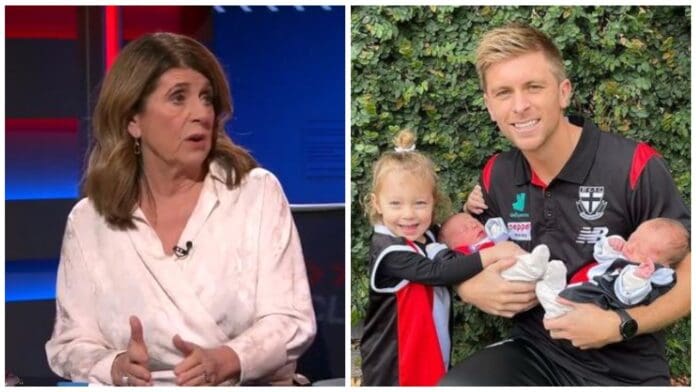 As a (semi!) young father - I will be 36 this week - and also full time employee in a management role, I was flabbergasted by Caroline Wilson's comments on Monday night's Footy Classified, in which she implied that members and commercial sponsors of the St Kilda Football Club "had every right" to be disappointed with the decisions of senior players to put their families first, above all else.
Her counterpart on the show, shock-jock Kane Cornes, agreed with her, while former Essendon champion Matthew Lloyd, refused to buy into the concept.
"Supporters, sponsors and other teammates would have every right to be a bit disappointed."

Caroline Wilson says it was "odd" for Seb Ross and Tim Membrey to return home for family reasons ahead of a must-win game. #9FootyClassified | Watch @channel9 pic.twitter.com/YtuW1tNJzv

— Footy on Nine (@FootyonNine) June 14, 2021
'Caro' and Cornes are no strangers to hyperbole. Part of their role is to identify and uncover talking points for debate and even criticism when relevant. While sometimes cringeworthy, this is fine. We all understand the role of "the media" in sports.
Wilson's comments came off the back of leadership group members, Tim Membrey and Sebastian Ross, electing to return to Melbourne from the club's temporary Sydney "base" rather than travel to Cairns with the team for Saturday night's clash with Adelaide.
She then doubled down on her comments on her Don't Shoot the Messenger podcast, saying ""I'm gonna own what I said because I said it, but pretty much everyone I spoke to in footy said, 'Oh yeah, I agree with you but I couldn't say that I'm not gonna say that. I'm a man. I'm not gonna say that.'"
"I was just surprised, personally, that Seb Ross would (leave) - I wondered whether there was a medical problem with the twins and I established there wasn't. I suppose my feelings were reflected by people across the AFL," she said.
St Kilda also emphasised their support of the two players, with CEO Matt Finnis talking to SEN Radio on Wednesday morning.
"I think our players know – and we've got a pretty consistent record of this as a footy club – that we'll always put family first and they'll be supported by those decisions."
"As a CEO I'd love to have our best players on the park, I do that every week, but as a father I also understand that we've got to prioritise what we know is important within our own families, and no one can know that except for the families themselves," Finnis told SEN.
Now, here's the situation.
Ross' wife Marnie, recently - about five weeks ago - gave birth to twins, while the couple also has a toddler at home, and Membrey's wife Emily is due this week, expecting to give birth any time now.
St Kilda, in the meantime, were facing a clash against fellow bottom-8 dwellers, the Adelaide Crows, with a (mathematical, at least) place in the finals still on the line for Brett Ratten's charges.
A "must win game," as 'Caro' put it.
So, let's start with the Membreys.
While Emily is due this week, anyone who has been through a pregnancy will know due dates and expectancies are essentially a doctor's "best guess."
A due date simply assumes a standard 40-week pregnancy without taking any other factors into account. The reality is that only 4-5% of babies are born on their actual due date, with 10% of pregnancies ending with an early, pre-term delivery - ie; 37-weeks or less - and up to 65% of pregnancies going past week 40.
Expected delivery dates is not an exact science, and with the team quarantined away in NSW with their families back in Melbourne, one could be forgiven for feeling a little anxious given the circumstances.
Meanwhile, Seb and Marnie Ross welcomed twin boys into the world earlier in May, with Vinny and Henley joining two-year old Charlotte as the newest members of the family.
Now, any parent knows toddlers can be difficult to deal with on the best of days. I can attest to that. I love my daughter more than anything in this world, but, like all parents, there are some days we have issues with the day-to-day struggles of parenthood.
The stress and anxiety can be immense.
Tantrums, bumps and bruises, coughs and colds and plain old "I just don't want to eat breakfast!" is the general soundtrack of any young family with a toddler. Adding two more infants while removing one parent from the equation is a recipe for disaster.
We now have a far greater understanding of issues such as post-partem depression, and just how common this is. But, as awareness grows, so does our responsibility as a society and a community to change and grow in regards to the emotional health of young parents. Not just mothers, but fathers, too, suffer from many forms of anxiety and depression following the birth of their children.
MEDIA WATCH: Caro finds very little support on controversial comments
As someone who has dealt with and will always continue to fight depression, and as someone who has a partner who suffered (at the time) undiagnosed post-partem depression, I know how hard this period can be for a young couple expecting their first child, or young parents working out how to best support each other's - and their own - worlds, while foggy and no-sleep clouded brains revolve around a new infant's brand new feeding, crying, sleeping, crying (rinse and repeat) schedule.
It can be the best time of a new parent's life, but it can also be the toughest.
What must be strong in the minds of Ross and Membrey's family unit is that the last time these two men were quarantined away from their support network interstate, it was nigh on four months before they could return home.
The stress and anxiety must be immense.
From the first week of July through to mid-October last year, Ross and Membrey were in St Kilda's Queensland hub, with their support networks at least two weeks quarantine away.
What if the Victorian government mandated 14-day quarantine for anyone returning to the state again? What if there was a COVID-19 outbreak in Sydney or Cairns that meant borders were closed for a period of time?
What if, then, Emily Membrey went into early labour last week, or Marnie Ross - or god-forbid one of the children - suffered some sort of medical emergency? What about THEIR support networks?
What if, what if... what if?
Already the restrictions on the environments around childbirth and also family visits means an expectant mother, or a (somewhat) single-mother's support network has been whittled down through no fault of their own. Their ability to seek support and assistance has been drastically reduced.
The stress and anxiety must be immense. More so now than for any parents who had children pre-COVID.
The Saints lost their game against the Crows on Saturday night. They squandered a 6-goal lead in the second term, and lost. Would Ross and Membrey have helped their cause? No doubt. But this isn't about a football game.
"I think our players know – and we have got a pretty consistent record of this at the footy club – that we will always put family first and they will be supported in those decisions." - St Kilda CEO Matt Finnis

— St Kilda FC (@stkildafc) June 16, 2021
Now is the time for compassion. Now is the time for humanity. Now is the time for family.
As St Kilda CEO Matt Finnis relayed, "There are things that are legitimate for debate, but let's maybe just bring a bit more empathy to the way in which we go about that."
The views that the men must go to work with and for their teammates - or sponsors, or members - at the detriment of their family unit, are outdated and antiquated. Get real.
To come from someone who has always fought against bullying in the AFL industry, from someone who herself took time off work and obligations to deal with family issues, from someone who herself has children is incredibly hypocritical.
To come from someone who has a louder voice and a reach larger than most, these comments are uneducated, irresponsible and downright dangerous.
As a parent. As an employee. As a manager. As a member of "the media". As a lifetime member of the St Kilda Football Club... 'Caro' - and Kane - pull your collective heads in.
And, to the players and media personalities who have come out in support of parents rights in football and anywhere else... thank you.
Family comes first, always.
Oh, and what about the sponsors? Well, St Kilda just confirmed "Genius Childcare" as a major sponsor of the football club.
What do you think their message might be?