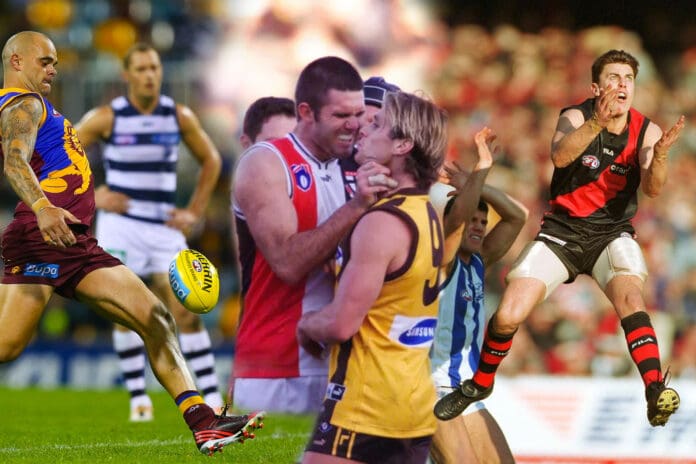 Comeback wins in AFL make for some of the best footy stories each season, creating feelgood - or feel bad - moments, depending on which side you are on.
Let's take a look at 10 of the biggest comebacks in the AFL era, which means any game played prior to 1990 is not included in this list.
Honourable Mentions
Some notable comebacks that just missed our Top 10 include:
2013 Elimination Final: Carlton defeats Richmond by 20-points after trailing by 32.
The Tigers looked close to their first finals win in 12 years, but a Blues six-goal last quarter wouldn't allow it.
Round 5, 2011: Gold Coast defeats Port Adelaide, after trailing by 40-points in the third quarter, to record their first AFL win.
1993 Preliminary Final: Essendon defeats Adelaide, after the Crows raced to a 42-point lead at half time. The Dons would kick 11 goals to two in the second half to win by 11-points.
RELATED: What if Mark Bickley never farted at half-time of the 1993 Preliminary Final?
Round 7, 2000: Showdown between Adelaide and Port Adelaide. The Crows came back from a 42-point deficit.
2018 Grand Final: West Coast won by five points in what many consider the best AFL Grand Final in recent memory, perhaps even the best overall game. Collingwood kicked the first five goals to lead by 29-points, but the Eagles fought back to win a close one.
So, now we get to our Top-10 comebacks of the AFL era.
10. Essendon vs Melbourne
Round 6, 1992: Essendon 47-points down
It was Anzac Day of 1992 - before Essendon and Collingwood were given the annual Anzac Day game in 1995 - and the Bombers were struggling against Melbourne all day. The Demons kicked 14 goals in the first half to the Dons six.
Melbourne led at every change.
The Demons would kick the first major of the fourth quarter to set up a game-high, 47-point lead, but it was all downhill from there. The Bombers finally retaliated, providing relentless midfield pressure from Kieran Sporn (29 possessions) and Michael Long (28 possessions), and carried by the great Paul Salmon (24 disposals and seven goals) would kick the last eight goals to win by a solitary point.