With data collected in March of this year suggesting that 92% of the 25 million people that call Australia home have access or the ability to drive one of the 17 million cars in existence across the continent, it would be fair to suggest that the mechanics of operating an automobile would be second nature to almost everyone above the age of 18.
Acts like indicating, merging and adhering to speed limits become subconscious steps for this majority once the ignition has been sparked into life and the handbrake released.
Though everyone has become sidetracked on occasion and set off for journeys with the precautionary lever still sitting skyward, it becomes evident pretty early in these trips that forward momentum is being made at a minimum.
As one of the tiny minority of adult Australians that gets by via tram tracks, spoked wheels or the soles of their shoes, I am not in any position to be handing out any real or metaphorical driving advice, but in the case of the Fremantle Dockers, some assistance appears necessary.
Across the pair of seasons spent steering the purple portion of Perth's side, Justin Longmuir has implemented a game plan based upon structured and stingy defence that has allowed his many L and P plated pupils to remain competitive during the course of the fixture list.
Throughout both his debut and sophomore campaigns, Longmuir has led a back six comprised of top 10 draft picks, rookie selections and everything in between to allow a mean of less than 69 points across their 39 appearances.
SEE ALSO: Every non-finalist's blueprint for success in 2022: North Melbourne
Now, this '10 and 2' approach to navigating the roads ahead of them is both practical and safe, but when winning games of football and making the eight also requires a need for speed, it is a limp offence that has left Longmuir's men holidaying in September for the fifth consecutive season.
During this same time period that names like Griffin Logue, Luke Ryan, Alex Pearce and Brennan Cox have cohesively slowed traffic throughout their defensive arc, their contemporaries at the other end of the ground have failed to support their deeds by producing an average of less than 62 points per game in the last two-years.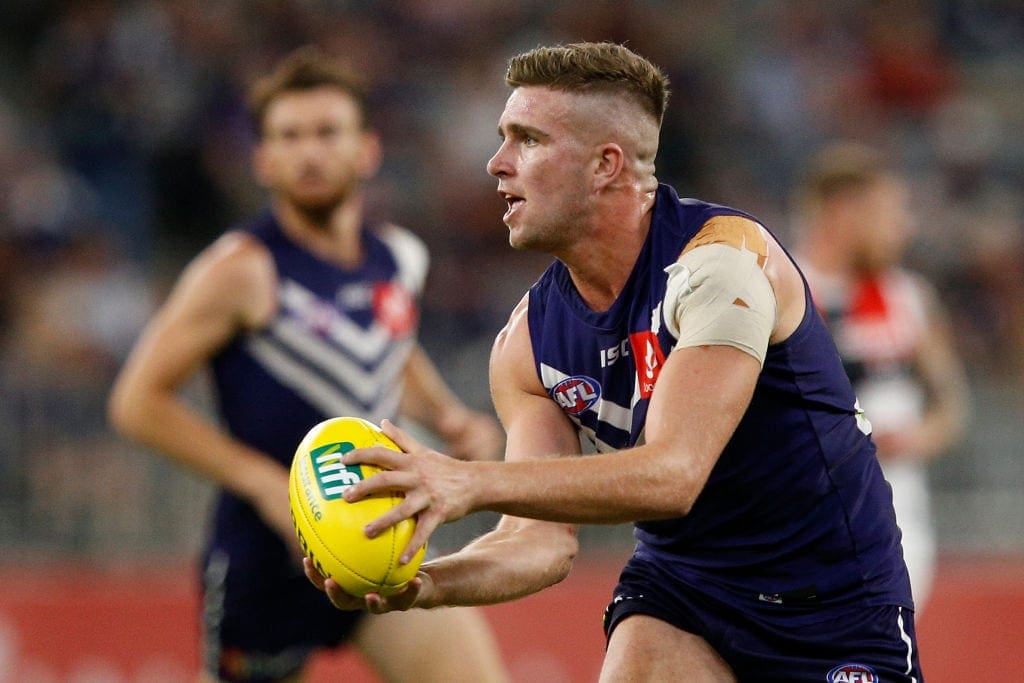 However, when the man affectionately known as 'J-Lo' has decided to get loud and let the speedometer needle rise, the fledgling Dockers have appeared deadly at times.
Take the most recent Western Derby for example.
Having lost the previous 11 encounters against their bigger brother by an average of 39 points, Fremantle faced off against the other occupant of Optus Stadium during the home-and-away season's penultimate round.
SEE ALSO: Every non-finalist's blueprint for success in 2022: Collingwood
And after peeling off the on ramp before firing on all cylinders down the highway, Longmuir's lads ended the first stanza with eight goals on the board, with another coming in just the second minute of the second term.
Although it may seem pointless to highlight a 35-minute stretch of a single game, but with the Dockers proving able to score almost their entire weekly average in just over a quarter of football, the question must be raised: why has it only happened once?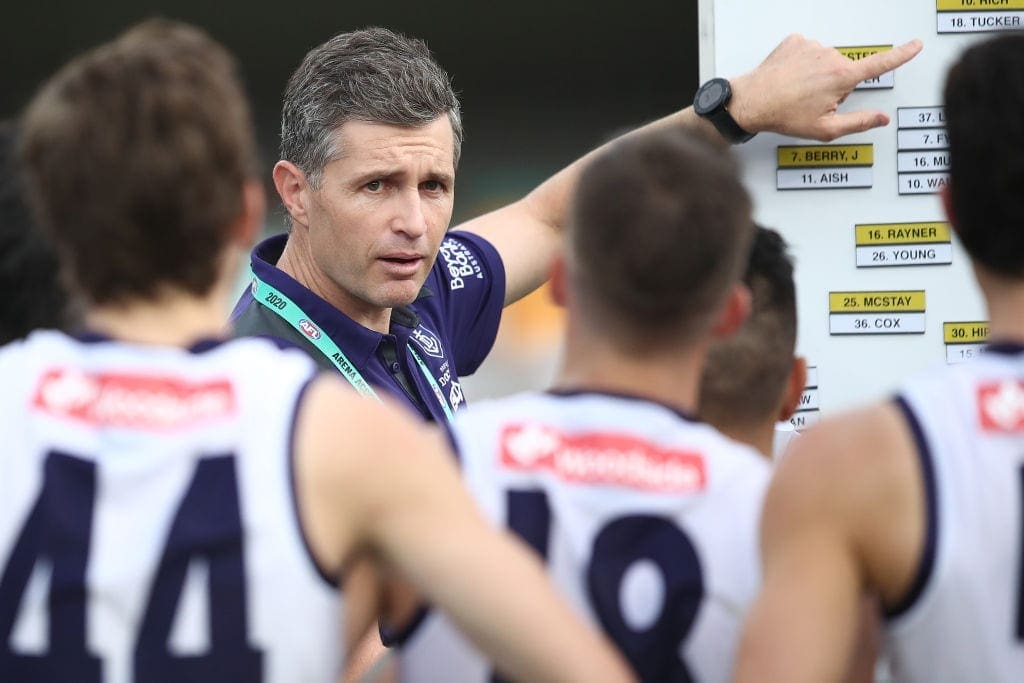 Across Longmuir's purple poloed coaching box reign, Fremantle have been inept in comparison to their opponents when it comes to effectiveness, marking and tackling inside their forward arc.
Pair this with the fact that Matt Taberner has claimed back-to-back club goalkicking titles with tallies that were a ways off the Coleman pace and it is clear which third of the ground has been hit hardest with an emergency decelerator.
SEE ALSO: Every non-finalist's blueprint for success in 2022: Gold Coast
Despite the formerly anchor clad side failing to finish within the eight since the 2016 season, the Dockers have assembled a roster of names that require ray bans when staring at certain points of the ground.
But with Taberner as the sole figurehead within forward 50, and a fleet of either ageing or unproven names at his feet, the focus for correction this off-season should be crystal clear.
SEE ALSO: Every non-finalist's blueprint for success in 2022: Adelaide
While some may suggest that an individual quarter that blew their arch rivals off the park was closer to fluke than fact, with the proof of ability having arisen, it is clear that it can be replicated.
Still, what led to their uncharacteristic lead foot in the first place and not during the 87 other quarters this year?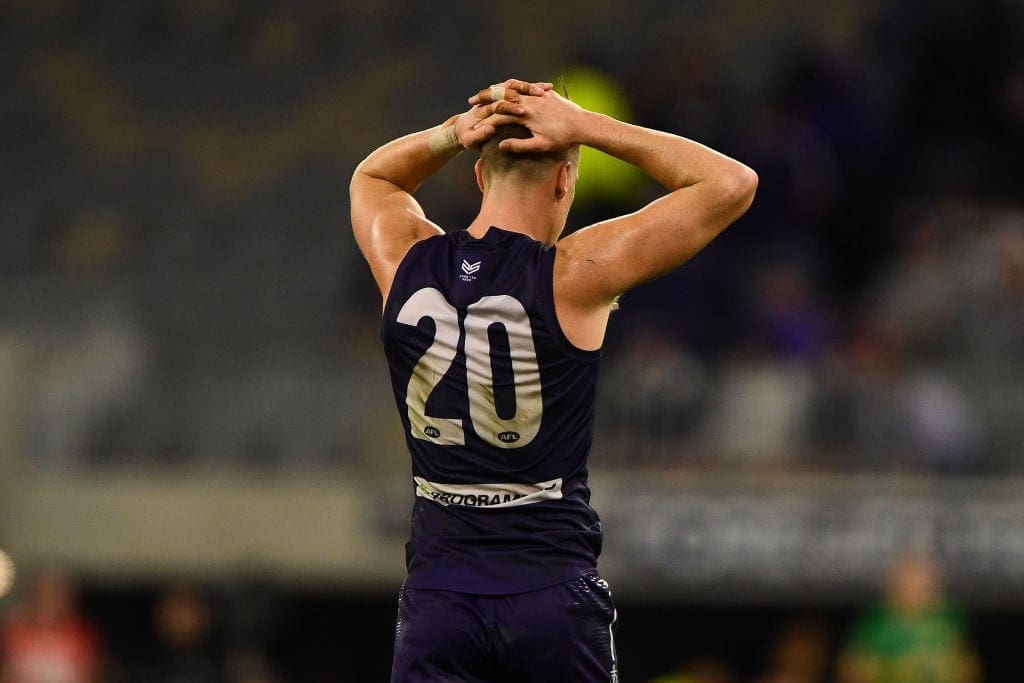 Succinctly, the 11 goals that were scored by Fremantle boots before the Eagles eventually mounted their comeback was a microcosmic representation of how good football sides play due to a variance in scoring.
Of the cluster of goals, three were tallied to Taberner, a pair were slotted by Lachie Schultz, and one was scored by the titanic Josh Treacy, while the remaining quartet came from a veteran midfielder, his apprentice, a resting ruckman and a wantaway on-baller.
SEE ALSO: Every non-finalist's blueprint for success in 2022: Hawthorn
The potency of key forwards will be muted from time to time by stoppers that are paid to deny offensive activity, so if the Wharfies are serious about contending come the business end of next season, this inaction of alternative avenues being driven on without caution must be continued into the future.
When one compares this period of scoring nirvana with the status quo of the rest of 2021, several key points become evident.
Firstly, although those that are labelled as forwards on the club's list equated for over 70% of Fremantle's goals in 2021, only seven names could boast about kicking 10 or more majors for the season.
SEE ALSO: Every non-finalist's blueprint for success in 2022: Carlton
This figure becomes even more alarming when only four players in Travis Colyer, Rory Lobb, Schultz and Taberner could be commended for surpassing the 15 goal threshold.
In addition to this, though the remainder of the Dockers' list slotted 63 six-pointers, just two (David Mundy and Sean Darcy) were able to go beyond the double-digit marker.
Put simply, far too much is being left to far too few in attack, and those that are tasked with splitting the sticks are unable to do so with regularity.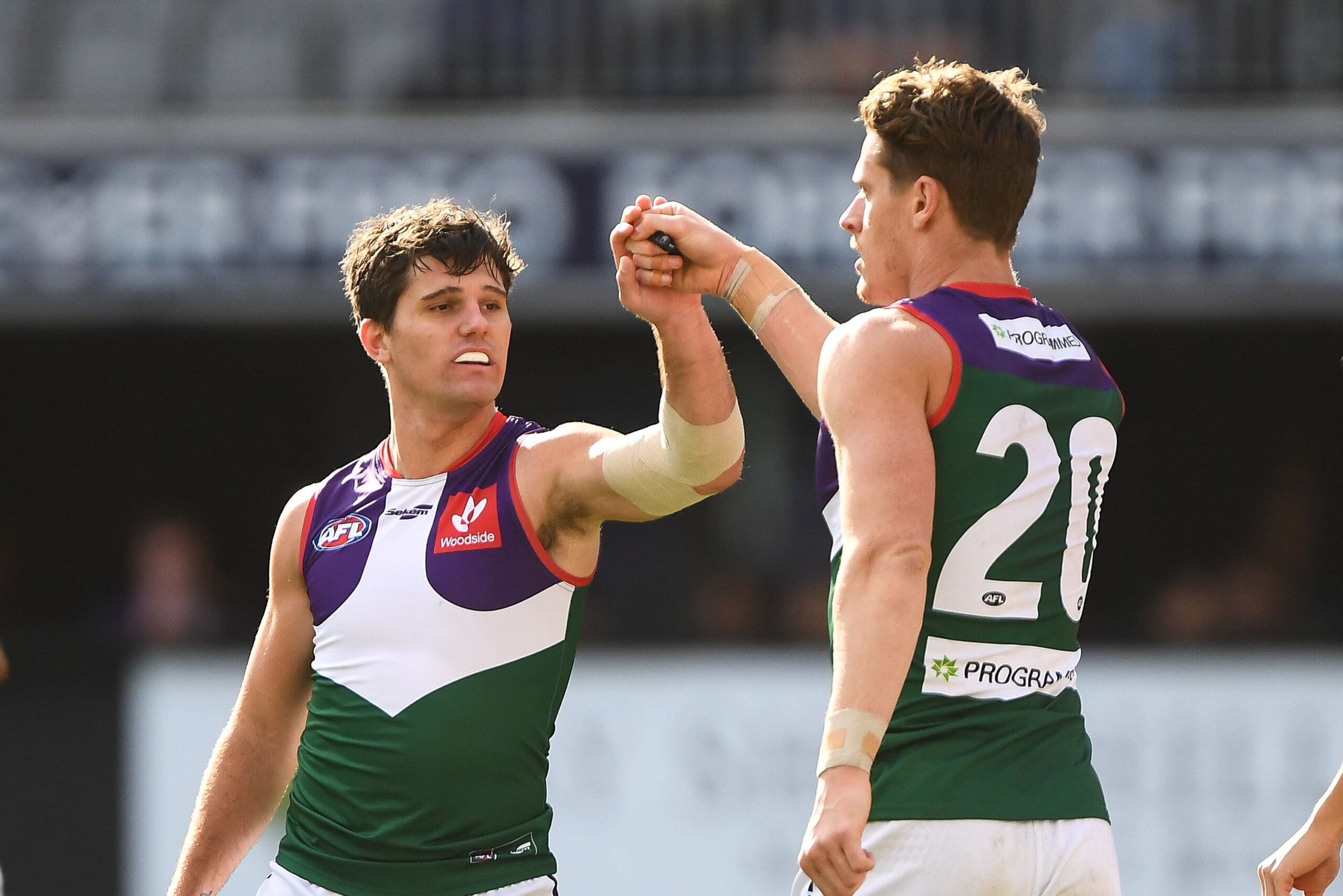 Like many sides that are set to kick-start their pre-season's in November, Longmuir's youthful outfit have far more questions facing them than they have answers.
Will they end their September drought in 2022?
Will the offensive ills be rectified by alteration?
How will they spend their impending pair of first-round draft picks?
Irrespective of the fact that nothing has shifted just yet, dual Brownlow Medallist Nat Fyfe explained that winds of change would be combining their knots with the ubiquitous Fremantle Doctor once the annual teenaged meat market is again open for business.
"Our hope is that we can bring in some tall-forward talent locally through the draft this year," the skipper said in the lead up to the Grand Final.
"We've got some high picks and that's what we'll be trying to do because I'll play where I'm required to play and give our club the best chance of playing September action but at the same token, I've spent 12 years on my craft on becoming a really high-quality midfielder and that's where I play my best footy.
"To rob Peter to pay Paul as a leader is something I'm willing to do, but as a player, it's something I'd rather not do."
Though some may be rejoicing Fyfe's desire not to be deployed forward given his woefully inaccurate 9.21 in front of goal this year, can Western Australian rookies such as Jye Amiss, Jack Williams or Jacob Van Rooyen actually be expected to act as grout for attacking pavers that are currently laid metres apart?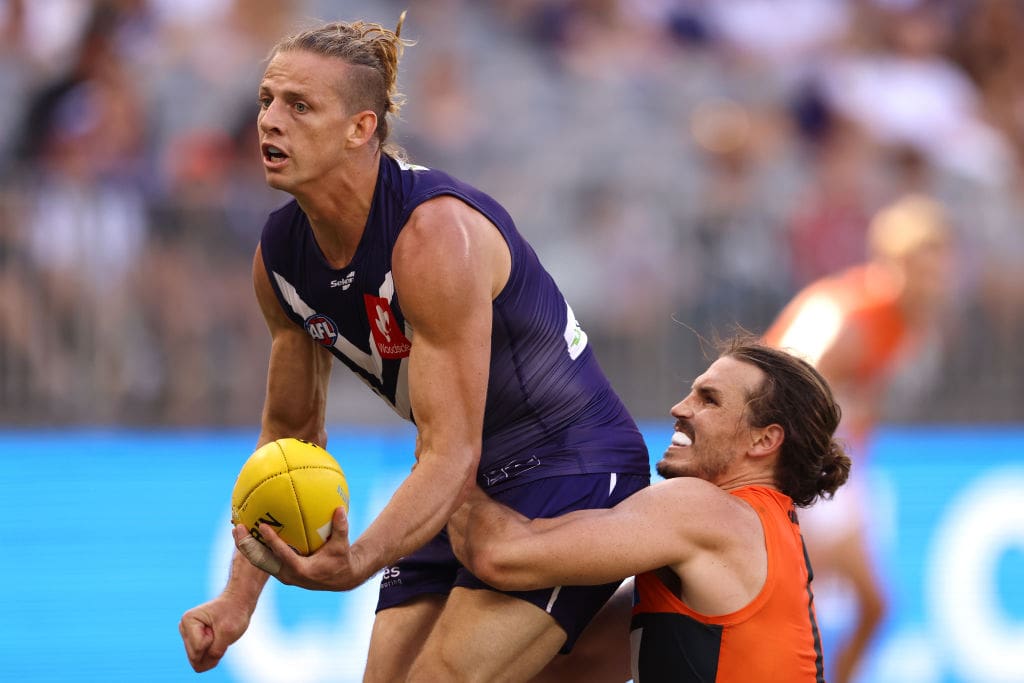 While it may seem as though I have taken pleasure at sending various arrows across the Nullarbor, this is not the case.
I am a huge fan of what Longmuir has managed to build in his tenure, but if the right names are not added to the roster at this crucial juncture or the players that are already on the books are still sent out with training wheels attached next season, an irritating session of stagnation could well permeate the next chapter of a club whose past is littered with similar stories.
SEE ALSO: Every non-finalist's blueprint for success in 2022: Richmond
Though I don't carry a full driver's license in my wallet, I have sat behind the wheel of a car in my time on this planet.
I've checked my rear view mirror, I've fuelled the engine up and I've even stalled a few times, but much like the fresh-faced kids at Cockburn, I still require guidance on my cavalcades on the open road.
Though hammering the foot down on either pedal is never a wonderful idea for coaches or motorists, if either set of folks behind the wheel favour only the middle pedal, they are prone to being overtaken repeatedly.
All of the pieces may not yet be in place for Justin Longmuir's side to start weaving through traffic along the road to premiership glory, but now is the time for a man who kicked 166 goals for his club to allow the next generation of names to follow his formerly offensive lead.