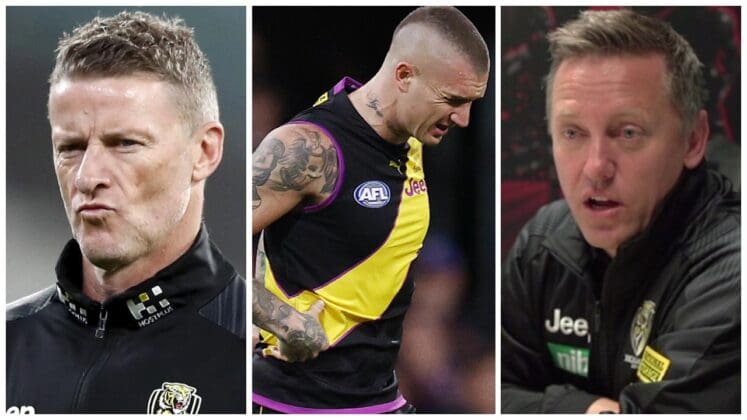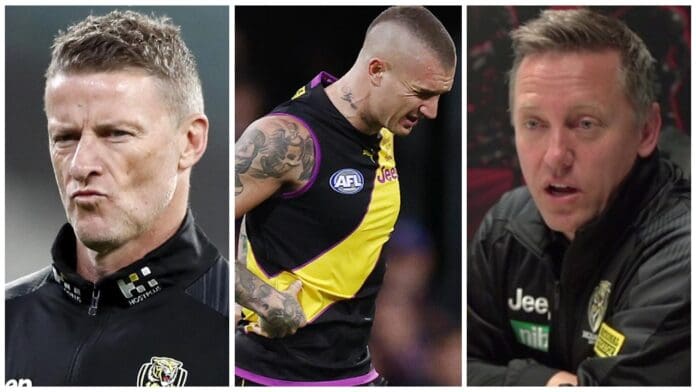 Richmond (9-1-12)
Ladder position: 12th
Off-season agenda: Use their hefty draft hand wisely

Like the vast proportion of other members of society, we that make a living surmising about sports have a fondness for quotes.
We use them to add weight to articles, we employ them to allow subjects to run narratives, and yes, like others, we gather and install them to make sense of both the existential and the insane.
Given so many of us from all walks of life share a penchant for recorded phrases, there often come times during frenetic, or sloppy, documenting that figures become misquoted, and expressions are misattributed.
The shifts of time and a willingness to embrace myth rather than to challenge it can sometimes see oft uttered quotes credited to the wrong mind, such as Albert Einstein's witticism surrounding the definition of insanity or America's first President and his supposed inability to tell porky pies.
Whether these incorrectly catalogued phrases have been filed due to an accumulate advantage or not, it doesn't necessarily mean that they hold no meaning.
Take for example one that has long been linked with the 'father of American literature', Mark Twain.
Following a late 19th century report that the wordsmith had died in squalor, Twain – who was in fact alive and well – was said to have offered a typically witty response to the ill-timed obituary by claiming that "the reports of my death are greatly exaggerated."
Although the quote never came from either his pen or his mouth, the expression, like Richmond's trifecta of modern premiership cups, holds water.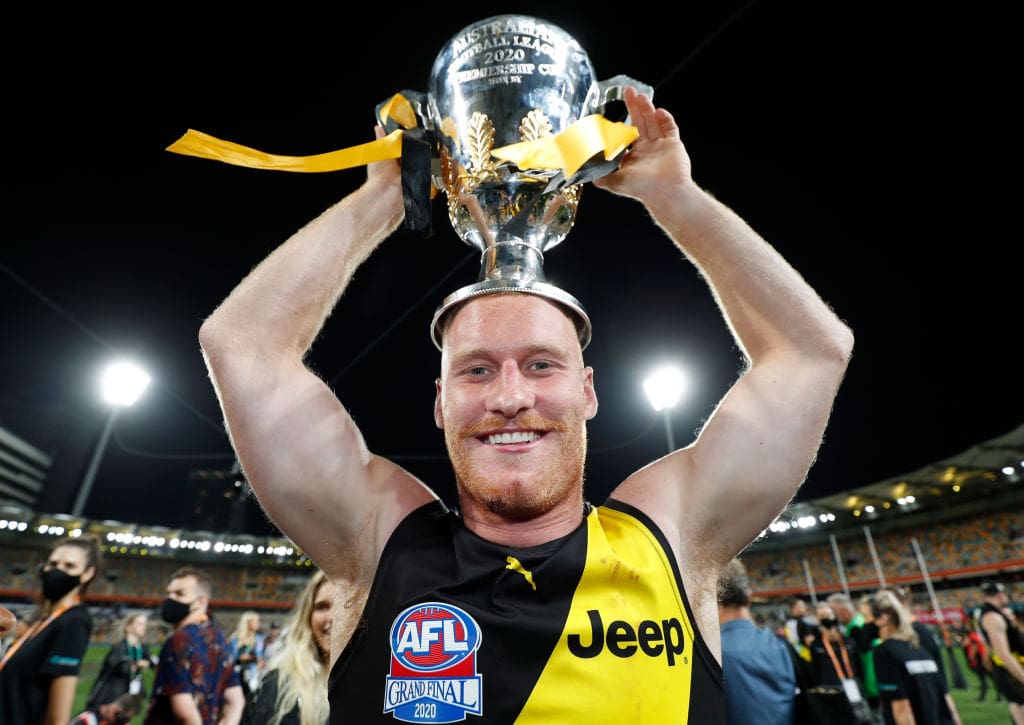 Irrespective of the origins of the response, these words attributed to the creator of protagonists Tom Sawyer and Huckleberry Finn have become a means for retort by those that have been prematurely written off.
With three of the last four premiership trophies sitting behind lock and key at Punt Road, Richmond have without doubt been the form team of at least the past decade.
SEE ALSO: Every non-finalist's blueprint for success in 2022: North Melbourne
However, after dropping their bundle due to a myriad of factors this season, many – as is the Australian way – were quick to pronounced their dynasty dead after missing the eight for the first time since 2016.
Even if many have convinced themselves that a call for the time of death is warranted due to the club's tin cup haul remaining at 13, there is still a heartbeat at Tigerland.
Sure, Richmond's tally of just nine-wins this year was their worst return in six-seasons, but like the other teams that were bounced from the bounds of the eight this year, there is a logical conclusion to be drawn from the rejection.
SEE ALSO: Every non-finalist's blueprint for success in 2022: Collingwood
With a variety of ailments sustained by premiership stars Martin, Broad, Houli, Nankervis, Vlastuin, Prestia, Edwards and Cotchin across the year, the Tigers were forced to use 40-players across their 22-games.
While this presentation of more than 90% of their list was enough to see them limp to the finish line with just two-victories and a tie following their bye, the alternative ending should be seen as blessing and not a curse.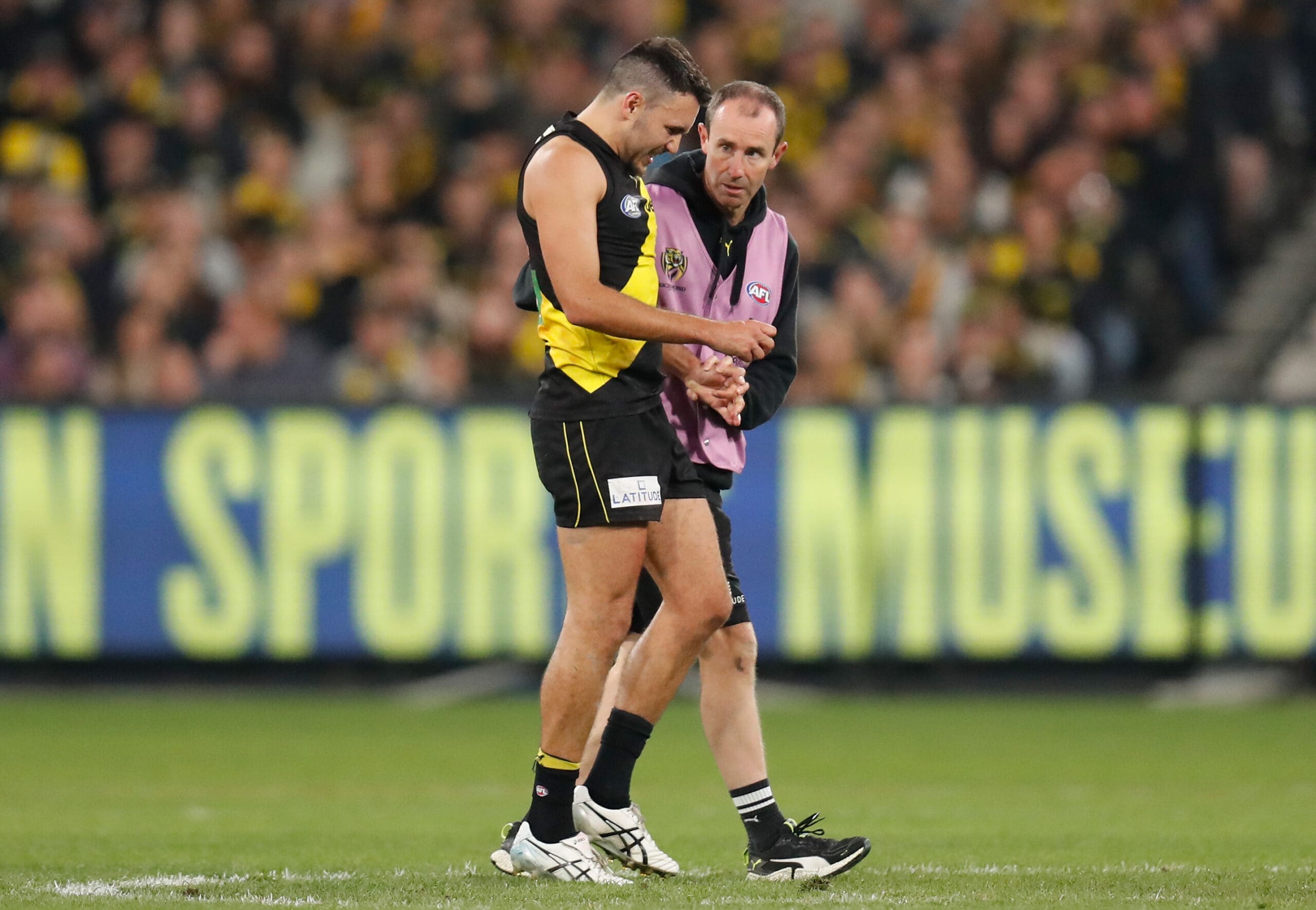 Given that so many of his icons were stapled to the sideline throughout the season, head coach Damien Hardwick was forced to blood youngsters and ask those that had only just become potty trained in a footballing sense to fill key voids across the park.
SEE ALSO: Every non-finalist's blueprint for success in 2022: Gold Coast
Yes, the understudy performances of the club's cubs Miller, Martyn, Ralphsmith, Ryan, Rioli and Collier-Dawkins were below that of the cast members that usually take Broadway billing, but when one considers the usual output of Richmond's elite, Christ himself would have had a hard time stepping up the plate.
As the Tigers will enter 2022 with only three-names currently on their list that have yet to taste senior AFL action, Hardwick now has plenty to work with as the worth of almost all is evident.
Still, like any team, there are holes at Richmond that require filling across the off-season, most notably in their previously impenetrable defensive arc. The retirements of Houli and Astbury are likely to be filled by a redeployment and the recruitment of ex-Crow Daniel Talia respectively.
SEE ALSO: Every non-finalist's blueprint for success in 2022: Adelaide
With the return of an underweight Dustin Martin and a rehabilitated Ivan Soldo also fixing up other key posts, the question now remains – how will the Tigers use their hefty draft hand?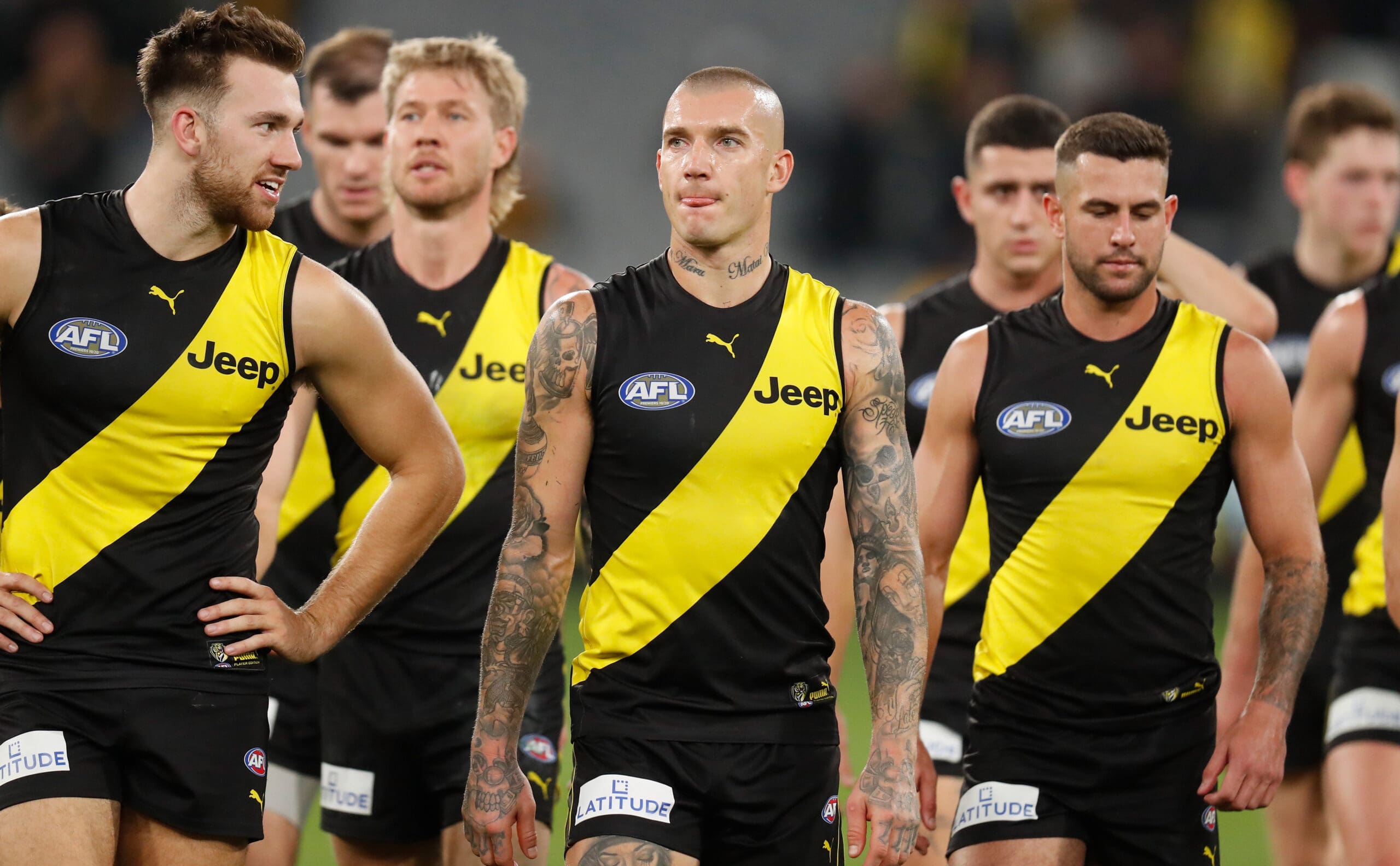 For a side that has bungeed back and forth across the premiership precipice for the majority of the last half-decade, the view of many is likely to be that seasoned talent should be obtained and the teenaged meat market be avoided. However, given that their paws were forced to embrace the future for much of 2021, why should this newfound view change before November?
SEE ALSO: Every non-finalist's blueprint for success in 2022: Hawthorn
I am sure that there are going to be plenty of paid-up members of the Tiger Army that will be willing to part with any number of their picks (currently selections 7, 16, 26 and 28) to secure the services of Victorian-born Docker Adam Cerra, but is placing all of their eggs in one brunette barneted basket the antidote to a season stopped short of September?
Surely if Richmond are desperate to bypass the draft, a better use of their haul would be to target some company for Tom Lynch and an ageing Jack Riewoldt within the forward 50. Names like Melbourne's Sam Weideman and the recently defensively deployed Hawk Tim O'Brien are worth considering if this route is opted for.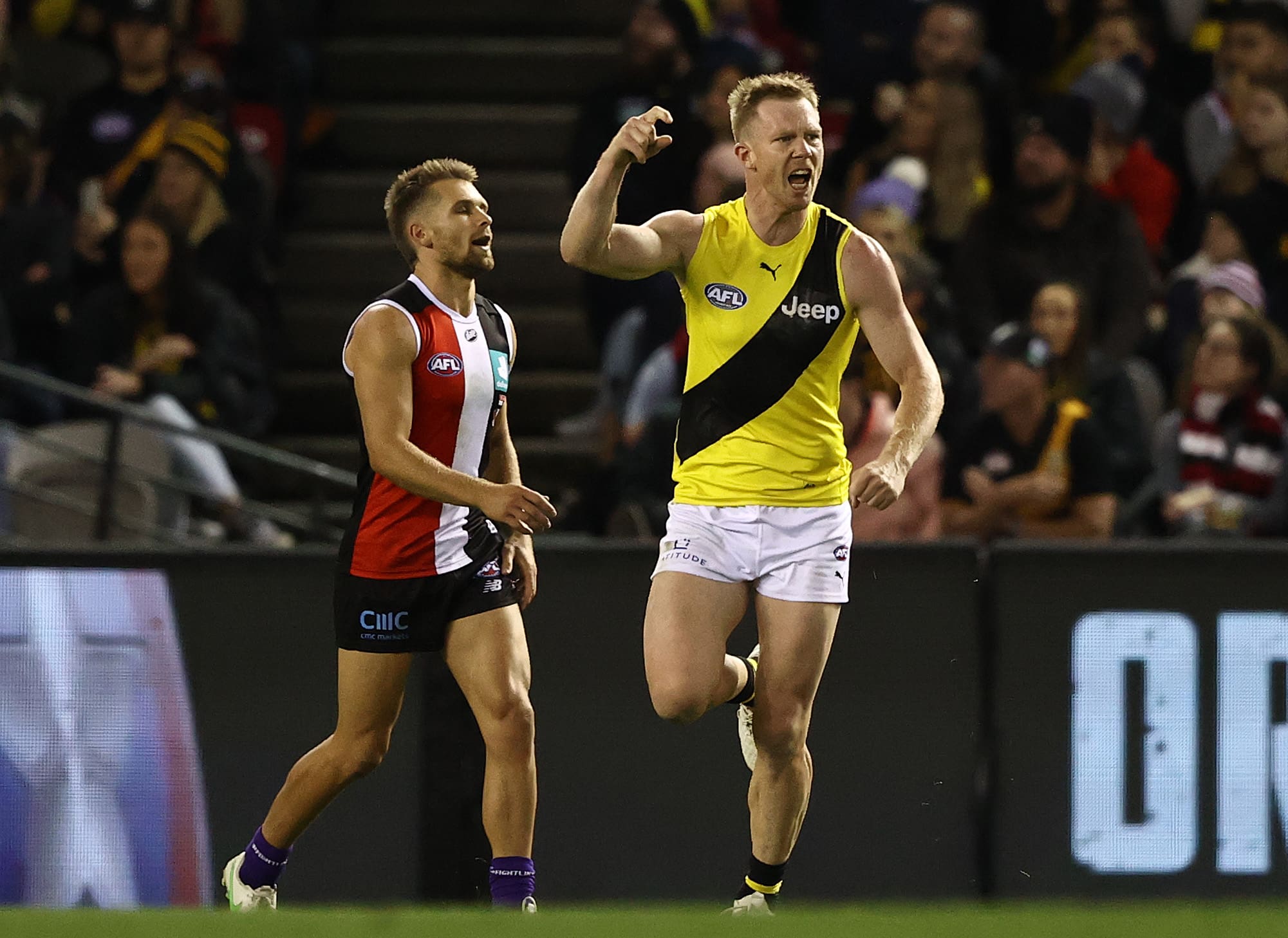 Yet it isn't often that a reigning premier enters a draft period with a pair of first and second round picks, so if Richmond are serious about returning to stay at the summit, an investment in youth should be recruiting manager Matthew Clarke's modus operandi rather than wheeling and dealing.
Attacking players that come free like Age of Empire CD-ROMs in Kellogg's packets is one thing, but burning a blessed hand at this years trade table is as shortsighted as Mr. Magoo when a similar set of selections is only likely to arise once all of their premiership heroes depart Punt Road for good.
SEE ALSO: Every non-finalist's blueprint for success in 2022: Carlton
If this year has taught the Tigers anything it is that once the pudding skin is removed from their roster, the remainder of the bowl's contents is not sweet enough to see a September return simply become a procession next season.
This isn't to say that the kids aren't alright, in fact far from it, as each of the names that have played less than 50-games in a yellow sash have all shown that there is plenty worth persisting with.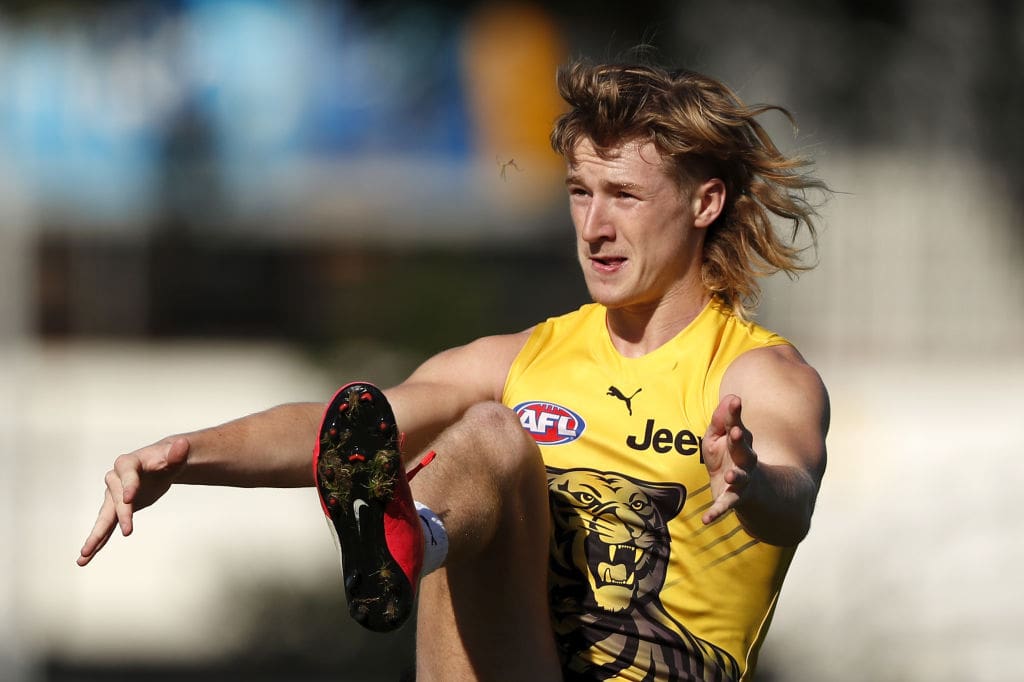 As the vast majority of them were gifted a chance to show their wares at stages this season, a new breed of yellow and black babies should join them next season to ensure that once Martin, Riewoldt, Cotchin and company hang the boots up, Richmond aren't left raffling off tickets to play on match-days.
Building simply just to grab a cup for a cup's sake should no longer be the plan at Tigerland, and with so much talent still owning keys to walk through the door it doesn't have to be. But if a top up, rather than a full-blown bottle shop run, is chosen, the party is likely to come to careering halt sooner rather than later.
Fans of the league's 17 other creeds will be desperate to see Richmond's downfall become a trend rather than a blip next season, but like Twain was said to say, if the Tigers opt to breed rather than hunt, they are still years away from total extinction from the eight.