Adelaide (7-0-15) 
Ladder position - 15th 
Off-season agenda – Return to their original culture

What do yoghurt, Boy George's band and Thailand all have in common?
Well, according to dieticians, the group's title and a pre-Hollywood Eric Bana, they are all "chock-full" of culture.
Although often vaunted as a commodity worth clamouring for, the bounds of the term's definition are relatively vague.
Should you consult the Macquarie Dictionary, you'll be met with a trifecta of descriptions ranging from improvements via education, as well as a descriptor for how to cultivate soil.
Still, should the Adelaide Football Club be looking for an antidote to their contemporary woes, the most applicable prescription for the side that could once rightly claim to be the pride of South Australia is that they must create shared values and continue to pass them down.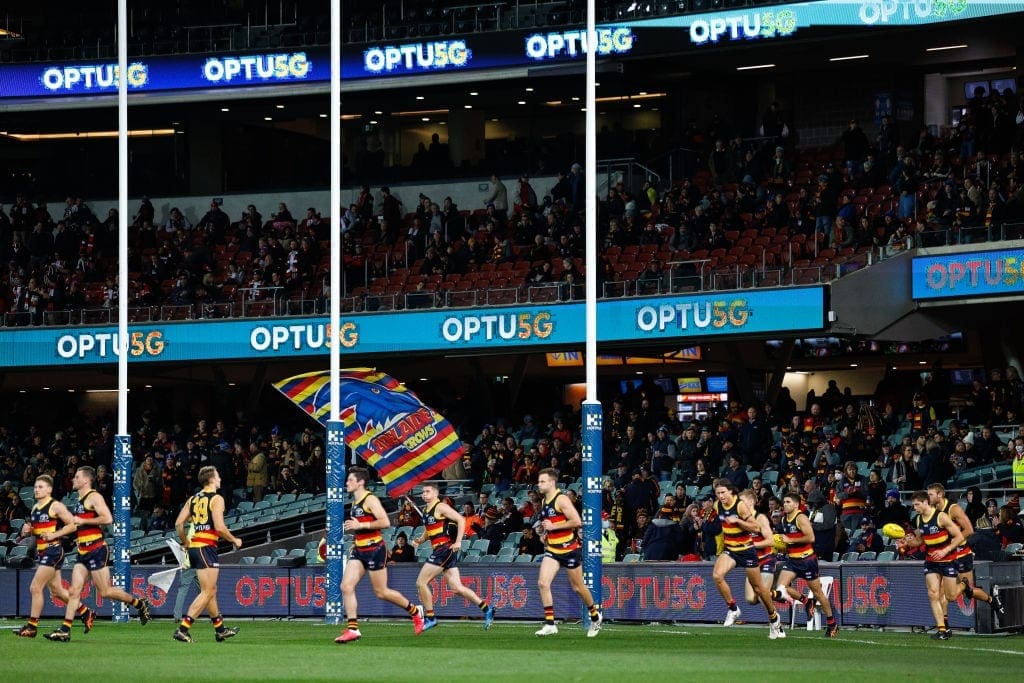 Since the cessation of the 2017 season, the Crows' string of train carriages have shifted so far from the tracks that the railings and sleepers are no longer visible.
A second-quarter fade out in that season's Grand Final that coincided with the dawn of Richmond's most recent era of success was followed by a diabolically insensitive and unnecessary camp that eventually led to a mirrored period on the field.
This feathered skydive from the ladder's summit into the dank of the competition's cellar has been punctuated by a plethora of seasoned players trading the Adelaide Oval for the departure lounge and a vile racial slur from one that stayed on.
Although there aren't many walls left to write on at West Lakes these days, the message is clear for all to see – the Crows are currently akin to a teenaged boy's bedsheets, in that they are in desperate need of a change.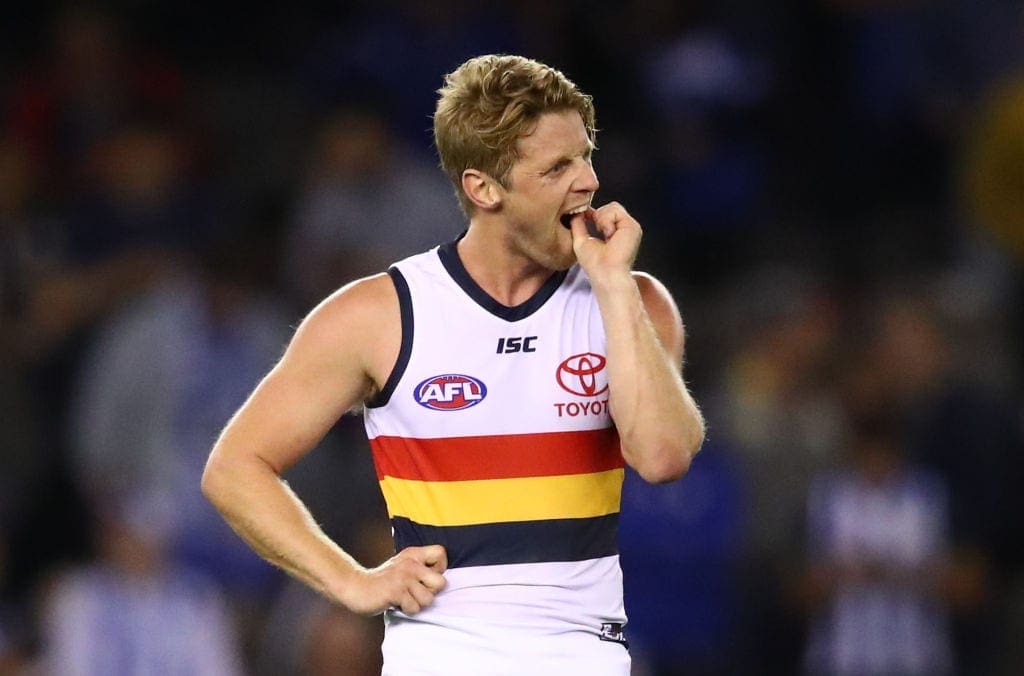 The now ubiquitous belief of those that treat addiction is that one can only begin to fix themselves after they have truly reached rock bottom.
For the Icarus-esque Crows that had their wings charred before their aforementioned nosedive, this proverbial low point came in the wake of their horrendously executed camp.
Since all of the blindfolded madness took place to the soundtrack of Richmond's theme song on repeat, the tri-coloured club have begun taking it day-by-day and putting one foot in front of the other in a metaphorical sense.
SEE ALSO: Every non-finalist's blueprint for success in 2022: North Melbourne
After their hand was forced by the exits of names like Betts, Cameron and McGovern, Adelaide looked to the future to fill the holes in their forward line. Names like Fogarty, Himmelberg and McAdam were elevated to play premature roles in a 2020 season that saw a wooden spoon enter the club's trophy cabinet for the first time.
Due to this debut dip, the Crows were afforded the right to add South Australian spearhead Riley Thilthorpe to their murder.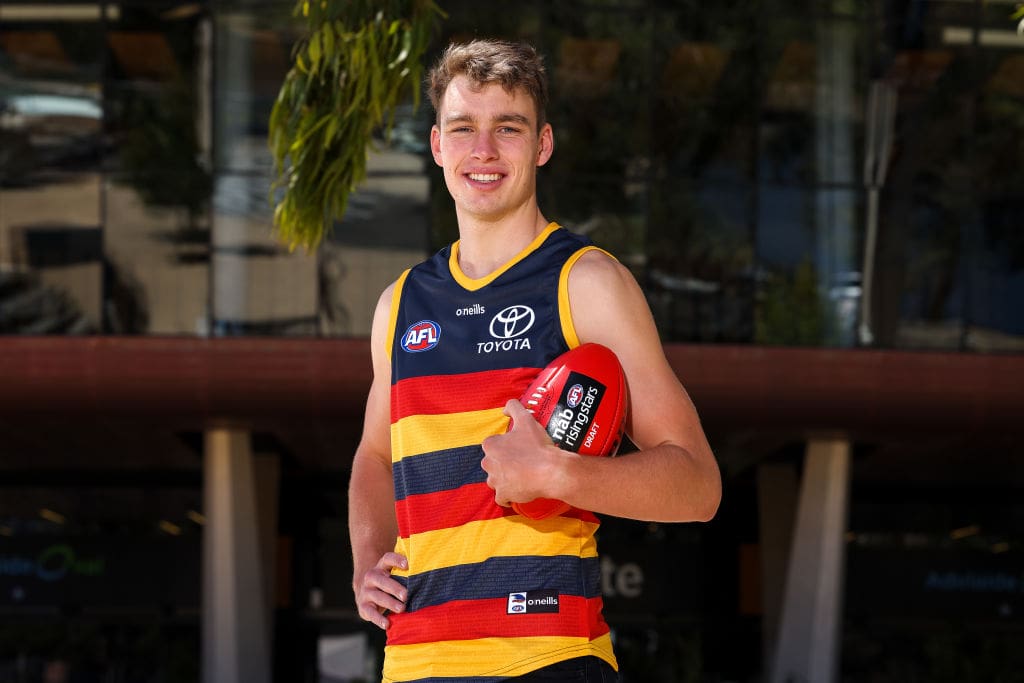 The further shunts of senior names Brad Crouch, Daniel Talia and Tom Lynch also put paid to the view that the status quo was worth clinging to.
These slow shifts in the right direction largely took place under the eyes of head coach Matthew Nicks – another move that showed the club was desperate for transformation.
Even though the formerly fearsome outfit looked to be slowing making headway back to parity this season, the pause button was again hit after a former skipper uttered hateful words from beneath his mustachioed top lip.
Irrespective of their on-field rise from last to 15th in the space of 12-months, this tortoise like shuffle up the ladder will mean nothing unless the entire organisation takes appropriate action in the wake of Taylor Walker's ban.
It may seem to be alarmist to suggest that one person's actions can bring a halt to an entire group's gains, but as was shown in reverse by Darren Jarman in 1997, the ventures of one hand, foot or mouth is sometimes all that is needed to boost or to burst.
As someone who is not privy to the measures already undertaken within the skeletons of what was once Football Park, I can't offer an in depth view on any return date.
And again, as someone who doesn't share a locker room with the currently ostracized Broken Hill man, I can't begin to understand whether those that do would ever like him back or not.
Either way, this current moment in time has the ability to make or break a Crows side that is outwardly lacking any obvious DNA.
Do they move on the greatest goal scorer in the club's history for the greater good or do they accept his awkward apology and use his footballing expertise to continue to their slow trek back to September?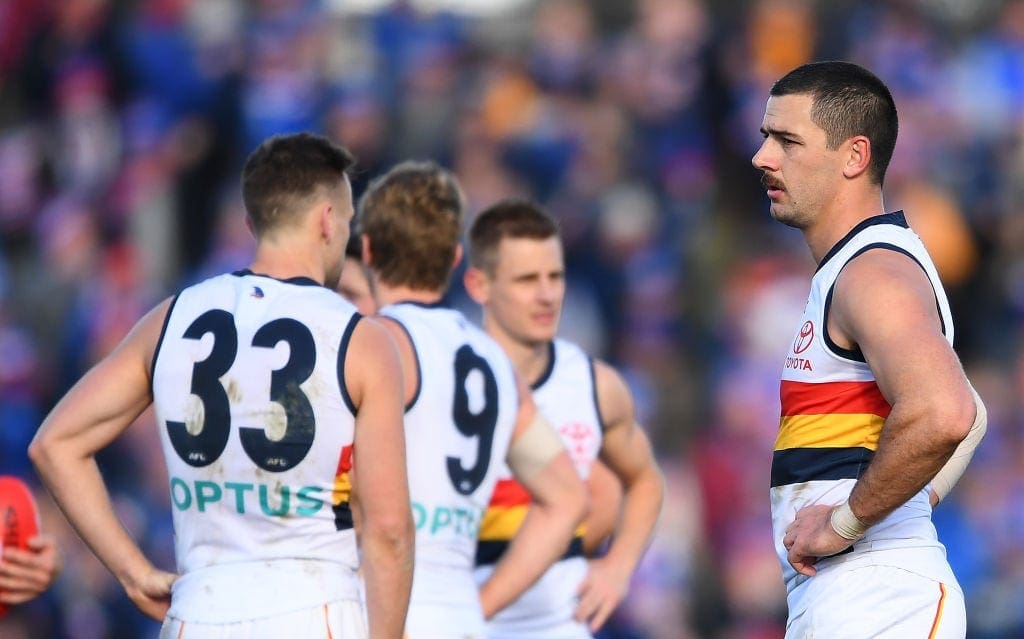 Personally, I believe the former would send a stronger message to those both in and out of the city of churches, as it would both signal that any identity they do hold is in line with much of contemporary society and also act as a marker should any future crimes of prejudice take place.
However, I'm sure I speak for everyone when I say that I hope this bridge shrouded in pain, ignorance, remorse and unjustness is one that never requires re-crossing.
Foundations for houses cannot be built in sand, and if Walker is allowed to walk back into West Lakes without the approval of all, it could see the scaffolding currently surrounding the club come cascading down at a later date.
SEE ALSO: Every non-finalist's blueprint for success in 2022: Collingwood
Aside from this impending decision that is sure to have talkback lines humming, Nicks and his recruitment staff are already set for a busy summer as they seek to replace spots vacated by a series of stalwarts.
Whilst it is always hard to attract shooting stars to an underperforming team, the featherless Crow and his staff do have an ace up their sleeve.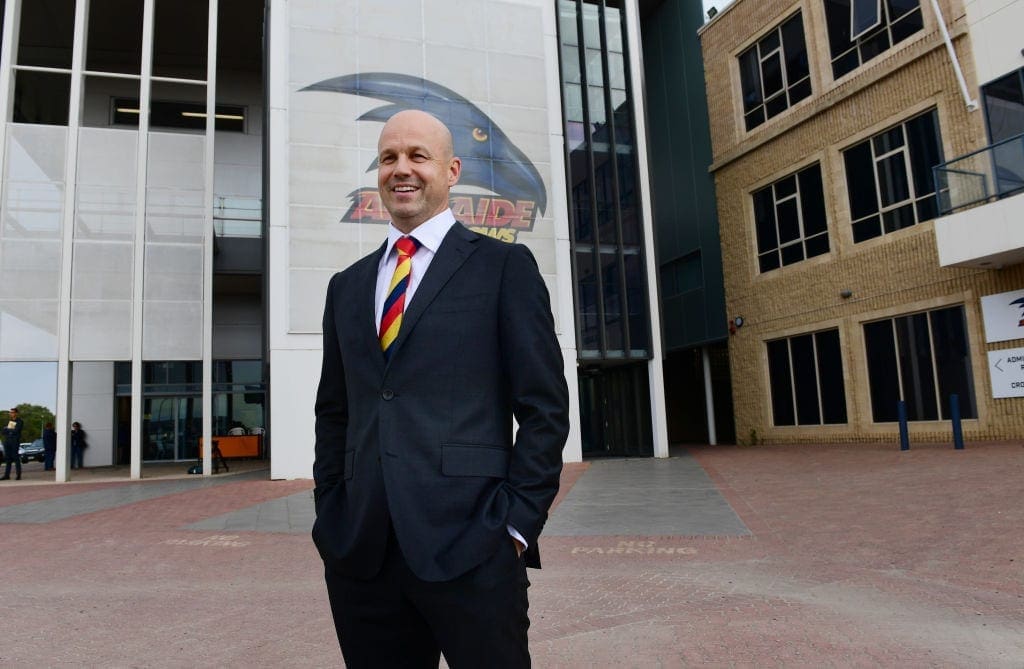 Even though Nicks has previously signalled that an all-out attack on trading for South Australian talent is unlikely to act as Adelaide's sole modus operandi this off-season, Adelaide could do much worse than focusing their attention on bringing just Croweaters to the club ahead of next year.
Upon entering the competition ahead of the 1991 season, Adelaide filled their list with talent born within the state's bounds.
This method served them well during their fledgling years prior to the Malcolm Blight era, as an identity based upon commonality was born and a message was sent to South Australians plying their trade elsewhere in the league that this was the clique for them.
SEE ALSO: Every non-finalist's blueprint for success in 2022: Gold Coast
In spite of the fact that a large portion of the names that made up their inaugural list never tasted premiership success – namely former skippers and proud South Australians, Chris McDermott and Tony McGuiness – their buy-in under coaches Graham Cornes and Robert Shaw saw the state's first top-flight team seen as a virtual representative side.
Should the current day Crows once again narrow their enlistment aim and continue taking gradual steps towards sustained improvement, then names like Jordan Dawson, Dylan Stephens and Jack Lukosius should be scrawled in permanent ink atop their shopping list for 2022.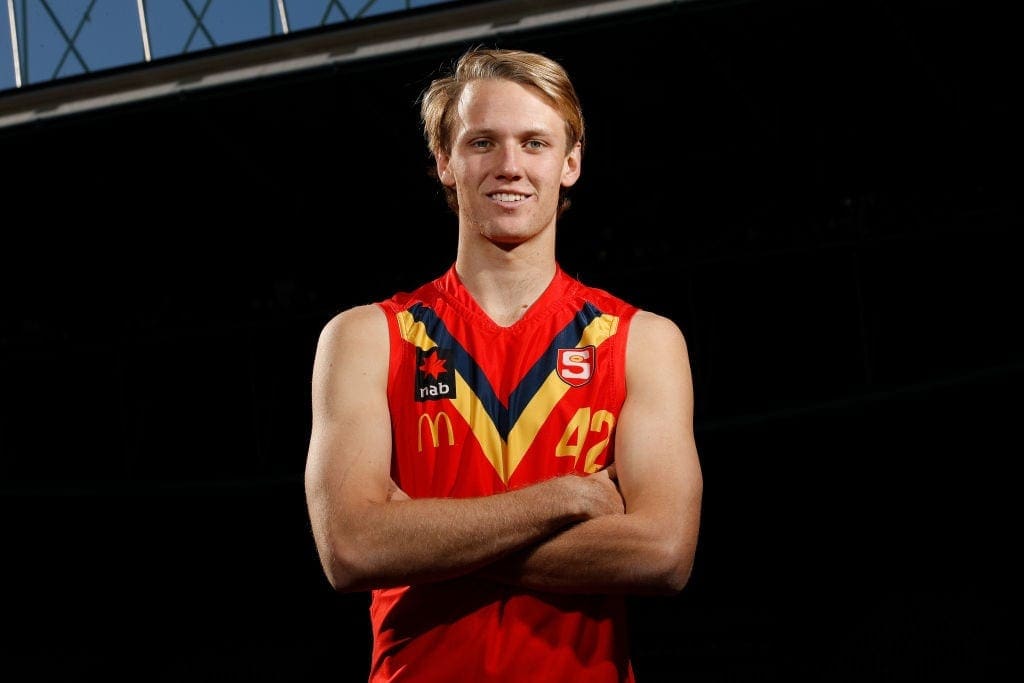 Although this pair more than match their list's current age bracket and their skills and ceiling as footballers would aid enhancement rather than stagnation, they won't provide the crisis hit club with an overnight answer.
Still, their arrivals would indicate that the side that built their past culture of success with the deeds of homegrown talent is back on the agenda.
While Blight, Gary Ayres and Neil Craig eventually moved away from this insular strategy once the time was right for club to spread their wings and set their sights beyond the nest's edge, this former ploy allowed the side to find stability under duress and also for the crowds that packed the stands to feel aligned with those that ran around in sleeveless jumpers.
This proposed return to the past is likely to be chided as being too inward, as the competition has moved beyond the need for such blinkers, but a return to being the side that thought it was their divine right to call the famous red and blue chevrons theirs could logically pay dividends both on and off the field.
At this point in time, the Crows appear as broken as the weed pierced rubble of Football Park that bears witness to their every training session, but with a tangible rebuild in the pipeline in terms of infrastructure, why not have a new team formed via an old view to fill the four walls?
At least until the need for training wheels is gone, that is.
As stated, this move won't pay dividends in an instant. However, if it creates an alignment between club and fan whilst the initial clinker bricks are met with mortar, why not, for a time, become the only league franchise where the entire roster are pie float enthusiasts and one where the vast majority of its names are familiar with the purpose of Stobie poles?