Gold Coast (7-0-15) 
Ladder position - 16th 
Off-season agenda - Break the bank to keep the kids
By the time the vast majority of their hits had been penned and recorded, British mod icons The Who released a groundbreaking documentary just after the tragic death of legendary percussionist, Keith Moon.
Across the 101-minutes of the Jeff Stein directed 'The Kids Are Alright', fans of the West London quartet were treated to archival footage of the band's amp crashing and guitar smashing rise to the top.
42-years after the opus' release, the Gold Coast Suns completed their eleventh out of tune season before yet another set of far from packed houses.
Even after scaling the charts on numerous occasions, Moon, Daltry, Entwhistle and Townshend declared that they were no more than fine as they sat alongside rock royalty of the 20th century.
Curiously, in spite of another finish shy of September, and a way to go before reaching anything that resembles a summit, the kids that call Carrara home are much better than just alright.
A perennial place at the ladder's foot is likely to see a veritable plethora of talented young players call the club home, but the secret to optimising a string of early draft entries is to pick to right names when the clock has started.
Since sunrise on the morning of the 2015 teenaged cattle market, the Suns have spent 11 first-round selections to land names that still call their list home - Ainsworth, Anderson, Bowes, Brodie, Fiorini, Hollands, King, Lukosius, Powell, Rankine and Rowell.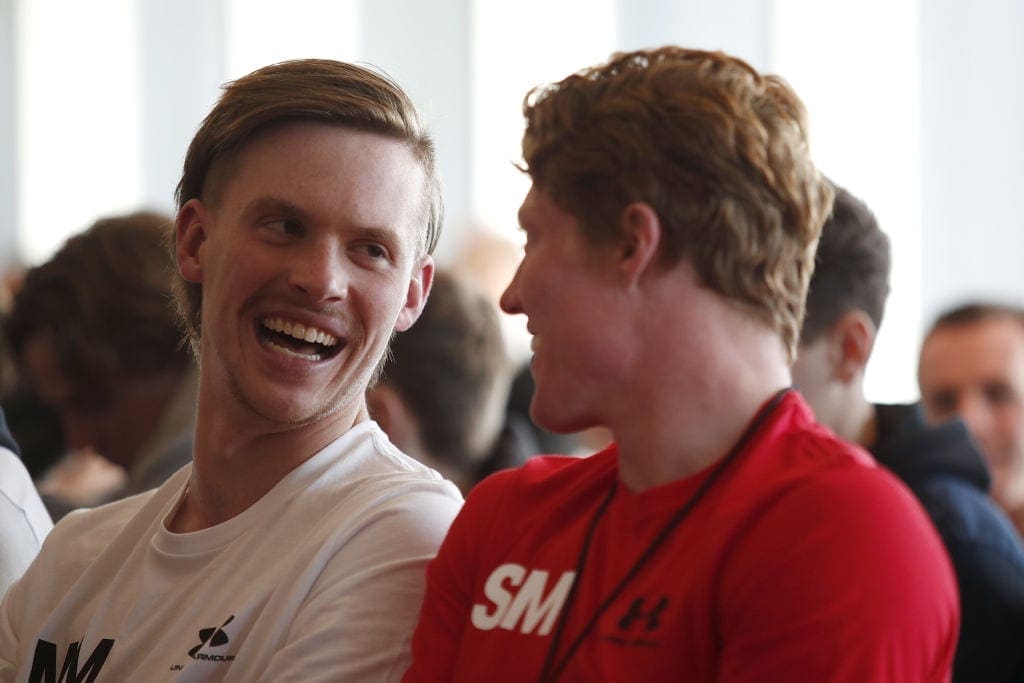 Although these fish caught with dynamite have both allowed for a variety of bases to be covered and act as fabulous wall décor, the issue remains keeping their scales attached to the Gyprock north of the Tweed.
With names like Dixon, Lynch, Martin, May, O'Meara and Prestia having previously pried themselves from their backing boards and to swim into calmer waters, it is little wonder why the Suns have never finished a season inside the eight, as a consistent basis for progression has routinely been denied of them.
SEE ALSO: Every non-finalist's blueprint for success in 2022: North Melbourne
It is as if these past draftees saw their time at the Suns as a low-paying apprenticeship period that required seeing out before all of the bells and whistles could be bought with the fruits of a higher wage down the track.
Some could even cynically see their individual outputs as efforts to place themselves in the shop window as their initial contracts wound to a close.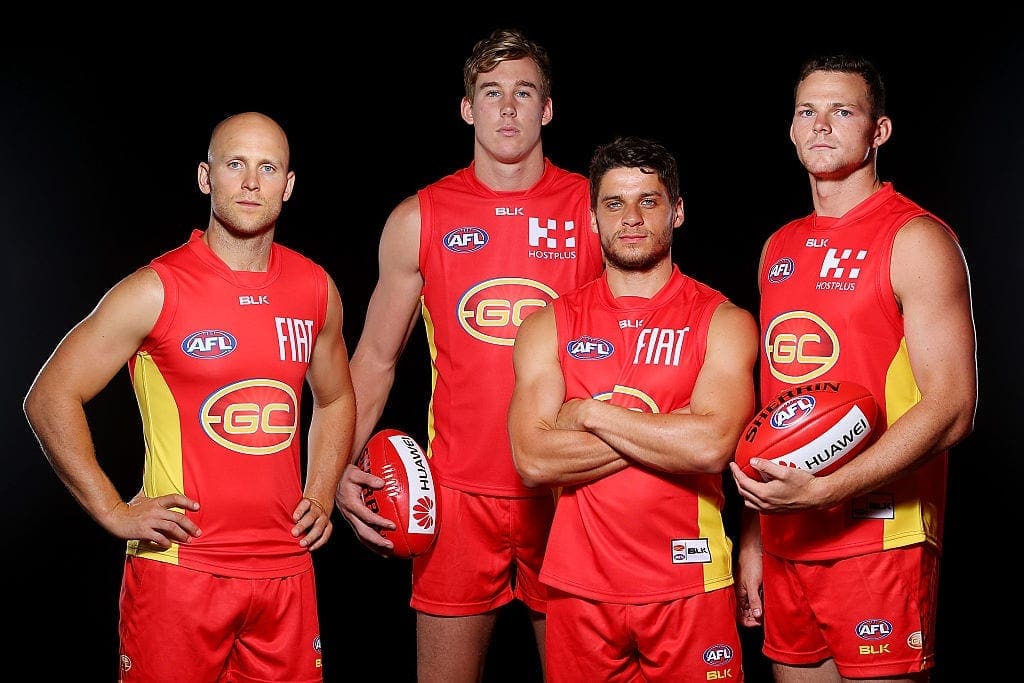 I'm sure that every player that has ever been drafted to Carrara was grateful to have their professional footballing dreams fulfilled by someone, but I can't imagine there have been many kids that laid their heads on the pillow at night and dreamt of zinc clad efforts in front of less faces than a Doobie Brothers cover band gig.
At least none that haven't been proscribed with a healthy does of Prozac since.
Like parents of a serial underachieving child, fans of every denomination have long held questions about these Suns that pose no need for a slip, a slop or a slap.
Why is it that they can't retain their talent?
Are the lights not bright enough?
Are they all too homesick?
Is it impossible to envisage a premiership flag being flown over SinCity nightclub?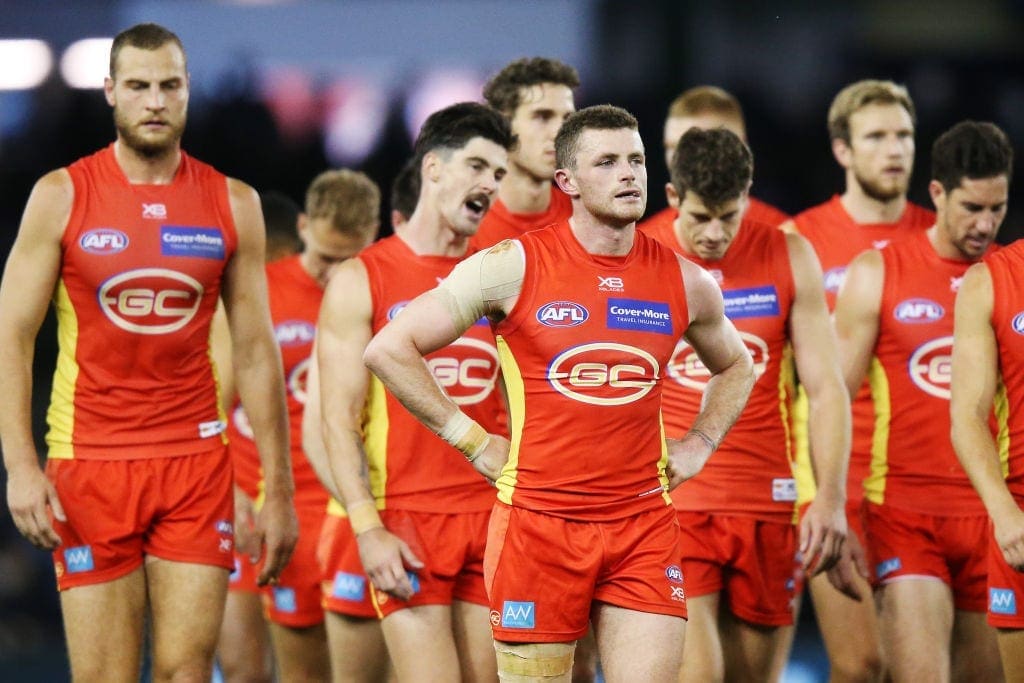 In the mid 2000's a rival apparel company to the one that currently creates the club's guernseys boldly claimed that 'impossible is nothing'.
Irrespective of the fact that there are unlikely to be many grown adults that have adopted Adidas' open ended slogan as their sole life credo, the vast bounds of the ambiguous phrase do hold water.
Should the Suns wish to find a formula that will allow them more than just a tangible scrap of relevance, they could do worse than to employ one that served the former residents of the tormented club's current home.
SEE ALSO: Every non-finalist's blueprint for success in 2022: Collingwood
Across the early to mid-90s, the then Brisbane Bears saw fit to move away from filling their roster with also-rans by instead packing  their changing room with kids.
Sure, many of these kids came from the sunshine state, but allowing a team filled with names like Voss, Akermanis, Leppitsch, Lappin, McRae and Hart to forge a collaborative recipe for success prior to the 1997 merger would see 'The Bad News Bears' become the three-peat Lions in time frame just beyond that of which Victoria has spent in lockdown.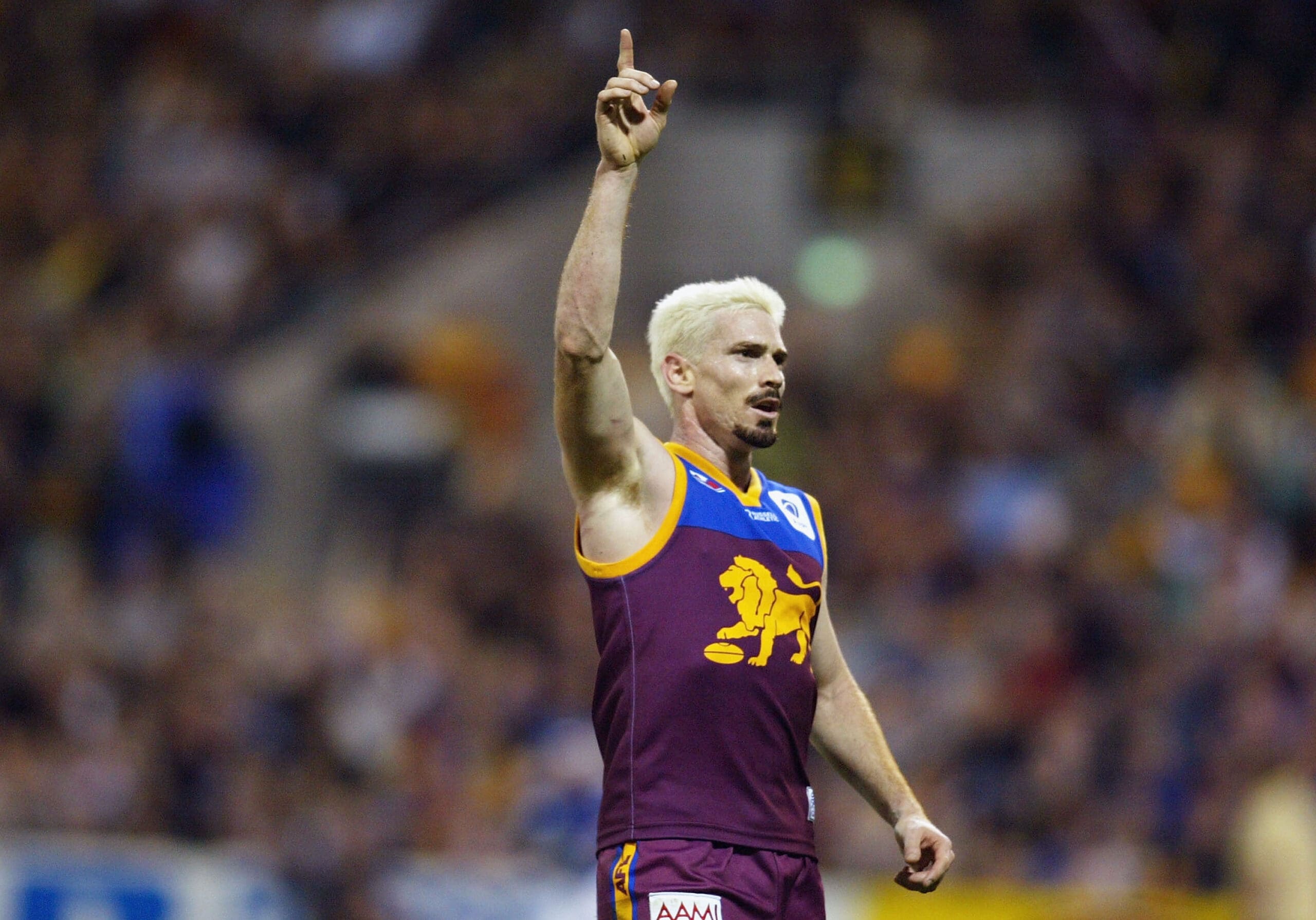 With the recent addition of free-agency to our code, the task of keeping fledgling teams together has become herculean, but should the Suns' brass move away from topping up the superannuation of tried commodities and invest in seemingly blue-chip quantities instead, who is to say another Queensland dynasty can't be created?
What's that?
Almost all of you?
Ok.
Still, a circuit breaker is needed, as treading water on Main Beach is only likely to see you fodder for blue bottles before too long.
As a myriad of the side's budding stars are inching towards the end of their contracts, the already overworked chequebook must come out again, because if any number of their potential All-Australians departs across the next pair of years, the already rampant calls to close the gates will reach eardrum shattering proportions.
If the club is willing to invest down to the lint to keep their fleet of first-rounders in the nation's solarium capital, then further empowerment should be granted to them.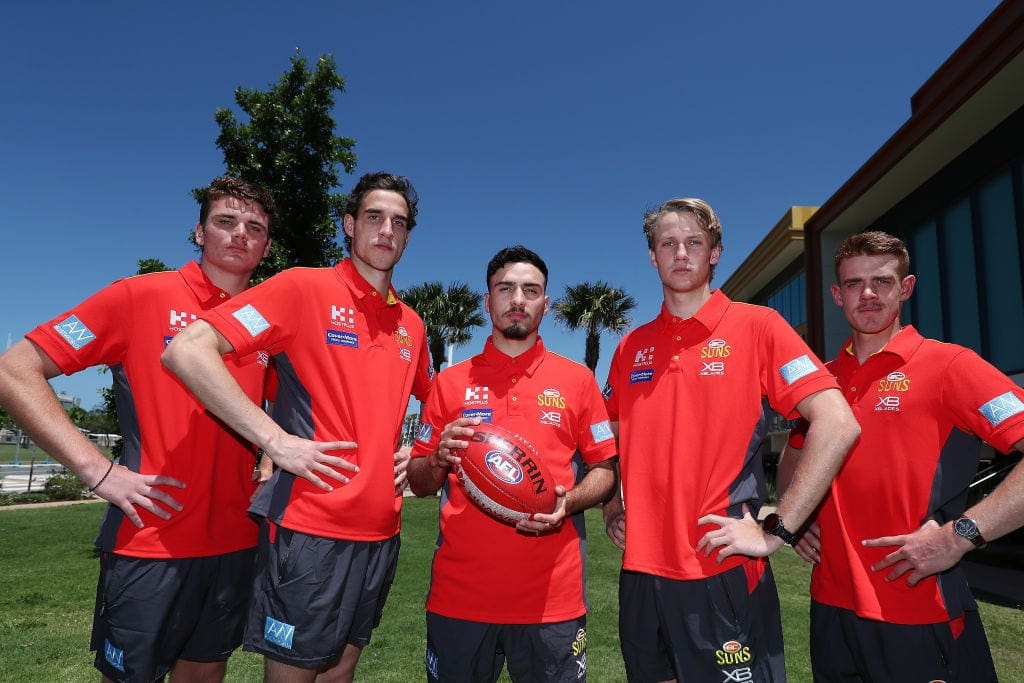 Whether or not this extends to them being afforded the right to sign off on who calls the shots in the coaching box is yet to be seen, however, it could be a move the alleviates either stagnation or a death knell regression.
There are likely to be many that would see this as a living example of the lunatics running the asylum, but remember this is the Gold Coast, a place where good sense is often traded for retina piercingly lurid skin that is then coated in gaudy ink.
Conformity has been tried on the coast - it's time for a different tack.
There is no doubt that the good word of the game is beginning to take a hold of some portion of real estate between the sand and the hinterland, but is it large enough to lay a foundation for a house that can turn into a home and is Stuart Dew the man that should be tasked as the project's foreman?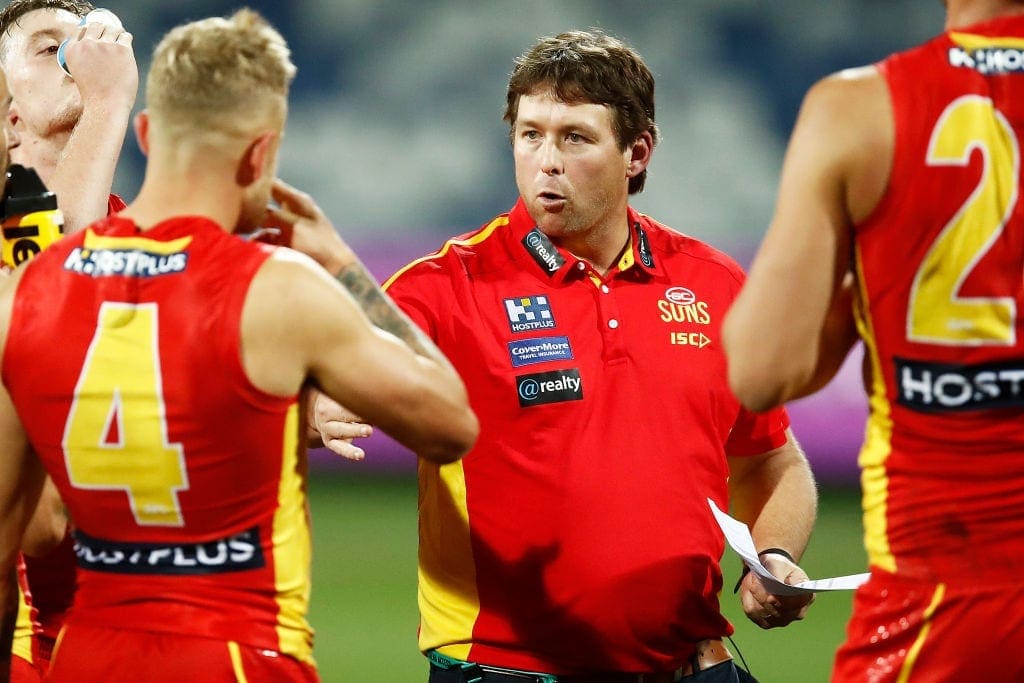 As mentioned, punters and pundits have been asking these same questions of the Suns since they first tentatively poked over the horizon a decade ago, and with further queries continuing to be added to the docket, the task of answering them emphatically would start with a mass recommittal.
With histories that stretch well over a century, the league's collective of foundation football clubs are the proud owners of developed identities that were often forged by their citizens and their surrounds.
Currently, the Suns are following suit by replicating the transient nature of the town that is theirs.
As is human nature, these same clubs that were formed in yesteryear have undergone facelifts and adapted at various rates. Take Collingwood's shift from the slums of the 1900s to the riches of the present day and former latecomer Hawthorn's sustained rise from the cellar as two examples.
If the Suns wish to follow suit, they will need to actually create an original and worthwhile identity other than just being a child minding service for a vast majority of their rivals.
Should a retention scheme be enacted that would require opposition teams to actually begin donning protective lotions from their rays, the Suns could well quieten critics and embark upon a Bear like climb.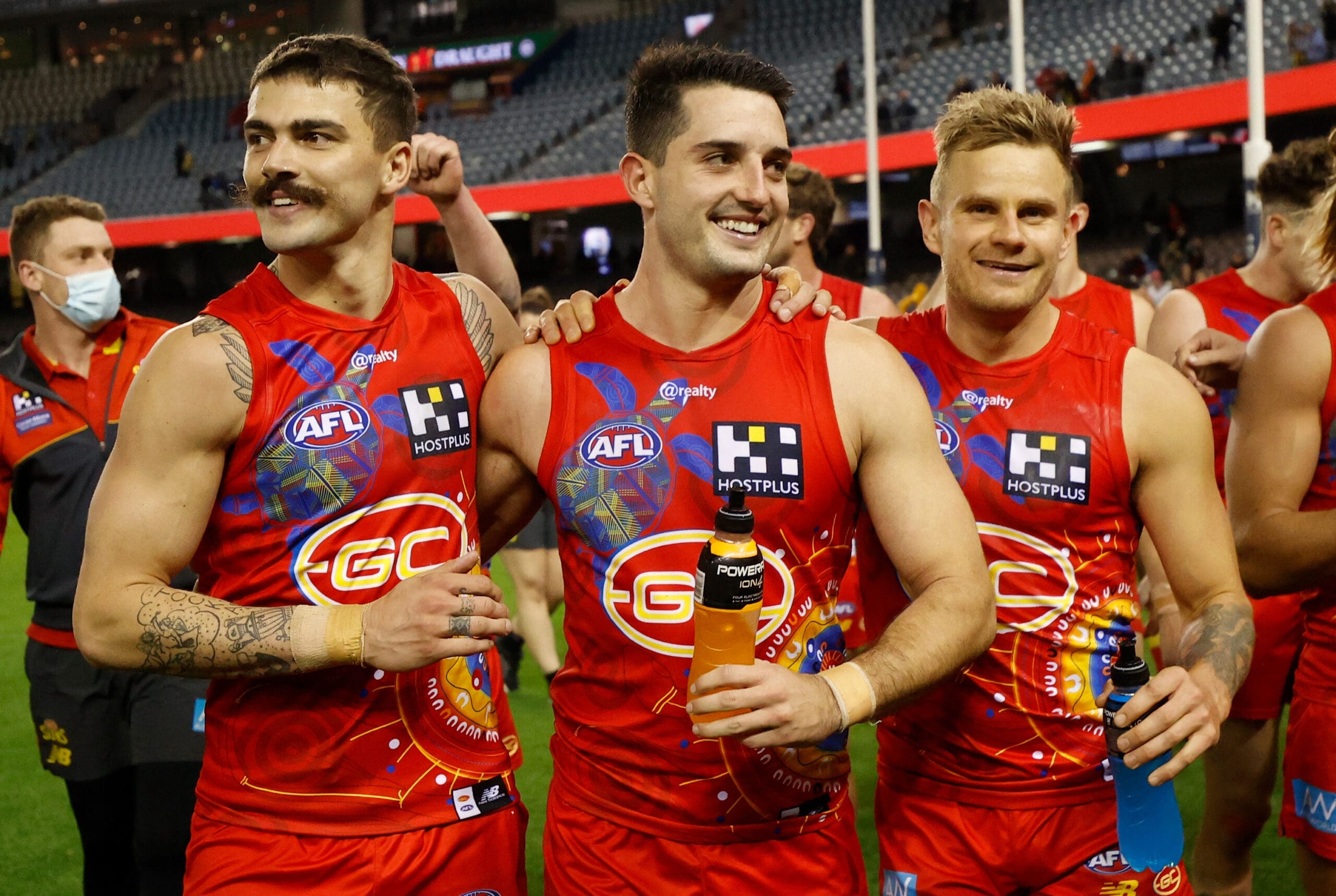 Although they are still a long way from sculling Mai Tais from silverware on Mad Monday at Melba's, as fuzz is starting to coat the previously cherubic faces of their kids born after Cathy Freeman won gold, perhaps it won't be too long.
They'll just need to buck The Who's trend and keep their key components together so as not to get fooled again.