Carlton (8-0-14)
Ladder position – 13th
Off-season agenda – Continue implementing their newfound ideology
Like the many dynastical reigns across much of Europe and Asia, the best way to plot the rises, the tyranny, the glory and the eventual downfalls of each is by denoting time through eras.
In China, much of their early history can be delineated to successive points under the rule of emperors Shang, Zhou and Tang.
Further west in Mesopotamia, the many men of Lagash lauded over the ancient bounds of what now consumes the entirety of Iraq and much of the war-torn nation's surrounds.
Bloody battles were fought for control, and heads – sometimes literally – would roll to announce new leadership that would often bring minimal modifications.
Despite far less claret being spilled on their boardroom table in a literal sense, a similar bloodlust has been evident at Princes Park for the vast majority of Carlton's history.
For a side that has claimed an equal league leading collection of premiership cups, the hunger for success shared by players, suits and supporters has led to a fair share of chianti induced hangovers throughout their suburb with such a rich Italian heritage.
Still, when the perrenial flow of these good times has stalled, the Bluebaggers have never been coy in amputating and upgrading to have further flags hoisted to the Lily of Laguna's dulcet tones.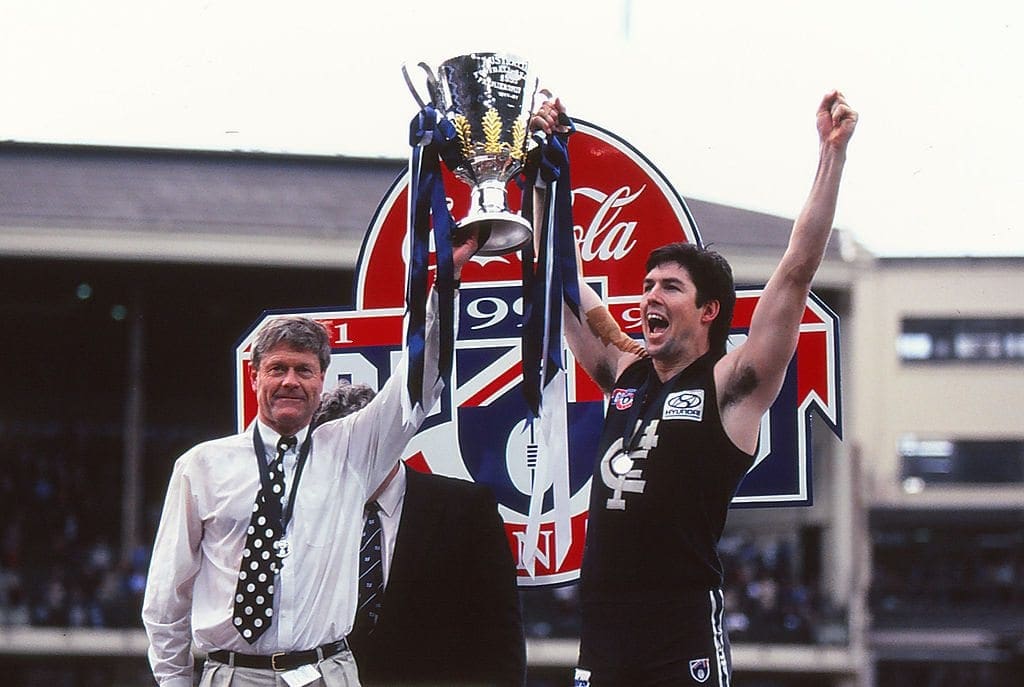 Although success had been obtained well before he was, the arrival of Ronald Dale Barassi as a playing coach in 1965 was the logical commencement of Carlton's modern history.
Sure, dollars and cents were still 12-months away from working their way into Australian's bank accounts and the Queen's name was still praised when singing the national anthem, but Barass' onset also coincided with that of a prison dentist that would only depart after a stand bore his name and four premiership cups were claimed.
SEE ALSO: Every non-finalist's blueprint for success in 2022: North Melbourne
Even though the George Harris era at Princes Park can be seen as the period that the Blues finally returned to prominence after a 21-year stretch in the wilderness, Harris' presidency served across two-terms should be remembered as the duration in which Carlton took their identifying, and warranted, arrogance to new heights.
In spite of the fact that this ideology was adhered to for much of Ian Rice's and, of course, John Elliott's reigns, the act of unbridling this identity by swerving salary cap laws saw the walls cave in and the start of a spluttering rebuild that has stretched into its sixth era.
With a new president finding his feet and a sixth coach gone since the draft and financial sanctions were handed down, the Carlton Football Club now has the chance to commence a new dawn that could well allow for another set of glowing chapters in their storied history.
Despite the fact that many pundits hold the view that the Blues are again on the back foot, the decision to allow for an externally run review into the internal workings of the club must be commended.
SEE ALSO: Every non-finalist's blueprint for success in 2022: Collingwood
However, if the findings are not adhered to and a willingness to adapt is not apparent, what is the true worth of the whole rigmarole?
For this now flat-tyred juggernaut to once again fly, the Blues need to nail their next coaching appointment, because another miss could see further generations of Blues pass out the door without adding to the trophies collected by those that came before them.
Again, I congratulate the contemporary board for taking their time in this hiring process, as just like a pet is for life and not just for Christmas, the next name to fill the hot seat must be viewed as the person to lead the collective of talented names already within the locker room for some stretch yet.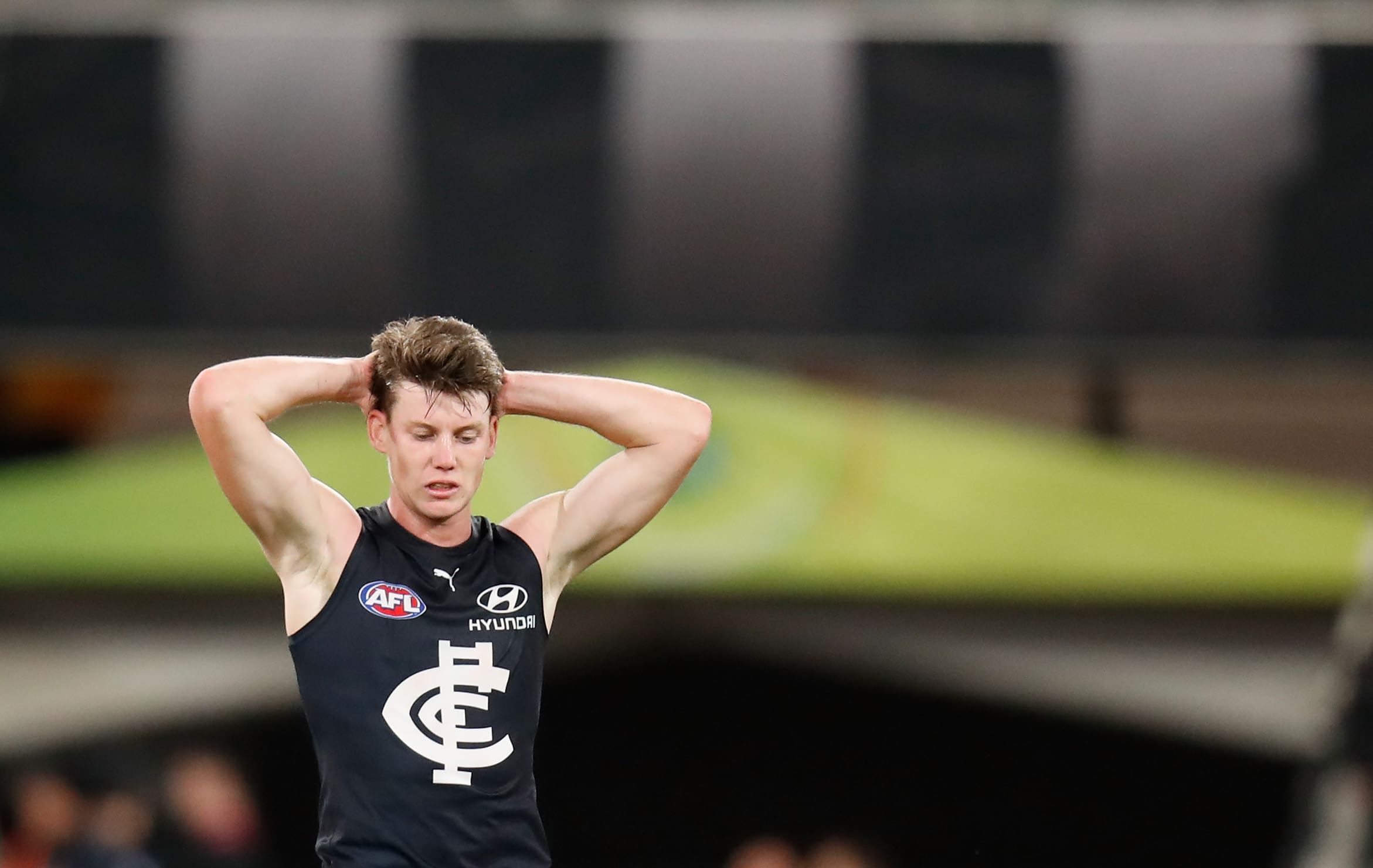 Many of these previously mentioned talking heads (and more than a few Baggers barrackers) were incensed upon finding that the Luke Sayers led board had contacted arch rivals Collingwood to help with this process, but again, this should actually be seen as a sign that Carlton are prepared to be thorough before earning the right to spout superiority once more.
SEE ALSO: Every non-finalist's blueprint for success in 2022: Gold Coast
This would usually be the point of any analysis where someone like myself would through their two cents into the circle and raise a name who should become the 35th person to lead the Blues since the start of the 20th century, but given that Carlton have taken the tack to keep things in house and assess all coaching options before them, I won't bother to rush them.
The only piece of advice I could possibly offer would be that once this next steward has signed on the dotted line, the club's sole aim should be to continue with their newfound ideology of tight lips, eyes to the future and concern only for what they are trying to achieve.
Yes, this may sound remarkably 'Un-Carlton-like', but just as Harris proved in the mid-sixties, a return to glory can only be registered once key posts are covered and the many spinning plates that clubs are forced to balance are stabilized.
SEE ALSO: Every non-finalist's blueprint for success in 2022: Adelaide
Although the Blues have scratched an itch by bringing in cherished names from yesteryear to help ink their new parchment, Greg Williams and David Parkin will have only completed their respective jobs if they allow for fresh air to pass through the mustiness, rather than to just polish and re-stump a collective ego that has not been earned of late.
Notwithstanding the fact that the club with 16-cups to their names is currently without a polo shirt clad pedagogue, the side's roster has plenty of talent across all lines.
Due to a Coleman medalist, a seemingly generational defender and a kid that looks certain to claim multiple 'Charlies' already calling the club home, the Blues' on-field aims must continue to be high for next season.
In my view, the collective of names that currently wear monogrammed guernseys were good enough to play finals in 2021, but with glaring issues behind the ball and injuries aplenty, these plans were soundly scuppered.
SEE ALSO: Every non-finalist's blueprint for success in 2022: Hawthorn
Still, in the grander scheme of things, this halt is nothing to gnash teeth about, as it actually provides the new coach with fodder for improvement, instead of just a paddock of ailing cattle that their predecessors were forced to slowly put out to pasture.
There have been calls to add further talent to this list, and they too are logical, but unlike many other iterations of navy garbed sides from the past, the urge to pull the trigger for a messiah must be curbed, as the products that are already in the pantry should be seen as the nucleus for flags 17, 18 and onwards.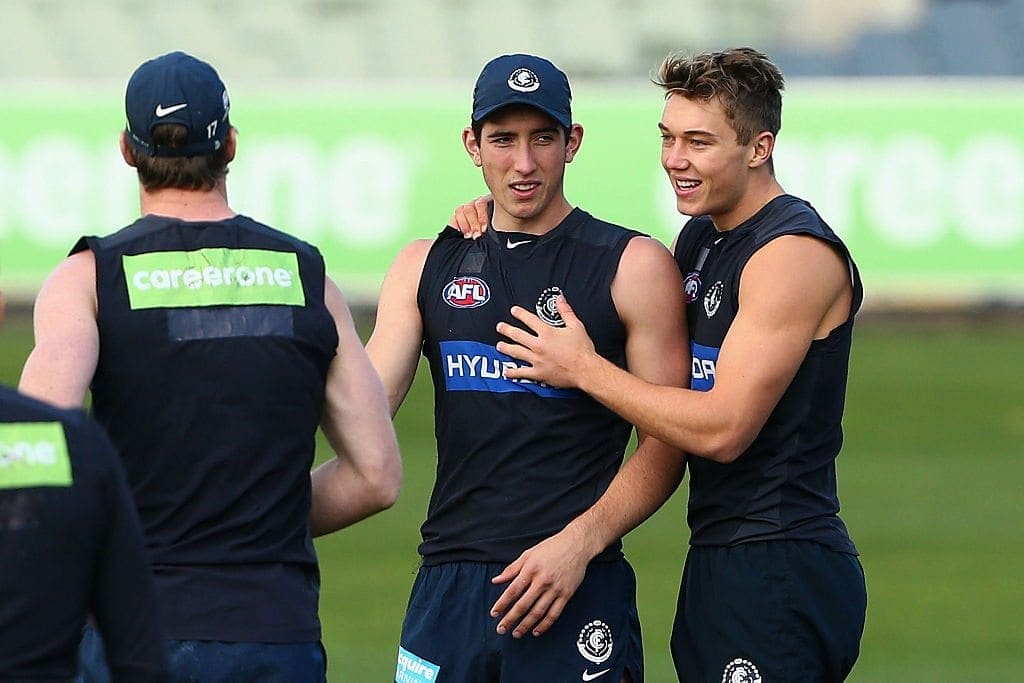 It may be too much to ask a club that either carries a chip on their shoulder or sights of superiority for much of their past, but as a firm believer that leopards can change their spots, I also trust that Carlton can embrace a humbleness and patience that has not always been evident and begin to win because of it.
This 'Sayers and coach-to-be-named-at-a-later-date' era has yet to truly begin, yet if the Blues' eyes remain down, their mouths are kept shut and the current course is preserved, the appropriate time to reinject the club's trademark brand of arrogance could well arrive far sooner than any of their rivals are willing to accept.
Should a long-awaited flag soon fly just off Royal Parade, then like Harris before him, perhaps Sayers' name will adorn a façade at Princes Park before his era is over.