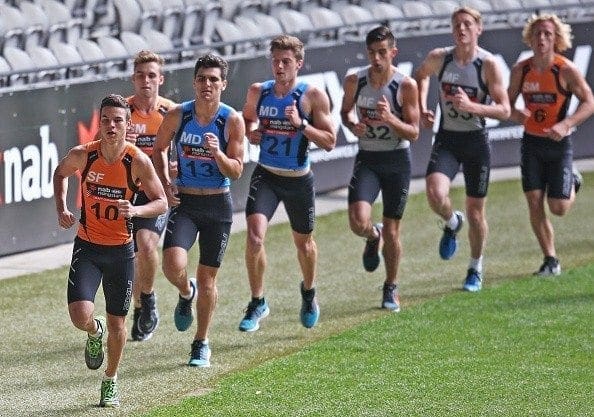 Phantom Draft- First 20 Selections
All the talk is that Carlton are extremely keen on Weitering and it'd be a massive surprise to those in the know if they didn't select him with the first pick in the draft. At Zero Hanger we thought Joshua Schache would have got the nod due to the value attached to key forwards in recent times but that looks unlikely now.
Once you remove the academy selections from this year's draft it's obvious who the top two draft picks are, the Lions will end up selecting Weitering or Schache and they'll be happy with either. The choice will be made for them by Carlton.
Sydney (Academy Selection)- Callum Mills
Again the consensus is that Melbourne will bid for Callum Mills here and Sydney will need to use the academy system to take Mills at pick 3. A dominant inside midfielder who many think will end up being the best player from this draft.
Darcy Parish is a midfielder who can play inside or outside the contest equally well and has no noticeable weakness. Lots of talk around that Melbourne are into another Zero Hanger favourite in Clayton Oliver but we can't see them passing on Parish.
At the start of October we wrote a profile for Oliver which had him getting selected around pick 15- at that time this was considered high by plenty in the industry. Since then however Oliver has bolted up everyone's predictions (including ours!) and few expect Oliver to last past pick seven. A Zero Hanger favourite who everyone is going to love watching play.
GWS (Academy Selection)- Jacob Hopper
Due to Oliver's climb in standing Hopper could actually slip outside of the top 5 selections in this year's draft if it unfolds as we expect. Hopper is the best inside midfielder in this draft, something Essendon could do with so we expect them to bid here for him and GWS will use their Academy rights to pick him up without hesitation.
Aaron Francis is an absolute gun utility, who will add some polish to the Essendon side. If Francis had more of a proven record in the midfield then he'd likely be a top 5 pick. If Essendon end up with Oliver and Francis in this draft their supporters should be very happy.
At pick eight Weideman is a selection based as much on potential as he is one on performance to date. We're reluctant to have Weideman in the top ten due to some injury and consistency issues but expect Gold Coast (or Melbourne afterwards) to take the risk on Weideman as he has the ability to become one of the more dominant key forwards in the league.
McKay is a longer term tall forward prospect. Melbourne aren't looking to win a flag in the next two years and McKay could become the key forward that helps them contend after that. If they don't select him here then Carlton or Adelaide will.
Ah Chee is an exciting player, he'll start his AFL career as a small forward and add some much needed entertainment value to Carlton's list so those of us aren't Carlton supporters can actually enjoy watching them play occasionally.
In all seriousness though Ah Chee is a hard one to place in the draft but it's hard to see him slipping outside of the top 20 picks.
Brisbane (Academy Selection)- Eric Hipwood
Adelaide are reportedly big fans of Hipwood so expect them to bid here forcing Brisbane to use the Academy system to pick him up. Again a longer term prospect but one that should deliver for the Lions and have them praising the Academy system for years to come.
Adelaide- Wayne Milera
This is where the draft starts getting really difficult to predict. Adelaide could take any of Milera, Curnow, Collins, Balic or Burton here. We expect them to go with Milera due to his elite footskills and agility.
Curnow could be an absolute steal at pick 13 in the draft. Missing a chunk of football due to a knee injury which I'd suggest is the only reason he isn't going to be selected in the top 10 of the draft.
GWS (Academy Selection)- Matthew Kennedy
Richmond to bid on Matthew Kennedy here forcing GWS to use the Academy system to select him, they won't be complaining though as it's possible someone could have made them do so earlier.
Kennedy is a strong bodied midfielder who can push forward to kick goals and take strong marks.
At Zero Hanger we have described Mathieson as a footballer's footballer before his approach is one we'd expect Tigers coach Hardwick to love and he will slot in nicely to Richmond's onball brigade. Importantly can go forward and kick goals whilst providing quality defensive pressure.
The Crows and their fans will be thrilled to have recruited a potential top ten pick and local boy with this selection if that is how the draft pans out. Burton is a player who could become a dominant forward for the club and could go down as one of the steals of the draft.
If St Kilda had a list of traits they are looking for in their first pick in the draft it'd likely read as follows: Speed, Footskills and Agility. Luckily for them the best player available at this point in the draft ticks all those boxes in Darcy Tucker. If he is available at this stage don't expect the Saints to hesitate in taking him.
Brisbane (Academy Selection)- Ben Keays
Expect the Hawks to bid for Keays here forcing Brisbane to use the Academy system to select him. Brisbane won't hesitate to pick up a quality onballer at this stage of the draft.
We're expecting Hawthorn to take one of Gresham or Collins here, hoping the other slides through to their next pick at 23. Collins being a key position player seems more likely to last so Gresham gets the nod.
Gresham is a quality midfielder who can rack up possessions at ease.
Balic is a bit of a slider in this draft as he has been talked about as a potential top ten pick over the last year or two. Still smart midfielders who can go forward are valuable commodities, if he slides any further than pick 20 whoever picks him up will be very happy.