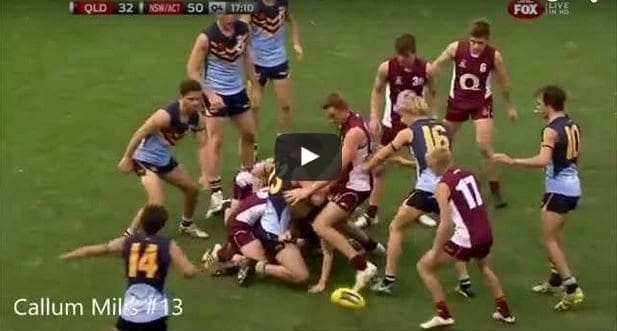 Name: Callum Mills
Position: Midfielder
DOB: 04/02/1997
Height: 188cm
Weight: 80kg
Draft range: 5-20
Current club: NSW/ACT Rams
Pub summary: Swans academy player and likely to end up there. Ready made dominant inside midfielder.
Strengths
Ability inside the contest
Reading the ball in the air
Character
Weaknesses
Footskills
Ability in other position
Overall
Callum Mills is one of the most dominant inside midfielders in the draft, second in many experts eyes only to Jacob Hopper.
Watching Mills play football is enjoyable, especially if you love watching a competitive beast who demands the football and does whatever it takes to win possession of the ball. From all reports Mills possesses an excellent character and this shines through in his workrate on gameday.
While Mills' biggest strength is his inside work and ability to read the ruckmen to win clearances. He does have another trait that gets people talking about him- his ability to read the flight of the ball and take marks and as a result often taking clean grabs a forward would be very happy with.
The question marks on Mills are around his ability outside the contest, where his footskills can let him down and his ability to play other positions is limited. I could see Mills learning to rest forward as his career progresses where his competitive nature and marking could prove handy to his team.
Mills has been in the Sydney Swans academy program since he was 13 years old and is almost certain to end up there with the Swans first round pick.
Video: