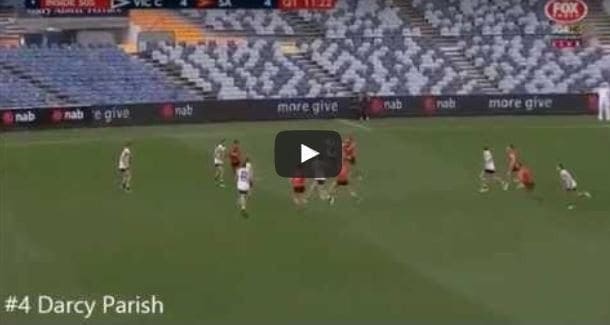 Name: Darcy Parish
Position: Midfielder
DOB: 25/07/1997
Height: 181cm
Weight: 74kg
Draft range: 1-5
Pub summary: Arguably the best midfielder in the draft
Strengths
Disposal
Decision making
Can play inside or outside the contest
Can hit the scoreboard
Weaknesses
Overall
Darcy Parish is an exciting prospect in this year's AFL Draft. He has elite footskills, decision making and versatility and he will have fans liking their lips as they learn more about him.
Parish is one of the best midfielders in this draft and if you take out the academy players then he is definitely the best. His game is so well rounded, he can win his own ball if required, play outside and hurt teams with his disposal and vision. He can also go forward and kick dribbling checkside goals or go back and play the creative quarterback roll for his side.
When looking for a weakness in Parish's game, it was hard to find one. I've settled on the fact that he can get out marked in one on one contests when he goes to the backline. Having said that, there is nothing wrong with his marking. He is just not a strong contested marking type.
Realistically, Parish will get selected between picks three to five. I expect Schache and Weitering to go one and two before him. However, after that, it is very even from picks three to ten.
Highlights: