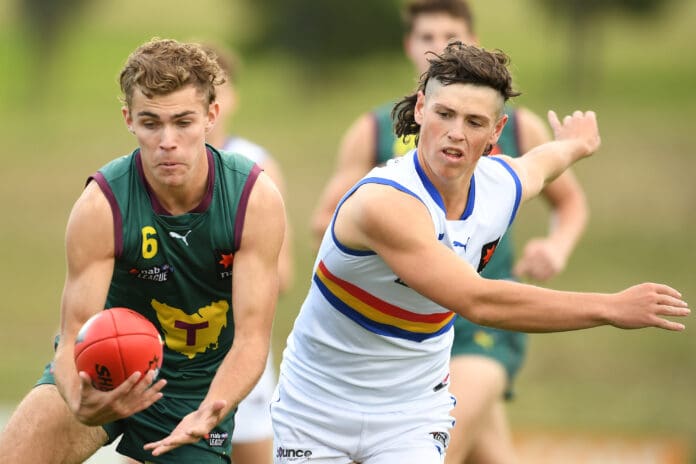 Up to nine hopeful young players from Queensland, Tasmania and the Northern Territory could feature in the upcoming National Draft.
It's a modest representation of these allied states, adjoined by five more young guns potentially featuring from New South Wales / ACT.
We take a look at the leading draft prospects from the Northern Territory, Queensland and Tasmania.
Northern Territory
Ronald Fejo Jnr (West Adelaide/Northern Territory)
Height: 178cm
Weight: 70kg
Originally hailing from the Northern Territory, Fejo Jnr relocated to Adelaide, where he has played two games for West Adelaide in the SANFL. His performance in a patched-up Allies squad earlier this month was likened to Aaron Hall, and has kept recruiters interested.
His speed, agility and electric ball play was incredible and not a one-off, given he recorded the sixth-best agility test score at the draft combine (8.080 seconds).
Andy Moniz-Wakefield (NT Thunder/Northern Territory
Height: 180cm
Weight: 73kg
Andy Moniz-Wakefield is also one of the Territory's brightest prospects, impressing onlookers by being among the best in the same Allies game as Fejo jnr. Additionally, he was integral to Cazalys NT Thunder Academy's two-game NAB League stint earlier in the year.
His lively spark and evasive ability are proving to be key qualities as an aspiring small forward/midfield hybrid player.
Having played several games in the Northern Territory Football League (NTFL) in the past two years, the Darwin local is well versed in competing against bigger bodies and remains very composed with ball-in-hand. He's tipped to be picked up late in the draft.
The @TheNTNews Rising Star nominee for Round 9 is Nightcliff's Andy Moniz Wakefield! Andy made his debut on in the Tigers' 15-point win on the Tiwi Island against the Bombers. Talk about a unique debut experience! #territoryfooty pic.twitter.com/EKPlm6XJ3r

— AFLNT (@AFLNT) December 2, 2020
Ned Stevens (NT Thunder/Gold Coast Academy/Northern Territory)
Height: 196cm
Weight: 85kg
Fellow Darwin local and Cazalys NT Thunder Academy member Ned Stevens will also stake his claim to be drafted next month. His strong form in the NTFL earned him an opportunity to improve his craft at the Gold Coast Next Generation Academy program, where he played for the Suns in the VFL as well.
At 196cm tall, the developing ruckman is mobile for his size and has the ability to perform in other key positions. Stevens is looming as a marking threat in the forward line, having recorded a running vertical jump of 84cm at the draft combine.
Queensland
Austin Harris (Gold Coast Academy)
Height: 178cm
Weight: 70kg
Likened to Jarrod Harbrow, Austin Harris is a crafty wing/half-back with precise foot skills and sharp vision. He is a dazzling outside player who adds elegance to each possession and variety to his kicking. Even though the 2021 season has not been favourable for Harris injury-wise, he still managed three games for the VFL side.
At the junior level, he played for the Cairns Saints and at Broadbeach on the Gold Coast, where he is also part of the Suns' Academy and AFL Academy. He is looming as a possibility via the rookie intake.
Bodhi Uwland (Gold Coast Academy)
Height: 187cm
Weight: 88kg
Bodhi Uwland is a hardened onballer who has modelled his game on contested footy. Powered by courage, Uwland rarely fumbles at ground level or in a marking contest and he shrugs tackles for fun. He'll play a role down back too with a damaging kick and a game style akin to Luke Hodge.
The Gold Coast local has also developed his game at the Suns' Academy, where he played seven games at VFL level. He is shaping up to be taken with from the third round or later.
Will Bella (Gold Coast Academy)
Height: 196cm
Weight: 95kg
Will Bella has also toiled his craft in the Gold Coast Academy, having moved south from Mackay to advance his career. This year he has played at NAB League and VFL level, and is looking to be drafted and join his sister Lauren who plays for the Suns in the AFLW.
🏉 If drafted in November, Gold Coast Academy and Sarina footballer Will Bella would join his sister Lauren at the Suns. 📍 Find out why the siblings would make AFL/AFLW history here 👉 pic.twitter.com/msU4Vlv1RI

— Daily Mercury (@daily_mercury) October 24, 2021
With the second-highest standing vertical jump of 75cm at the draft combine and a height of nearly two metres, Bella seems a ready-made tall forward.
Many are drawing comparisons to Jack Darling or Charlie Dixon, but he is also capable of playing in the backline or as a backup ruck option.
With Gold Coast essentially selling its picks, it will make Bella's route to the side harder, given Uwland and Harris appear to be favoured.
Tasmania
Sam Banks (Tasmania Devils)
Height: 186.5cm
Weight: 73kg
Banks' 2021 season was rewarded with selection in the NAB League Team of the Year, having averaged 21.8 disposals per game for the Devils. The medium defender is rated among the best by AFL talent ambassador Kevin Sheehan, although he is able to roll through the midfield too.
High praise for the @TasmaniaDevils_ captain 👏

AFL Talent Ambassador Kevin Sheehan has revealed his top medium defenders in this year's NAB AFL Draft, with Clarence's Sam Banks one of the players featured.

Read more about Banks and see the full list: https://t.co/PAvJwvRUT3 pic.twitter.com/O52hYb1bNV

— AFL Tasmania (@AFLTasmania) October 22, 2021
Banks' decision making and disposal is elite, having been a highly-touted prospect from Tasmania for a number of years. That, combined with his exceptional athleticism, sees him emerging as a mid-to-late selection at the draft (pick 30-60).
Baker Smith (Tasmania Devils)
Height: 194.3cm
Weight: 81.2kg
As a tall defender who is capable of going forward at stages, Baker Smith is one of the leading prospects from the Devils. He played eight games in the NAB League this season and there is plenty to like about his strong aerial ability and hearty second efforts.
Often undersized in one-on-one match-ups, he will need to add more kilograms to the frame, but he has shown an ability to counteract this by consistently making the right call on when to mark and when to go for the spoil. Smith is more of a rookie prospect at this stage, although he may feature late in the draft.
Will Splann (Tasmania Devils)
Height: 195cm
Weight: 90kg
Will Splann has been on the Tasmanian watch list since he debuted in the State League for North Hobart at just 15 years old. In his six games for the Devils this season, he proved himself as a capable tall forward with clean hands who regularly clunks big marks.
As a clever leader, he positions himself well and often out-marks his opponents, but he may not have the agility to burn off speedy defenders.
Even as a strong player in his own right, there are many key position players ahead of him, rendering him as another rookie stage draft prospect.
Draft combine ✅

Well done to all five of our @nab AFL Draft Combine invitees.

Baker Smith, Will Splann, Tyler McGinniss and Ollie Sanders all tested, while Sam Banks was managed. Baynen Lowe also participated today as an unofficial invitee.

📸 @solsticedigital #NABLeague pic.twitter.com/6gUDfUWl7B

— Tasmania Devils (@TasmaniaDevils_) October 11, 2021