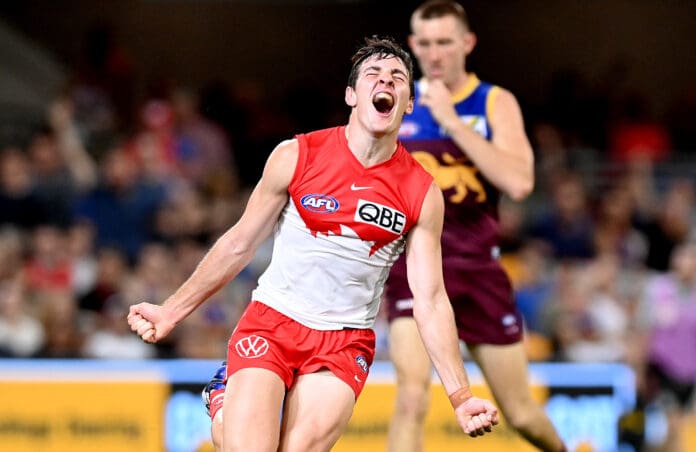 Given the past success of recruiting local talents, Swans and Giants fans will be pleased to know that five players from New South Wales/ACT may feature in the upcoming National Draft.
Giants Academy standout Josh Fahey headlines the pack. He has been on AFL clubs' radars since his performance at the under-14 national championships in Perth and looks certain to be taken. The Queanbeyan local has a booming left-foot and recorded the second-best 2km time trial at the draft combine.
Fellow Giants Academy player Harrison Grintell offers a great deal of speed and agility - traits expected of his role as a small forward. He represented the Giants in the NAB League and VFL throughout 2021, hitting the scoreboard on several occasions.
AFL Draft wrap with a focus on GWS Giants Academy member Josh Fahey. A must read for GWS and Melbourne fans with Melbourne NGA Mac Andrew looking special: https://t.co/JKxv7xuGH6 #AFL #AFLDraft #AFLAcademy #GWSGiants #MelbourneFC

— AFL Draft Expert (Knightmare/Chris Doerre ESPN) (@AFLDraftExpert) April 28, 2021
Patrick Voss, who hails from Wagga Wagga, played both in the forward line and back line this year for Oakleigh in the NAB League and has proven himself as a threat at both ends of the ground.
Swans Academy star Angus Anderson is a big-bodied midfielder who impressed for the Swans VFL team, while also earning Allies selection. The talent stationed near Coffs Harbour possesses a contested game on the inside, while clean hands and work rate are also among his strengths.
Ryan Eyers, from the border town Corowa, rounds out the five New South Wales-based players invited to the combine. At nearly two-metres tall, the Murray Bushrangers talent manager Mick Wilson told the Riverine Herald that Eyers has an "excellent skill set for a player of his size".
Due to the Covid pandemic, Vic Metro and NSW/ACT athletes were unable to take part in combines, apart from submitting a 2km time trial through Strava.
FOOTBALL | @Giants_Academy prospect and Allies representative Harrison Grintell is a hard-working small forward who loves to tackle, but also shows flashes of class with his finishing ability.

His full #AFLDraft Profile 👤⬇️https://t.co/8JAGGFKgRe pic.twitter.com/FVLn0J7OPG

— Draft Central (@DraftCentralAus) October 12, 2021
Just like many before them, these young guns were surrounded by rugby and rugby league and may not have been involved in our game if it was not for the northern academies.
Fahey, the son of an ACT rugby identity said "he played rugby league and rugby union" before moving to try his hand at the country's indigenous code in year six.
Anderson grew up playing both, telling Sydney Swans Media "I played rugby union too and it's the tackling and physicality that I like most".
A fast time of 6min14secs was recorded by Sawtell/Toormina's Angus Anderson on the weekend in the 2km Time Trial in his #afldraftcombine testing.
It was the 12th fastest time recorded nationally.
The @AFL National, Rookie & Pre-Season drafts are being held November 24-26. pic.twitter.com/CpYiXT81qJ

— AFL North Coast (@AFLNorthCoast) October 19, 2021
Given they have proven a fruitful orchard for talent, the footy world is divided on the northern academies, with Eddie McGuire once claiming that the "Sydney Swans academy will destroy the game".
But the reality that seems to be overlooked in the debate is the greater good it does for the growth of the game up north. Around 3000 kids have gone through the Swans program, with just 0.5% of them making the senior list.
It was designed to address the paucity of access to the draft for players in New South Wales and Queensland. In the ten years to 2014, just 17 players from New South Wales were selected in the national draft.
Its intention is to establish a talent base in what the AFL describes as "developing markets", to then nurture and develop. It's clear that New South Wales, the country's largest state, has a stack of sporting talent that may not have been directed towards Australian rules football otherwise.
Other states already house this talent base and access to elite pathways, rendering any claim it is unfair as largely unwarranted.
Since the intoduction of the Suns, 95 Queenslanders have been drafted or rookie drafted (First time draftees) to the AFL and 105 from NSW or the ACT.

others -
Victoria 700
WA 223
SA 220
Tas 45
International 37
NT 28

— sportsindustry (@footyindustryAU) October 17, 2021
The AFL's expedition north of the Murray is coming to fruition, with many private schools on the north shore and in the eastern suburbs of Sydney implementing AFL programs to keep up with the demand. In 2013, just six independent schools in Sydney had AFL programs, but now there are 14, with 62 boys teams.
In 2019, when Nick Blakey was drafted from the Swans Academy, Sydney Swans senior coach John Longmire told AFL Media that "it's now cool to be playing AFL football in NSW, and when I first moved up a number of years ago, that wasn't the case".
Draft prospects from New South Wales / ACT
2. Ryan Eyers (Murray Bushrangers/NSW-ACT, 197cm, 80kg)
3. Josh Fahey (GWS Giants Academy/NSW-ACT, 187cm, 77kg)
4. Harrison Grintell (GWS Giants Academy/NSW-ACT, 175cm, 71kg)
5. Patrick Voss (Oakleigh Chargers/NSW-ACT, 194cm, 91kg)