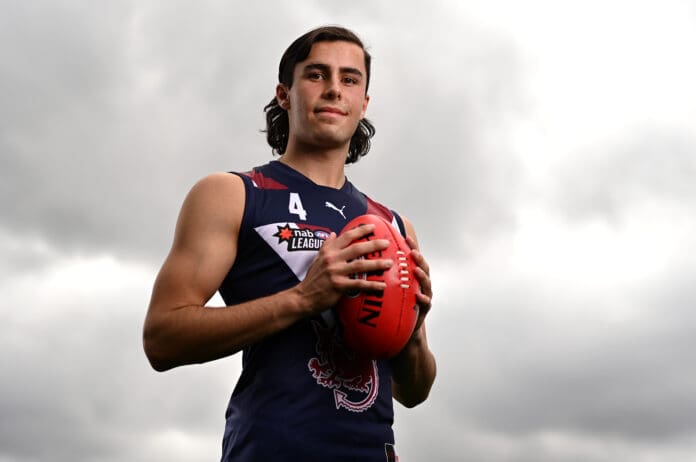 The AFL National Draft is nearing, with the class of 2021 looking to be a deep pool of prospective future stars of the competition.
Identified as a key cog in any defensive structure is the role of a medium defender, being able to offer versatility, pace and poise in the backline.
Who could emerge as the next Jordan Ridley, Bailey Dale or Liam Duggan from this year's crop of talented teenagers?
AFL Talent Ambassador and veteran list guru Kevin Sheehan has provided insight into the top talents for clubs looking toward boosting their medium defensive stocks.
Josh Sinn (Sandringham Dragons)
Height: 186cm
Weight: 78kg
Named at half-back for the NAB League Boys Team of the Year following a strong season with the Dragons and Vic Metro despite injuries.
Offers great attack from defence and is touted as a first-round selection thanks to his speed and ability to slice open play with precision passing to begin a transition.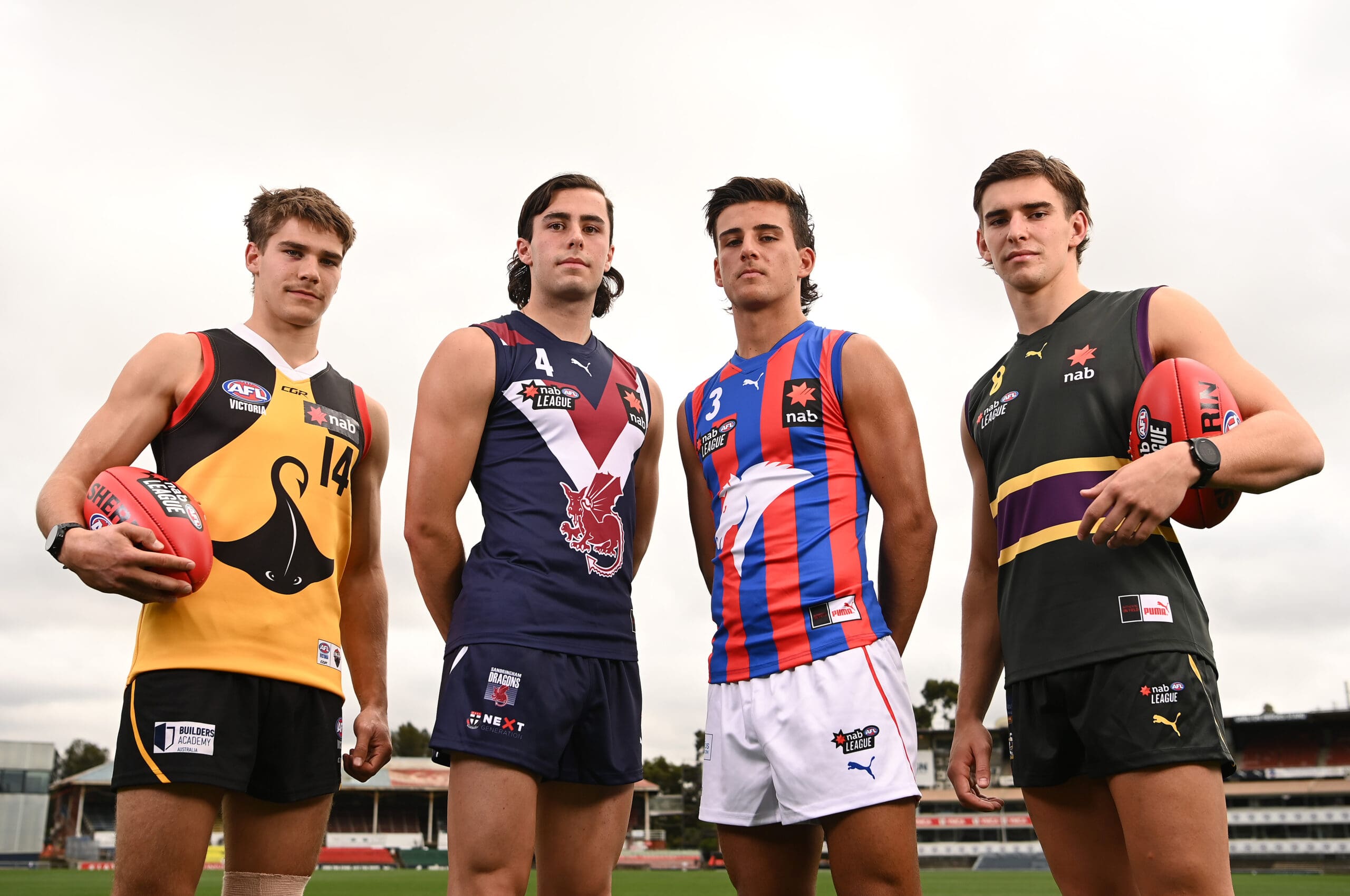 Sheehan says: Dashing medium defender who breaks the lines with his acceleration and penetrates with his preferred left foot. Had an injury interrupted year missing the Australian AFL Academy game with a hamstring injury before being impressive for Victoria Metro in its match against Victoria Country then suffering an ankle injury late in the match. Recorded a sharp 2.98 seconds for 20 metres at Victorian NAB League testing earlier in the year then a solid 6 minute 41 seconds two-kilometre km time in Draft Combine for Victoria Metro (Strava test) at season end confirming his overall speed and endurance combination.
Darcy Wilmot (Northern Knights)
Height: 183cm
Weight: 75kg
Another member of the Team of the Year, the Montmorency product was named in the back pocket following a meteoric rise as a versatile defender.
Promising leadership qualities in captaining Vic Metro earlier this year, Wilmot is an architect from the defensive line and looks to quickly move the ball from the back in order to catch the opposition off-guard.
Sheehan says: Medium defender with natural power and agility whose intercept marking is a real feature of his game. Very strong contested ball winner who uses the ball well in rebounding for his team. Played seven games for the Northern Knights averaging 15.1 disposals and often was involved in 60 metre plays. Another player to shine in Victoria Metro impressive win at Under 19s level over Victoria Country in July.
Josh Fahey (GWS Giants Academy)
Height: 186cm
Weight: 76kg
Was named best for his side in the Australian NAB AFL Academy's clash with Geelong's VFL side earlier this season, offering speed and an injection of attack from down back.
Could sneak into the top 20 selections should a rival club look to pry his services from the Giants, however a continued career in the orange and charcoal looks likely.
Sheehan says: Medium defender/wingman who really takes the game on using his speed, step through traffic and prodigious elite left foot to break open the game. Played three games for the GWS Giants in the VFL this year experiencing the higher-level averaging 13.3 disposals with his best being 24 disposals against Richmond.
Tom Brown (Murray Bushrangers)

Height: 186cm
Weight: 77kg
Ineligible for a father-son selection to Kardinia Park despite being the son of former Geelong player Paul Brown, the teenage talent's ability to launch out of defence is as lethal as his ability to lock down on the opposition.
Has shown great results at the Draft Combine and will likely fall as a second-round selection for any club wanting a reliable option to slot into their defensive structure.
Sheehan says: A line breaking medium defender who loves to take the game on and step past the opposition using his elite agility. Composed and a decisive decision maker he can also go forward and impact the game. Represented Victoria Country at Under 19s level versus Victoria Metro in 2021 being among his team's best players as well as playing five matches for the Bushrangers averaging 16.8 disposals at an impressive 75% efficiency as he mixed his football between the Bushies and Geelong Grammar.
Braden Andrews (Oakleigh Chargers)
Height: 189cm
Weight: 83kg
Was set to face the Cats' reserves earlier this year after being selected into the Australian NAB AFL Academy's squad before suffering injury.
Another strong defensive operator that is capable of winning a contested ball and offering as a quarterback from the back 50 to aid his club's movement going forward.
Sheehan says: Medium defender who has had an injury interrupted year after playing consistently well for Victoria Metro at Under 16s level in 2019 earning All-Australian honors after averaging 16.7 disposals and showing he had the power to navigate through heavy traffic. Played just five games at NAB League level this year and missed the NAB AFL Academy game against Geelong's VFL team due to injury.
Sam Banks (Tasmania)
Height: 187cm
Weight: 71kg
The cream of the crop from the Apple Isle, Banks joins Wilmot and Sinn in finding a place in the 2021 Team of the Year defence following a stellar season with the Devils.
Also able to play through the engine room, the 18-year-old has a year impacted by injury, however his 2019 campaign had plenty to suggest his ceiling is as high as any player in his class.
Tasmania Devils captain and Alan McLean Medal at the U16 Championships ✅

Eight @NABLeague matches and a @ClarenceFC senior debut ✅

AND now the U16 Devils Best & Fairest ✅

Rising 🌟 Sam Banks has had one hell of a 2019 👏 #TheDevilYouKnow pic.twitter.com/LI1ogyWRpn

— Tasmania Devils (@TasmaniaDevils_) October 12, 2019
Sheehan says: Medium defender also capable of displaying his polish through the midfield. His use of the ball is elite being a combination of precise decision making and neat disposal by hand and foot. Been Tasmania's shining light for several years winning its MVP and All Australian honors at Under 16s level in 2019. Had injury interrupt his season after suffering a broken wrist missing the NANB AFL Academy game but was in sparkling form before and after that playing four matches with the Devils in the NAB League averaging 21.8 disposals and selected in NAB League's Team of the Year.