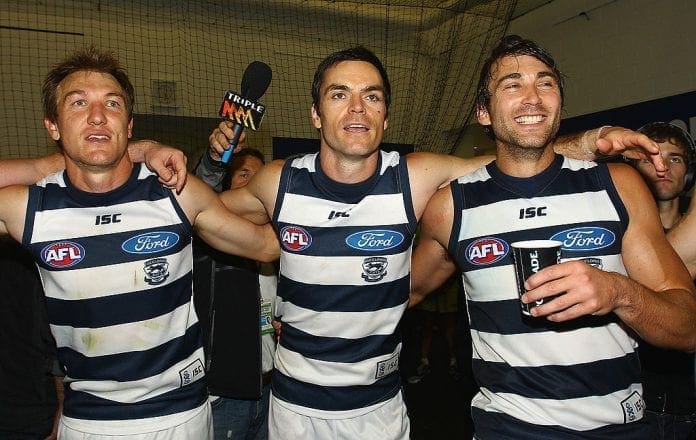 Defenders have the most arduous jobs in AFL and only the best can truly say they enjoy it.
The art of defending looks to be a frustrating craft to control, but many over the 21st century have mastered that art and have been recognised as some of the best backmen this game has seen.
Unfortunately for defenders, there isn't a Coleman Medal equivalent for Defensive Player of the Year, but many play as if they're defending for that honour.
The Zero Hanger team have ranked the best 15 defenders of the century, and it wasn't easy! Players must have played at least five seasons in the 21st century to meet the criteria, making someone like Stephen Silvagni ineligible. Furthermore, their body of work during the century is important, ruling out someone like Glen Jakovich.
See also 👇
The 15 best forwards of the century
The 15 best ruckmen of the century
The 15 best midfielders of the century
Here is our top 15 defenders...
15. Shannon Hurn 
No Victoria bias here! The Eagles' 2018 premiership-winning skipper makes our list having been a staple for his side across 270 games. He captained the Eagles from 2014-2019 and won two All-Australian selections.
A late bloomer, Hurn's best football came at the later stages of his career, but his side's dependance on his service is evident. A career average of close to 18 touches, five marks and four rebound 50's proves Hurn has been a valuable asset in the royal blue and gold for some time as the general in defence.
He's one of two premiership captains to feature on our list and is widely regarded as one of the best kicks of the modern era.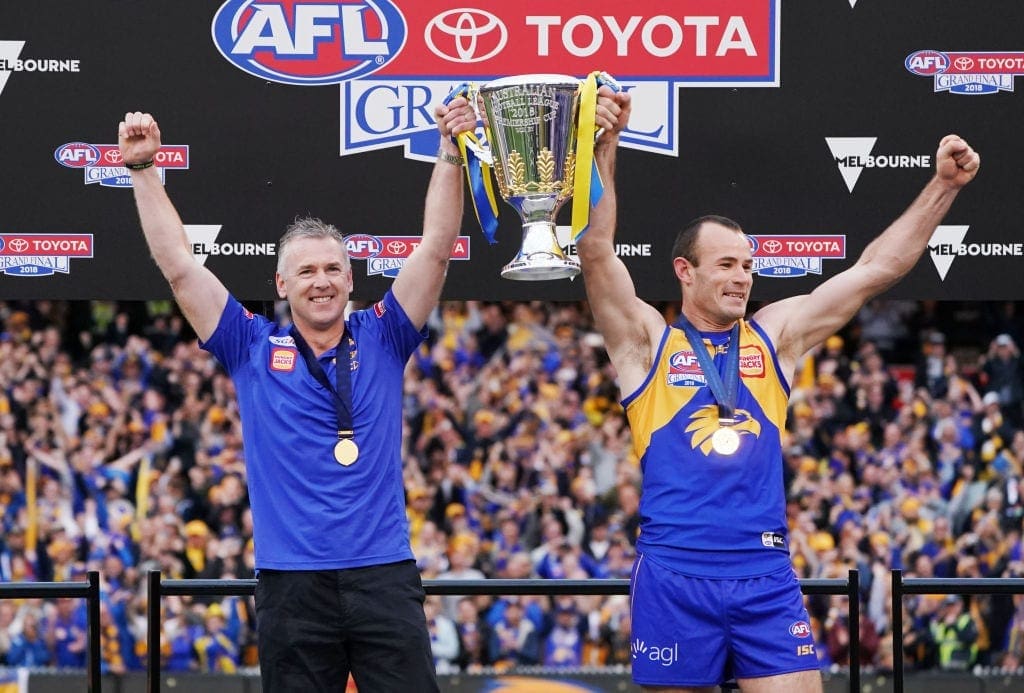 14. Glenn Archer
The epitome of the Shinboner spirit, Glen Archer was a fearless leader from the Kangaroos' defensive 50.
While his peak may have come in North Melbourne's glory days in the late '90s where he won two flags and a Norm Smith, Archer continued to give his side everything they expected from the veteran and more in the 2000s.
A six-time Robert Rose winner for Most Courageous Player (including four this century) is how Archer made his mark on the league. The Kangaroos great is widely regarded as one of the toughest players of all time.
13. Gavin Wanganeen
The Essendon Team of the Century back pocket, Wanganeen did not look to slow down at the turn of the century.
The Hall of Fame defender originally moved home to South Australia to become one of the founding members of Port Adelaide's AFL journey, where he would captain the side until 2000.
The 300-gamer won two of his five All-Australian selections and his only best and fairest this century to go along with his prized premiership medal in Port's first flag. We knocked Wanganeen dow a few spots considering he did a lot of his best work in the '90s.
12. Jeremy McGovern
Four consecutive All-Australian selections since 2016, it's a shock to see McGovern has played just the 126 games.
Originally selected as a partner for forward star Josh Kennedy, McGovern was eventually moved to the backline in 2015 and won a selection on the initial All-Australian squad.
McGovern will be destined to rise up this list by the time he retires, it's just a matter of how high he can fly.
11. Darren Glass
McKenna, Kemp, Cousins, Judd and Hurn all spent time as captain of the Eagles at some point in this century, yet Glass stands above them all for leadership and guidance.
Glass led his side out on 129 occasions from his 270 games for West Coast, the second-most captained games for the club behind Western Australian Hall of Famer John Worsfold.
Glass was not only appointed captain on his fourth and final All-Australian selection, but won the club's best and fairest three times - the third-most behind Cousins and Jakovich with four each.
10. Brian Lake
A three-time premiership player with the Hawks and a Bulldogs best and fairest winner, Lake ended his 251-game career as a steal at pick 71 in the 2001 draft.
Adding a Norm Smith Medal and two All-Australian selections, Lake's resume stands to be one of the strongest across all defenders from the past 20 seasons.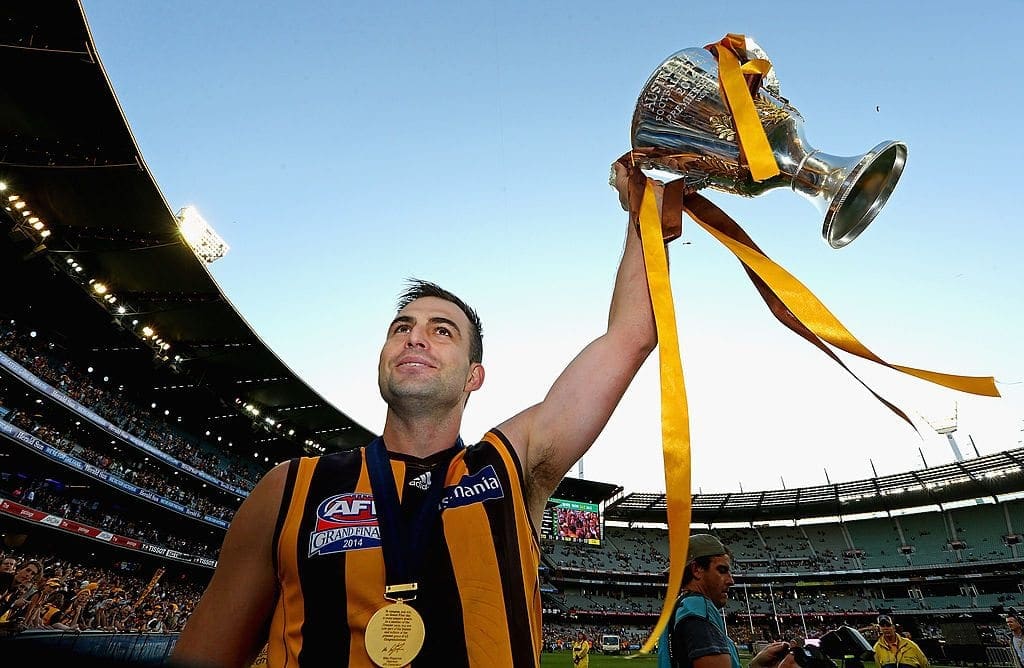 9. Dustin Fletcher
When longevity accounts for so much in sport, Fletcher reigns as one of the all-time greats.
23 seasons in the league and 400 games, the lanky two-time All-Australian and two-time premiership player was a key member of Essendon's near-undefeated premiership team, winning the best and fairest for the famous side of 2000.
His ability to launch the ball 60 plus metres with accuracy will forever be a cherished memory of his illustrious time in the AFL.
8. Josh Gibson
The game's all-time leader for one-percenters with an average of over 7.5 across 225 matches, Gibbo was one of many star recruits to play a key role in the latest Hawks dynasty.
Three premierships are a staggering feat for anyone, but to collect two best and fairests across two of those seasons is something else. His sharp disposal and ability to consistently hit targets was such an asset for the Hawks.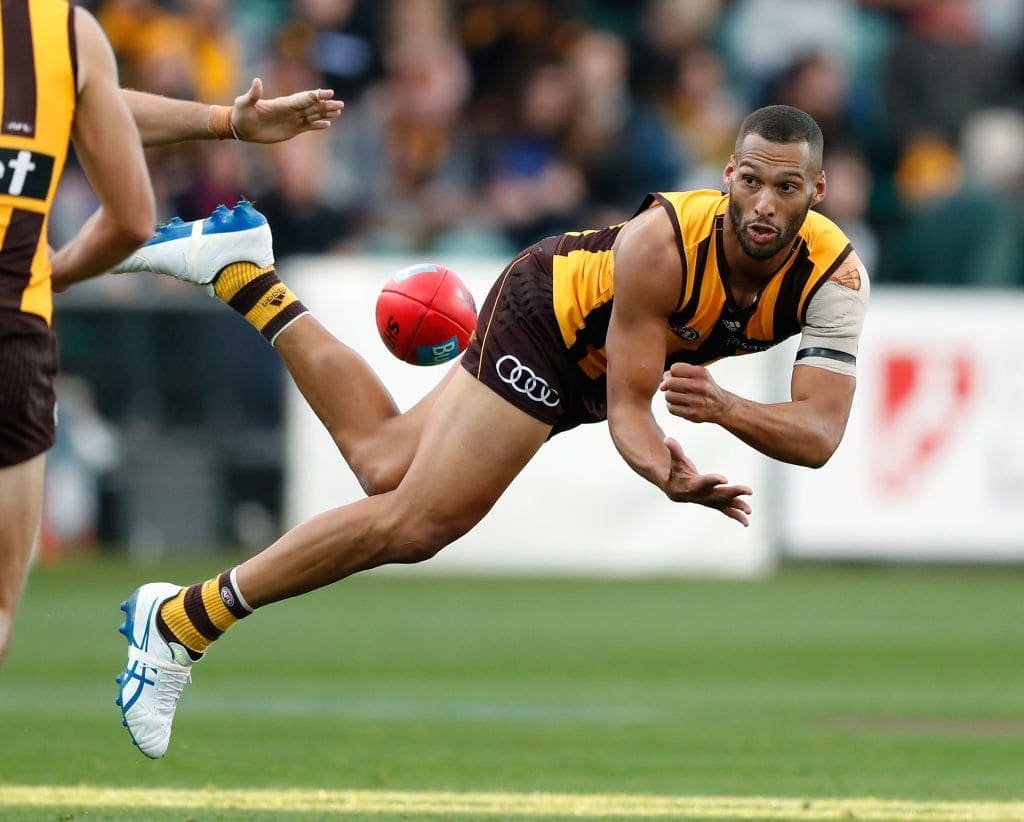 7. Justin Leppitsch 
A vital member of the Lions' threepeat era, Leppitsch was a monster at centre-half back - a key source of headaches and problems for opposition forwards.
Leppitsch's ability to play both tall and small gave him a handy advantage over his direct matchup, earning him his second and third All-Australian selections in premiership winning years.
6. Andrew McLeod
McLeod managed to claim two Norm Smith medals and a spot on Adelaide's Team of the Decade before the 21st Century, however, his best football was arguably yet to come.
'Bunji' was inducted into the AFL Hall of Fame in 2014 after 16 seasons with the Crows, having been awarded Adelaide best and fairest twice, AFPLA Player of the Year and four All-Australian selections since 2000 alone.
McLeod's CV deserves an article to itself, his creative and threatening nature from the backline ranks him as one of the best to play in the defensive third from his era.
5. Shaun Burgoyne
Perhaps Burgoyne's advantage over the aforementioned is that his whole career came after 2000. But we're not taking anything away from one of this century's all-time players, period.
35 games in September ranks him second to long-serving Hawthorn legend Michael Tuck for finals appearances while currently sitting seventh overall for total games played with 377 after entering his 19th season.
Four premierships balanced between defence and midfield, Burgoyne mastered each role he was handed and thrived as one of the current era's best half backs.
4. Corey Enright
Geelong's all-time games record holder never looked like slowing down but hung up the boots in 2016 after winning his sixth All-Australian selection.
Boris is the purest small defender the game has seen for some time, perhaps all-time, playing all 332 games with consistency and pride for the jumper he wore.
Both of his Carji Greeves medals fell in premiership seasons, adding the sweet, hard-earned icing on the cake for 2009 and 2011.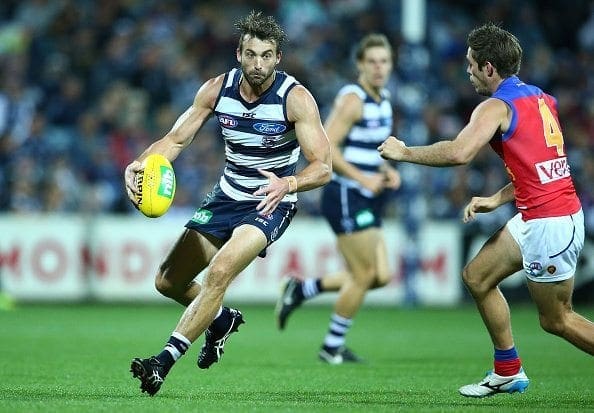 3. Alex Rance
The best defender of his generation. Many fans loathed Rance, perhaps rival fans were over his reign as the game's best defender for over half a decade.
His ability to make his mark on almost every contest in his side's defensive 50 was astounding, a true nightmare for forwards both tall and small.
Rance was selected at full-back four times and centre-half back once across his five All-Australian selections and was handed the captaincy in 2017 to make his premiership-winning season just that touch more gratifying.
Rance's decision to end his career short will forever bewilder the average footy fan, but collectively we know his 11-year post at Richmond was historic.
2. Luke Hodge
Had it not been for his time spent as an onballer, Hodge would have likely been crowned numero uno. Hodge thrived as a defender early in his career before the the Hawks' dynasty took off, where he played mainly in the midfield.
One of four dual Norm Smith medalists, one of those performances was the 2008 Grand Final upset over Geelong when he dismantled them from half back.
His ability to lead from the back was unmatched, revolutionising the half-back position.
His move to Brisbane was a call to say "we aren't finished", with the Lions jumping from 15th to second across his two seasons in Queensland.
Hodge ended his career as a four-time premierships player, three-time premiership captain, two-time Norm Smith medalist, three-time All-Australian (twice at half back), two-time best and fairest and future Hall of Famer, with legend status awaiting.
1. Matthew Scarlett
For forwards, seeing the flowing, dark curls and fierce stare of Matthew Scarlett usually meant their day was over before it had even started. He was a menace.
The greatest defender of the century and perhaps of all-time, the ultra-attacking ace was a force to be reckoned with, claiming a new scalp each and every week. His ability to read the play from the last line was unrivalled, consistently shutting down the best opposition forward, helping his teammates as third man up and rebounding the other way.
Nothing exemplifies Scarlett's footy IQ more than that toe poke in the 2009 Grand Final to set up Paul Chapman's match-winning goal.
The AFL Hall of Famer was the focal point of the historic three-time premiership winning Geelong defence. Scarlett won Australian honours on six occasions, ranging from 2003-2011 and took out a best and fairest during his breakout season of 2003.
He ended his 284 game career after the 2012 season, instantly drawing labels as one of the best defenders to play the game.