We've counted down the top 15 midfielders of the century. And boy was this was one tough!
See also 👇
The 15 best defenders of the century
The 15 best forwards of the century
The 15 best ruckman of the century
Note that players must have played at least five seasons in the 21st century to meet the criteria and their body of work during the century is also key.
It's not just players who have played in the last 20 years. This devalues names like Robert Harvey and Scott West.
Here is our top 15 midfielders of the century…
15. Jason Akermanis 
An electrifying star of the game who could take control of any match, the 2001 Brownlow medalist was a magician with the ball in-hand.
'Aker' left fans, teammates and even the opposition in awe with dazzling displays of brilliance from almost every inch of the ground.
His clean use of the ball and hunger for winning fuelled his success with the Lions, taking on a leading role in the clubs early 2000's three-peat.
The combination of bleach blonde hair and a brown goatee were one of a kind, fitting for Akermanis.
As well as a crafty onballer, Akermanis was deadly in front of goal, finding ways to bend them in from impossible angles.
His goal scoring totals won club leading goal-kicker awards for 2004 with the Lions during their run to the Grand Final and in 2009 for a third-place finishing Western Bulldogs.
The Lions star won three of his four All-Australian selections and his second Best and Fairest following the turn of the century, granting Hall of Fame status.
14. Joel Selwood
A fierce leader and game winner, Joel Selwood is everything a coach could ask for in a player.
Taking an immediate impact on the game, the 296-game Geelong skipper won the Rising Star award with 44 out of a possible 45 votes.
Selwood wasn't born into a premiership winning team in 2007, he found a way to become a key contributor in one of the game's most dominant sides ever right after walking through the doors at Kardinia Park.
The three-time premiership player already sits at eighth for all-time Brownlow votes and first by adjusted votes for players without a medal.
To further tease just how close Selwood has been to winning, he polled in the top-five of the final count on four occasions and is Geelong's all-time leading vote winner.
Known as one of the most fearless players to ever take the field, the six-time All-Australian winner has won four AFLPA Robert Rose Awards - being voted by his peers as the most courageous in the game.
Selwood has won 216 games across his career at a staggering 73.14% win rate with just 76 losses. His established success ranks him 13th all-time for career wins, with plenty more pending.
13. Mark Ricciuto 
Donned the 'Mayor of Adelaide', the two-time All-Australian captain was a brute force for the Crows.
His leadership and prowess at the club went unmatched, earning him Malcolm Blight Medals in 1998, 2003 and 2004.
Ricciuto earned his captaincy for Adelaide in 2001 and would lead his side until is last game in 2007, where he had capped 312 games with the club.
'Roo' won eight selections into the All-Australian lineup, the equal-most by any player in the games history, with five of those selections coming after 1999.
Ricciuto was a member of the Crows' 'Team of the Decade' coming into the 21st Century, being named on the half-forward flank and still had his best football to come.
in 2003, Ricciuto won the Brownlow Medal in a stunning three-way tie with Nathan Buckley and Adam Goodes on 22 votes each and would end his career with 146 votes to his name.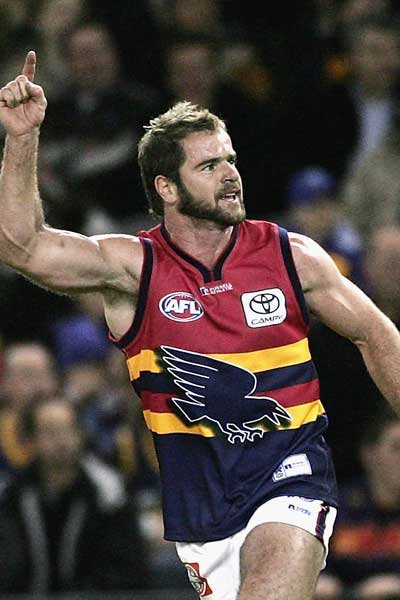 12. Sam Mitchell 
The four-time premiership player and 2008 premiership captain will go down as one of the all-time greats for Hawthorn.
His lethal ability to hit targets on both feet and find the ball at almost every contest was what separated him from the rest of the league.
Mitchell was an accumulator, averaging 26.40 disposals a game across 329 matches for the Hawks.
Had it not been for the circumstances that won him the 2012 Brownlow alongside Trent Cotchin, Mitchell would have been the best to ever miss out on 'Charlie', polling 227 votes to sit third on the all-time career totals.
While the asterisk will remain next to his medal, there is no questioning the pedigree Mitchell brought to his game in 2012, making the award as deserving as ever.
A five-time Peter Crimmins Medal winner, Mitchell proved to be the best of the best at the Hawks during their dominant run between 2008 and 2015, winning three Best and Fairests in that time.
Mitchell retired at the end of the 2017 season after a one-year stint with the Eagles after being head-hunted for a future coaching gig.
11. Dane Swan
The definition of a game winner.
A player like Dane Swan doesn't come round too often, both on and off the field.
The three-time Copeland Trophy winner set himself from the rest of the pack as one of this centuries greatest onballers.
Swan averaged close to 27 possessions a game for his career, peaking in 2012 with 34.52 per match, with 13.48 of those being contested.
Swans heroics were vital to his side's Premiership glory in 2010, winning Best and Fairest, All-Australian and both AFLCA and AFLPA 'Player of the Year' honours.
2010 wasn't enough for Swan, adding a Brownlow medal the following season after polling a then-record 34 votes for the season.
Swan won five consecutive selections into the All-Australian team between 2009 and 2013, becoming a staple within the squad as one of the game's best onballers.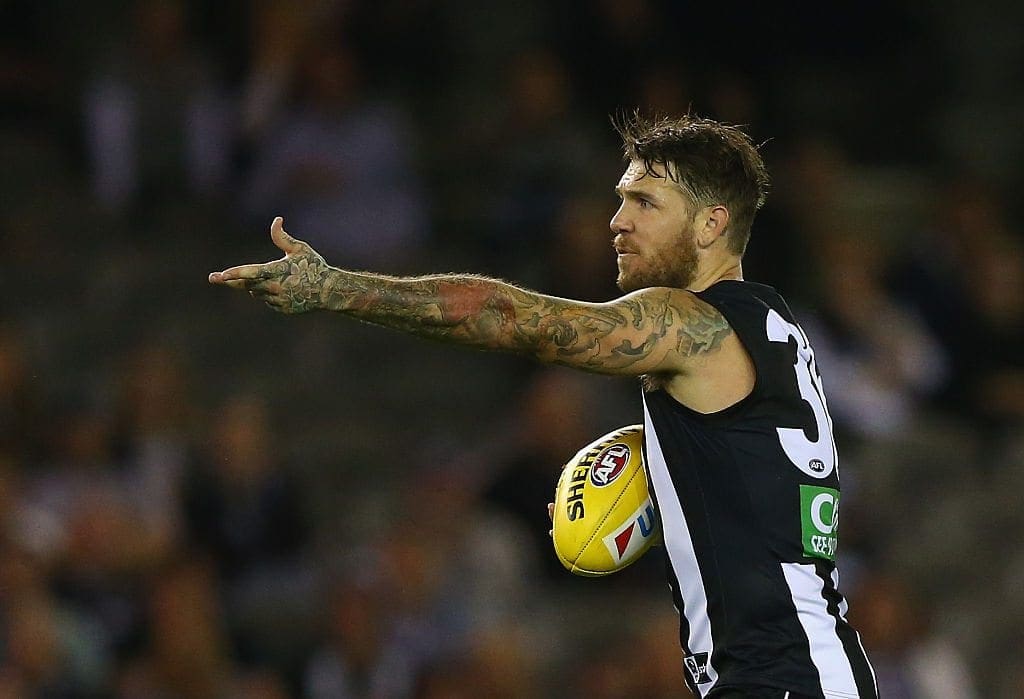 10. Scott Pendlebury
The prized Collingwood captain just edges out his former teammate to reach the top ten.
The 300-game superstar has been a trusted figure within the heart of the Magpies side for well over a decade.
If Swan was the match-winner, then Pendlebury was the ever-reliable star of the show and big-game player.
'Pendles' won the Norm Smith Medal for his side's Premiership victory during the replay match in 2010 and was awarded with the ANZAC Day medal on three occasions.
Pendlebury has been named in the All-Australian squad in ten of his last 11 seasons, winning a spot on the 22-man side during six of those seasons.
The boy from Sale is one of only three Collingwood players to win five Copeland Trophies, even pipping Swan in 2011 for his first.
While the accolades will continue to stack up, Pendlebury will always go down as the cool-headed, evasive Magpies midfielder that could nobody could seem to unsettle.
9. Patrick Dangerfield
Explosive, cunning and overall damaging to the scoreboard, Patrick Dangerfield is one menacing opponent.
The Cats star midfielder jumps, runs and plays like nobody the AFL has seen before, creating an unparalleled archetype of an athlete.
A breakout season in 2012 saw the then-Crows player lift his season averages tenfold, winning his first of seven All-Australian selections and finishing sixth in the Brownlow medal count with 23 votes.
Dangerfield had built a strong CV with Adelaide before departing to Kardinia Park, adding a Best and Fairest on the eve of his highly-anticipated move in 2015.
His first season in the navy blue and white hoops were record breaking from the start.
Dangerfield collected 43 touches on debut for the Cats, breaking Greg Williams' record for most by a first gamer at a new club, and he didn't look back.
He ended the year with the Brownlow Medal after polling a then-record 35 votes to go along with the Leigh Matthews Trophy, a Carji Greeves Medal and the AFLCA 'Player of the Year' award.
'Danger' has thrived since his return home, winning a total of three Best and Fairests and polling 112 Brownlow votes from his four seasons at the Cattery.
8. Nat Fyfe
Just ten years in the league and Fyfe has already surpassed a breathtaking amount of players to reach number eight on our list.
Fyfe had an instant impact on league, averaging 16 touches in his debut season before jumping to over 25 touches a game in his second year.
Fast forward to now and Fyfe has 4,469 disposals to his name, along with elite averages in possessions, contested possessions and clearances.
The dual-Brownlow medalist has been Fremantle's rock for sometime, claiming the crown of the games best in 2015 and 2019.
Fyfe's polling dominance in unmatched. So-much-so that he leads the all-time list for votes per eligible game with 1.07 votes a match.
Yep, on average he gets into the best every game he plays, sitting alongside Hayden Bunton as the only players to do so.
In just 174 games, Fyfe has amassed three All-Australian nods and three Doig medals while battling season ending injuries.
Somehow, the flashy Fremantle midfielder took his game to another level in 2019, averaging over 29 possessions, 17.6 contested possessions, 7.6 clearances and 4.7 inside 50's a game.
Fyfe will have his eyes set for a Premiership, having gotten near to the taste of Grand Final glory in 2013, hoping to win the clubs first ever.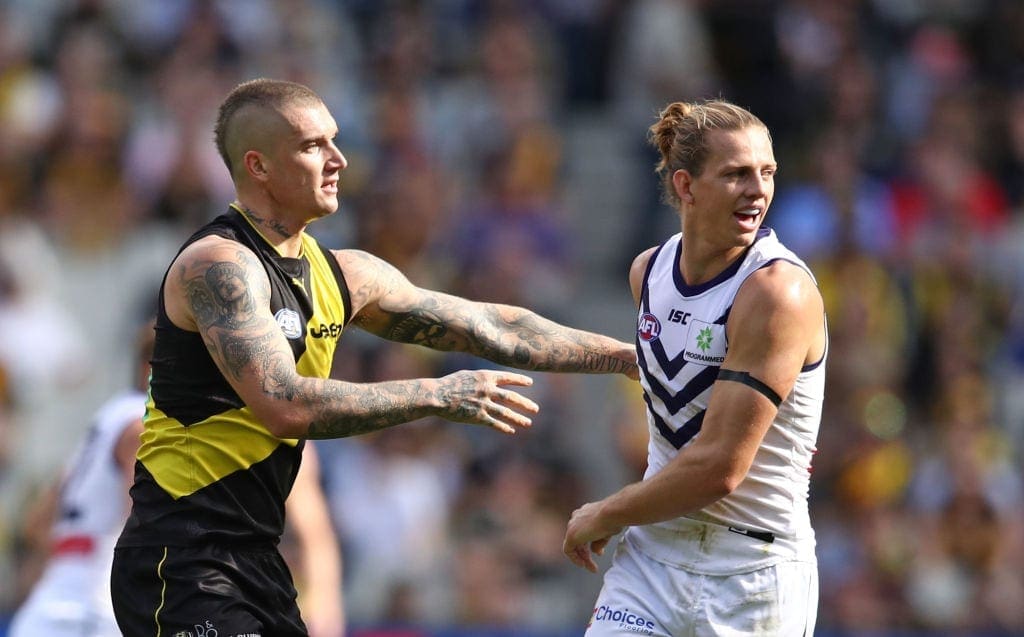 7. Dustin Martin 
No player has a thirst greater for big games than 'Dusty'.
Martin has always been a great accumulator of the ball and a damaging midfielder since his debut in 2010, playing in over 20 games each season while averaging over 20 disposals every year.
Added to his ability to win the ball, Martin is one of the league's best goal kickers and match winners, looking to go that one step further when the game is on the line.
Two Norm Smith medals a two Gary Ayes Awards from 2017 and 2019 established Martin to be one of the best come September, breaking down and stiff-arming opponents on the big stage singlehandedly.
His 2017 season is unparalleled, polling a record 36 Brownlow votes for the year to go along with just about every honour a midfielder could ask for.
Martin's 225-game, 251-goal career is far from over, meaning his chance to further move up our list is a near-certainty.
6. Simon Black
Black's breakout season came with the turn of the century, averaging almost 23.89 disposals, 5.26 tackles, 12.11 contested possessions and a career-high 7.53 clearances.
The 2002 Brownlow medalist was one of the Lions best between 2001 and 2003, winning two Merrett-Murray Medals, two All-Ausrtralian selections and a Norm Smith medal during the Lions three-peat era.
'The Fab Four', including Michael Voss, Jason AKermanis, Nigel Lappin and Black was an unstoppable quartet, with Black playing the role of the dashing, explosive and efficient onballer every coach is after.
Statistically, he was the rock of the Lions dynasty.
The Lions record games holder at 322 matches, Black leads the club's all-time list for disposals, tackles, inside 50's, clearances, Brownlow votes and contested possessions - with close to 1,400 more than the next best for the latter.
Black is one of just six players to win a Brownlow, Premiership and Norm Smith, joining the likes of Jimmy Bartel, Dustin Martin, Greg Williams, James Hird and Chris Judd.
While the Brisbane side's of the early 2000's were unstoppable, it's tough to say they would've found the same success without Simon Black.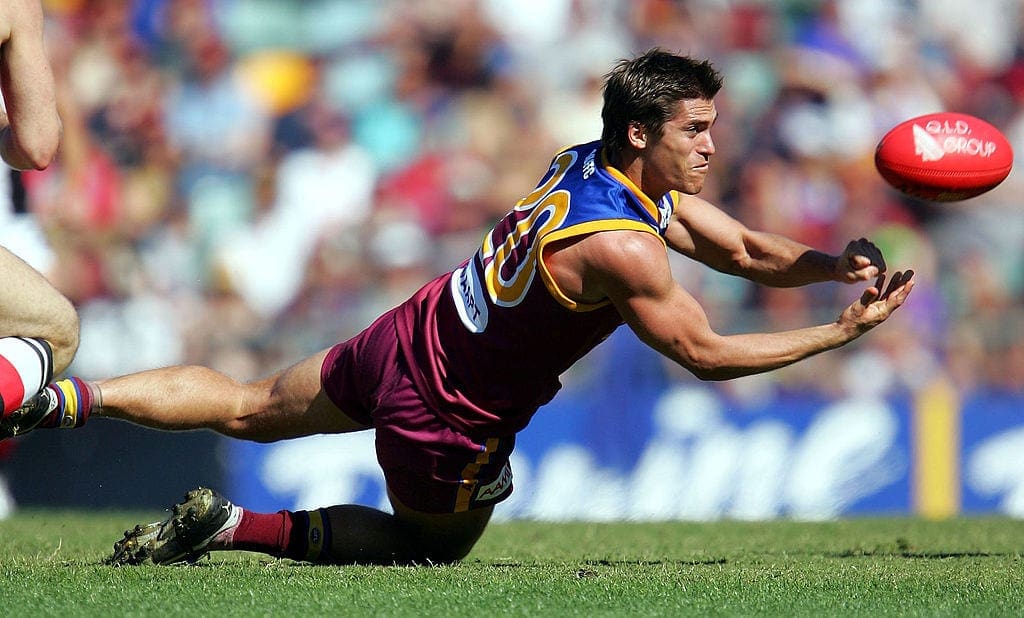 5. Nathan Buckley
A player that constantly found himself to be in a league of his won, the now-coach of Collingwood goes down as one of the most decorated names to feature in the black and white.
Buckley had an evenly distributed career across his first half prior to 2000 and his second half following the turn of the century.
The former Magpies captain averaged over 20 disposals across all 15 seasons in the AFL and was crowned with the inaugural Rising Star Award in 1993 with the Brisbane Bears and finished second in the clubs best and fairest.
Fast track to 2000 and Buckley had readily established himself as one of the league's best midfielders, having won four Copeland Trophies and All-Australian selections.
Buckley added another three call-ups to the AA side in 2000, 2001 and 2003, bringing his total tally to seven.
In 2002, Buckley became the second player ever to win a Norm Smith medal in a losing side during Collingwood's loss to Brisbane.
In 2003, Buckley was awarded with his sixth Best and Fairest for Collingwood, a milestone never reached before.
That same year saw Buckley win the Brownlow Medal in the famous three-way tie along with Mark Riciutto and Adam Goodes.
Buckley announced his retirement in 2007 after 280 games and 284 goals to his name as a champion of the AFL.
4. Adam Goodes
Another player that has written their name across record books after fighting to become of the the game's best.
Adam Goodes was almost invincible, taking on any given role come game-day and becoming one of the most versatile players in the competitions history.
Goodes won four All-Australian selections. One at ruck, one on the wing, one at forward-pocket and one on the interchange. He was a problem for all opposing 18 players on the ground, but his best came as an onballer.
Goodes won his first Brownlow in 2003 as a multi-faceted athlete, averaging strong numbers for disposals, clearances, goals and hit-outs.
His second Brownlow may have been the sweeter, winning as a sole champion after a stellar 2006 campaign.
The indigenous star is the Swans' all-time leader for disposals, marks, inside 50's and games with 372 to his name.
Goodes was a whole new player when it came to finals. His ability to burst through the midfield and crash packs in the air were key to both the Swans' premiership successes in 2005 and 2012.
Goodes ended his career after 372-games as a three time Best and Fairest, four-time All-Australian and even lead his side's goal kicking on three separate seasons, remarkable.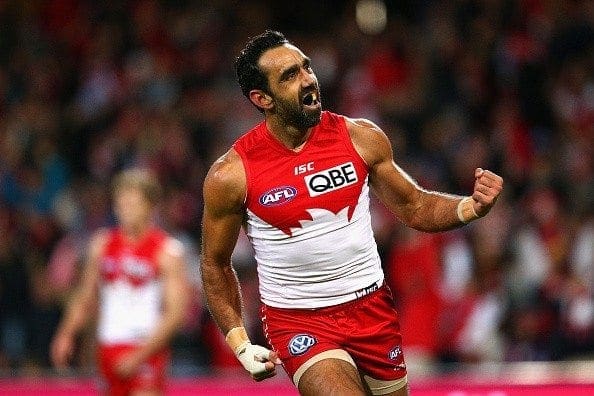 3. Michael Voss
The Brisbane Lions of the early 2000's were an outfit nobody wanted to face, and there was one man who took on the leading role to cruise his side into GOAT contention.
The fierce leadership of Michael Voss could not be questioned. His prowess and professionalism on the field is what ranks him as high as any.
His strength, skill, poise and ability to get the best out of his teammates is why many rivals found themselves  in a state of awe rather than anger.
The captain/coach pairing of Voss and Leigh Matthews was paramount, whatever was asked of Voss, it was delivered.
His career had already been established as record-breaking, but Voss' time since 2000 brought it to be so much more.
There's the four season as grand finalists with the Lions, the three All-Australian selections, the three Best and Fairests, the two Leigh Matthews Trophies, all of which coming in his first 119 games to start the century.
Heralded as the greatest Lion to ever play, Voss ended his career at the end of 2006 after 289 games with Brisbane.
2. Chris Judd
One of the game most explosive and damaging onballers, Chris Judd was the king of the contested ball in his heyday.
The words "C.Judd, three votes" will forever resonate throughout the AFL's 'night of nights', as Judd managed to write his own name as best on ground game after game.
Judd rapidly made a name for himself within his first two seasons in the league and soon too out his first Brownlow medal in 2004 at the tender age of 21.
Judd became the third player to win the Norm Smith medal in a losing Grand Final side after recording
By 2006 he was a Premiership captain with the Eagles and had planted his name as the game's best with multiple All-Australian selections and Best and Fairests.
His highly-anticipated move to Carlton rocked the league and many questioned his ability to perform without the like of Cox, Kerr and Cousins by his side. But Judd proved to just get better.
Judd exceeded under the pressure and soon had three John Nicholls Medals during his first three seasons in the navy blue.
The 279-game star won his second Brownlow at the conclusion of the 2010 season after averaging close to 27 disposals, 14-contested touches, 5.25 tackles and 6.50 clearances a game.
By the end of the following season, Judd had won six All-Australian selections, five Best and Fairests and two Leigh Matthews trophies.
Judd announced his retirement in 2015, drawing one of the greatest careers to an end.
1. Gary Ablett Jr.
Let's be honest, there was never any doubt the 'Little Master' would be crowned numero uno.
It's astonishing to think that Ablett would have gotten any near the level his father did, but he did so and then some.
Fast, skilful, accurate, hungry, balanced and strong. Ablett had it all.
Alike many in the Geelong squad, his 2007 season was  a breakout, but it was one like no-other.
Ablett added nearly ten more disposals per game and had turned into a quick, flashy contested animal at the heart of Mark Thompson's midfield.
Ablett polled 20 Brownlow votes for the year - finishing fifth for the year - and would soon go on to poll a greater tally in his next seven seasons.
By then he had won two premierships with the Cats, became a dual-brownlow medalist, won eight All-Australian selections, six Best and Fairests, five Leigh Matthews Trophies and was crowned AFLCA 'Player of the Year' on three occasions.
By that point in his career, Ablett had made the stunning move to one of the league's newcomers in the Gold Coast Suns.
While his attributes weren't questioned, many did however believe the 'Little Master' would slow down with no support.
Ablett only looked to find another gear, winning his second Brownlow and perhaps missing out on third, fourth or even fifth due to injuries and lack of wins.
His return to the Cats at the end of the 2017 season was a dream come true for all, finding a fresh start as a forward-midfield utility for the Cats, averaging 20+ touches and booting a goal per game.
Ablett currently stands at 346 games in the AFL and has booting 437 goals to amass a career greater than all.