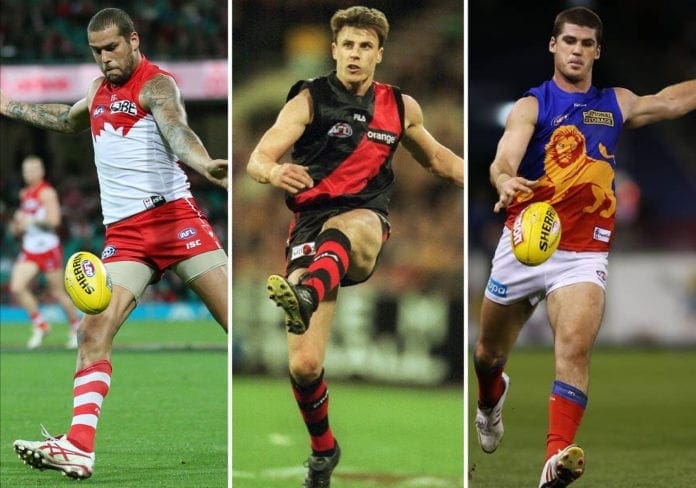 We've counted down the top 15 forwards of the century. And we thought picking the best 15 defenders was tough!
See also 👇
The 15 best defenders of the century
The 15 best ruckmen of the century
The 15 best midfielders of the century
Note that players must have played at least five seasons in the 21st century to meet the criteria and their body of work during the century is also key. It's not just players who have played in the century, devaluing names like Wayne Carey and Alastair Lynch.
Here is our top 15 forwards of the century...
15. Eddie Betts
An excitement machine, fans would buy tickets for the 'Eddie Show' alone. His four AFL Goal of the Year winners are just the tip of the iceberg for Betts' stellar career.
Betts took his game to another level once he stepped foot in South Australia, winning three All-Australian selections and leading the Crows goalkicking in his first four years at the club. All up, he is a six-time club leading goalkicker.
Questions have risen over his future since his return to Carlton, but 600 goals to his name is more than enough for one of if not the the best ever small forwards.
14. Warren Tredrea
Another prolific South Australian figure, Tredrea's leadership and ability to take over a game was a coach's dream.
The Port Adelaide all-time leading goal kicker won four best and fairest awards while leading their season goal tally eight separate seasons and was named All-Australian for straight years from 2001 to 2004.
The Hall of Famer was at his pinnacle in the clubs only AFL premiership season, booting 81 goals and even being named the AFLCA's Player of the Season.
13. Brad Johnson
The six-foot 'Smiling Assassin' was a fierce yet loved leader for the Bulldogs in the opening decade of the 21st century.
The former Bulldogs captain booted 456 goals after the turn of the century, landing his name at the top of the clubs goal kicking tally across five seasons.
The three-time Charles Sutton medalist won five of his six All-Australian selections from 2000 onwards, being named captain of the side in 2006.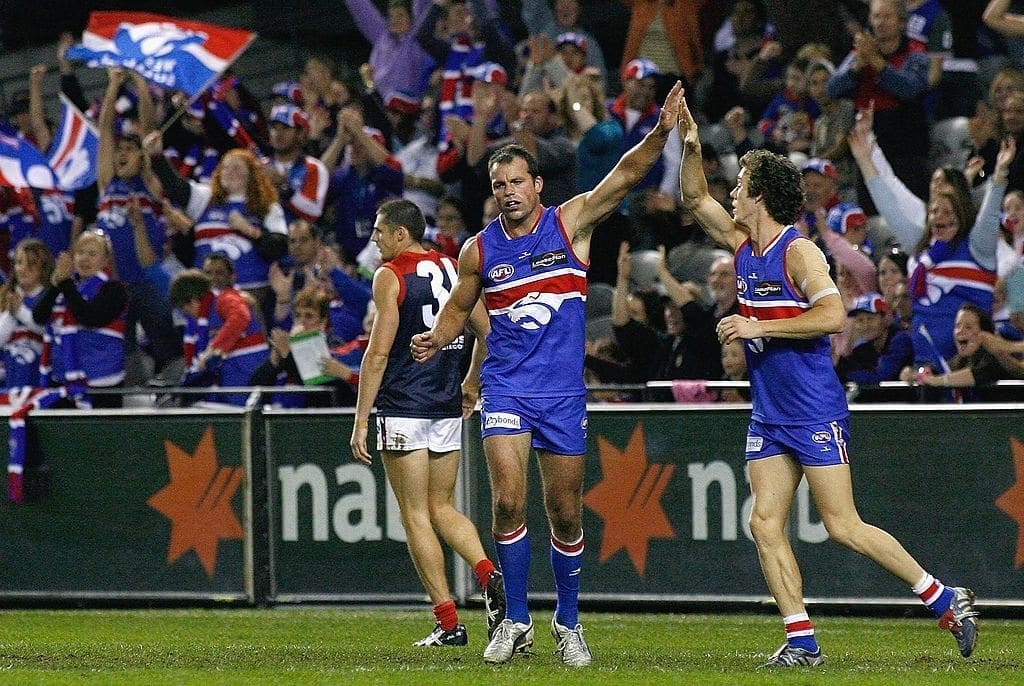 12. Brent Harvey
The AFL's games record holder, 'Boomer' was a speedy threat to any backline, with his persistent run and carry at half-forward.
While Harvey ended the 20th century with a premiership medal around his neck, his individual achievements all fell after 1999.
Harvey was awarded the Syd Barker medal on five occasions, making him the only Roo to do so. He also added four All-Australian selections and booted 518 goals across his 432 game career.
11. Steve Johnson 
A genius of the game, Steve Johnson had a football brain like no other. Whether that meant deciding to shoot across his body 20 metres out directly in front or or an angle, he mastered everything he did.
'Stevie J' was a key member of the Cats' 21st century dynasty, collecting three flags and three All-Australian selections between 2007 and 2011, adding a Norm Smith Medal during the former.
Johnson led Geelong's goal kicking on the two seasons between premierships and would retire in 2017 after 293 games and 516 goals.
10. Brendan Fevola
Once the 'Fevolution' came to Carlton there was no looking back. Fevola was a once in a generation player.
At an average of over three goals per game, Fevola stunned crowds game after game - namely, booting seven second-half goals against the Bombers to complete a 48-point comeback in 2007.
The Blues spearhead won the Coleman Medal on two occasions and was stranded on 99 goals in 2008. If not for Alastair Clarkson triple-teaming him in the final quarter of the final round clash between Hawthorn and Carlton that year, he'd be in the 100 goals club.
Fevola won three selections in the full-forward line of the All-Australian team and was the Blues' leading goal kicker for seven straight seasons between 2003 and 2009.
9. Josh Kennedy
High expectations fell onto Kennedy's shoulders after just 22 games, with Carlton having traded him as a major asset to attain Chris Judd from West Coast.
The Eagles had just lost arguably the best player in the competition yet would go on to win the deal overall.
Fast-track 13 years later and Kennedy sits atop the Eagles' all-time goal kicking table with 600 goals from 221 games in the royal blue and gold.
Had injuries not affected last two seasons, Kennedy could have more than the two Coleman Medals in his ever-growing trophy cabinet. A three-time All Australian and premiership player, Kennedy played a key role in overrunning Collingwood in the 2018 decider, booting three goals.
8. Barry Hall
Not the most liked footballer of his generation, but there's no disputing the pedigree of Barry Hall.
Hall led his club's goal kicking on 10, yes 10, separate seasons in his 11 years of football from 2000 onwards (2001 with St Kilda, 2002-2008 with the Swans and during his two seasons with the Bulldogs)
2005 was a stellar year for Hall and the Swans, breaking the club's 72-year premiership drought in his first season as captain. The Swans' star spearhead also went on to boot a career best 80 goals and claimed the AFLCA's Champion Player of the Year award.
The AFL Hall of Famer left the Swans as a Bob Skilton medalist and would join the Bulldogs in 2010 to land another 80-goal season and collect the fourth All-Australian selection of his career.
Hall announced his retirement at the end of the following season after 289 games and 746 goals.
7. Matthew Pavlich 
Arguably the greatest player Fremantle have ever produced, their bold leader in Pavlich was a fan favourite for all.
Pavlich's retirement in 2016 was the end of a major era for the men in purple, with the 700-goal superstar hanging up the boots after 17 years out west.
Pavlich's move from the backline and midfield to centre half-forward was monumental for Fremantle in 2005, with their new-born key-man booted 61 goals to win his second of eight leading club goal kicker awards.
Pavlich won six Doig medals and claimed an All-Australian selection across six separate years.
6. Jonathan Brown
Brown's résumé is almost endless, with award after award for individual brilliance, leadership, courage and professionalism. Brown was a role model of his generation.
The 2007 Coleman medalist led the Lions as captain for four seasons and was part of the clubs leadership group for another three.
Brown was induced into a star Lions side in 2000 and quickly became a key figure in their three-peat side -  booting 79 goals across his three premiership seasons - all before turning 22.
The brute forward would go on to win three club best and fairests while leading his side's goal kicking tally across five seasons.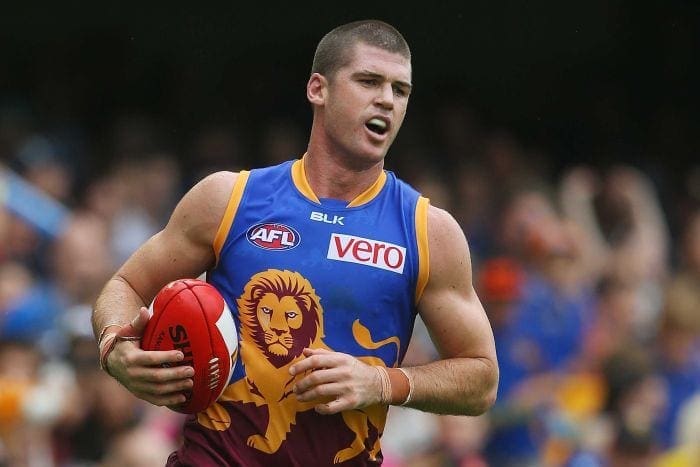 5. Jack Riewoldt 
The two-time Richmond champion joins the likes of Gary Ablett Sr and Jason Dunstall as players to have won the Coleman Medal on three occasions - pretty decently company.
Riewoldt has been a remarkable constant for the Tigers, having booted 550 of his 634 goals between 2010 and 2018. The Tasmanian Football Hall of Famer lead his side's goal kicking across those nine-straight seasons, collecting three All-Australian honours and two Jack Dyer medals.
His role within this current Richmond-dominant climate can't go unnoticed, having scored seven goals across their two premiership winning matches in 2017 and 2019.
A massive upside for Riewoldt is the time he has left to pass the 700 and perhaps even 800-goal mark in his career. Either way, he'll retire a champion of the club and game.
4. Nick Riewoldt 
Landing one spot ahead of his cousin and fourth overall is 'Saint Nick'. The fearless leader and 336-game legend was everything a coach could ask for in a player.
Astonishingly, Riewoldt only lead his clubs goal kicking on four of his 17 seasons at the club - a career that would end with over 700 goals.
Riewoldt won his first Trevor Barker Award in 2002, but added a second to his collection after a breakout season in 2004 having won All-Australian honours and the Leigh Matthews Trophy.
The five-time All-Australian is also the game's record holder for career marks, with 2,944 in total at a staggering average of 8.76 per match.
Riewoldt will forever be remembered as the ultimate centre half forward workhorse that probably deserved a premiership during the Saints' golden era in the late 200s. His dedication and leadership to his beloved club is unmatched.
3. James Hird 
The trickiest one to mark on this list, was Hird a forward or midfielder? We like to think he will most be remembered for his work in the forward half of the ground. As such, we are grading him purely as a forward.
A variation from those who surround him within our top 15, James Hird's prowess at half-forward was revolutionary for the Bombers in the early 2000's.
Hird captained his side to their famous premiership of 2000 and won Norm Smith honours for their victory over the Demons, collecting 29 disposals and two goals on Grand Final day.
Hird further proved his affection for the big stage, winning the ANZAC Day Medal in 2000, 2003 and 2004.
A member of the Bombers' Team of the Century, the part-time onballer would see as much of the pill in his side's attack than he would around the heart of the ground. If there was a way to get the ball, he would find it.
Hird won three of his five All-Australian selection from 2000 onwards, holding two spots at half-forward and the third from the interchange.
His height and agility made up for his lean build. Add his elite use of the ball and football smarts and you see Hird was playing ahead of his time.
The Brownlow medalist won his fourth Chrichton Medal in 2003 and added another in 2007 having announcing his retirement from the game that season.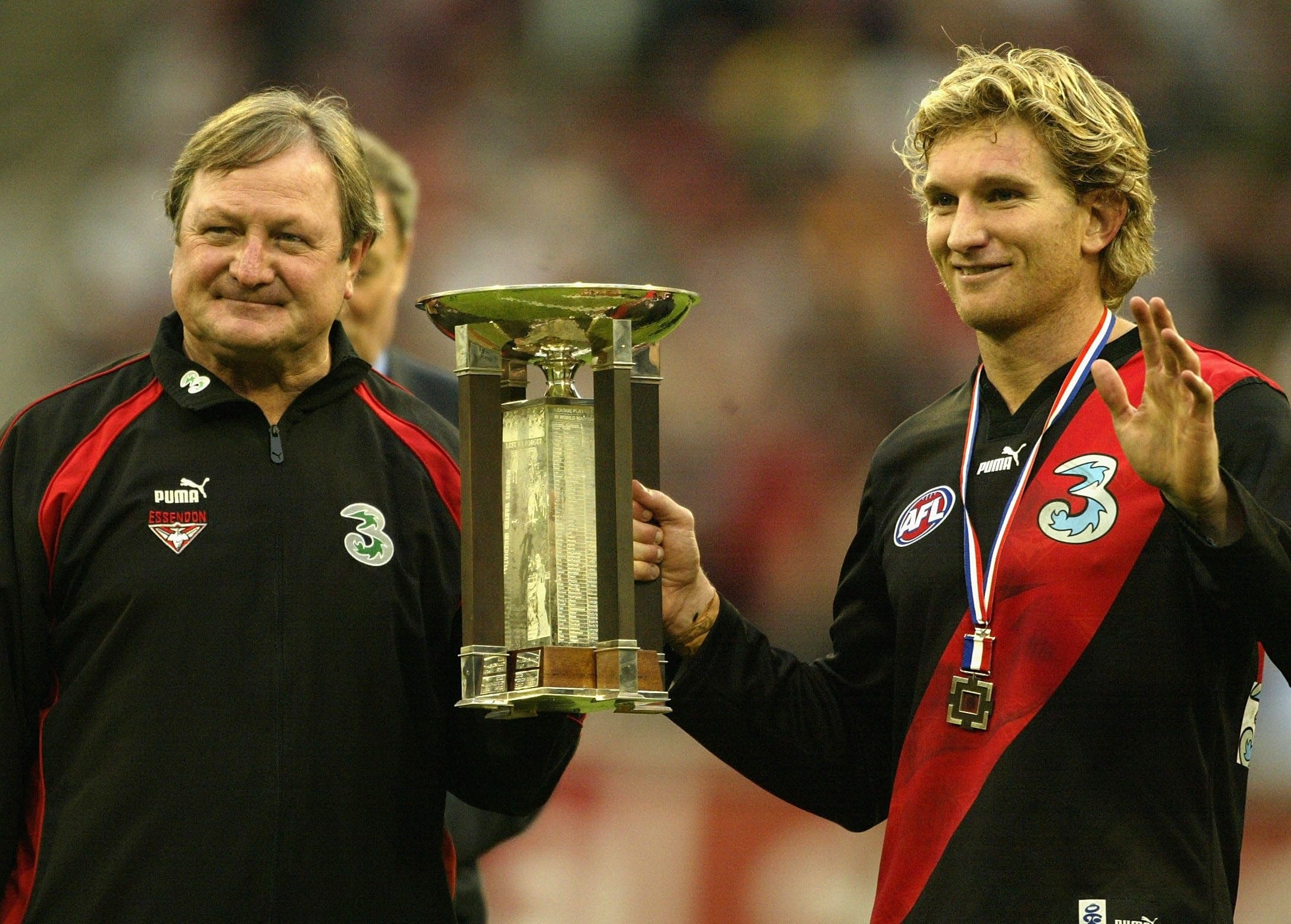 2. Matthew Lloyd
Another star member in the early 2000s for Kevin Sheedy's side, Lloyd lit up the start of the 21st century with two 100+ goal seasons in 2000 and 2001. While Hird may have been the better player, Lloyd was certainly the better forward.
The three-time Coleman medalist won his side's goal kicking tally in nine seasons of the opening decade to the century, making a grand total of 12 seasons entirely.
The Bombers' all-time leading goal scorer retired at the end of the 2009 season and had registered 681 of his goals during his time between 2000 and retirement.
Lloyd added All-Australian selections in 2000, 2001 and 2003 to finish his career with five representative honours in total.
Lloyd sits at eighth on the all-time goal scorers list with 926 goals to his name from 270 games - a lazy rate of 3.4 goals per game.
1. Lance Franklin 
It's hard to know where to start with Buddy.
Arguably the best player of the century, you can talk about his premiership success, his continuous record-breaking numbers or his freakish athleticism. The man is a once-in-a-century player.
Franklin has won four Coleman Medals, the only player of his era to do so - tying with Fred Fanning, Doug Wade, Peter Hudson and Tony Lockett.
It's wrong to say Franklin's 2008 season was his breakout given he booted 73 goals the year prior, but he took his game to a remarkable level during his side's premiership winning season of 2008.
Franklin had booted his 100th goal of the season against Carlton in the last round of the year and ended his triumphant campaign with 113 goals to his name, along with All-Australian honours, the Coleman Medal and his sole Peter Crimmins Medal.
Franklin's next 10 seasons saw him pass the 50-goal barrier on nine occasions, having booted 47 goals from 17 matches in 2015.
During that time, Franklin's highly-anticipated move to Sydney went ahead at the end of the 2013 season after winning his second flag with the Hawks.
Franklin's signed a nine-year, $10 million deal to move to the Swans, something that was inconceivable to all football fans - matching the nature of Franklin's game.
The eight-time All-Australian has led his side's goal kicking tally on 11 separate seasons, six with Hawthorn and five with the Swans and currently sits at seventh for all time goals scored on 944.
Shall Franklin reach the 1,000-goal mark, he sits within the presence of the games greatest, which will be truly fitting.