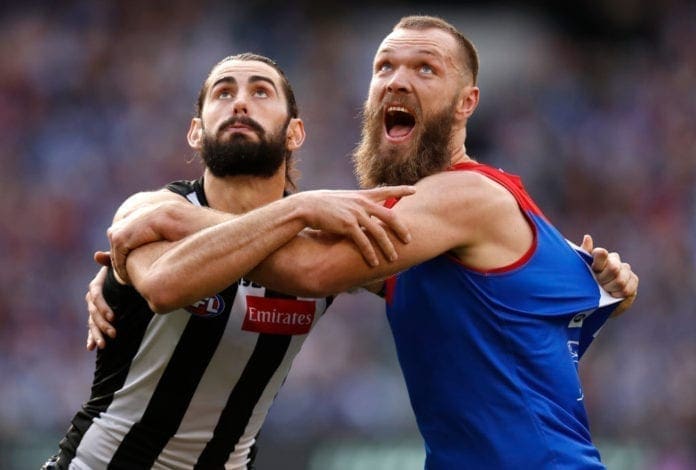 Brodie Grundy appears destined to be plying his trade elsewhere in 2023, following reports of a conclusive meeting between him and Collingwood's list management staff.
Though contracted to the club until the cessation of the 2027 season, the Pies are said to be desperate to remove the South Australia's name from their books in an effort to recoup a chunk of cap space.
The 28-year-old's deal with the Woods would see him net within the vicinity of $900,000 to $1 million per annum, according to Fox Sports and News Corp reporter Jon Ralph, however, it is a price that Collingwood is no longer keen to pay.
Speaking on Monday night, Ralph delineated that the club's footy boss, Graham Wright, had met with Grundy's off-field team, alerting them that their client's career at Collingwood would be capped at 177 games.
"Let me tell you what's happening - I can't explain why it's happening," Ralph said.
"So, at Collingwood, Brodie Grundy has played his last game at the club, barring an extraordinary backflip. This has all been driven by Collingwood, not Grundy.
"My understanding is the football boss Graham Wright met with Grundy's management and said we need his cap space off the books. It enabled him to look around, he chose Melbourne over Port Adelaide and Geelong."
While Grundy may have rebuffed a move back to the City of Churches and a rebirth at Alberton, Ralph revealed that Collingwood hold an interest in luring another big man across the border.
"He only wants to go to Melbourne, he will go to Melbourne. The Pies have a little bit of interest in Sam Hayes, who is the Port Adelaide tap ruckman," he added.
"But you look at last week, Sean Darcy, 19 hitouts to advantage (vs Collingwood). They were dominated in the ruck again (against Sydney). I can't explain it, but it's going to happen."
Grundy's 2022 campaign came to a close after just six outings, yet, while the stubbled stoppage winner's output was curbed, his influence wasn't, proving able to average 30.3 hitouts and 5.5 clearances each week.
Should the 203cm talent's time as a Pie come to an official close next month, it will in the wake of Grundy's pair of All-Australian blazers and Copeland Trophies were claimed across 10 seasons.
At present, Melbourne currently holds picks 32, 41, 50, 63, 68 and 86 in an effort to broker a deal. This hand will, no doubt, be improved after a package is secured for wantaway Western Australian Luke Jackson.
The Pies have also been heavily linked with the services of free agent Daniel McStay, Sun Brayden Fiorini, small forward Bobby Hill and tall utility Bill Frampton ahead of the exchange period.
Collingwood's own arsenal currently consists of the 16th, 42nd, 47th, 48th and 88th selections of the upcoming National Draft.