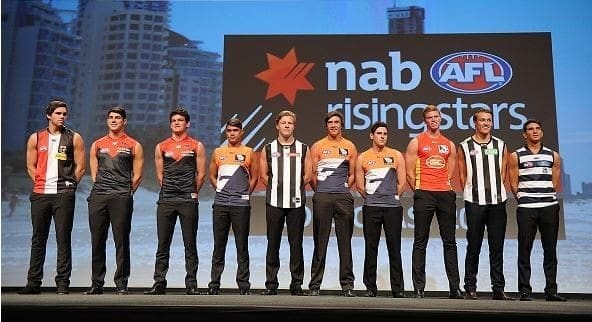 Michael Thompson - TheCoventryEnd.com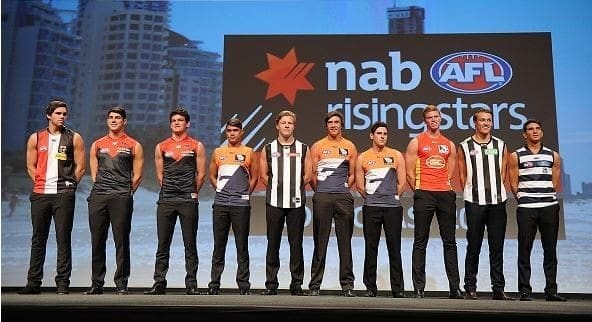 With the draft coming up in a few weeks, and the next bunch of AFL prospects begin lives as footballers. We take a look at the top 20 best youngsters from the combine and see where they may end up on the November 24.
20. Josh Dunkley – Gippsland Power/VIC Country
After managing a handful of games at the Gippsland Power and Richmond's VFL squad due to an injury ravaged first half of the season, Josh Dunkley is close to a spot in the AFL system on November 24th. Josh's father is Swans champion Andrew Dunkley who played 217 games for Sydney between 1992-2002, and is looking likely to nominate Sydney as his preferred club under the father-son rule.
Verdict: Sydney (Father/Son Rule)
19. Kieran Collins – Dandenong Stingrays/VIC Country
Key body players are hard to come by, and are an asset for any football team and Kieran Collins is a key defender who will be an asset for any team especially the bottom 4. Big-bodied key-defender who can lock down and shut down forwards, this 17-Year-Old mature aged player will fit well in a struggling team looking for a key defender.
Verdict: Melbourne (Pick 7)
18. Jade Gresham – Northern Knights/VIC Metro
Lots of midfielders come and go, however positive signs arise when a young midfielder is putting in a 14.1 in the beep test at the combine. Gresham is brilliant with the ball movement in his hands and is a small midfielder who can use the speed to his advantage. North Melbourne would definitely look into Gresham as a way to comprehend an aging list, a pacey young midfielder who can run up to half forward and kick a few goals as well, definitely a youngster North can look at bringing into the team.
Verdict: North Melbourne (Pick 17)
17. Callum Ah Chee – South Fremantle/WA
One good thing about Callum Ah Chee is the way he presents himself in the play with his strong speed, ball awareness and goal smarts. Ah Chee showed his potential in South Fremantle's senior team towards the end of last season and is another crumb small forwards a few teams need to look at including Adelaide. If Ah Chee wants to stay in Western Australia, Fremantle would be a good fit for him with Ballantyne pushing back to the wing.
Verdict: Fremantle (Pick 35) Adelaide (Pick 13)
16. Rhys Mathieson – Geelong Falcons/VIC Country
Mathieson has more footy smarts than he is an athelete, but don't let that deter him from his consistency he puts into his football. He had terrible results in the combine draft at Etihad, however if you want a player who puts in 110%, Mathieson is definitely going to be someone most teams will look into.
Verdict: St Kilda (Pick 14), Hawthorn (Pick 15)
15. Darcy Tucker – North Ballarat/VIC Country
A solid half back is Darcy Tucker who can run through the midfield, the Rebels captain is great at breaking play up and turning the momentum of the game on it's head. Scoring a 15.3 in the beep test, while breaking under 3 seconds in the 20 metre sprints (2.98) and 10.18 in the time trial, this is a player St Kilda would definitely look at picking up from this year's draft.
Verdict: St Kilda (Pick 14)
14. Eric Hipwood – Aspley/Brisbane Lions Academy/Queensland
One of the players from the Brisbane Lions academy and a rare that someone who is 200cm can run a 20m sprint in under 3 seconds (2.97). Hipwood is a key defender/forward who can play his best football in both positions, and has a great boot off his left foot. Brisbane would love to pick him up using their academy points, however rival clubs in Queensland and Victoria would look at this key player.
Verdict: Gold Coast (Pick 6 or 16), Brisbane (Picks 38-40)
13. Ben Keays – Redlands/Brisbane Lions Academy/Queensland
Another player, who is in the Brisbane Lions academy, has spent time at the GABBA learning and developing, Ben Keays knack for ball stoppages and handballing under pressure. Keays is a young prospect midfielder who Brisbane will definitely have keen interest in keeping him up in sunny Queensland. However, Keays grew up in Victoria, so a trip back to Melbourne might be on the cards.
Verdict: Brisbane (Picks 41 & 42) Richmond (Pick 12)
12. Ryan Burton – North Adelaide/South Australia
Key Forwards will be a must for plenty of clubs, however for Ryan Burton, an injury prone 2015 season may see him slip down the pecking order when he gets called out on Draft night in Adelaide. Burton has great goal presence kicking three goals to get North Adelaide into the preliminary final and can fire up forward when they need a boost. However for Burton, he's got a special medical examination on where he may go.
Verdict: Melbourne (Pick 7), Adelaide (Pick 9), Carlton (Pick 11)
11. Wayne Milera – Central Districts/South Australia
Wayne Milera is another small crumbing small forward who showed promise playing for Central Districts in the SANFL this year. Milera's best was against Glenelg where he kicked 5 goals and had 25 possessions, which has seen recruiters keeping an eye on him. Teams looking for a player like Milera would be Richmond, Hawthorn and Port Adelaide.
Verdict: Richmond (Pick 12), Hawthorn (Pick 15 or 18) Port Adelaide (Pick 32)
10. Harley Balic – Sandringham Dragons/VIC Metro
Harley Balic missed out on the draft combine testing due to a wrist injury, instead doing some marketing as he met with clubs on why they should draft him on the 24th November. Balic covers all three zones on the football field to his advantage, but mainly plays Half Forward and through the midfielder. For a 187 cm player, most teams will look at him preferably being looked by Gold Coast, Melbourne and Adelaide.
Verdict: Gold Coast (Pick 16), Melbourne (Pick 7), Adelaide (Pick 13)
9. Charlie Curnow – Geelong Falcons/VIC Country
One of the surprise packets is going to be Charlie Curnow to see how fit he is after a knee injury ended his 2015 season. A versatile Key Forward, Curnow dominated the draft combine with a 14.5 on the beep test and a 10.24 in the time trial.
Verdict: Carlton (Pick 8), Richmond (Pick 12), Western Bulldogs (Pick 20 or 21)
8. Sam Weideman – Eastern Ranges/VIC Metro
Been very disappointing news for Sam Weideman who has been injured the last few years which has seen him lose his potential for a higher pick in this years draft. Weideman didn't compete in the draft combine due to his injury, and is one of the biggest imposing key forwards in the draft. This player would suit at Melbourne or Essendon as the next key forward, and definitely this is one of many players Melbourne and Essendon will be looking for getting.
Verdict: Essendon (Pick 5), Melbourne (Pick 7) 
7. Aaron Francis – West Adelaide/South Australia
Probably one of the most talented South Australian's of the Under 18's mid-year competition, Aaron Francis ability to kick goals and read the ball is unfathomable, highly touted prospect in this year's draft. Another standout and is touted as one of the high prospect draft picks.
Verdict: Gold Coast (Pick 6) Melbourne (Pick 7)
6. Matthew Kennedy – Collingullie/GWS Academy/NSW-ACT
One of the most prosperous Giants youngsters, and definitely a key figure to the development of GWS as a team, a buoyant and mobile midfielder who can kick a few goals as a half forward, Kennedy has a showcase of talents ready for AFL level. After completing a 14.12 in the beep test, a great showing in the goalkicking as well as vertical jumps, GWS are ready to call his name out on November 24th.
Verdict: GWS (Pick 34)
5. Jacob Hopper – North Ballarat/GWS Academy/NSW-ACT
From the Rebels North of Ballarat, to the GWS Academy, 2015 was a standout year for Jacob Hopper. Very influential in the Rebels final series with a best on ground 27 possessions and two goals in the lost to the Oakleigh Chargers, this youngster had ongoing groin issues, which saw him miss the draft combine. Rest easy Giants fans, this GWS Academy player will be pick 10 in the draft and playing at the Giants next year.
Verdict: GWS (Pick 10)
4. Darcy Parish – Geelong Falcons/VIC Country
The one name that will have the entire football world talking is where is the young midfielder going? Parish a talented young midfielder who had a wonderful season for the Falcons especially a 27-disposal game against North Ballarat, Parish is a quick thinking midfielder who can turn the run of play into his favour. Parish didn't have much impact at the combine, however he's a naturally born footballer ready for senior level in 2016. It will be between Essendon and Melbourne for the youngster next year.
Verdict: Melbourne (Pick 3), Essendon (Pick 4)
3. Callum Mills – North Shore/Sydney Swans Academy/NSW-ACT
For Callum Mills an injury plagued 2015 stopped his development in the Grand Final for the Allies. A strong, competitive and hard-working midfielder, Mills can help fill the void of Swans great Adam Goodes, and begin being part of the young swans midfield with Isaac Heeney and become future leaders at the club.
Verdict: Sydney Swans (Pick 33)
2. Josh Schache – Murray Bushrangers/VIC Country
One of the two Vic Country boys who are going 1 and 2 in this years NAB Draft, the first one is probably the big key forward that Brisbane will be eyeing off at pick 2. Brisbane will pick up Schache simply for his ability of kicking goals and setting up a few, which will be beneficial as he teams up with Josh Walker down forward in season 2016.
Verdict: Brisbane (Pick 2)
1. Jacob Weitering – Dandenong Stingrays/VIC Country
The final pick in thecoventryend.com is the key defender who will be going number one in this year's draft, Jacob Weitering. Weitering is a great defender with great speed, taking over the top pack marks and using his right foot to his advantage. Weitering ran a 15.1 in the beep test, and Carlton will be glad to have him as part of their rebuild and the baby Blues will see him in the Navy Blue in 2015.
Verdict: Carlton (Pick 1)