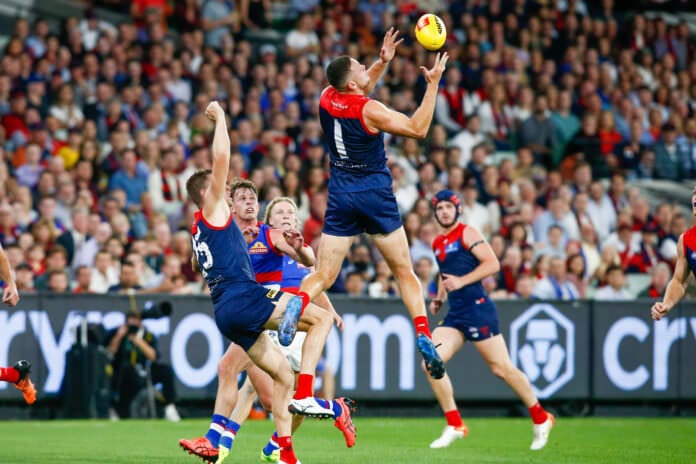 In a break from the traditional Richmond vs. Carlton match-up to kick-off the season, AFL fans were treated to a grand final rematch between Melbourne and the Western Bulldogs to get 2022 underway.
After unfurling the historic premiership flag, the Dees ran out comfortable 26-point victors on the night, before Bulldogs coach Luke Beveridge launched into a remarkable tirade at journalist Tom Morris in his post-game press conference.
But while plenty has been said about the supposed rivalry between the two clubs over summer - much of it centering around a song that soccer fans in the UK have been chanting for more than five years - the reality is there's hardly a rivalry at all.
Despite the fact the clubs played off in last year's AFL Grand Final, and the media beat-up of the 'hatred' between them, the pair are simply on different levels to one another when it comes to their on-field exploits.
Melbourne have now won three of their past four meetings against their supposed rivals, with an average winning margin of just over seven goals - 42.67 points to be exact.
Picking up where they left off 🔥 #AFLDeesDogs pic.twitter.com/EyAcwWKA49

— Zero Hanger (@zerohanger) March 16, 2022
Yes, the Bulldogs did emerge 20-point victors when they met in a top-of-the-table clash in Round 19, 2021, but even then the teams had the same number of scoring shots (Western Bulldogs 13.7 to Melbourne's 9.11) and an inside 50 differential to the Doggies of just four (55-51).
The difference in that particular result was Melbourne registering 88 clangers compared to the Bulldogs' 62 from a similar number of disposals (365-370).
But, putting Melbourne's butchery of the ball in Round 19 aside, why do they so clearly have the Bulldogs' measure?
The simple answer is they're just a better team across the park: more depth, more balanced, and - most importantly - have a multitude of avenues to goal.
These three pillars are interlinked and result in what is currently the best 'system' in the AFL.
Depth
On Wednesday night's 2022 season opener, the Dees were missing four of their starting six defenders from their premiership-winning team - Michael Hibberd, Trent Rivers, and Harrison Petty all missed through injury, and so too did Jake Lever, who was a late withdrawal.
Add to the fact Christian Salem was subbed out of the game early because of a knee issue, and this defence was almost entirely different to the one that conceded just 10 goals in the 2021 Grand Final.
RELATED: Demons defensive stocks dealt another blow
But you wouldn't know it, with the old adage of 'one soldier goes out and another comes in' on full display, as Melbourne conceded just 11 goals in the 26-point Round 1 victory.
With the likes of Jayden Hunt, Joel Smith, and Adam Tomlinson filling the void with aplomb, the Dees have a plethora of players who can come in and play a role.
Yes, every team has to deal with the loss of key personnel at times, but to essentially be without your entire premiership backline against last season's runner-up is mind-bogglingly good - it is doubtful there's another team in the competition who could deal with such a big hit.
Not to mention a host of other names who are ready to come in and make an impact when they get their chance - the likes of Sam Weideman, Jake Melksham, and Luke Dunstan all not required on Wednesday night either.
But it's not just the personnel alone - for one 'soldier' to effectively replace another, they must come into a highly functioning and disciplined system.
Balance
The most over-used - and, to be honest, overrated - words in football media are 'brand' and 'identity'.
They sound good and fill many a sound-bite, but, in pure football terms, not many people know what they actually mean.
However, Melbourne does have a brand/identity. Anyone who has watched this team over the past 12 months can tell you exactly how they play, and what to expect when you watch them.
We could go into specifics of how Melbourne plays, but even more important than that is having a system that suits your playing group.
The Bulldogs have some seriously good players - Marcus Bontempelli, Bailey Dale and Jack Macrae were All Australians last season, while the likes of Bailey Smith, Adam Treloar and Josh Dunkley are all genuine A-graders on their day.
But the problem is, except for Dale, they all play the same position. And that's before you also throw in players like Lachie Hunter, who was controversially left out of Wednesday's side, and Tom Liberatore.
Yes, there is an argument that one or two are capable of playing on the wing, but, essentially, this is essentially like the junior side who have a plethora of ball winners and are forced to play them in other parts of the ground to fill gaps elsewhere.
The problem with this is two-fold.
First, you've got seven players - six if one accepts Smith is best-suited on the wing - who deliver their best output as an inside midfielder. Given you can really only play three in that role at any one time, it means four of your best seven players are already playing out of position.
Not only does this diminish their ability to personally influence the game, but it has a flow-on effect in that you now have other roles around the ground being filled by players who can't - and sometimes won't - play them.
Whether it be on the wing or as high half forwards, it's simply not the natural game of these players. They can sometimes go kick-chasing, or disappear out of the game entirely.
If you compare the likes of Hunter, Dunkley, Macrae and Trelaor to Melbourne's Angus Brayshaw, Ed Langdon, Charlie Spargo and Alex Neal-Bullen, on pure footballing ability most would select the Bulldogs' quartet nine times out of 10.
But when you look at these players and what they offer specifically as wingmen or high half forwards, you have to say the Dees' quartet suit and perform these roles far better.
Um, can we talk about Ed Langdon? 😍 #AFLDeesDogs pic.twitter.com/HDYWTv8obU

— Zero Hanger (@zerohanger) March 16, 2022
That, right there, is the epitome of balance among a squad, and a team's on-field system.
Avenues to Goal
One prime example of the lack of the Bulldogs' balance among the squad, and a number of midfielders 'kick-chasing' when playing other positions, is the disposal count in their three most recent losses to the Dees.
In Round 11, 2021, with both teams entering the game with a 10-1 record, the Bulldogs recorded 54 more disposals but lost the ultimate count by 28-points.
In the grand final, the Dees ran out 74-point winners despite having possessed the ball 13 fewer times.
And, in 2022's Round 1 encounter, the Bulldogs notched up 26 more touches than the Demons in a 26-point defeat.
More damning than these numbers though is, in each game, the Dees won the contested possession count (by 18, three and 20 respectively).
But do such numbers suggest a number of players kick-chasing - flicking the ball around to stat-pad? Or is there more to it?
Young gun Aaron Naughton kicked four goals on opening night, and the 22-year-old is capable of making something out of nothing.
Still plenty to look forward to for Doggies fans 🐶

SEASON GUIDE: https://t.co/Ctk3jdxpqI#MightyWest #AFL pic.twitter.com/KS0JrEuvop

— Zero Hanger (@zerohanger) March 16, 2022
Athletic, and with the ability to do it both in the air and at ground level, there's no doubt the defender-turned-forward is a constant threat.
However, as good as he is, he's not a traditional key forward and that is something the Bulldogs desperately need.
Josh Schache was a #2 draft pick for Brisbane before heading to Whitten Oval, but hasn't yet developed into the power forward the club had hoped.
Veteran ruckman Stefan Martin missed Round 1 which meant Tim English took the mantle as number #1 ruck. While English is a man mountain at 207cm, he's not a traditional 'pack-crasher'  and even if he was, he remains inconsistent as he learns to use his frame to the required effect.
Josh Bruce is currently out with the ACL injury he suffered late in 2021. The former Giant and Saint kicked 48 goals in 20 games last season and is clearly a threat to opposition defenders. However, like Naughton, he's not necessarily a pack-crashing, traditional power forward either, with most of his best work done using his athletic ability to run his defender into the turf higher up the ground.
As dangerous as Cody Weightman is around the goals, he stands at just 177cm, and Mitch Hannan is a mid-sized option at 190cm.
AFL PLAYERS: Who are the tallest and shortest players in the league?
Add that one, if not two, of the half-forward spots are taken up by the aforementioned midfielders who have been wrenched out of the center square, and it quickly becomes a forward group that lacks a legitimate target.
In high-pressure games when things are tight and you sometimes just need to kick it forward as a 'bail-out' option, that's a genuine problem.
So the obvious question to ask is this:
Is the high number of uncontested possessions in these losses a result of midfielders chasing the ball rather than performing their roles, or are they reluctant to kick it long, because they lack the genuine bail-out options which see them try to force the 'perfect' play?
It's a bit like the age-old 'chicken or the egg?', and the truth is probably somewhere in the middle.
But, again, compare this to Melbourne's lineup, with genuine tall options in Ben Brown, Tom McDonald, Sam Weideman, Luke Jackson and Max Gawn, a star mid-sized forward in Bayley Fritsch, and a number of specialist small forwards in Charlie Spargo, Neal-Bullen and Kysaiah Pickett.
It's chalk and cheese - there's clearly better balance.
The Demons are a much more dangerous unit with multiple goal-kicking options, and, again, it helps the Demons play to their 'system'.
And there it is - that word again, system.
This, essentially, is why the Dees are simply on another level.