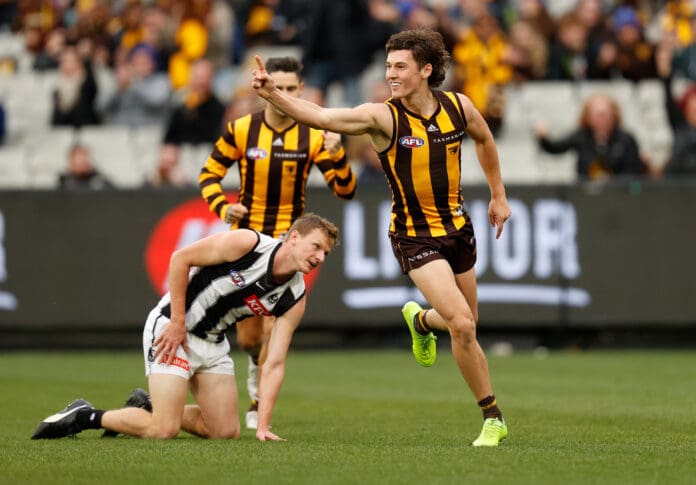 Just one week into season 2023 and the jungle drums have already begun to beat surrounding Hawthorn. While not unusual that a club in the midst of a full-scale rebuild would be heavily questioned, it must be said that it has come earlier than usual this year.
The Hawks started competitively last Sunday before a second-half fadeout saw them overrun. All throughout pre-season there had been fears for Sam Mitchell's side, that they had jettisoned too much experience and were destined for a rough 2023.
Having traded the likes of Jack Gunston, Tom Mitchell and Jaeger O'Meara, the "T" word has already begun to be thrown around. This week, just one game into 2023, it was implied multiple times that the Hawks are tanking for draft picks.
Though they retained the likes of Luke Breust, James Sicily and Sam Frost, they also lost captain Ben McEvoy and Liam Shiels to retirement. There is a significant reduction in experience on the Hawthorn list, although that was somewhat placated by the acquisition of Karl Amon from the Power.
Full rebuilds are no guarantee of success, many have tried and failed, yet more often than not, it at least results in a team capable of playing finals and often enough, going deep into September.
There's no denying the Hawks are likely in for a tough year or two, however, if we examine their situation when Sam Mitchell took over, they were really left with little choice. Here's why the rebuild at Hawthorn is not as dire as some are predicting...
Clarkson-era legacy
While the Hawks had the greatest coach of the modern era at the helm, they, rightly or wrongly, traded to keep their perceived window open for as long as possible. Having created one of the greatest dynasties of the modern era, the club were keen to capitalise on some of the generational talents that still remained on their list.
Mitchell, O'Meara and Chad Wingard were all brought in to keep the club in finals contention at the expense of several years worth of first-round draft picks. Any club that has done this and not won a premiership has found themselves in trouble.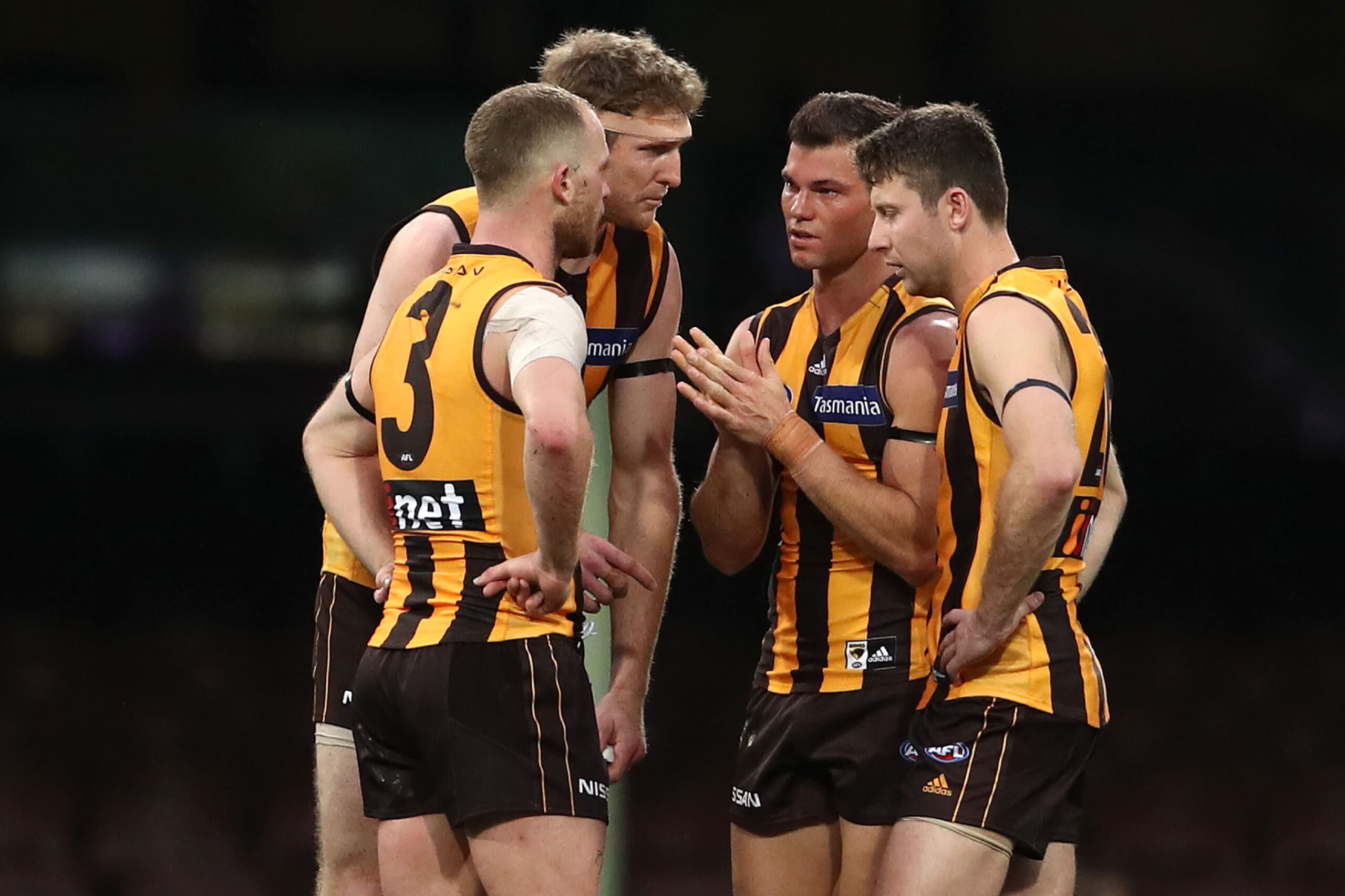 Once Clarkson was gone, it was evident that they had mortgaged the chance to regenerate their list naturally with high-end talent. They certainly weren't the first club to do this and they will not be the last.
The simple facts were, the Hawks needed to replenish, so a cull was always on the cards. The Hawks desperately needed to recoup the years of lost first-round draft picks, meaning some difficult decisions lay ahead.
Out with the old, in with the new
In recent years, they have traded experience with a view to gaining as many picks inside the top 25-30 as possible at the draft. The club understood their predicament and as all good organisations do, were decisive, committing heavily to a path they viewed as the quickest back to the top.
It has to be pointed out that the Hawks have done this before, with great success, in the early 2000s, bringing in a host of young talent that not only formed a core for the club's coming premierships, but also went on to become legends of the game.
There's no guarantee of a repeat of success, but you would be hard-pressed to find a premiership-winning team in the modern era without a core of top 10-20 draft picks on their list.
The Demons did this to great effect, though it took longer than anticipated. Jettisoning veterans, they targeted top 10 talent like Christian Petracca, Clayton Oliver, Angus Brayshaw, Christian Salem and Luke Jackson. All would feature heavily in the club's drought-breaking premiership of 2021.
Supplementing them with other later picks such as Jack Viney, Kysaiah Pickett and Bayley Fritsch, as well as careful trade and free agency acquisitions, the Demons have become a force.
The alternative is to take a similar route to that of the Saints or the Bombers, who have both heavily targeted free agents and contracted players during the trade period, giving away years worth of top-end picks, yet still finding themselves in no man's land.
Neither club appears to have much hope of winning a flag in the next few years and have both gone back to the draft in recent off-seasons. There is no one absolute way to build a premiership-winning side, however the past decade would suggest that a core of players taken in the top 10 of the draft is a requirement.
Have they cut too deep?
This remains to be seen and is the big question being asked widely and loudly. Yet perhaps the more prevalent question is, did they have any choice? With a middling list that seemed to be on the decline, the best option was to trade some of those who still had decent currency.
What is not spoken about enough is that the Hawks began their rebuild several years ago, back in 2019, taking Will Day with Pick 13 of the draft. In 2020 they took Denver Grainger-Barras at Pick 6, while in 2021 they took Josh Ward with Pick 7.
Last year's draft will perhaps be looked back on fondly, given they were able to snare Cameron Mackenzie, who already looks like a future star of the competition, at Pick 7. They also traded up to get Josh Weddle at Pick 18.
At this stage, the jury is still out on most of these players, however the point remains that they have returned to the pointy end of the draft to ensure their list has enough potential to become contenders.
Losing so much experience will absolutely hurt in the short term, there's no denying that. But had they held the likes of Mitchell, O'Meara and Gunston for much longer, the risk was holding them and losing them for very little.
There is perhaps an argument to be made that they started off-loading a year too late, that the likes of O'Meara, Mitchell and Gunston could have fetched higher prices at the end of 2021. However, it seems crucial that they held them for another season, to help mentor the likes of Jai Newcombe, Ward and Day.
As the most successful on-field club of the past 50 years, they will no doubt be fully confident in their strategy to get back to the top. This is a club that has won 12 flags since 1970, an astonishing average of a premiership every 4.33 years (not including 2023).
Realistically, they have earned the right to implement any strategy they feel is in the best interests of the football club. Clearly, winning premierships is a part of their DNA and while they may not win many games in season 2023, they will likely view that as part of the process.
It's perhaps worth mentioning that after finishing 15th in 2004 and 14th in 2005, the Hawks were premiers in 2008. It can change that quickly if done properly.
The next step
With a mooted 'super draft' looming in 2023, the Hawks will no doubt be eyeing off young sensation Harley Reid, already a hot favourite to go at Pick 1 in this year's National Draft. They are likely to be busy again during the trade period to see if they can acquire another top 20 pick or two.
It also bears mentioning that they have the youngest list in the competition at an average age of 22.9 years. They will likely use this year to pump games into Mackenzie, Newcombe, Day, Ward, Grainger-Barras and others while aiming to surprise a few.
By the time they are ready to challenge again, the likes of Amon, Sicily, James Worpel, Changkuoth Jiath, Jack Scrimshaw and Dylan Moore will be senior players. A handy enough collection of ability when you consider they likely will be leading a core group of elite talent that has been acquired during these years.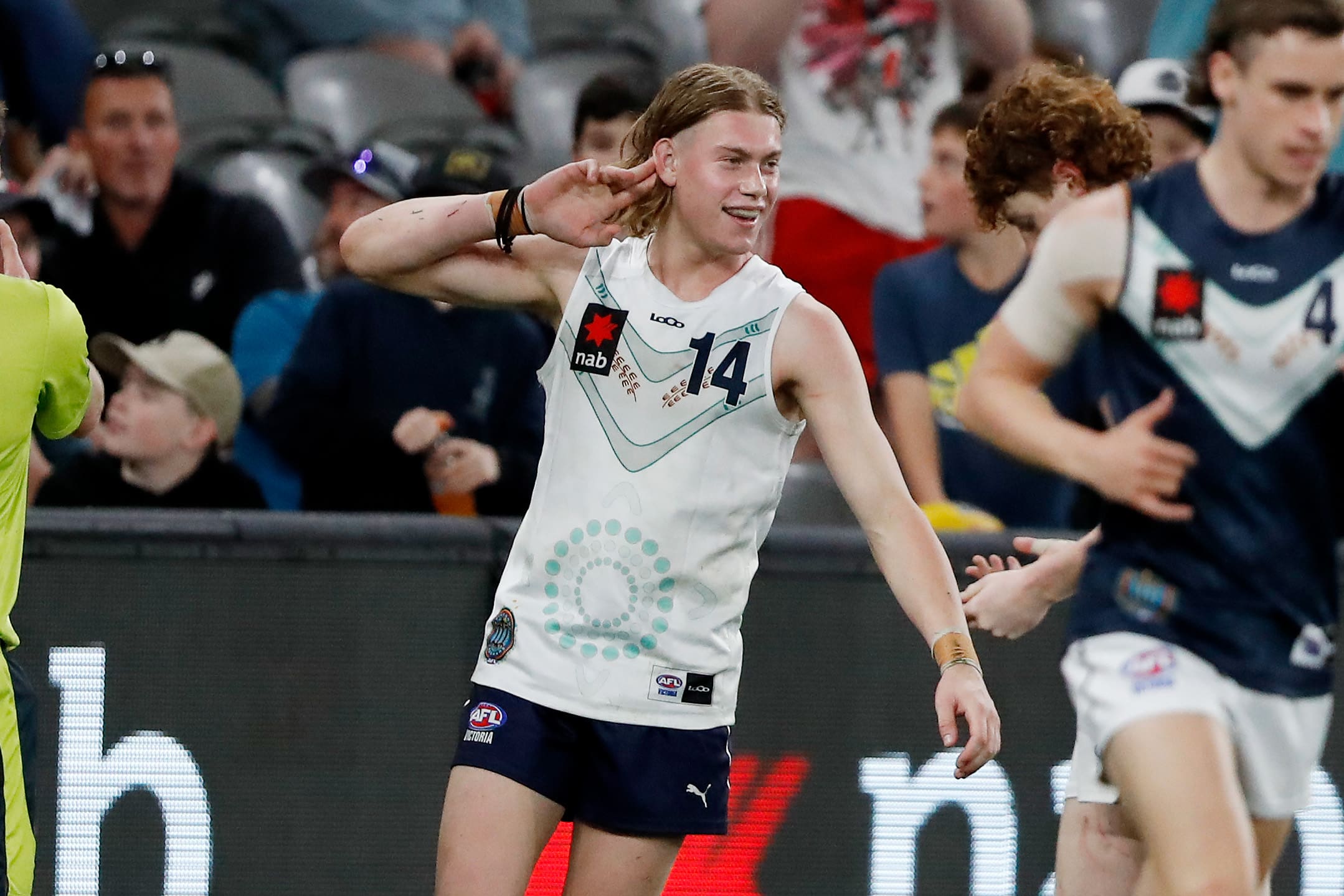 Down the road, they will look to target crucial pieces of the puzzle via trade and free agency, as the Demons did with Jake Lever and Steven May, or as Geelong did with Patrick Dangerfield and Jeremy Cameron.
There is still plenty of water to go under the bridge for this Hawthorn project, much depends on the development of this young core, Sam Mitchell's skills as a coach and their ability to attract the right players down the road.
However, forecasting doom and gloom just a year and one game into the Mitchell era is premature. They are certainly in for a rough year in 2023, but there will be green shoots and reasons for optimism, and given this club's track record over the last 50 years, it would take extreme bravery to bet against them.