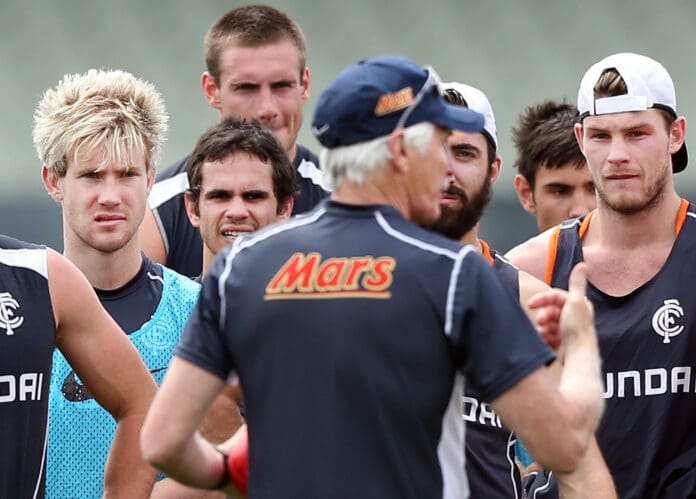 Former Blues midfielder Nick Graham has made explosive claims about former Carlton coach Mick Malthouse, questioning his motives about making the move to Ikon Park.
Graham begun his Carlton career at the same time as Malthouse in 2013 and played 48 games for the club before being let go at the end of 2018.
Malthouse had just crossed from arch rivals Collingwood, where he coached 286 games from 2000 to 2011 before being replaced by Nathan Buckley under the now infamous succession plan.
Speaking on the Real Talk with Beno podcast with Zero Hanger's own Jake Benoiton, Graham said that from day one Malthouse made a stern effort to show who was in charge and immediately found himself in the firing line.
"My first day we were doing some run throughs and Mick was out there watching, we had three sets of eight 80m run throughs.
"I'd just come off a knee operation so I wasn't moving too well, I got off the track thinking I'd moved alright and Mick came up to me.
"He (Malthouse) said 'you didn't hit the line' and I said 'what do you mean?'
"He (Malthouse) goes 'you cut short of the line, on every one you've come about a foot short of the line. We don't do that here and if you do you can pack your bags get out the door."
In Episode 2 of the Real Talk wit Beno podcast, Graham said he understood what Malthouse was trying to achieve with the message.
"I think he was just trying to make his presence known and show he was the big dog around the place."
SEE ALSO: Former Blue Jake Edwards opens up on dark mental health battle post footy
Graham spoke candidly about his time under Malthouse and his belief that the triple-premiership coach went to Carlton for the wrong reasons.
"When I first got there Mick was trying to hang on to his career, we made finals that first year and then the heat started to turn on the club.
"Mick I think was really trying to hang on to his coaching career to hit that AFL games coached record and I think when he was there he was really big on playing the older guys because he wanted the wins under his belt to try and hold on.
"I didn't really see eye-to-eye with Mick to well to be honest."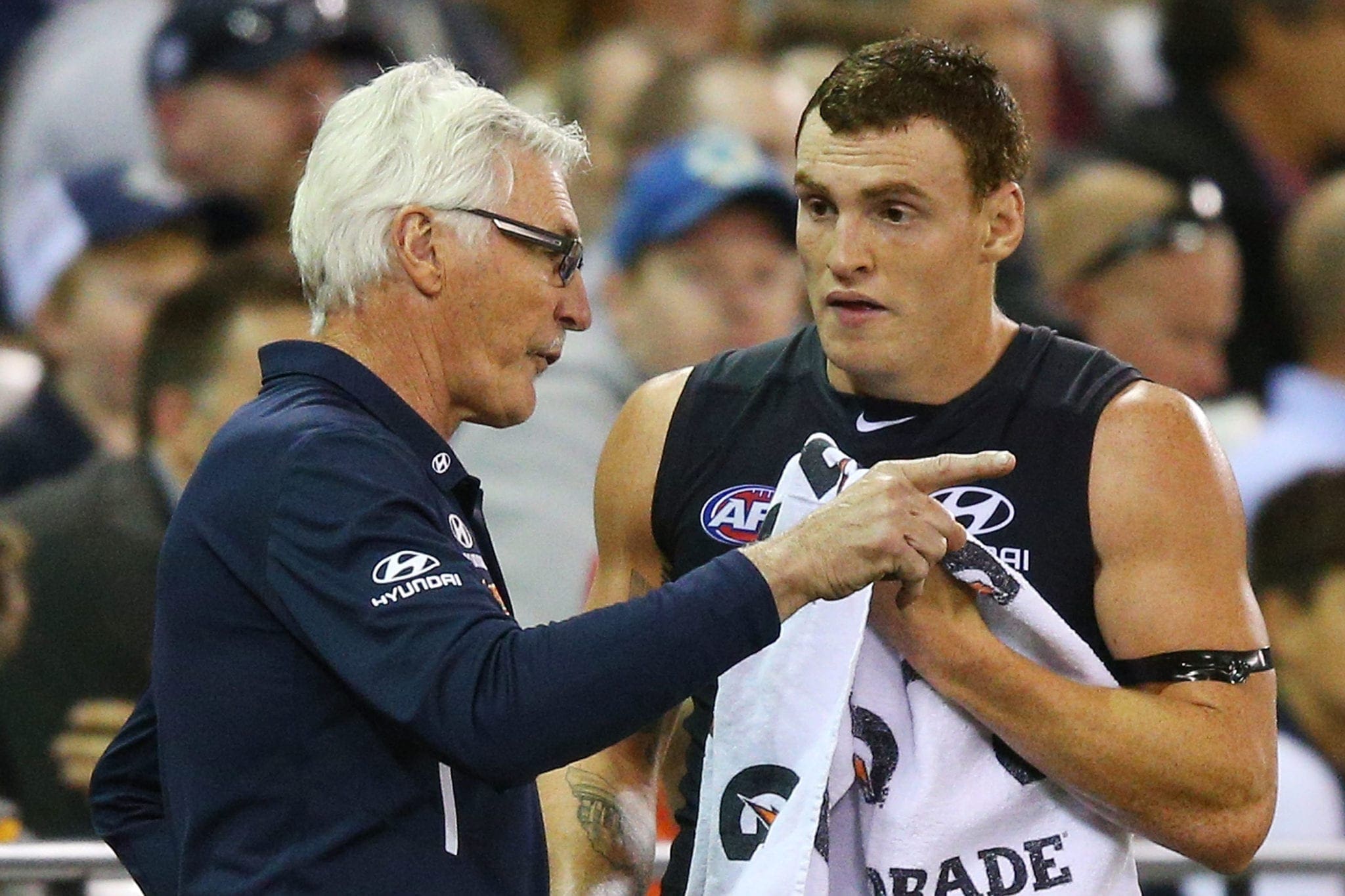 Malthouse was known for his ability to deliver a super spray and Graham was no stranger to the occasional bake.
Speaking on his worst spray from the games-coached record holder, Graham said he thought his career was done after just 10 games.
RELATED: Blues' cult hero Dennis Armfield heaps praise on former coach Mick Malthouse
"We were playing against Sydney at the SCG and I'd come on as the sub, after the game he asked how I thought I went.
"I said I thought I went alright and he slammed his hand on the table and he goes 'alright? My brother could play alright AFL football. If you ever dish up another performance like that again you'll never pull on another Carlton jumper again.
"That was in front of everyone in the team meeting, I don't see eye-to-eye with Mick and I don't agree with his principles of his coaching and the way he went about it.
"He probably set the club back five or six years, a very ego-driven man, Mick."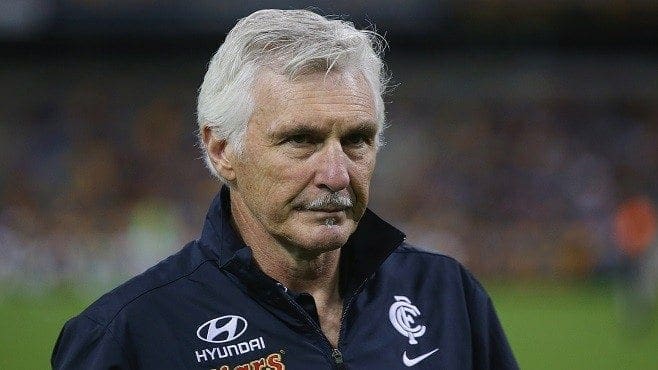 Malthouse was eventually replaced by Brendan Bolton who began a full rebuild of the club, however, Graham's fortunes didn't turn around.
"By the time Bolts came in I was in my fourth year and I wasn't in that young bracket anymore.
"When we started to get guys like Sam Petrevski-Seton and Zac Fisher I was kind of pushed out into the old bracket.
"Having said that, I still had every chance to succeed and I don't hold a grudge on the club whatsoever."
Graham did say he had respect for what Malthouse had achieved in his time in the game despite their disagreements.
"I don't want to take anything away from what he has achieved in the game, he's obviously an AFL great and a sensational coach over a long period of time.
"I think when he got to Carlton, I don't know if he was there for the right reasons and that probably showed amongst the group and hence why he probably had a few people offside."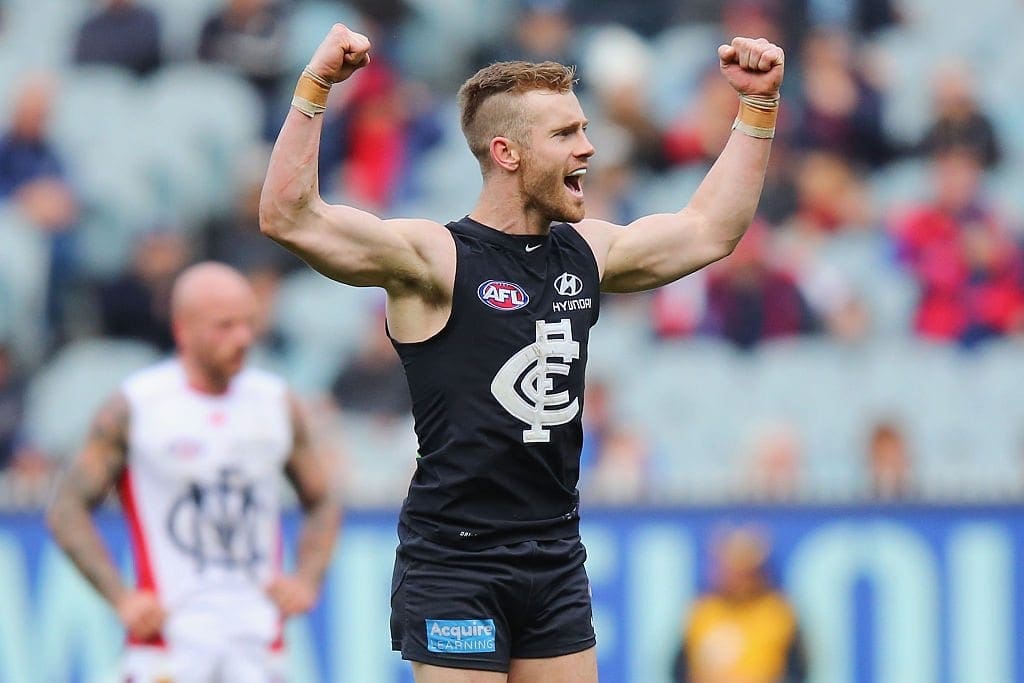 Graham, who holds an unwanted title as the AFL's most omitted player, is actually unfazed by record.
"I am the most-dropped player ever, out of 48 games I got dropped 22 times.
"It's a good little token I've got under my belt being the most dropped player ever, it's a record I don't mind having.
"Sometimes I had to sit there and watch The Footy Show to understand if I was getting a game, and Mick says he spoke to a player every time he was dropped and that's a load of s**t."
Graham made his debut late in the 2013 season as the sub, a rule which was abolished at the end of 2015.
Fast forward to 2021 and the AFL has re-introduced the 'medical sub', which again sees players debut in games where they may not spend a minute on the field.
Graham says it was a less than ideal way to play his first game.
"I had the green vest on which I was not used to at that stage, but I got pretty used to it.
"Eight of my first 10 games were in the vest so it makes it pretty difficult."
Graham is now playing for Spotswood in the Western Region Football League in Melbourne.
Listen to the full chat with Nick Graham on Real Talk with Beno or catch up on the podcast via the player below 👇