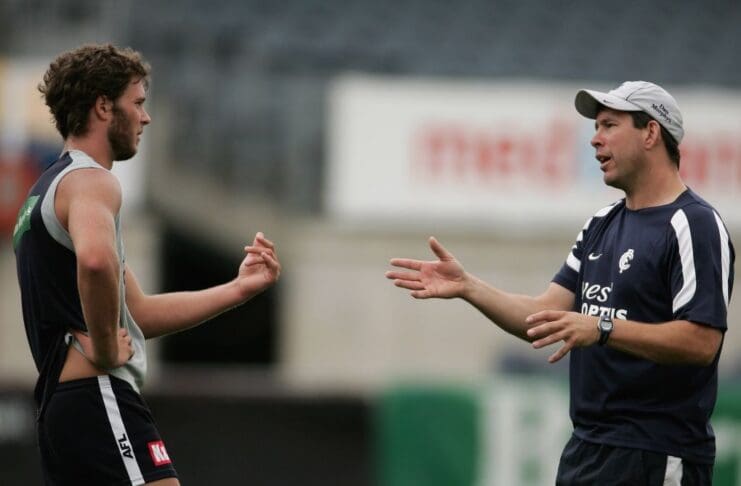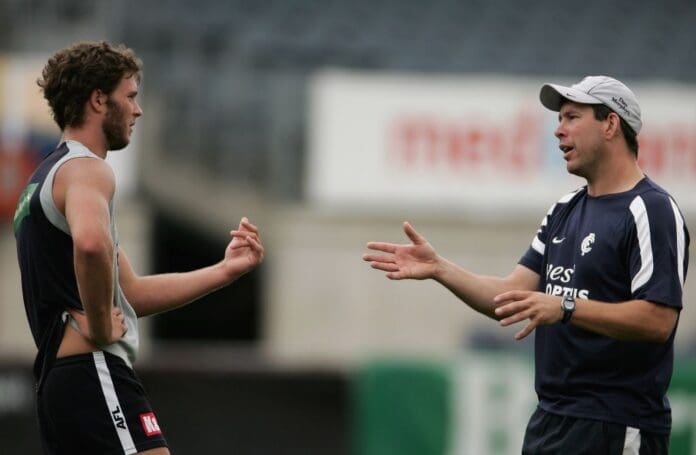 Former Carlton player and current reality television star Jake Edwards has opened up about his battle with depression and how it almost cost him his life.
Edwards played four games over four seasons for the Blues, with all of them coming in 2008.
The key forward struggled with injuries and depression throughout his career and was delisted at the end of 2009.
Speaking on the Real Talk with Beno podcast, Edwards said the depression was crippling and took away his love of the game.
Edwards said that things started to go downhill when a cruel ankle injury cost him his debut and a promised sustained run in the side.
"When Ratts came in at the back-end of 2007 he said to me, you're going to make your debut next week against Port Adelaide.
"He said just get through this week in the VFL, we want to give you a taste of it (senior footy).
"I went out that week and dislocated my ankle... so I went from the high of going to make my debut to that massive crash."
Edwards spoke about how different things were when he was in the system as opposed to now.
When he was diagnosed with depression he wasn't sure if anyone at the club other than he and doctor knew about it.
"I don't even know, outside of the doctor if anyone else knew. I wasn't treated differently, which is a good thing but I certainly wasn't spoken too by coaches or approached by anyone about it."
SEE ALSO: The three young key position players who are better than Oscar Allen
The 32-year old said leaving the AFL system was a major blow to his self-identity and self-esteem.
"It's the hardest thing I've had to go through in my lifetime, I lost that value of who I am. I lost my identity.
Edwards went on to say he felt the passion he had for footy slowly dwindle as his mental health worsened.
"I lost a lot of joy and excitement for the one game that I loved playing, and that rippled into the manic anxiety attacks where I'd be on the way to training and I'd have to pull to the side of the road.
"I'd be in tears, I literally couldn't drive the car because I was panicking."
The emotions then started to boil over into Edwards' personal life. He said it started to affect his relationship to the point it couldn't continue.
"I was in a relationship and the poor girl I was with, I put her through terror and emotionally I was all over the joint."
Edwards then turned to alcohol and drugs to help get him through his darkest days and turned to a lifestyle of partying to avoid the thoughts and feelings his depression brought on.
"I dealt with it in a really poor way, going out and doing way too much drinking.
"It (the drinking) got really intense, there was drug taking in there as well. To a point where I shot an adrenaline shot into my leg so I could stay up and party.
The drugs and drinking culminated in an attempt to take his own life.
"My lowest point was the attempted suicide, I spent four days partying and drinking.
"I didn't go to sleep, I had a girlfriend at the time and she walked out of my life because she realised how bad it was.
"I just came home on the Monday morning and thought, this thing called life, I just suck at it.
"I'd almost come to terms with the fact this was going to happen, that for me was my complete rock bottom."
Following his darkest day, Edwards went back to the family farm to get his head right and began to turn his life around.
Now the founder and CEO of mental health organisation Outside the Locker Room, he managed to open up to family and friends about his battles in order to get the support he needed.
The charity now does incredible work supporting one in six local sports people with mental health strategies to deal with any issues they may be having.