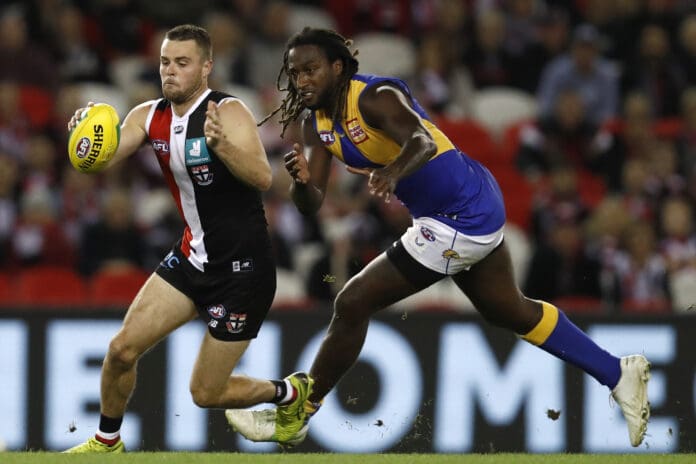 The Saints have made the news-cycle countless times of late, which shouldn't surprise, given many had them attempting to crack the top four, while in reality, they are experiencing an incredibly poor season.
With the many glaring issues at the club continually pointed out by media types, it seemed only fitting to make some counterpoints and wonder aloud if this season is simply a speed bump along the way, or a complete capitulation.
RELATED: Melbourne's rise proves development isn't always linear
The Bad 
There's no denying it, the Saints have copped four losses by over 50 points already this season, being smashed by Essendon, Richmond, Port Adelaide and, most recently, the Western Bulldogs to the tune of 111 points. These were listless performances highlighted by a lack of intensity and effort.
With that said, progress isn't linear. Things never go quite as smoothly as fans would like in the AFL, big losses do happen with developing sides. Plenty of people had the Saints challenging this season for top 4, some at the club may have even thought they were ready, however this was clearly premature.
RELATED: September spot still alive says Saints skipper
The Saints are not currently a particularly good team - on paper there's certainly potential - however the skill level this season, particularly in front of goal, is markedly different to last season.
This would suggest the issue is mental, rather than one of ability.
"We're not a very good team... that's point 'A'. Point 'B' is the fact that we're not a very good team is entirely mental."

"I think we can be a very good team."

This week's @nicksplitter rant on @Unpluggered 👇https://t.co/30Oydviqso#TogetherWeRise #Unpluggered

— Unpluggered Podcast 🔴⚪⚫ (@unpluggered) June 4, 2021
Recent examples of clubs going through similar growing pains are not hard to find. In 2016, the Tigers were lambasted for being smashed by the Swans by 113 while in 2017 the Saints smashed them - at one stage being 90+ points up - before Richmond famously going on to break their premiership drought later that season.
Let's be very clear: this is not to say the Saints will turn things around and win the 2021 flag. It is however, a prime example of how quickly things can change for teams that are still developing their game.
Similarly, the Demons made a Preliminary Final in 2018, losing heavily to the Eagles in Perth, before falling down the ladder and finishing third last the following season, which allowed them to snag the emerging Luke Jackson and Kysaiah Pickett.
How quickly things have changed for Melbourne when all that was forecast was doom and gloom.
People seem to forget that the Saints only just scraped into the 2020 Finals in their last game of the season last year, before upsetting the Bulldogs in a very narrow victory. St Kilda massively overachieved, and, as a result, this season has seen regression back to where they really are in their development.
Injuries
Take the two senior ruckmen out of any team in the competition and it's a guarantee of a significantly affected performance. Throw in the co-Captain, a lockdown small defender and the two most explosive stoppage players at the same club and it's always going to be an uphill battle to fill the gaps, particularly with smaller list sizes in 2021.
Brett Ratten has been forced to use players recruited more for absolute emergencies such as Shaun McKernan, Mason Wood and Paul Hunter. These are players who were never supposed to be relied upon, but unfortunately that has been the case, so far.
All teams suffer injuries so rather than dwell on this point, it's best to move on with the statistic that the Saints are top of the ladder somewhere... the one which calculates the amount of games experience currently unavailable due to injury (1,122).
Fixture
Despite not finishing in the top four last season, the Saints were somehow handed the hardest fixture this season (per Champion Data & Stats Insider), facing both of last season's Grand Finalists - Richmond and Geelong - twice, West Coast and Port Adelaide both home and away, while their one game against the Lions is at their Gabba fortress.
Throw in this week's relocated fixture against the Swans in Sydney, plus three out of their final five interstate and their penultimate week down at Geelong, and it's fair to say the footy gods weren't smiling on the Saints when this season's schedule was created.
List Management
The last two off-seasons saw just about every 'expert' espousing the trade work that the Saints had done, well and truly overcooking a club that was simply filling gaps in their list.
Now that same strategy 'hasn't worked' - honestly, it's tough to keep up.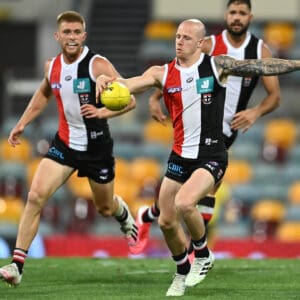 The Saints have recruited reasonably well, however there is still a lack of genuine top end talent at the club and of the big name recruits they have brought in via trade, Dan Hannebery and Bradley Hill haven't caught fire (although that seems likely for Hannebery at some point given his injury history), while free agent addition Brad Crouch has been good in patches - serviceable, but not consistently elite.
Bare in mind that it tends to take time to bed players into a new club, for the squad to gel and understand how to get the best out of each other. And, when things are going wrong, as we've seen recently at Moorabbin, the disconnect on the field becomes even more apparent.
ANALYSIS: The incredible numbers behind Essendon's turnaround
It's fair to say the Hannebery trade hasn't worked. He's rarely been sighted on field due to recurring injury. However, the remaining two mentioned earlier have shown glimpses that they can be the players the Saints expected, but it's just going to take time for Brett Ratten to figure out how best to use them within the structure of his game plan.
The Boy Who Would Be King
Perhaps the most impacted player by this poor season at the Saints, has been Max King.
There's no doubting he is a talent, one who is out of form and down on confidence. However, the way he's been treated by both the media and, embarrassingly, Saints fans, has been alarming.
There's no doubting his current issues, but what seems to be continually left out of the conversation is that he has played less than 30 AFL games, and, at the moment, gets lumped with the opposition's number one key defender each week, and more often than not, a second man up due to his contested marking prowess.
The criticism highlights a fundamental misunderstanding of the game.
Being a key position forward in the modern age of football takes time. Everyone expects Wayne Carey, but players like that are simply once in a generation - and to hold 18-year-old kids to that standard is quite frankly, insane.
Perhaps this is the point.
It will ignite debate, although in debates, you're supposed to present both sides of an argument.
READ MORE: Lloyd explains why club pulled the pin on King goalkicking session
This week's intervention by the Saints - preventing a goalkicking session with expert, Matthew Lloyd, seems on the outside, very precious. However it may just be a case of the club protecting their prized asset.
What happens if Lloyd is unable to solve his kicking woes? What would the media say next?
There's an old saying about too many cooks spoiling the broth: perhaps giving King space and a single message to listen to, is simply the best option, and should things not turn around as expected, there is still time for Lloyd's assistance if that's what all parties want.
Finally, it's worth noting that while Harry McKay is, finally, delivering consistent performances this season, he's already 23, while Tom Hawkins and Jack Riewoldt both took until their mid-20's to begin delivering consistently.
With these types of players, patience is the only way.
Youth
The Saints are not bereft of young talent, they have plenty of green-shoots to suggest a decent core. In Jack Bytel and Ryan Byrnes, the Saints have gotten games this season into players who look like being serious, long-term prospects.
Tie this in with Hunter Clark, Nick Coffield, Ben Paton, Max King, Rohan Marshall, Callum Wilkie, Dougal Howard and Jade Gresham - there's a decent core to build around.
There's also the likelihood of two top 20 draft picks this year, one potentially in the top 6-8, if Jack Billings takes a free agent contract perhaps on offer at North Melbourne or Essendon, and if the Saints get it right, things can change very quickly.
This positivity is not to say that all is rosy at St Kilda, and their rebuild is guaranteed to deliver that long-awaited flag. It is merely to recognise that things don't always go according to plan or as smoothly as expected.
Progress is hardly ever linear, and perhaps in future, this season will be seen as pivotal to the Saints development up the ladder, much like the Demons, Port Adelaide, Sydney and countless others.
For the sake of the Saints long-suffering fans, let's hope 2021 is an aberration and not absolute.