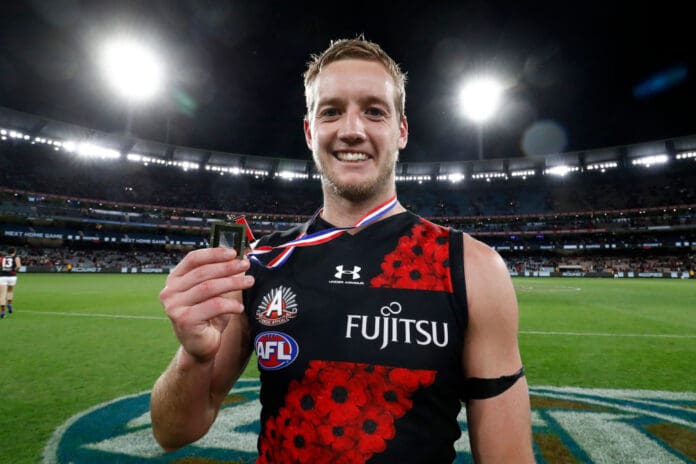 In one of the longest running jokes in footy, it's been nearly 17 years since the Essendon Football Club last won a final.
In that time the club and it's supporters have endured disappointing results, an all-encompassing drugs saga and six different coaches.
RELATED: Dreamtime Game confirmed to move West
6,112 #MightyBombers #GoDons

— Days Since Essendon Have Won A Final (@FinalsEssendon) May 31, 2021
But for the first time in a long time, the club seems to be on the right track and their fans have something to be excited about.
The turnaround has been remarkable.
WORTH A READ: Every AFL club's biggest 'what if' moments (Part 1)
Only 7 months ago, the Bombers hobbled to an 11th place finish on the ladder, and in the off-season, lost key players in Joe Daniher, Adam Saad and Orazio Fantasia, each unhappy with the direction of the club.
The departures forced Essendon into a more urgent, immediate rebuild, much to the dismay of their long-suffering faithful.
Now, despite only sitting 9th on the ladder, a clear change in culture, game-style and direction has breathed new life into the club.
But what exactly is different this year?
CLARITY
The word being thrown around my most footy pundits and commentators is 'clarity' and for good reason. The Bombers seemed confused last season.
Their ball movement was tentative, their skills were poor and their pressure was far off the pace.
The decision to have both John Worsfold and Ben Rutten in the coaches box proved to be a poor one.
Instead of the simple, stable changeover the Bombers had hoped for, two head coaches lead to unclear messaging, and messiness around how they wanted to play.
Despite Worsfold offering a steady hand through the club's darkest period, his tenure will sadly be defined by a club struggling to move on from the saga and it's sanctions.
But now with Rutten in sole charge of the playing group, they have seemingly been able to start fresh.
The club has made a strong focus to connect it's players back to history. There are now regular training sessions at Windy Hill, and former club champions are brought in to speak to players each week.
Ironically, the decision to rebuild has stripped away any confusion about where the list is currently at.
For over a decade, Essendon has tread water in the middle of the pack and never able fully commit to a bottom-out.
But, after losing three key players and holding three top 10 draft picks, there could have been no mistaking about where the club is at.
The focus on developing youth has given Essendon a purpose, and it's amazing what that can do for a club.
PLAYING LIST
When Daniher, Saad and Fantasia departed Tullamarine for the last time, it seemed unimaginable that Essendon would be a better side because of it.
Essendon's infamous list manager, Adrian Dodoro, has been busy at the trade period in recent years, but he was forced back to the draft.
At pick 8, Dodoro chose Nik Cox, who is a chance for the rising star, and at pick 9, Archie Perkins, who has had an immediate impact for the club.
Tall defender Zach Reid came with pick 10, and despite a recent run of illness, the club believes he will be their defensive pillar for over a decade.
Equally impressive, Essendon traded for St Kilda speedster, Nick Hind, and Gold Coast Suns forward-ruck, Peter Wright, only in exchange for late picks. Hind has been a revelation across half-back this year, and Wright has started to show his value at AFL level, both proving to be bargain additions.
Essendon is also getting more out of its existing players than it has in previous years.
Jayden Laverde, Will Snelling, Mason Redman and Kyle Langford are in the best form of their careers.
Skipper Dyson Heppell has reminded everyone of his importance to the Bombers and Cale Hooker has given his career new life up forward.
It seems the players are finally buying in to a system, and they are reaping the rewards.
RELATED: Tigers' big-man blow, Eagles stars sidelined and Bombers live-wire goes under the knife
GAME PLAN
Essendon are playing a distinctly better style of footy in 2021 which has their fans excited.
Since the arrival of Ben Rutten and Blake Caracella to the coaching staff, it seemed clear that Essendon - like the rest of the AFL -would be modelling their system on triple-premiership winners in Richmond.
But for the first two years of this game plan, the Bombers simply couldn't score. They ranked 14th for goals kicked in 2019 and 2020, and their ball movement lacked fluidity.
In the years of Worsfold, Essendon built their game around the sling-shot from half-back, using the middle corridor to open teams on the rebound. In 2019, they ranked 1st for bounces and 2nd for rebound 50's.
But when sides brought the pressure on defense, the Bombers struggled to cope and they would turn the ball over repeatedly.
In 2021, Rutten has managed to turn the tables. Essendon is now 3rd in the AFL for pressure acts and first for tackle differential per game - a brand of 'blue-collar football' that fans and commentators have desperately wanted for years.
Embed from Getty ImagesThe pressure up the field has an impact all over the ground. Essendon now rank 8th for intercepts, up from 15th in 2020.
The 'Richmond style' game plan is starting to show. Relentless pressure when the opposition have the footy, quick handball out of contests, and spread fast once the ball moves forward.
SCORING
There is far more assurance when Essendon have the ball now.
Their skill level has vastly improved, now ranked 4th for disposal efficiency and 2nd for goal kicking accuracy.
In 2019, Essendon were the 3rd worst turnover team, but now sit comfortably as the 6th best.
The Bombers are also more efficient going forward, turning 49.4% of their inside-50's into scoring shots, compared to only 43.4% last year.
The forward line is as potent as it's been in a while. Essendon have shown their ability to punish teams, ranking equal-2nd for goals kicked in the league.
Anthony McDonald-Tipungwuti is in All-Australian form and sits inside the top 10 of the Coleman Medal leaderboard with forward partner, Cale Hooker. Harrison Jones is proving himself as an exciting talent for the future and Jake Stringer is a match winner when fit.
Will Snelling has cemented himself in the best 22, and Peter Wright is worthy target inside 50.
The forward group have taken the 7th most marks inside-50, after ranking 17th only two years ago.
The turnaround in scoring is exciting Bombers fans for the first time in a number of years.
MIDFIELD
Essendon's form out of the centre has some believing this is the strongest Bombers midfield unit in over a decade.
Free-agent Zach Merrett has become one of the games best midfielders, boasting the 5th most disposals and 4th most inside-50's in the comp. Merrett's consistency and leadership is what the side has desperately needed for a long time.
His partner in crime, Darcy Parish, has been one of the games biggest improvers since grabbing a permanent role in the centre. Since his coming-of-age performance on Anzac Day, Parish has been dominant and now sits 4th in both the coaches votes and Zero Hanger AFL MVP voting.
Andrew McGrath continues to build into a star and is another reason Essendon ranks 3rd for centre clearances.
Perhaps most exciting for Bombers fans is the age profile of their midfield. There is no reliance on senior veterans, in fact it's their under-25's which are driving them forward.
If Essendon can secure the key signing of Merrett they will have a core nucleus for the coming decade.
The return of Sam Draper (22) and Jye Caldwell (20) from injury will further strengthen a midfield defined by young talent.
NEEDS FOR IMPROVEMENT
Essendon rank only 13th for points against, and an inexperienced defence has been exposed at times. They will need to stop opposition scoring heavily before they can consider themselves contenders.
There is still a hole on the list for a dominant key forward, needing to replace an ageing Hooker with a tall who can be the focal point of offense.
The Bombers only rank 14th for contested marking and could look to improve that area in this years trade period, heavily linked to a number of key forwards.
Sitting at 17th for stoppage clearances and 15th for contested possessions, Essendon need to work on their inside game around the ground to avoid negative field position.
More than anything, the new 'baby Bombers' will need time to fully develop. Last weekend, they fielded jjust seven players who had played 100 career games.
With more experience into the group and a few key signatures on their dotted lines, Ben Rutten's side look to have a very bright future.