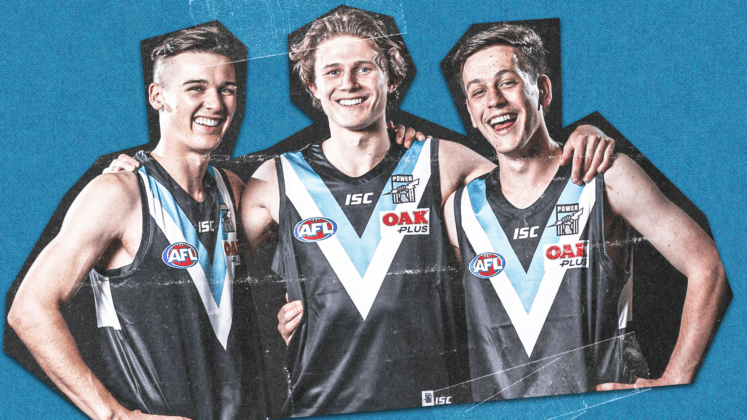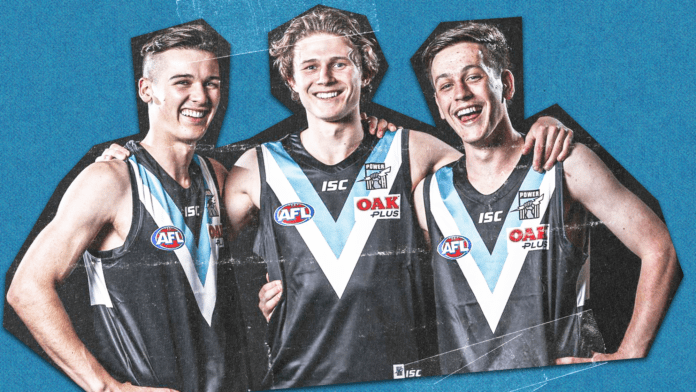 Nearly 40,000 fans clicked through the turnstiles under Friday night lights. Almost every one of them came wearing silver, teal, black and white.
There was an air of expectation that late August night. The atmosphere may have dipped somewhat since the turn into July but there was still something to play for. A pulse could still be found.
For the fourth time in Ken Hinkley's tenure at Port Adelaide, finals football was beckoning.
The Power would enter Round 23 of the 2018 season on a 1-5 limp since the start of Round 17, a far cry from their 11-4 start and outright ownership of the ladder's fifth rung that June.
But while sitting outside of the eight on percentage alone as they approached the home-and-away season's final hurdle, Port owned their destiny. It wasn't exactly 'win and you're in', but the Alberton crowd would have some say in how September would be structured.
Their opponents that night, Essendon, were finishing strong, claiming four of their past six. And to the dismay of the teal-clad hordes on the hill that night, the Bombers would begin brightly, too.
Before the eyes of the footy world, Hinkley's charges failed, watching on as Essendon slammed on six goals to one to kill the game before the opening break.
10 scoring shots to two.
By the final siren, the old scoreboard showed John Worsfold's men sitting 22 points to the good. Port had dropped their fourth game of the season to a non-finalist. They were out. Their fuse snuffed on the doorstep of September.
With 12 wins and 10 losses - a record strong enough to have seen September action in both of the previous two seasons - Hinkley's men ended 2018 not only in 10th place but at a genuine crossroads: would they run it back or turn one eye to the future?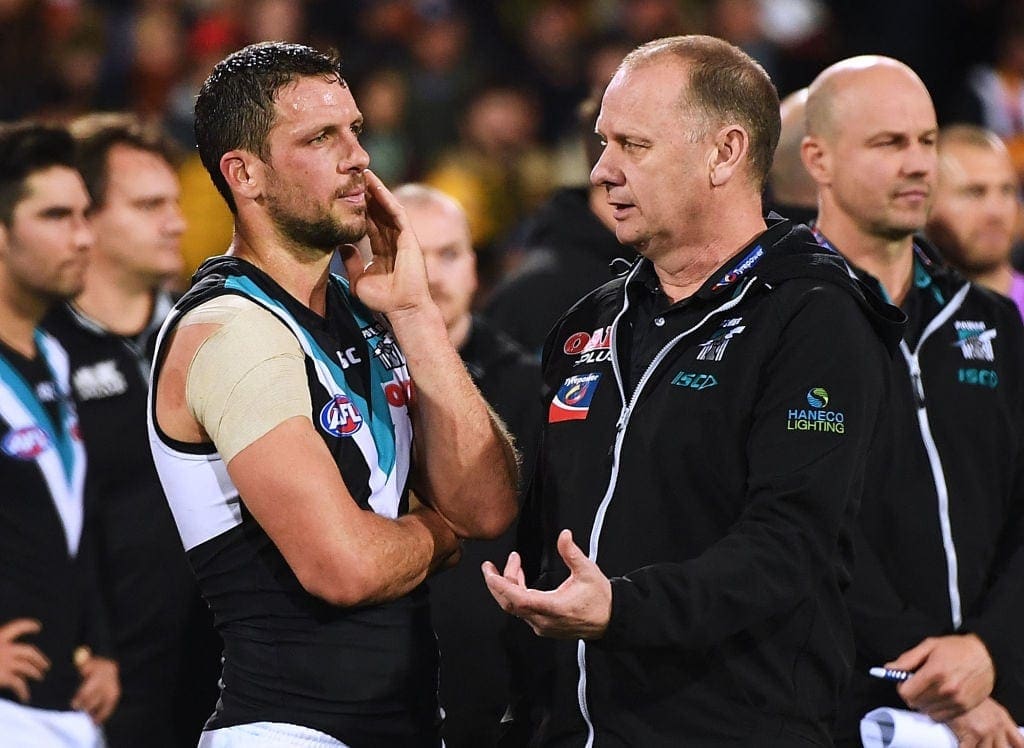 Post-game, Hinkley would swing from frustrated to steadfast in a press conference that would prove telling. Especially in hindsight.
"Could you be more disappointed? I doubt you could. I doubt you could," Hinkley fired.
"This footy club has let everyone down. That's us as a football department, we've let the football club down. We'll understand that. We'll look at it really, really closely. We'll make the decisions that have to be made."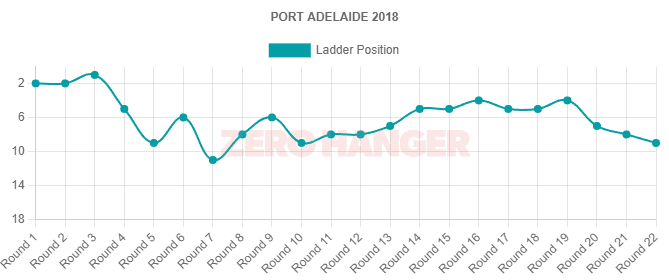 In Hinkley's eyes, as well as those of Port's 54,000-plus members, the shortcomings borne out under storm clouds were crystal clear. The specific culprits and the causes were still to be uncovered.
What was known was that a list containing five players 30-and-above - Travis Boak, Paddy Ryder, Robbie Gray, Justin Westhoff, and Lindsay Thomas - would require rejuvenating.
"We'll get some young players coming into the club again this year. We'll find the next young player," Hinkley admitted frankly.
But who were these players, and how just how would multiple gun draftees be brought in with just one first-round pick?
"Without being silly, (we're looking for) good players," Hinkley added in the same blunt fashion.
"You want the best talent that's available to you and that's Parks' (recruiting manager, Geoff Parker) and Crippa's (list manager, Jason Cripps) job to come up with the best available talent to use. We'll use the draft as our choice.
"It's a bit early to say, but I think we could use some finish in mid-forward. That's inside the contest, outside the contest; whether that's hitting the scoreboard as well, we'd like that."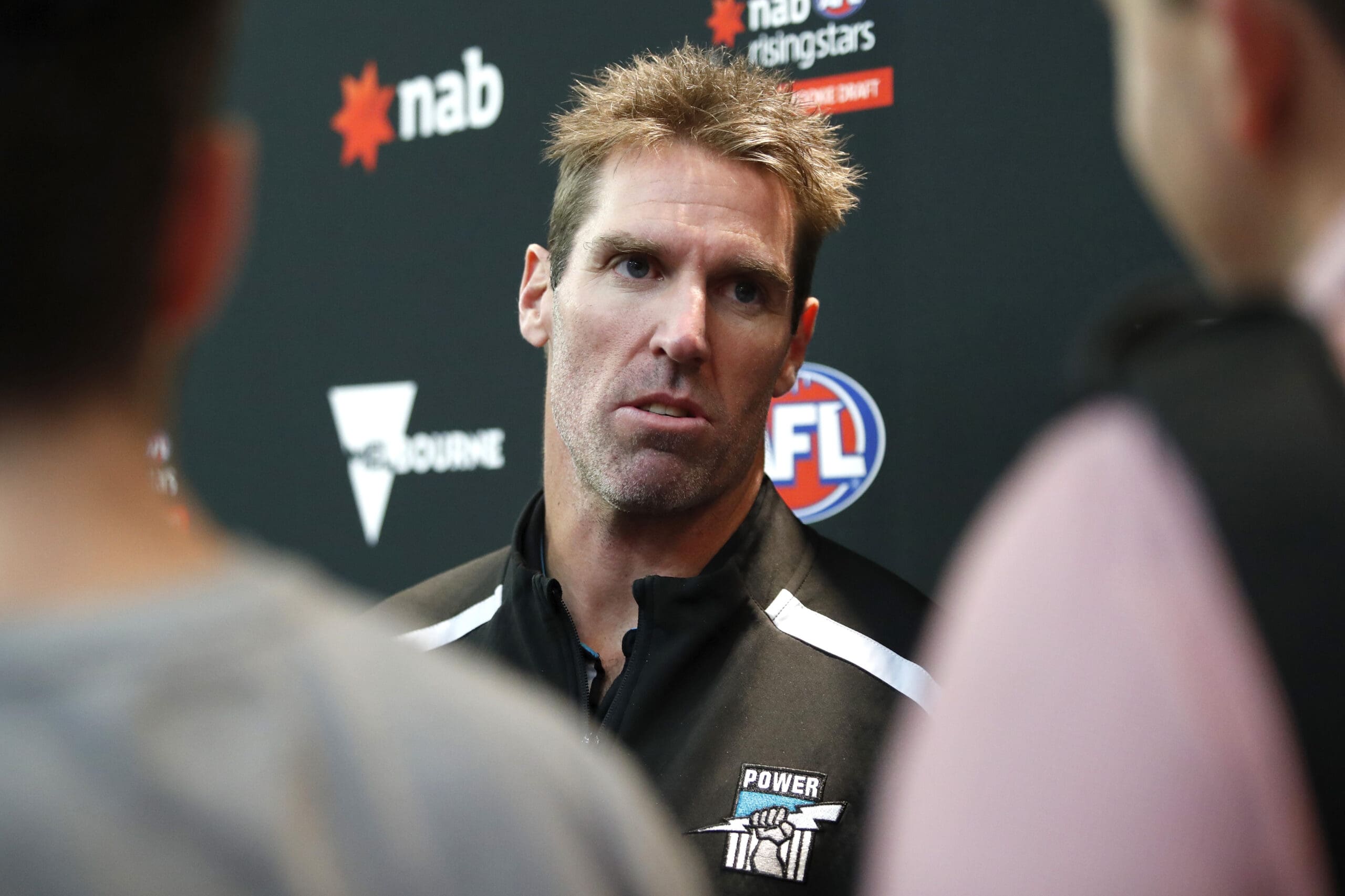 That home defeat against the Dons - the Power's fourth at the Adelaide Oval following the bye - would be the last rites for a side that should have been contending. A deviation from the mean had been seen the spring beforehand, with Port preferring fresh faces over recycled talents, selecting Todd Marshall and Sam Powell-Pepper with top-20 picks.
If it wasn't already, the writing was on the wall for Hinkley's hangers-on.
Tidal waters
Predictably, 2018's breakdown came off the back of a finals appearance the year prior, ending in the form of an extra-time, elimination final defeat to West Coast after the siren.
Like the tide beneath the Semaphore Jetty, Port Adelaide has earned a reputation for flowing out of the finals race just as quickly as they flowed into it. On three occasions under Hinkley's watch, Port climbed into the eight the season after missing out. However, on a further three occasions, they failed to feature after punching their ticket the year prior.
This symmetry extends to Hinkley's record in finals: 10 games, five wins, and five losses. But while the raw numbers show Port is a flip-of-the-coin prospect in the post-season, the club hasn't won a knockout final since 2014.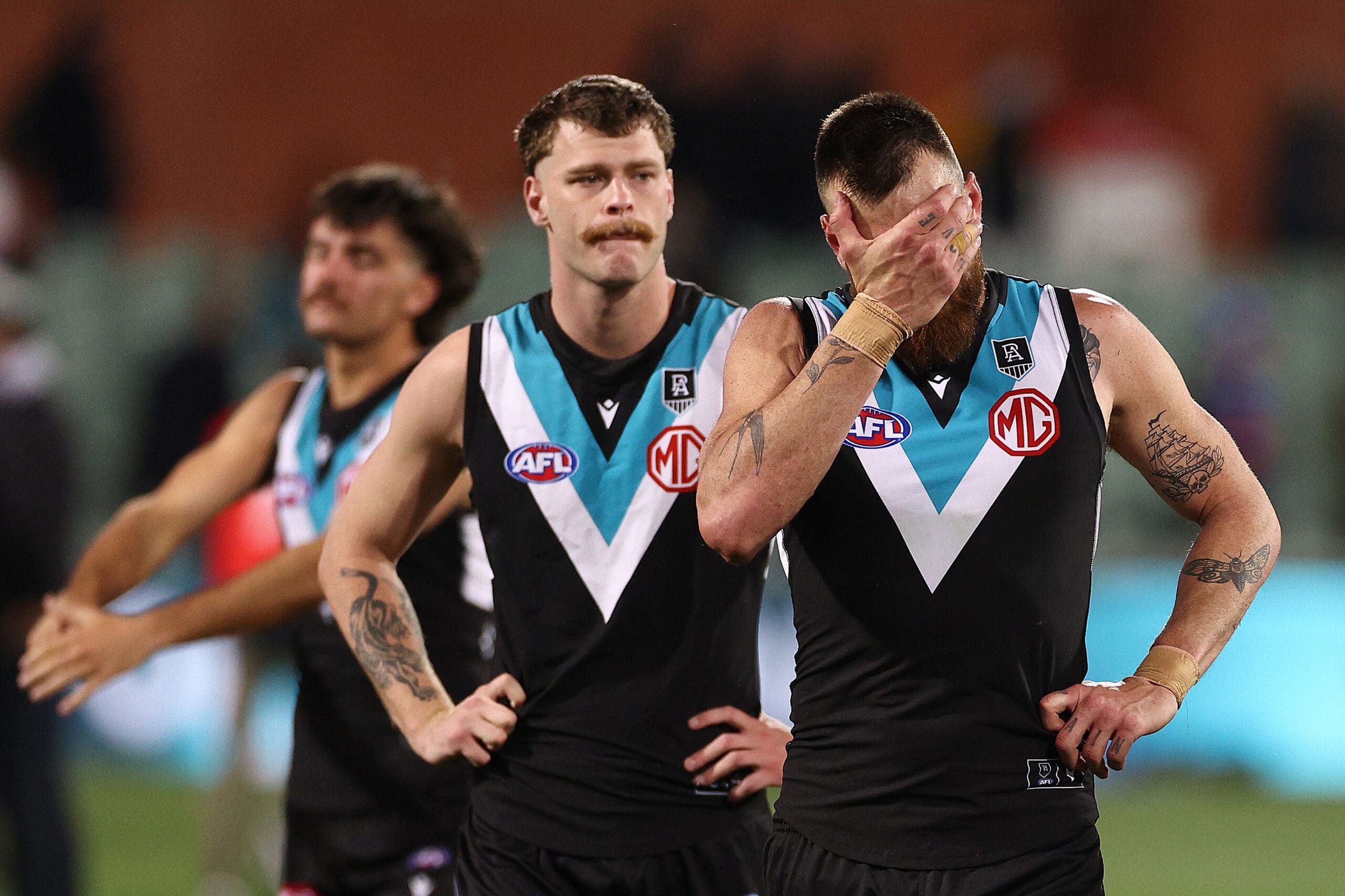 In back-to-back, do-or-die victories over Richmond and Fremantle respectively, Hinkley's charges left their mark on the 2014 finals, steered by the ilk of Boak, Wines, Wingard, Gray, Hamish Hartlett, and Jay Schultz.
Hinkley, doubtlessly, saw his core in this form. Why wouldn't he have? Half of them made the All-Australian squad that season while the others racked up individual honours during their days at Alberton, both past and present.
A three-point preliminary final loss would end Port's surge that season, but in his core, Hinkley could see the present and the future of all three lines - a feeling that was sure to have been boosted after Charlie Dixon traded Carrara for the City of Churches the following year.
During his playing days at Geelong, Hinkley would suit up alongside superstars. While no slouch himself, with a Carji Greeves Medal and a pair of All-Australian nods, the stopper spent the entirety of his career ensconced by Cats royalty in Bews, Brownless, Couch, Hocking and, of course, Ablett.
Those days down back at Kardinia Park showed Hinkley what a contending core looked like. However, through trial after retrial, they also revealed to him a core that could never clear the season's final hurdle.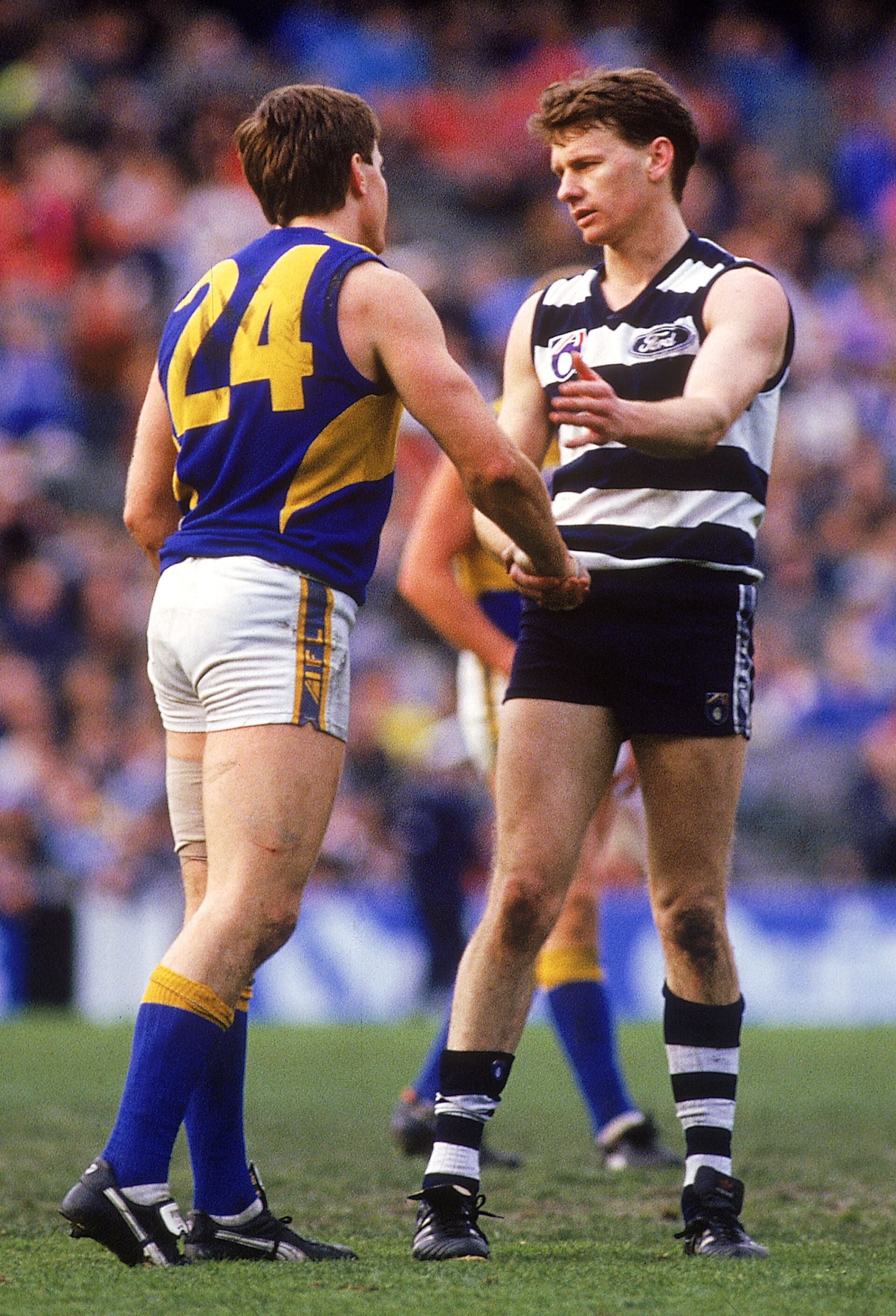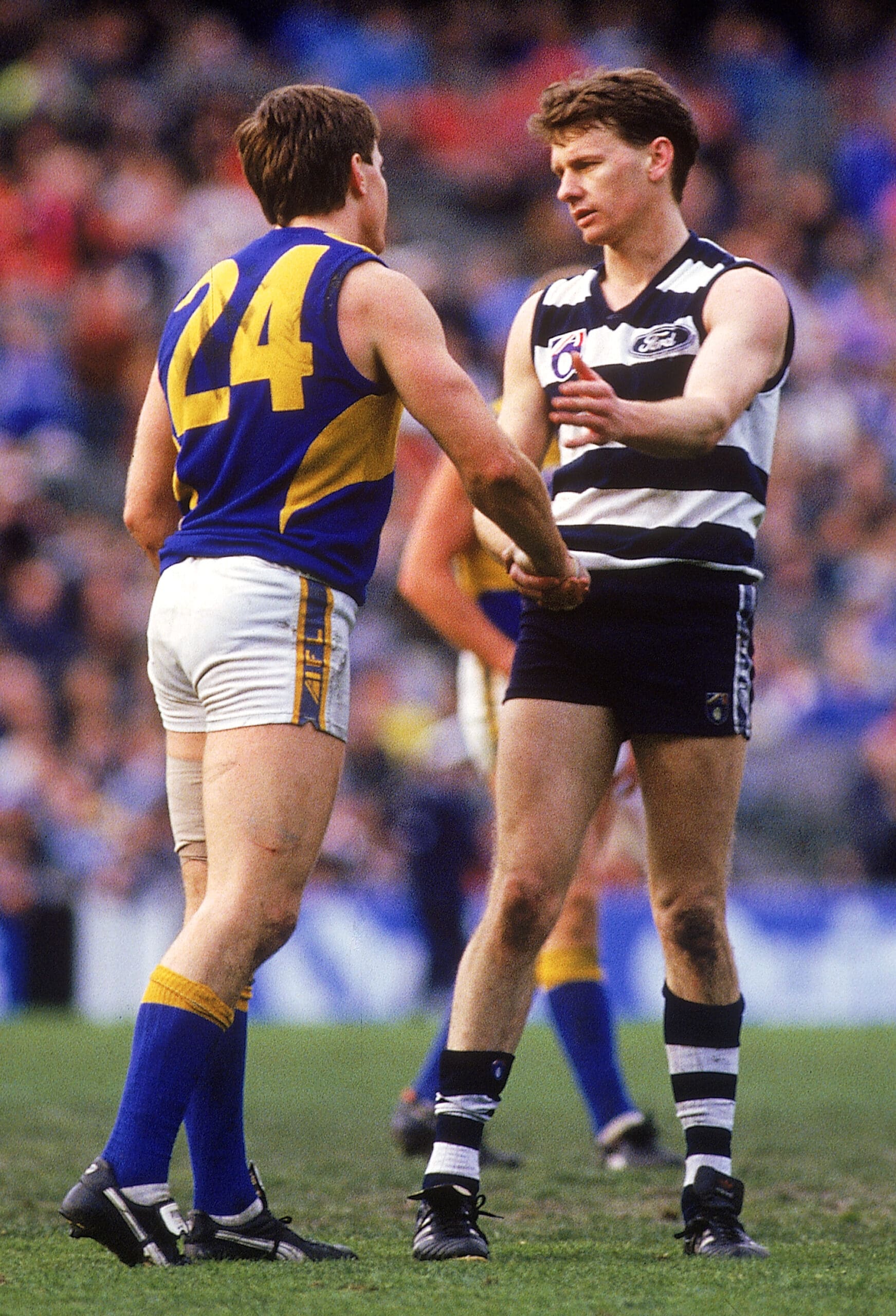 2018 may have finished in a familiar fashion for Ken and his footballing kin, however, it had begun with a prompt to leave Port and start again in sunnier conditions.
In September of 2017, after being eclipsed by the Eagles following a suspect Luke Shuey free kick, reports arose that Hinkley had actively sought a release from his contract at Alberton in order to take up a long-term deal at Carrara as head coach of the rising Suns. 
Though a rift with public-facing chairman David Koch was said to have played a hand in Hinkley's choice to head north, Port tightened the screws, warding off the Suns and holding the coach to his word and his signature.
Koch, though, would blur boundaries between the board and war room, drawing his own list management line in the sand following Shuey's clutch dagger.

"We don't want players who are living their dream just by playing AFL footy. We want players who want to win a premiership," Koch said in September of 2017.
"If they're not prepared, if they're just playing for us because they love to play AFL, they're not players that we want.
"If they're not prepared to win a premiership for this club, we basically don't want them. Let us know and we'll trade them."
Like a scene from David Williamson's stage play turned cult film The Club, the head coach and the chairman reportedly warred over these words. Only by the trade period's end and the commencement of the draft's second round, a cohesive path forward was forged after giving big names the chop
Lightning strikes thrice
Of the Power's 22 that short-circuited in 2018, only seven names are left on their list - Boak, Darcy Byrne-Jones, Kane Farrell, Daniel Houston, Tom Jonas, Ollie Wines, and Powell-Pepper.
Nine would eventually find new homes, however, only three remain on AFL lists - Billy Frampton (Collingwood), Dougal Howard (St Kilda), and Chad Wingard (Hawthorn). A further five names from that night would be gone by the start of summer. Another six on the sidelines would soon follow them down Port Road.
Change was afoot at Alberton.
The core had faltered. Again. The next crop required wrangling. But for a team finishing 10th on the 2018 AFL ladder, the 9th pick in the draft - or 12th as it became after a string of Academy bids - was never going to cut it. Port would have to pull some strings in the other direction.
After all, everything comes at a price.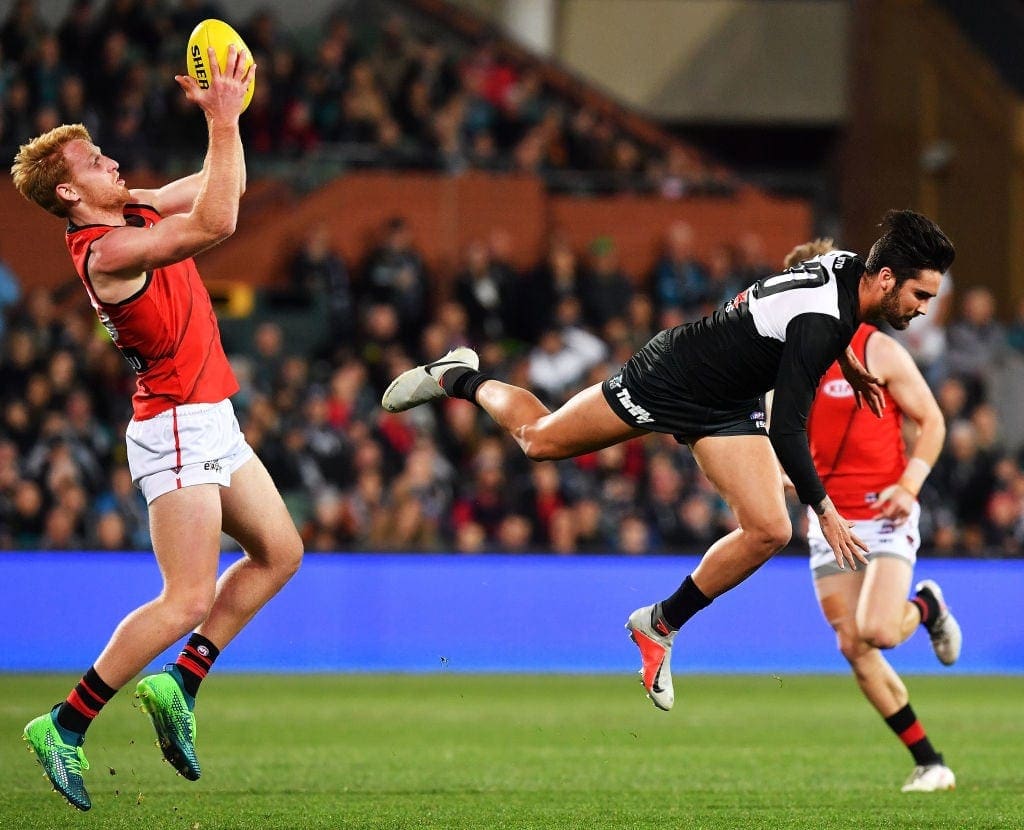 Between the 2018 and 2019 seasons, the Power would dip from the 6th oldest list in the competition to the 11th. However, they would still have the 4th greatest experience in terms of games played, down from 2nd.
They would opt for youth, but only after farming games into a paddock of players.
To compete for a premiership, AFL clubs require a core. Port's choice to shift the magnets and sever ties that off-season would see them sew theirs up in a single off-season.
At the trade table, Cripps wheeled swiftly and dealt deftly, sending Jasper Pittard and Jared Polec to Arden Street for what would become pick 11 and some extras.
11 was then lumped with 23, 30, and 49 before being sent west to the Dockers for the 6th selection of the 2018 AFL Draft and a future third-round pick to boot.
Pick 6 was then flipped to the Lions for pick 5 and Sam Mayes, costing Port that year's 35th selection.
Following a 21-game, 22-goal 2018 season, Chad Wingard became a Hawk, with North Adelaide product Ryan Burton returning home along with what was then pick 15.
The notable absentee in any of these trades was Port's original first-round pick - and for good reason.
Via the perseverance and ingenuity of Cripps, the eagle eye of Parker and the helping hands of a quartet of rivals, Port would select Connor Rozee at five, Zak Butters at 12 and following a series of Academy selections, Xavier Duursma with the 18th pick.
A skinny kid from Port Augusta, an even skinnier kid from Bacchus Marsh and a trained dancer from grazing country in South Gippsland. Each beaming from ear to ear.
Sowing and reaping
It takes time to turn talented kids into consistent performers. Five years, they say, is the usual timeline to grow from green shoots to bloom. But thanks to Cripps' green thumb, the once-wilting beds at Alberton are back in full bloom.
But while Duursma has, yet again, been forced back onto the sidelines, rehabbing his umpteenth injury setback, the rise of his classmates has been like clockwork.
Though Duursma has begun to carve a niche on a wing, the shift of Rozee and Butters into the centre of the ground across the past season and change has seen both go to new levels, as well as the side at large.
Adept ahead of the ball, Rozee earned the call-up to the coalface last season, attending exactly half of Port's centre bounces in 2022, a spike of 38 per cent from the year prior.
The 23-year-old has again put the foot down in 2023, featuring at 71 per cent of re-starts across the opening 11 rounds, by far and away the most of any non-ruckman at Alberton.
Tipping the scales at a pint-sized 70 kilograms when first drafted, Butters' fledge from the flank to the guts has followed the Rozee mold to a tee, attending 53 of Port's centre bounces this season, up 15 per cent from his average of 38 in 2022.
Though still only 77 kilograms, like Manny Pacquiao in his pomp, the instigator of offensive thrusts, as well as a few push-and-shoves, is more than adept at fighting out of his weight division.
"He's a tough, brave, little prick," Hinkley offered with pride after the 22-year-old went toe-to-toe with superstars Christian Petracca and Clayton Oliver during Yartapuulti's Round 10 win over Melbourne.
Butters has also been a boon with ball in hand, seeing a drastic leap in disposals, clearances, and inside 50s each week, whilst also maintaining his more than handy goal-per-game average.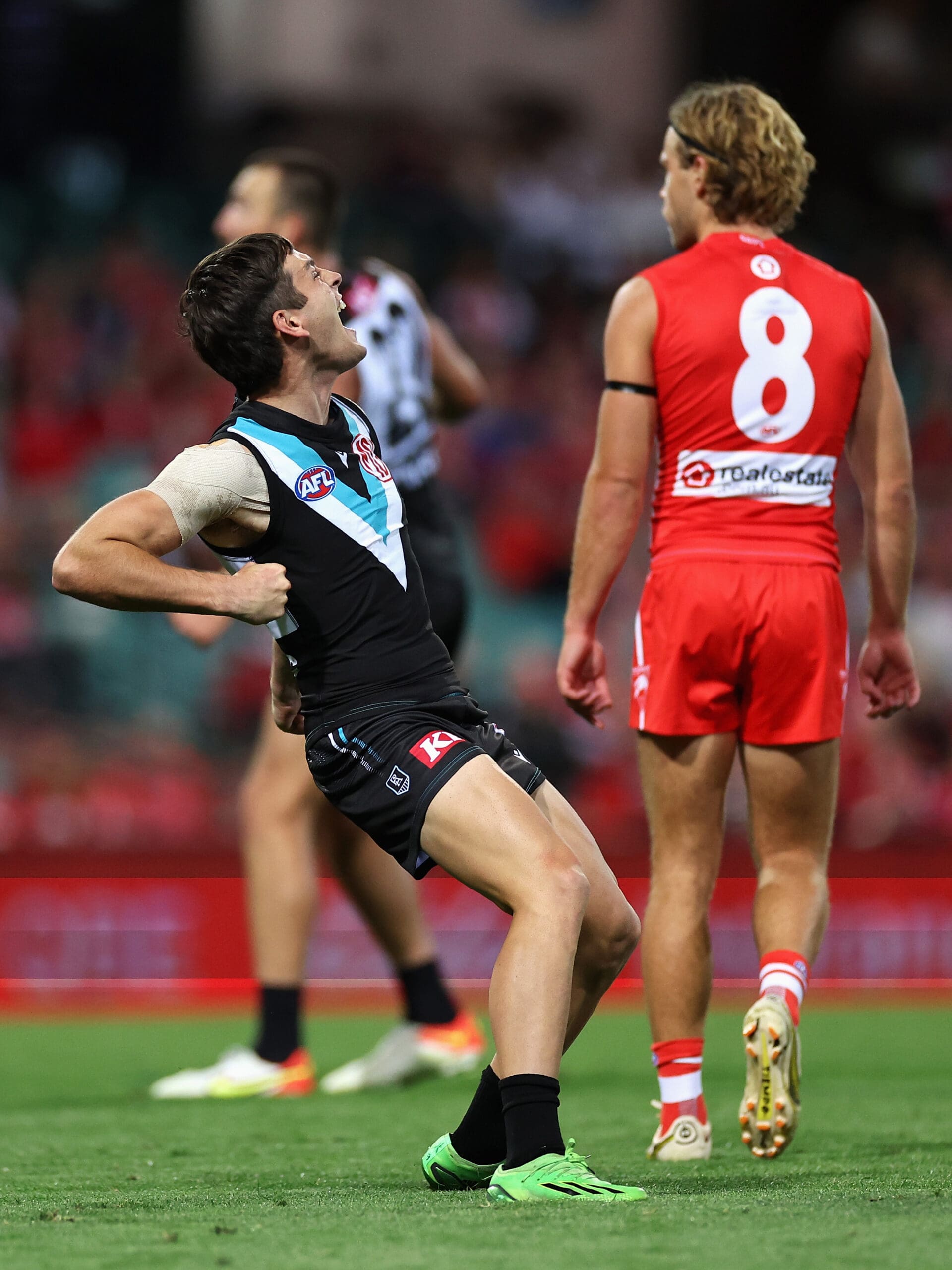 Zigging where the others have zagged, Duursma acts as Hinkley's deck - solid, versatile, but by nature, perpetually outside.

An old-fashioned utility. Can work ahead of the ball, as proven by his 50 scoring shots in his 64 starts. Adept behind it, too. Take his 1.27 rebounds per game as evidence. More than handy in the midfield/wing, with means of 1.39 clearances & 2.2 inside 50s each week.
However, in opposition to Butters and Rozee, Duursma has not seen any centre-bounce action since a lone appearance against West Coast in Round 3, 2021.
The fellow 22-year-old's flexibility reached its current zenith against the Swans during Round 4 of this season, racking up a career-high 120 SuperCoach points for his 22-disposal (11 contested), six-mark, four-tackle, and dual rebound evening.
Yet, as has deflatingly become the norm, Duursma was boundary line-bound less than three weeks later with a torn posterior cruciate ligament, an ailment that will keep him in the hands of the medicos until July at the earliest.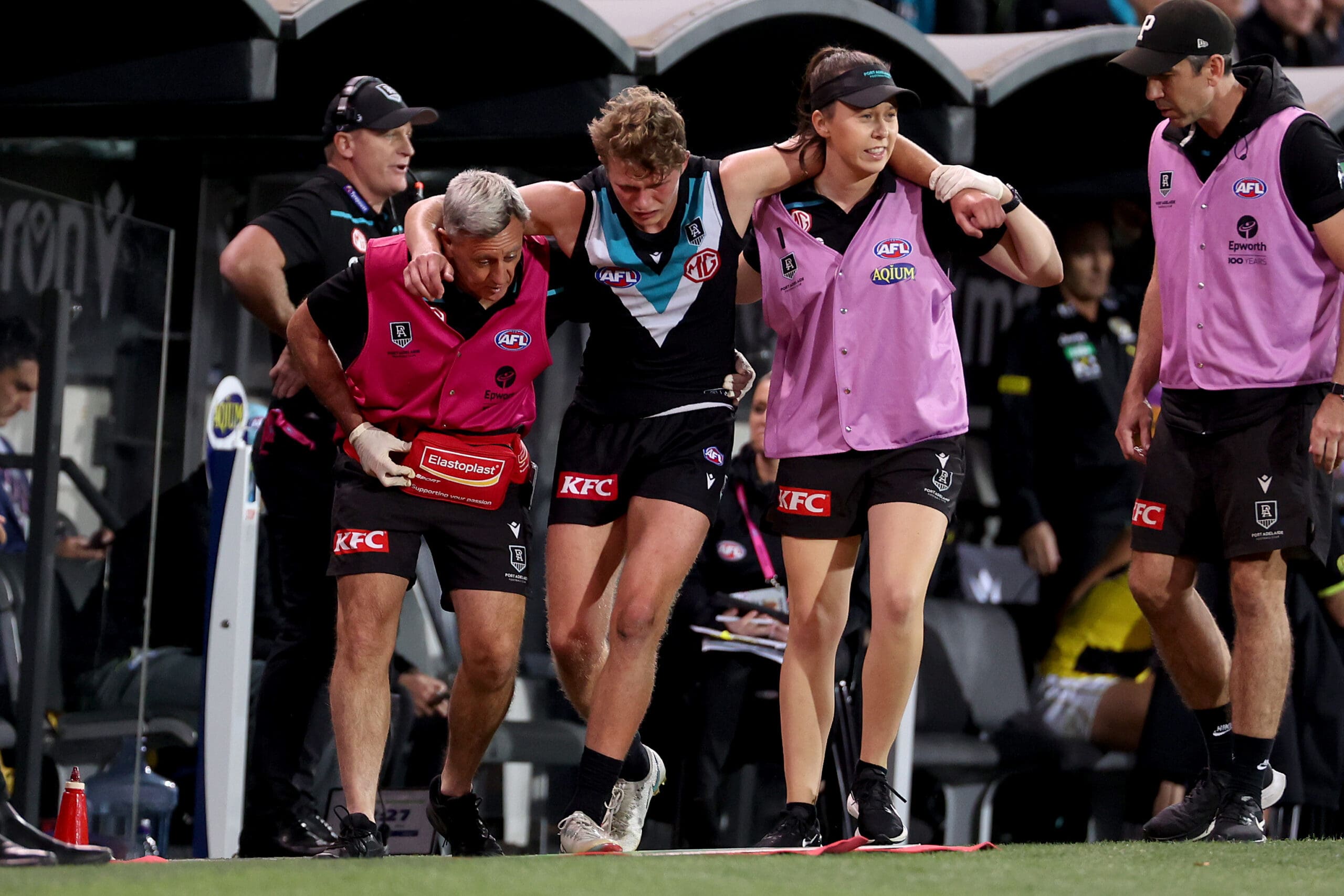 Since debuting in Round 1 of the 2019 season - a game in which he announced himself, bow, arrow and all - until going down with a lateral ligament complex in his right knee during Round 4, 2021, Duursma suited up in 39 of a possible 45 games.
In the 750 days between his pair of knee injuries, Duursma made just 25 AFL appearances, with his current seasonal average sitting at 11 in the wake of his 20-game debut year.
Still, if the Power's growing trend of dominoed rises is to continue running true, then Duursma will be the horse worth backing in 2024, good health and good luck willing.
But whether that will come off the back of a successful September or under the watch of someone other than Hinkley is still yet to be determined.
Storm brewing or drought breaking?
Sitting 9-2 and second on the AFL ladder ahead of the bye, Port has seen growth in other patches of their garden.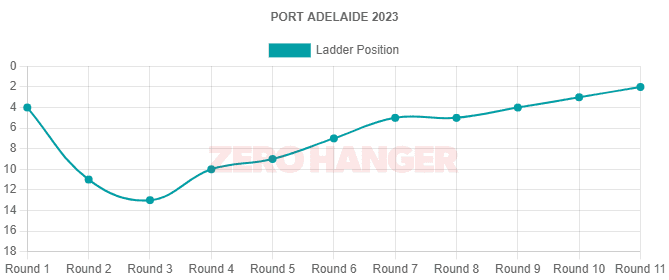 Organic, in the steadied spikes seen from bluechip draftees in Powell-Pepper, Marshall and Miles Bergman, and Lachlan Jones.
Salvaged, with imports in Burton, Horne-Francis, Aliir Aliir, and Junior Rioli blossoming in the wake of their staggered transplantations.
The Power has also shown clear signs of transition. A changing of the guard, if you will. Hinkley still has his veterans in Travis Boak, Charlie Dixon, Scott Lycett, and skipper Tom Jonas, but at varying stages this season, Port has proven able to win without them.
The return of boomeranging assistant Josh Carr to steer Hinkley's midfield cannot be overstated either.
However, on the crest of an eye-catching, record-equaling eight-game winning wave, the forecast for the future remains tough to read as Hinkley is still without a contract beyond September.
And with Carr's credentials clear and a certain premiership-player-turned-dynasty shaper sitting idle across the border, the blue sky over Alberton at the minute isn't without a few conspicuous clouds.
Once bitten, twice shy, they say.
Well, what then of a supporter base that has been lured and masticated for over a decade? You could forgive them for seeking something tangible from this particular run.
But as been said by Hinkley ad nauseam over the journey, they don't hand out cups before the bye. Invested members, interested onlookers, players, and staff alike will need to bide their time. Again.
Port is looking the goods, though. Not even the most one-eyed Crow can deny that. Any start to the season that yields five wins over sides currently sitting in the eight deserves more than just a tip of the cap.
But this rise from the rubble to contending again has been no bolt from the blue. This surge has been coming for seasons now. The honest analysis, the all-in approach, and the sniper's aim act as testament.
Is this the core that takes Port back to the podium on the last Saturday in September, bringing cup 38 back to Alberton? Or, are they set to replicate Hinkley's hooped units from decades ago? The ones filled to the brim with talent, but always left to wander home without a cigar.
Either way, rain looks likely to fall at Alberton by the end of this season. The question is whether it will come in the form of a drought-breaking deluge or something far more sinister.