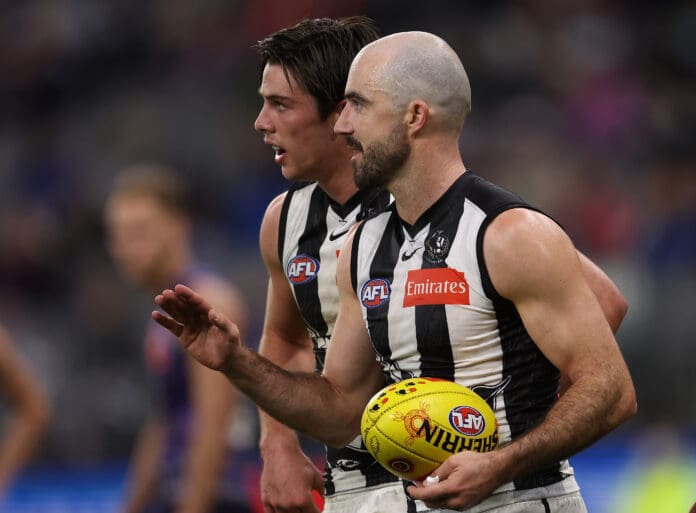 The last month of football has seen 2021 Mid-Season Draft pick Ash Johnson come into Craig McRae's Collingwood side.
He has been great for the Magpies, kicking six goals in his three games so far.
A stat made even more important given those three games had a combined winning margin of 15 points.
Johnson has also contributed to the Pies' pressure game, the big focus of this current Magpies outfit.
McRae spoke with media on Thursday, sharing that the South Australian has fit in seamlessly.
"I've spoken about Ash previously, he looked like he was a long way off playing AFL footy when I first started," he said.
"To see his growth as a young man... he missed 10 weeks with a hamstring injury and he just grew.
"He got stronger and his application to his game grew and now he is playing with confidence."
 The arrival of Johnson has seen fellow young forward Oliver Henry out of the team, which has come as some surprise to fans.
Henry has been well serviceable this season, kicking 21 goals from 14 games.
However, when without the ball, he hasn't been as impactful, something the coach has taken note of.
"He just wasn't hitting the packs like he was in earlier rounds, following up in tackling like we asked from him early days," said McRae.
"If he wasn't impacting the scoreboard, we weren't getting much else.
"So Ash Johnson comes in, and this is the industry you're in, you give someone a chance and they can take it. So Ash has taken his with both hands, and Ollie's just waiting for opportunity."
The third-placed Collingwood will face reigning premiers Melbourne in the biggest Pies vs Demons clash in generations, on Friday night 7.50pm aest.