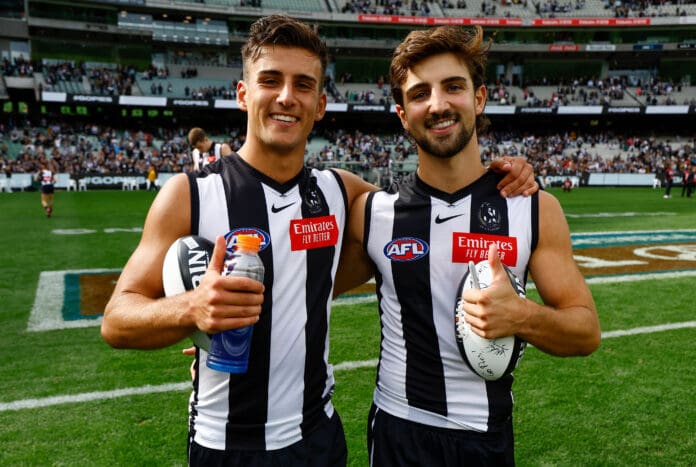 Casey Affleck, Stephen Baldwin and Luke Wilson
However big, tidy or warranted, each has earned reputations for lives spent in the public eye.
Still, this trifecta of actors and influencers of varying ages, experiences and expertise share a common bane: each lives in the shadow of an older brother.
It's been described as a strange sensation, to walk inside the outline and never the light. Something like screaming into a void as all of your achievements lose all of their lustre at the speed of light.
You try your guts out, and sometimes you even succeed, but you never seem to get the praise you feel owed. No, it all goes to that bloke down the hall, the bloke who mastered the art of hogging the PlayStation. That one with the unbreakable headlock.
Naturally, fraternal rivalries are born from resentment. It bubbles below the surface before, more often than not, coming to blows.
Take it from me, I grew up with a pair of these sometimes-siblings, more-often-than-not-sparring partners.
But at château Daicos, the inverse has always been true.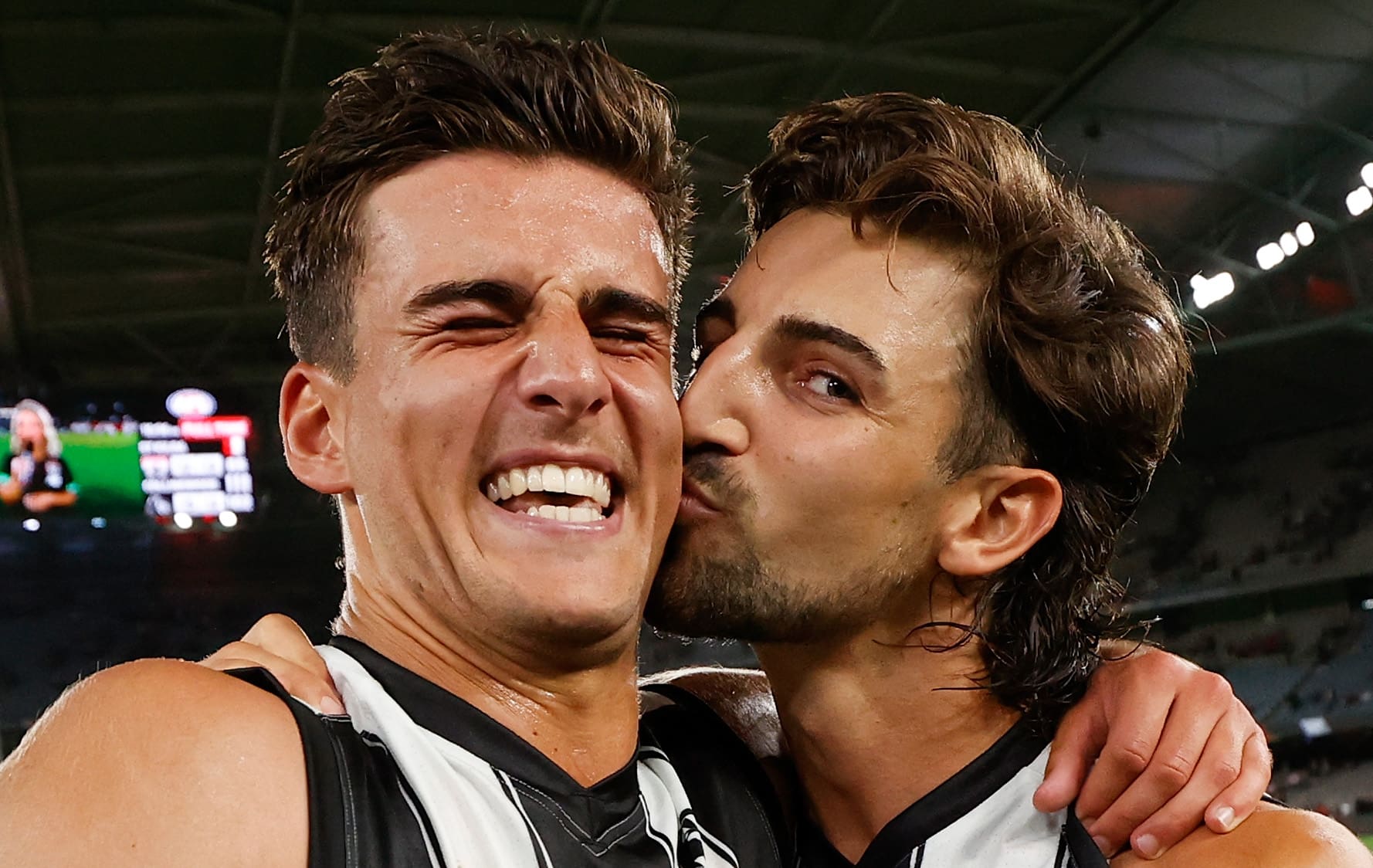 Behind those doors, conventions have been broken, with younger brother, Nick, outshining his older sibling, Josh. However, Josh - almost five years Nick's senior - has no issues with this public perception. He adores his baby brother; always has.
"We've always been super close," Josh told the Ball Magnets podcast in July. "He's hung around my mates; everything I did with my mates, Nick did as well. It's helped how close we've become."
So strong is the bond, the pair signed on with the Pies last week, keen to strengthen their ties, and bottom lines, set to stay side by side for the next six seasons.
Despite being the son of one of the most exciting footballers to bend a footy the wrong way, Nick's lightning rise from precocious kid to the young man standing at the game's summit has seen him draw comparisons to various other champions, namely John Coleman, Dick Reynolds and Hayden Bunton Sr.
These comparisons hold water too, with Nick averaging means of 31.2 disposals and four clearances per game across the course of his sophomore season, enough to have seen the 20-year-old enter Round 21 as the favourite amongst Brownlow bettors.
This reality is hardly a surprise, as statistically Nick is a league leader in several key categories. And even when trailing the maillot jaune, the second-gen superstar is never far from the lead.
This output hasn't hurt the common cause either, with Collingwood winning 73.3 per cent of its 45 fixtures since Nick joined Josh on Olympic Boulevard.
1st - disposals (total)

1st - effective disposals (average per game)

1st - effective disposals (T)

2nd - uncontested disposals (T)

3rd - disposals (A)

4th - handballs (T)

4th - uncontested possessions (A)

11th - kicks (T)

11th - score involvements (T)

12th - handballs (A)

14th - metres gained (T) 

16th - kicks (A)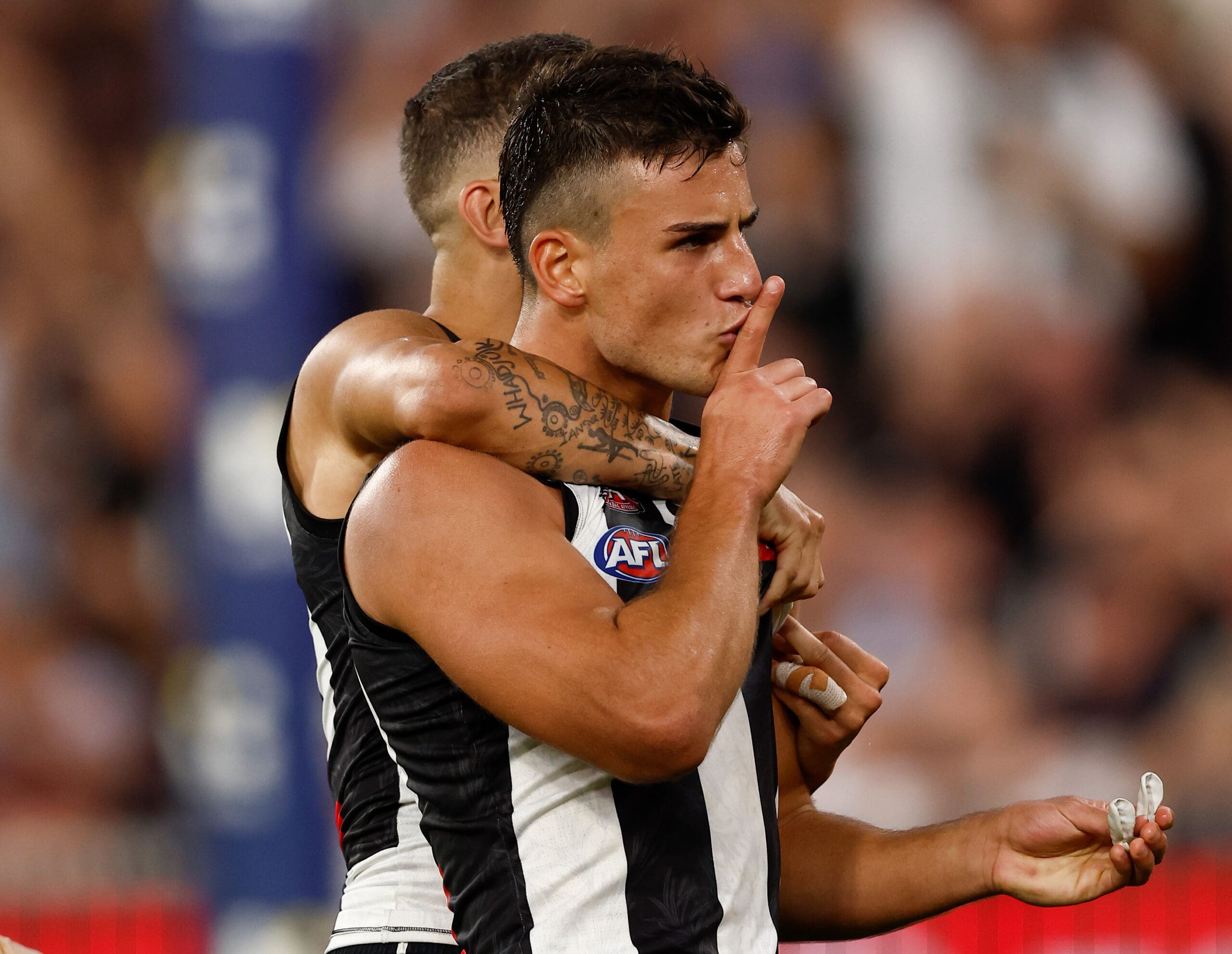 But with the 'face of the franchise' now facing six weeks on the sidelines after scans found a hairline fracture in his knee, anxiety is running high as ambiguity reigns. 'Is it possible', many are asking, 'to replace a messiah on the fly?'
Of late, footy fans have been force-fed the maxim of 'next man up'. The cliched message proffers that when one player goes down with injury or is shunted out via suspension, an equal or lesser name on the roster will be expected to fill the void, and do so admirably.
For those that ride or die with the Pies, they are desperate to see these words come to pass, especially with Nick acting as the sparkplug to Collingwood's entire game plan.
Just who is primed to take over from the Wood's wunderkind?
Let's take the mantra as literally as possible.
Though the phrase - pressed by coaches and frontline generals alike - suggests only one name will be asked to step up, in reality, head coach Craig McRae will be asking each of Adams, De Goey, Mitchell and Noble to reach new heights so as to cover Nick's slack.
But dialectics aside, there has never been a greater moment for Josh to shine; to step out of his brother's shadow as it were.
As the footy world has come to agree, Josh is no slouch. And though rewarding wingers with All-Australian blazers is yet to become vogue, the eldest son of Peter, a man who defied both convention and physics, is working valiantly against the odds.
With only little bro besting him when it comes to finding the pill and using it properly, why wouldn't he bet on himself? And with seasonal averages of 25.6 disposals, 3.4 inside 50s, 2.2 rebound 50s and a scoring shot each week, Josh has evolved from featuring in mere moments to owning an entire MCG wing, flank to flank.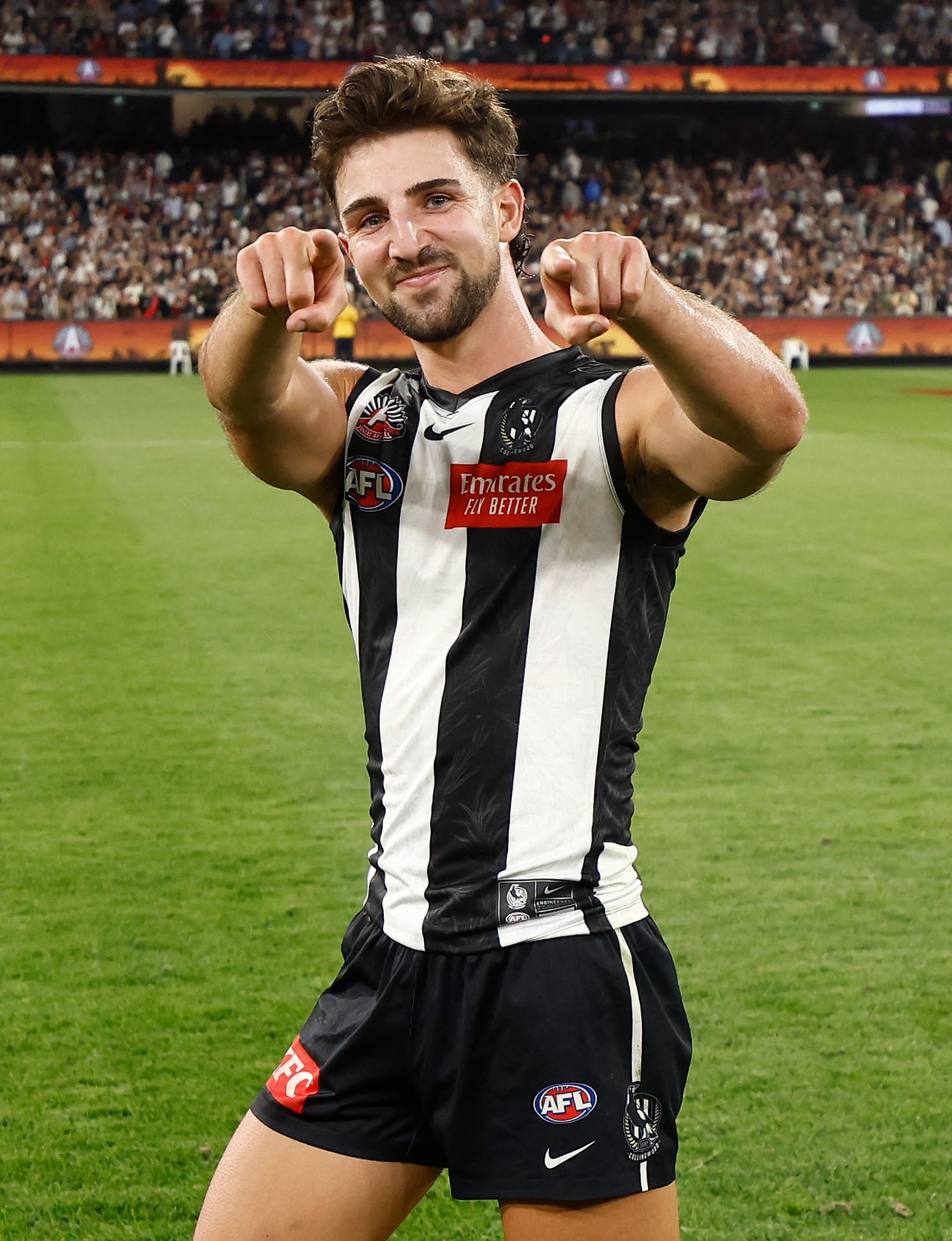 Yet, despite his public bloom, Josh's flowers often come with a clause. A proviso in the form of the guy that slept down the hall from him; the same guy he sees every birthday, Christmas, funeral, wedding and every single day at work.
Try as we might, we just can't seem to mention Josh without tacking Nick on too.
A benchmark brother, teammate and man, Josh has never let it get to him, though. He's happy, it seems, to keep on smiling in the shadows. Less controversial than Affleck junior, more skilful than the baby Wilson and certainly more relevant than Alec's kid brother, the 24-year-old is reliable, caring and generous; he even presents as proud to a fault.
Any lingering cynics have one thing right, though: Josh is no Nick.
But he has never needed to be. He is his own man, a man that has gone toe-to-toe with Swans, Blues and Hawks to defend his younger brother this season. A man that helped drive the standards that saw Nick become Nick. A guiding hand and role model to boot.
Nevertheless, with Nick's position now vacant, the option to step out and try on some hand-me-ups is open to Josh, if only for a hot minute.
Even if McRae opts not to throw Josh behind the ball, in the guts, or wherever else it is that Nick roams, you can bet your bottom dollar that the bloke with the chin strap and cheeky smile will take the onus to be the next man up.
After all, if you consult the stats sheet, he already has.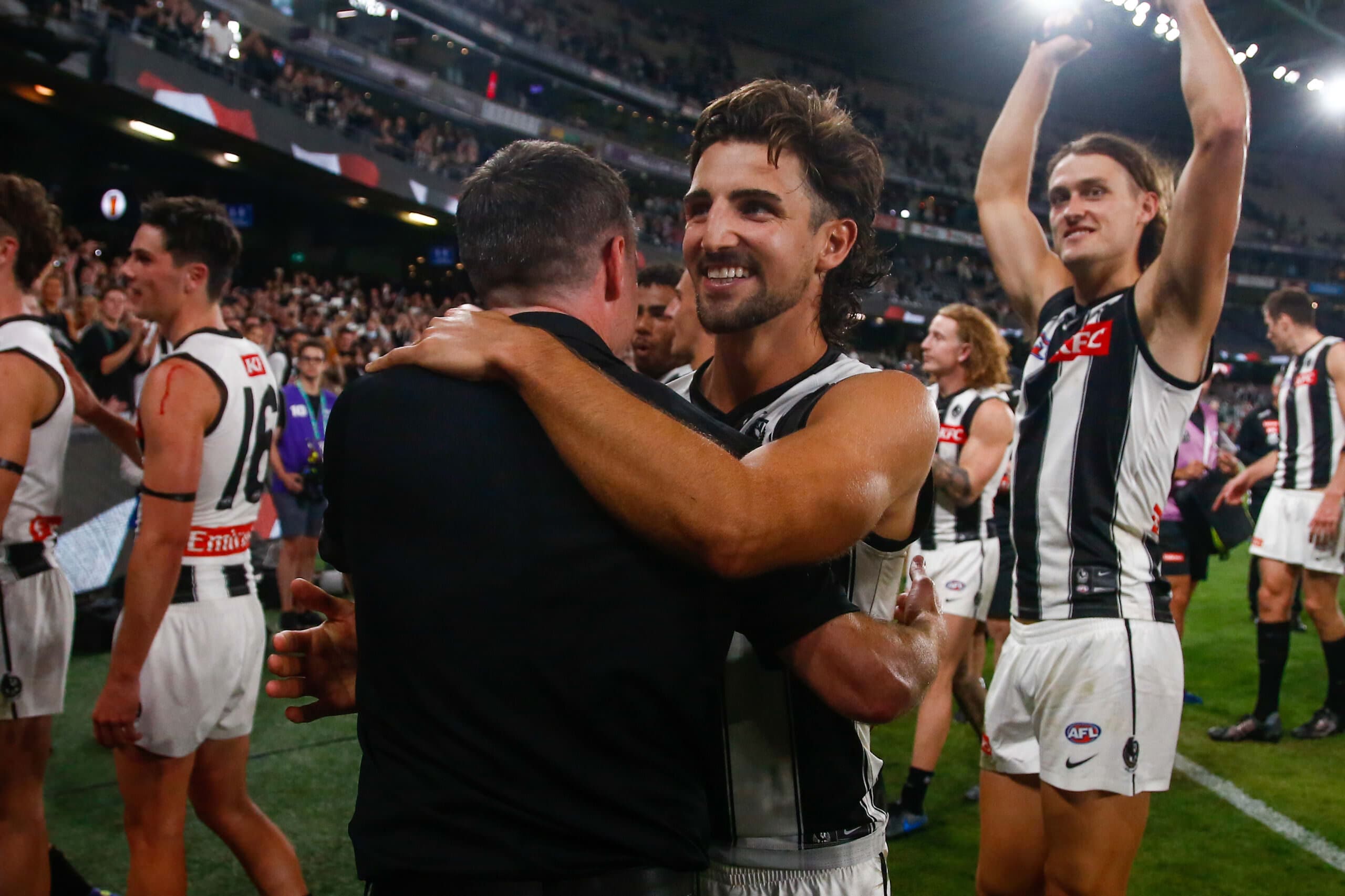 If a week is a long time in football, then six weeks for a team that hasn't won in a fortnight and is less than a month out from finals must feel like a life sentence.
Yes, last season's Rising Star - the same guy that may yet take Charlie home next month - is pushing to return by late September, but the script between now and a potential prelim' still requires writing.
Synchronicity and niceties aren't likely to motivate McRae, so redeploying Josh as a half-back that bobs up for almost one-and-a-half scoring shots a game may be more fantasy than fait accompli. But if Fly is to run with the next man - singular, not plural - up, who better to fill Nick's silhouette than the guy that has been standing in it this whole time?
While Nick - as far as I am aware - isn't on Collingwood's selection committee, I am sure he wouldn't want it any other way, because even brothers that bash, bite and brawl with one another have one another's backs at the end of the day.
Take it from me, I've got two of them.