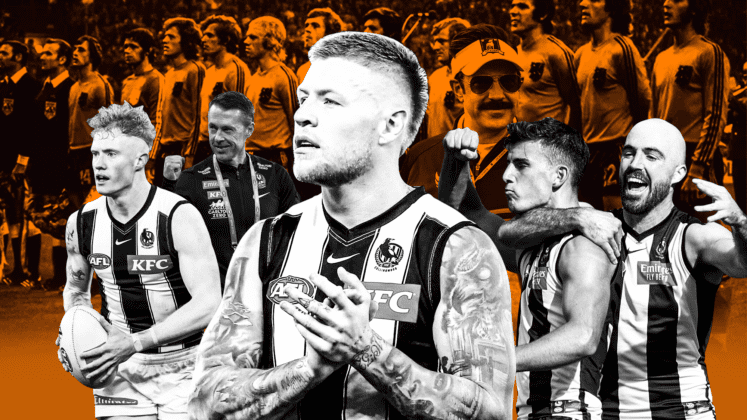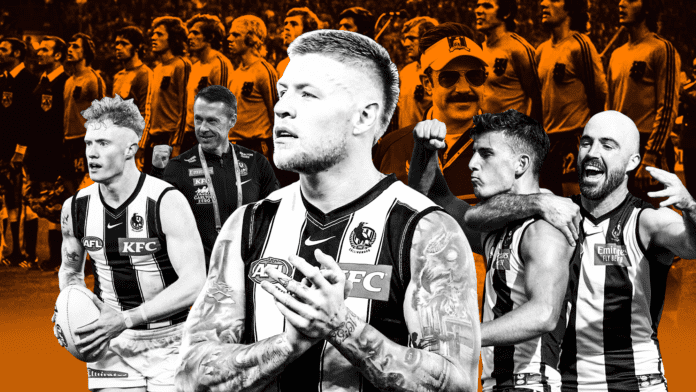 "Swapping parts and roles is not acting,
but rather emancipation from expectation."
– 'Total Football', Parquet Courts
Do you remember Scanlens footy cards? Not the ones covered with holograms and naff caricatures, the ones with the goofy player portraits printed on waxed paper and topped off with a slice of powdered gum?
No? You'd better ask your folks, then.
Beyond the shots of players hunched in a number of uncomfortable poses - some still in their civies – the other oddity of these pieces of cardboard currency was Scanlens' choice to invent an entirely new position: the utility.
Not tall enough to ruck. Too poor overhead to defend. Not quick enough for the wing or the flanks. Too inaccurate to be a forward. Too good for the bench. The new position eventually stuck, with coaches, pundits, and fantasy coaches all adopting the phrase in time.
A nod, perhaps, to the tradesman's ute: a flexible vehicle capable of hauling great weight on a day-to-day basis. The vehicle friends call on when they are moving house or have stumbled upon hard rubbish gold.
Inside the boundary line, utilities are the players capable of doing everything, everywhere, all at once - earning the love of their teammates, and the praise of their coaches in the process.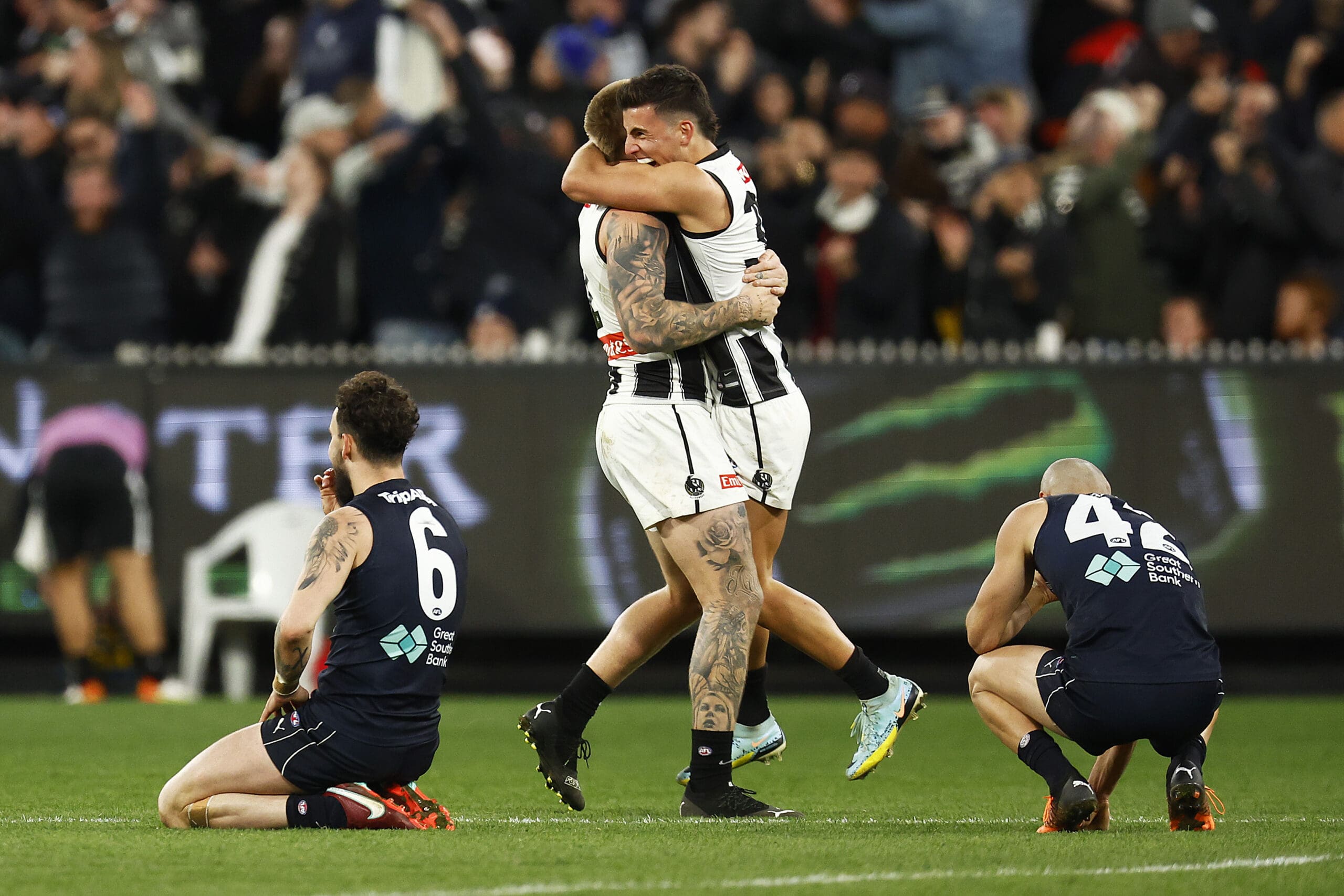 Top of the ladder after storming out of the doldrums in 2022, Collingwood has continued its trend of exciting crowds with a chaotic pace and tight finishes that have the fighting fit battling angina.
Though the Pies have All-Australians on multiple lines, it has been the collective rise of its utilities that have done the power of the heavy lifting. Like the old one-tonner, they are able to get multiple jobs done - at times, this includes those of others around them.
Since the dawn of the McRae era, half-forwards have pushed back to defend. Half-backs fly forward and hit the scoreboard. The full-forward used to be a full-back, and the full-back - the son of a dual Brownlow-winning ruckman – was drafted as a forward.
They are fluid. They are malleable. They are in your face. Whether you're watching on at the ground or on the box, the Magpies are box office.
However, those with a wide lens or an Apple TV subscription will have seen it all before.
Poffertjes and clockwork oranjes
Like Collingwood, Ajax of Amsterdam has more than earned its reputation.
Like the Pies, the club from the Dutch capital polarises. Like the Pies, their trophy cabinet glistens. Second best is never accepted. Winners only.
Even the most casual soccer fans are aware of Ajax. They are the powerhouse with more European championships than Manchester United, Inter Milan, Chelsea, and Juventus. They helped champion upon champion rise from the playground to the podium.
Bergkamp. de Boer. Rijkaard. van Basten. van der Sar.
Instantly recognisable in their iconic red and white kits, worn by budding stars and rappers alike, as well as their funky, fashion house away strips, Ajax can't be missed. 36 Dutch league titles. They know that you know them. They have earned that right.
Still, it hasn't always been this way.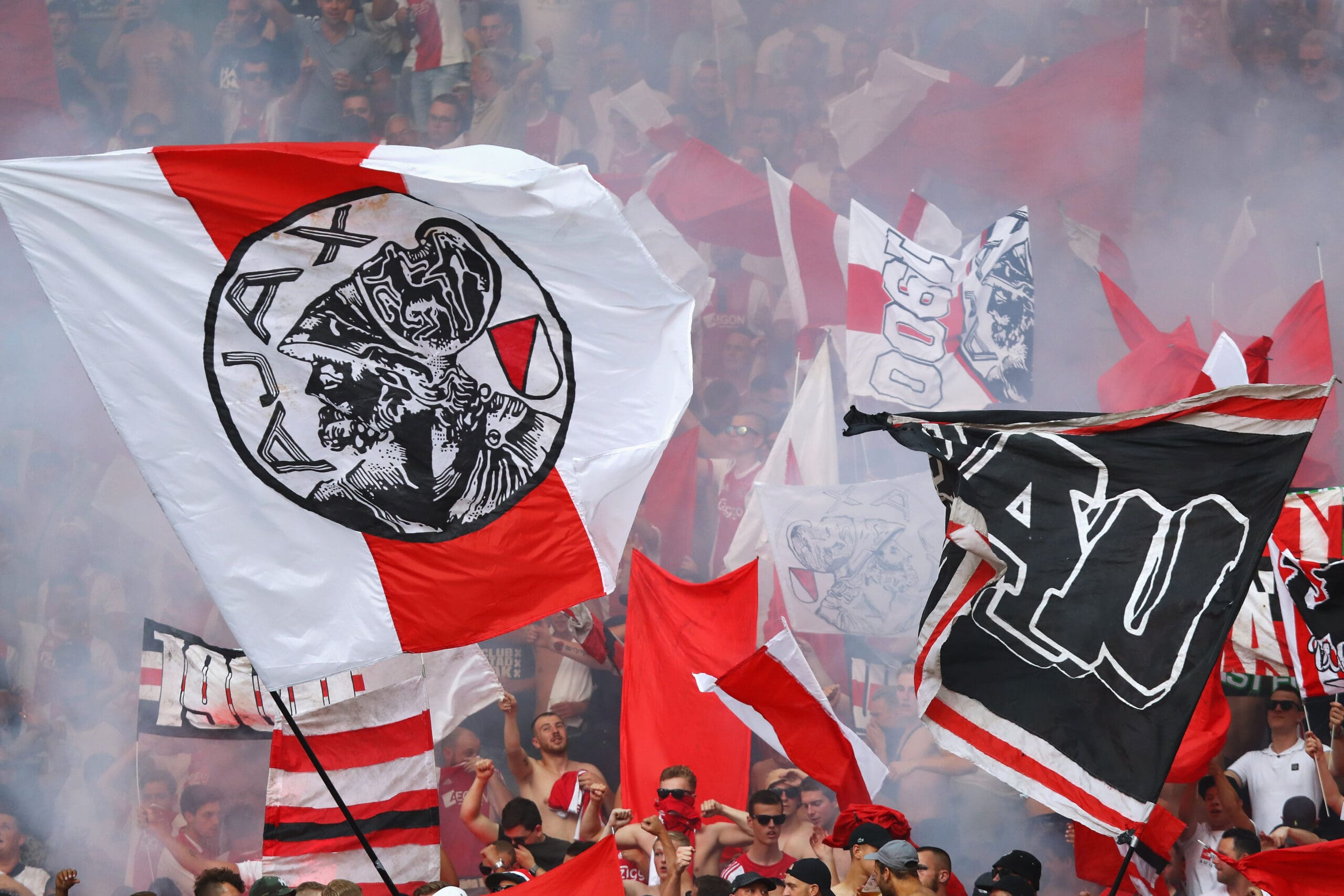 Founded in 1900, de Godenzonen - translating to the ever-humble Sons of the Gods - floundered for their first decade and change, netting only a pair of titles ahead of the 1920s.
While a string of trophies would arrive in the 30s, it would take until after the Second World War for the club to fledge fully, playing an attacking brand of football that required healthy minds in healthy bodies. Powdered poffertjes were off the menu.

A back injury may have brought a premature end to Rinus Michels' 264-game, 122-goal career as one of god's offspring, but as the annals tell, the former striker's true impact on the game would only begin once his shinpads were traded for a suit, a tie, and the manager's hot seat.
Totaalvoetbal, or Total Football, is best described as a tactical system in which any outfield player can take over the role of any other teammate. Once a player shifts out of place, the space behind them is filled by a familiar face. When you have the ball, the aim is to make the pitch as big as possible, opening up options and scoring lanes. When without, everyone is asked to constrict it by rushing up and putting pressure on the ball carrier to close off scoring lanes that have opened in the opposite direction.
Naturally, for the style to have success, it depends on fitness, flexibility, and adaptability. It also requires intelligence and skill, as well as the ability to work and think laterally. Like earning a seat at a World Series Poker table, the buy-in required is out of reach for most.
During Michels' reign, forwards shifted back to the wing. Backs pushed forward. Wings got high and pushed low. Even sweepers went on darting runs forward, leaving others further up the line to fill the void behind them.
Michels encouraged creativity and demanded cohesion.
Sounds familiar, doesn't it?
It worked, too.
Five league titles, four cup wins, three consecutive European championships, and an Intercontinental Cup win in 1971/72. Michels and Ajax were the kings of the world.
While hailed as the masters of the style, Michels' men weren't the first to play in this revolutionary manner. Sides from Austria, Argentina, Brazil, Hungary, and the Soviet Union - as well as English outfits Burnley and Sunderland - are said to have played in markedly similar fashions at one time or another.
Ted Lasso may have dreamed it on his own drugless ramble around Amsterdam, but it's the Dutch who get the credit, having rolled the ball, and themselves, before the eyes of the world.
Under Michels' watch, the Dutch National Team left a clog-sized imprint on the 1974 World Cup. Rising from the periphery to prominence, Michels' Clockwork Oranje squad, buoyed by eight names from Ajax's locker room, eclipsed Uruguay, Bulgaria, Argentina, and Brazil and could have been champions if not for the instep of Gerd Müller's right boot.
Though a shared ideal, Michels' style was distinctly Dutch, drawing inspiration from the time, on either side of the touchline.
In spite of their own stylistic similarities, the roots of Collingwood's fluid, all-inclusive play can be found a lot closer to home.
Adopting and adapting

Politicians. Teachers. Directors. Chief executives. Leaders across any profession can be compared. So when it comes to comparing sporting coaches with near-mirroring philosophies, it's easier than plugging pike in a barrel.
In January of 1965, Michels inherited the reins at Ajax following his mentor Vic Buckingham's departure. Far from the glittering promotion, the capital club limped to finish 13th in the 16-team top flight, avoiding relegation by just three points.
The history books now hail Michels as the mastermind behind Total Football's global explosion, but in 1965, still aged in his 30s, the former apprentice was forced to wait before pulling his levers.
As quoted by Jonathan Wilson in his bestselling tactical tome Inverting The Pyramid - a clear favourite of Lasso's bearded sidekick - Michels claimed he required his cattle to believe before he could ask them to break with convention.
"I needed to change the team spirit and I had to change the team tactically. Of course, the team-spirit development and the team's tactical development, that just went on," Michels said before his death in 2005.
But what was the tie that bound his fluid eleven? How was Michels able to arrest Ajax's decline whilst simultaneously loosening the shackles?
"I had to let midfield players and defensive players participate in the building up and in the attacking," Michels divulged.
"It's easy to say, but it's a long way to go because the most difficult thing is not to teach a full-back to participate in attacking - because he likes that - but to find somebody else who is covering up.
"In the end, when you see they have the mobility, the positional game of such a team makes everyone think 'I can participate too, it's very easy'. And then you have reached the top, the paramount of development."
Again, it all sounds very familiar, doesn't it?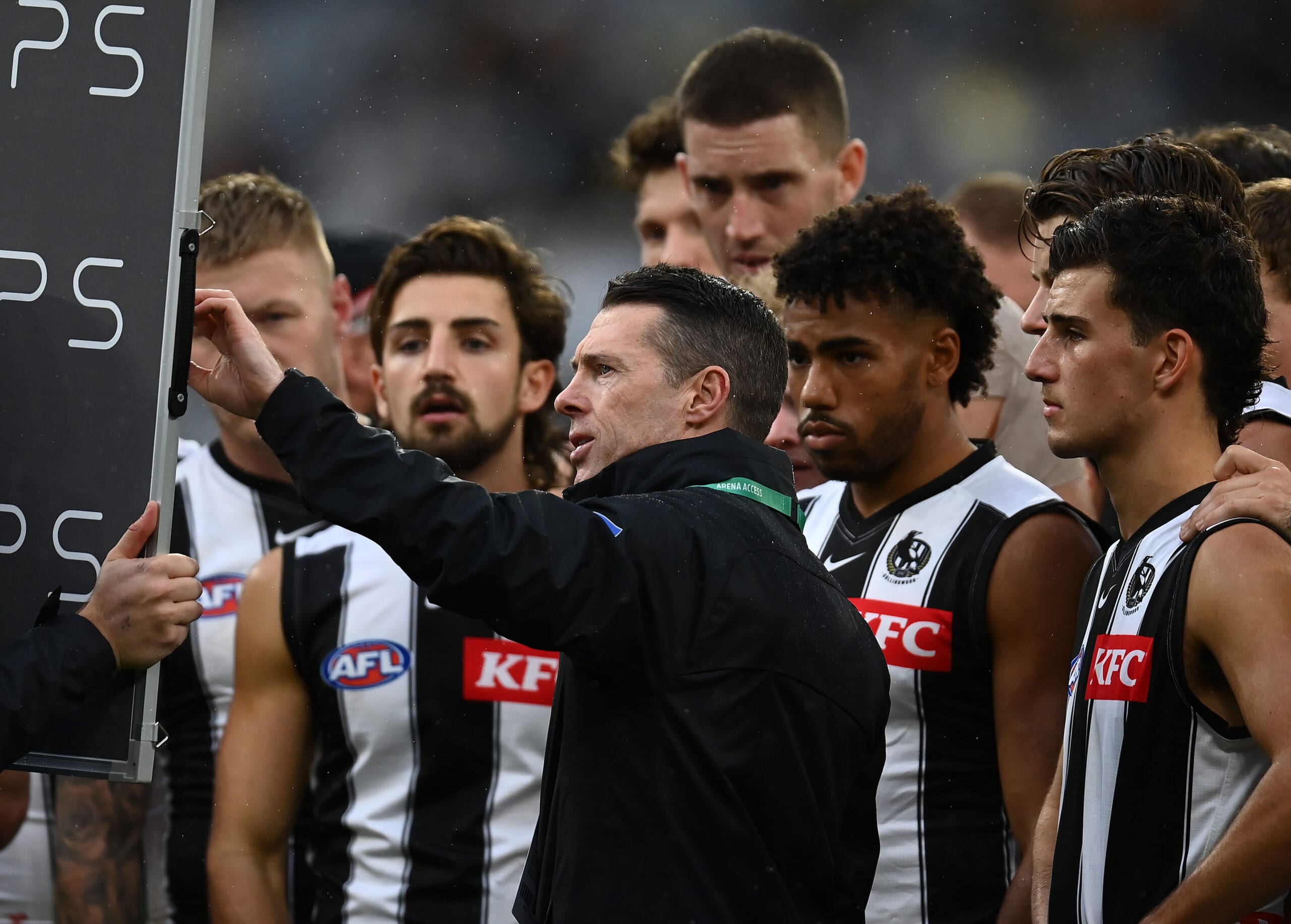 Situations outside his control have played an obvious role in Craig McRae throwing his magnets around in 2023. But for those with an eye on the Pies across the last few seasons, this flexibility hasn't been drawn begrudgingly.
Inheriting the reins after Collingwood cycled between generational midfield talents - Nathan Buckley and Robert Harvey - McRae, or Fly to his mates (and now the masses), also took over in a lull, instilling a belief to rebound; bringing laughter, light, parents, partners, and wins back to a club that enjoys them more than any other.
Right across the park, McRae has players that are adept on multiple lines. Even when thrown in the deep end at the eleventh hour. 'Fly' has shown that you attract more with honey than you do vinegar. As such, his broad church is given the freedom to be themselves. So long as they help others to be, as well. 

To understand Total Football, one must first understand that the collective is formed by individuals who have been made acutely aware of what they bring to the table and what they can do for others.
According to Dutch journalist Hubert Smeets, whether on the field or off it, his compatriots are at their best when they combine the collective system with individual creativity. At Ajax, the notion of 'we' forming from the 'me' was the core construct of Michel's blueprint. It afforded individual voice and ownership to collective action.
There may be no 'I' in 'team' but there is one in 'win' and a pair in 'fluid union'.
At its heart, the style of play sees individual players derive their meaning, and statuses, from their relationships with others. At Ajax, as at the AIA Centre, this style was forged at rock bottom and remains malleable enough for mavericks like Jordan De Goey to re-find their best form while simultaneously keeping their nose clean.
Under McRae, the players are asked to be themselves.
'Bring your strengths, boys', you can hear him say.
'Be yourself'.
It is impossible not to see who these people are. There are no lies. No fronts. None of Travis Cloke's infamous smoke and shadows behind the window. These are fully fleshed, sentient people. Sleeve tatts, goggles, warts and all.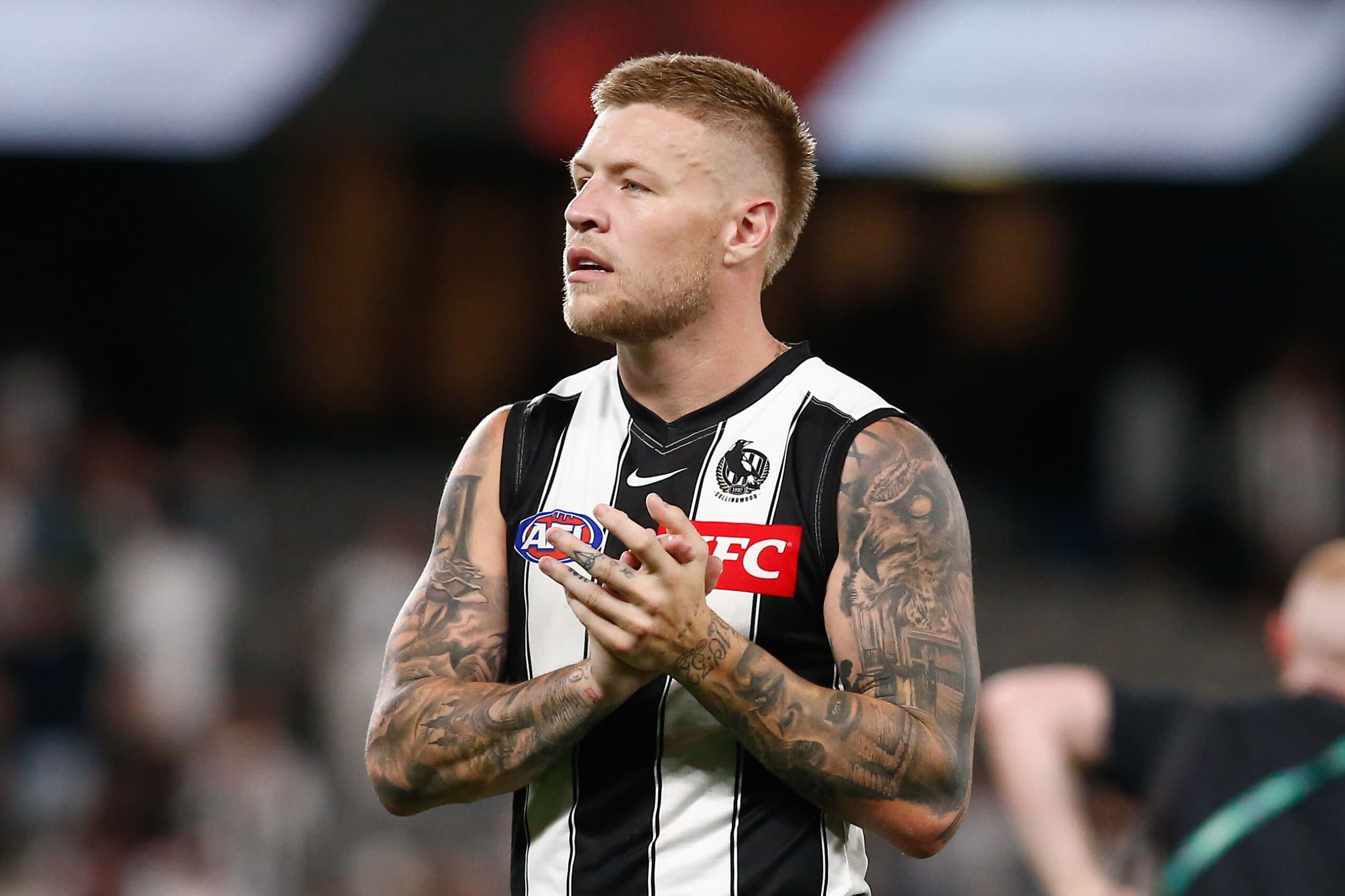 The stars of Ajax's golden generation may deny it but their free-wheeling style was representative of what was going on beyond the touchline.
On the streets of Amsterdam in the early 60s, revolution was in the air, with squatters fighting back against the system, injecting chaos into society and challenging norms at the same time Michels' men turned their own backs on convention.
Collingwood's chaos has begun to represent suburban Collingwood itself: blue-collar, but colourful. Hard-edged, but fun. Once complete with rosary beads threaded by calloused fingertips; now diverse and accepting with an almond latte in hand. Converted factories can still be found on back streets, wedged between rows of worker's cottages, many sporting Nepalese prayer flags. The overalls and boiler suits seen on Smith Street are for show and not pro, these days.
The past can still be seen in the present, though the streets now belong to the youthful, the trendy, the vibrant and the chaotic. So too the hedonists, the spontaneous, the agnostics, the atheists, the accepting, and the alternative.
It is home to dreamers, believers, and folks on their third or fourth chance. Folks who haven't given up hope. The middle-aged baristas still trying to get their manuscripts published, their paintings hung or their bands signed. It is home to the blow-ins, the wide-eyed, the regulars, and the veterans. There are still very few rules governing the rows between Victoria and Alexandra Parade, but most now know where the line is.
This may sound a bit floral, but with Darcy Moore as the Pies' on-field face - a young man in touch with the past, the present, and himself; a captain who always knows what is expected of him - it's tough not to be caught up in the colour rush consuming those in black and white.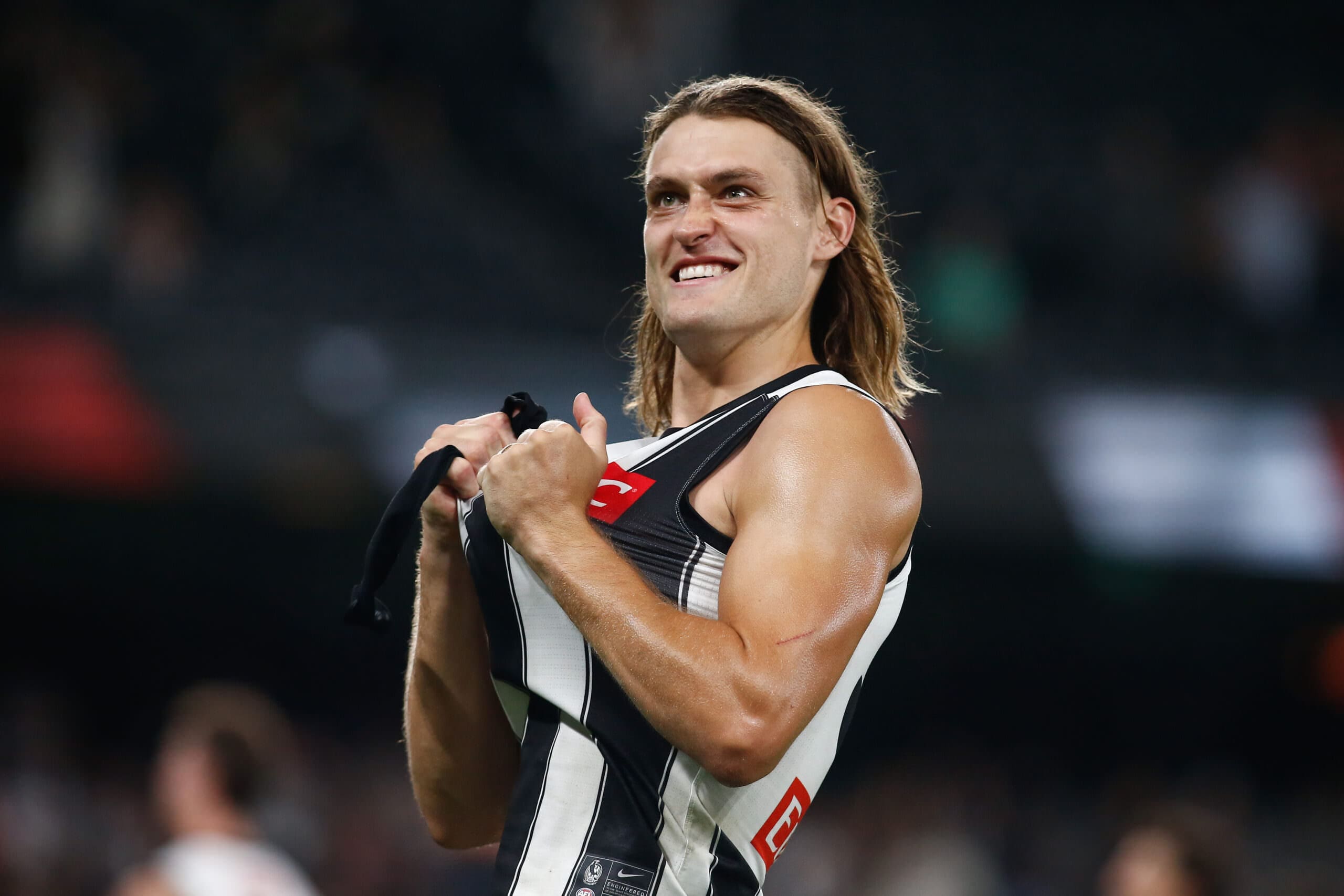 The league's most despised side bringing out the best in people? I don't think any of us had that on our bingo cards.
A game clear at the top of the ladder ahead of Round 12, nobody worth their salt can deny what is happening at Collingwood is real.
But while we all see it, what do the numbers say?
Ruffling feathers
"Collingwood isn't a team that makes a lot of sense on the stats sheet," Jonathan Horn wrote in his Guardian column earlier this month. "They're a hard team to chart."
He isn't wrong.
We know the Pies play a surging style, covering the backsides of one another as they fly up and down the field. Still, for a 10-1 team riding high, possession still represents nine-tenths of the law.
Right?
Throughout much of McRae's 31-game tenure, Collingwood has been less concerned with the 'how' of moving the ball on, only that it does. Can you blame them? You have to be when you have 90-kilogram wolves at your door. Wolves trained specifically to take them down. It doesn't matter how the ball is moved on, only that it does. There is madness in their method.
They always have a handball option, though.
Always.
Daicos ➡️ Pendles ➡️ DAICOS#AFLPiesPower pic.twitter.com/VPfXtw8oYR

— AFL (@AFL) March 25, 2023
When without the ball, they are a mirror image of Michels' Ajax and Dutch sides, attacking like wolves themselves, only satisfied when the ball is sprayed, choked, or coughed up.
Naturally, the ability to harangue world-class opponents requires incredible levels of fitness and homogenous buy-in. Former Ajax winger Sjaak Swart claimed his uber-fit teammates were only able to press all-out for 60 of the 90 minutes, leaving an entire quarter of the game in which the opposition was afforded the right to play standard football.
The same applies at Collingwood, with their third term acting as their weakest. Between Rounds 1 and 10, the Pies conceded 30 of their 97 goals (30.9 per cent) between half-time and the final break. Yet, after taking a breather and reminding themselves that they are never beaten, McRae's men routinely run out final terms with vim, having conceded just 16 goals and scoring 41 of their own within the same timeframe - by far their strongest of all four quarters.
Perhaps the third term isn't the premiership quarter, after all.
This all-out form of defence is tough to sustain though, as history has revealed that those under Michels watch were boosted by cocktails of painkillers, muscle relaxants, tranquillisers, and even amphetamine caps in an effort to go, and go, and go again.
And though Collingwood's High-Performance Manager, Jarrod Wade, wouldn't look out of place getting down and dirty at a Studley Park rave, the chance of anything running beneath board these days is slimmer than one of the Pies' heart-stopping wins.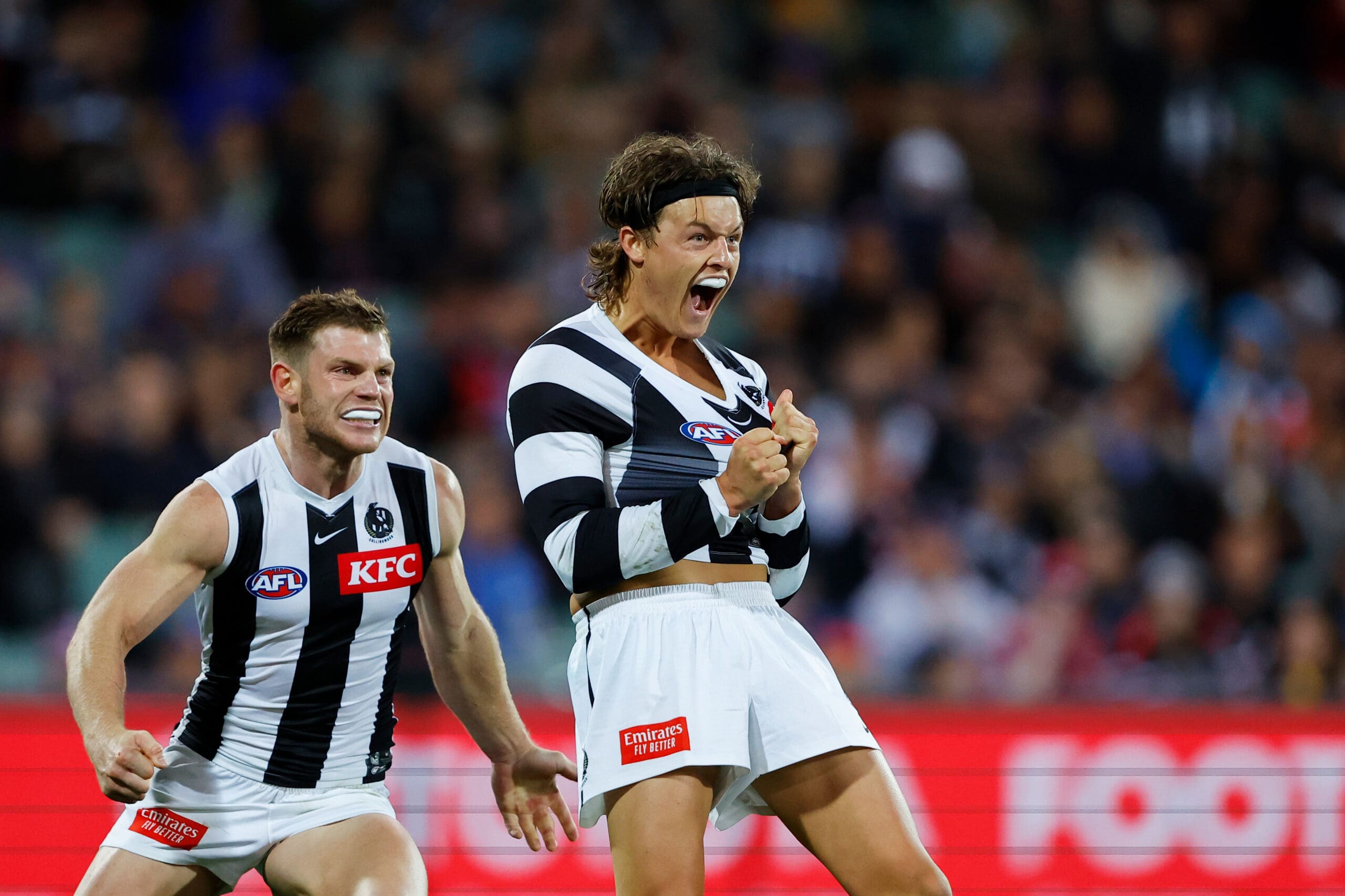 They're a fit bunch down at the Olympic Centre. They work until the death for their wins. But just as opportunities can arise from any crisis, Collingwood's choice to risk defeat in search of victory comes tied just as tightly.
Keen to play 'an extra' up at the contest, McRae's conventicle is willing to throw caution to the wind for the chance to dictate terms, all despite leaving themselves open to the rebound - the Achilles heel of any Michels-led team came when their defensive line lost its shape.
Without the aid of any offside law, the Woods show steel in the face of opposition surges. Despite standing off opponents when they chip their way forward, the ability of McRae's attack dogs to close in with teeth bared is second to none. Think of Beau McCreery's intercept goal in the final term against GWS, a chance he was warned not to waste by his mum only hours earlier.
"When in front of the goals, MAKE IT COUNT!"

Beau McCreery's Mum, Julie, delivered one of the all-time great pre-match speeches ahead of our 65-point win against GWS 🤍 pic.twitter.com/gCX8iQN8LN

— Collingwood FC (@CollingwoodFC) May 15, 2023
Though the form team of the competition, Collingwood is unlikely to have a stranglehold on All-Australian spots just yet. Sure, Moore is likely to earn his second blazer and the captain's armband, just as De Goey and the Daicos brothers are on track to make debuts, but from there down, arguments can be made.
This isn't a problem, though. It's a positive.
As a collective, the Pies are far greater than the sum of their parts.
The engine
'They'll slide out of the eight.'
'You can't win every close game.'
'They'll revert to the mean.'
'You can't stay lucky forever.'
Everyone had a take on McRae's men heading into 2023. And outside of the club's four walls, not many of them were complimentary.
But after slamming five goals to none against the reigning premiers in Round 1, the new-and-improved Pies had armchair experts across the nation eating their words as McRae's locker room containing all sorts continued to make madness the norm.
Despite parting ways with dual All-Australian Brodie Grundy, Collingwood's talls have continued to offer their service on multiple lines, as well as acting as a secondary conduit in sticky situations.
Cameron. Cox. Frampton. Johnson, and McStay.
When available, each has played a role up forward, down back, in chains, and at stoppages. None are likely to enter into any team of the year debates this season, but in doing their bit, and covering the load of others, the Pies have become a more dynamic unit in 2023.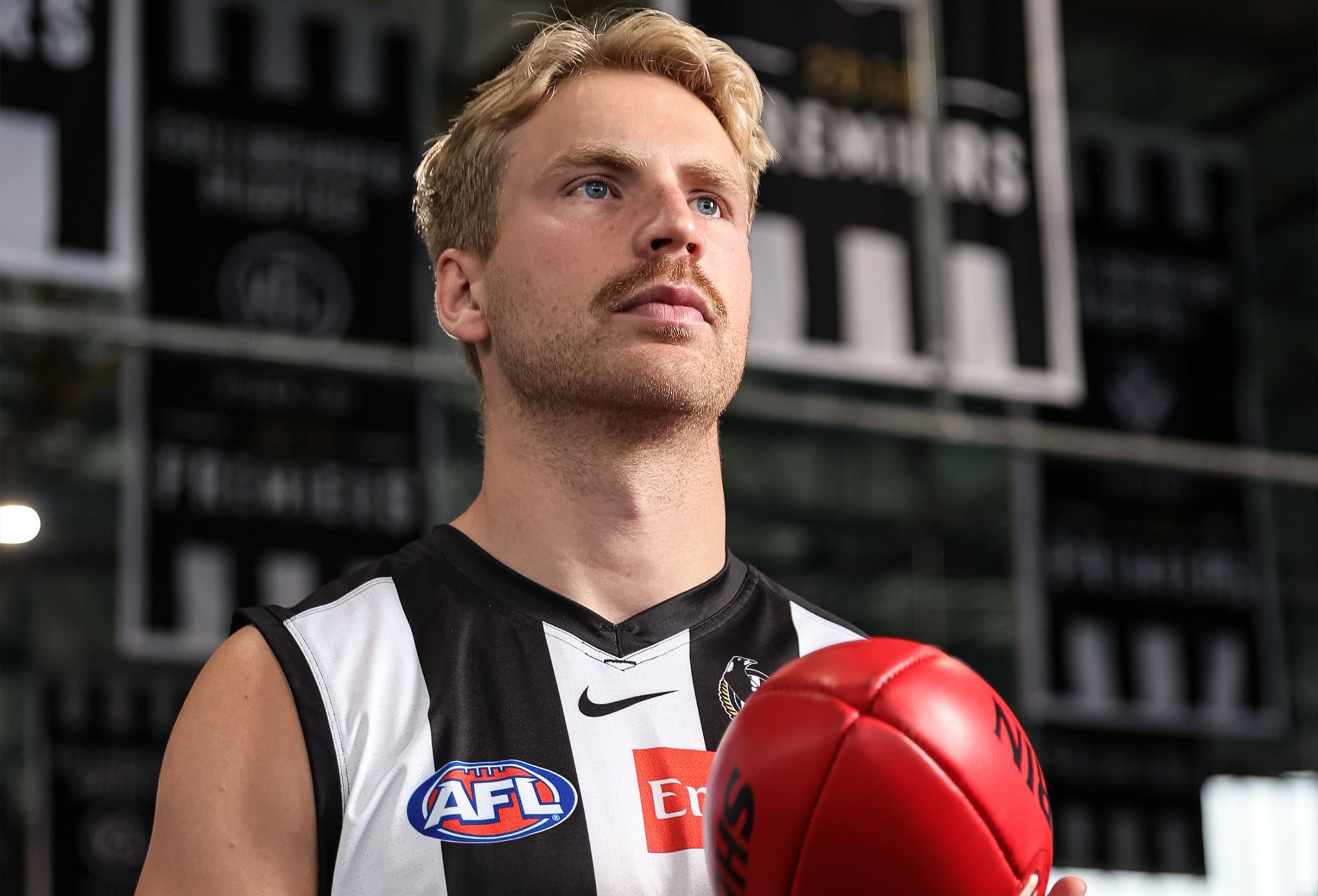 There are also the flankers -  McCreery, John Noble, and Isaac Quaynor - that work as hard forward as they do backward. Whether their magnets are placed ahead of the ball or behind it makes little difference, as each roams from arc to arc, getting busy in scoring chains and halting them the other way.
On the wings, Josh Daicos and the cellared cab-sav Steele Sidebottom have proven both deft and deadly, each raising their output once more - no mean feat for Sidebottom given he became just the fourth Magpie to play 300 games during Round 11.
Just the fourth player to reach 300 games in the black and white 🖤 🤍

FOLLOW LIVE >>> https://t.co/Km4ZF3npXk pic.twitter.com/2Vfo8aMdUg

— Zero Hanger (@zerohanger) May 28, 2023
It should be no surprise that Collingwood's wings are both riding high, as the men out wide have always been integral pistons in any Total Football engine.
'Open game, open game,' the old Ajax proverb claims.
'You can't afford to neglect the wing.'
During Vic Buckingham's days at Ajax's helm, the Englishman would routinely watch his teams go one-two-one-two down the wing freely, drawing defenders out of place and out of the game before eating the space behind them.
"They could find each other by instinct," Buckingham said later in life. "They'd have a rhythm; go from the left side of the field to the right but make progress of 30 of 40 or 50 yards as well."
These very same shifts and gains have been seen on recent Sundays at the MCG.

Inside the contest, the tattooed duo of De Goey and Jack Crisp continues to cover an array of roles, winning the ball at the coal face, as well as steering wisely on the crest of attacking waves.
Since joining the club as a top-five pick in 2014, De Goey has proven adept at the end of scoring chains. However, since the start of last year's finals, the 'Flying Dutchman' has re-found his consistency before the sticks, scoring a goal-a-game over the 13-game stretch, as well as racking up averages of 24.4 disposals, 6.3 clearances, and 5.5 inside 50s.
Crisp, the winner of the last two Copeland Trophies, also saw a spike last September, transitioning from half-back to attending 73.7 per cent of the Pies' centre bounces during the finals series - a jump of more than 14 per cent from the regular season.
Though this marker has been wound back to just 35 per cent across the opening 11 rounds of 2023, the dip only speaks to Crisp's duality.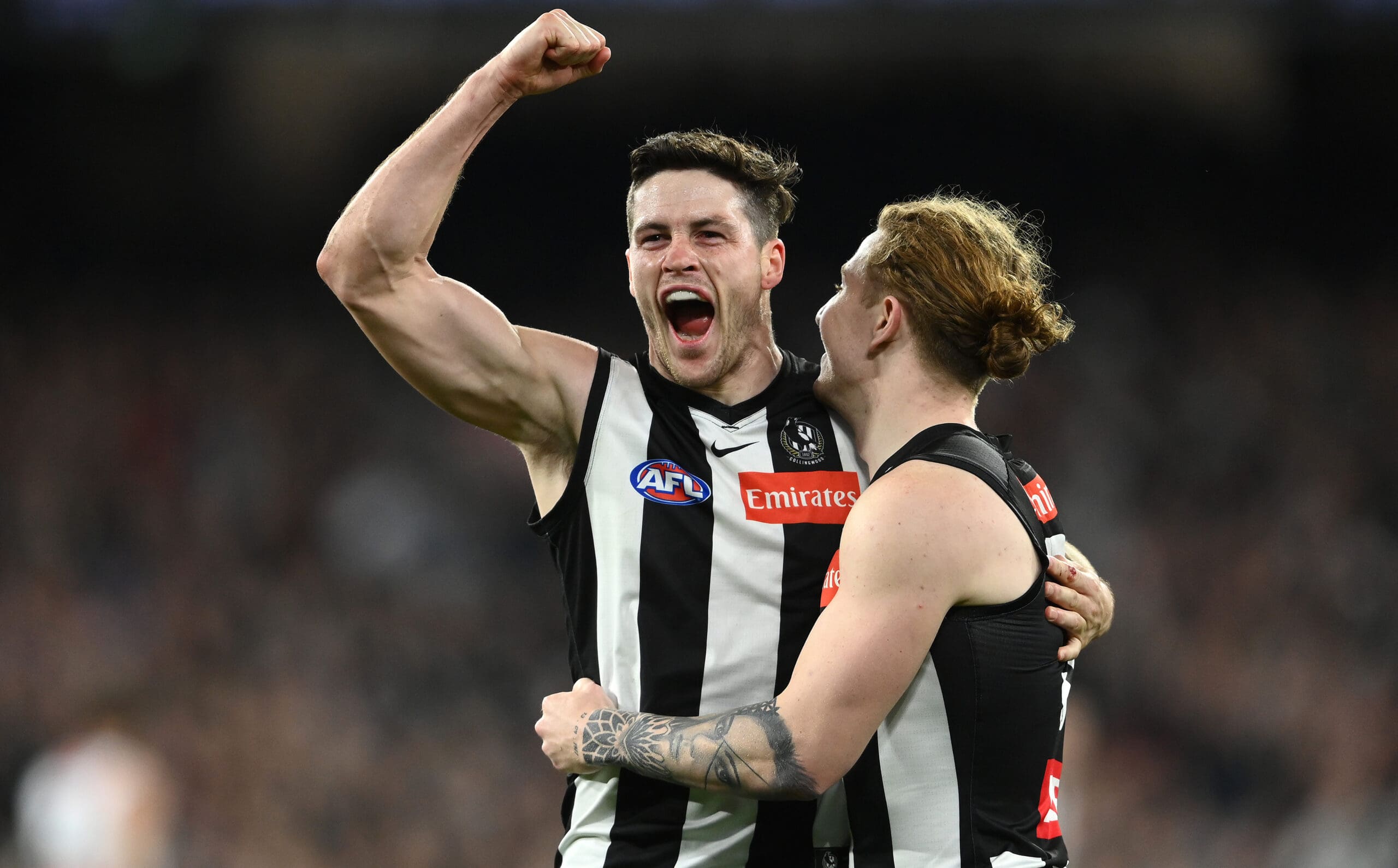 Throw in Scott Pendlebury's ability to stay sublime, no matter where he stands on the park, the intercepting defender-turned-key forward Brody Mihocek getting his just rewards, and the fact that their goalkeeper, Moore, can still go forward, and it becomes tough to knock that Collingwood's fluidity has become an art form.
Circumstances, coaching, desire, fitness, and player IQ all play integral roles in making sure harmony is kept as the musical chairs find new owners. So too does cohesion, something Collingwood set about building back when McRae was still an assistant to Buckley.
RELATED: The not-so-secret ingredient fueling successful AFL clubs
A cohesive core of talent is required to take sides from the periphery to a premiership, and while the Woods aren't out of the woods just yet, the club's choice to attack multiple drafts since 2014 has seen theirs arrive and bloom, with each of De Goey, Moore and Brayden Maynard alone arriving in that opening haul. Mason Cox coming on as a Rookie during the same season certainly hasn't hurt either.
Though each has spent time in and out of the side, rotating positions or meeting hurdles of their own making, as of last Sunday, each has now played at least 100 games in black and white bars, making themselves predictable to those around them.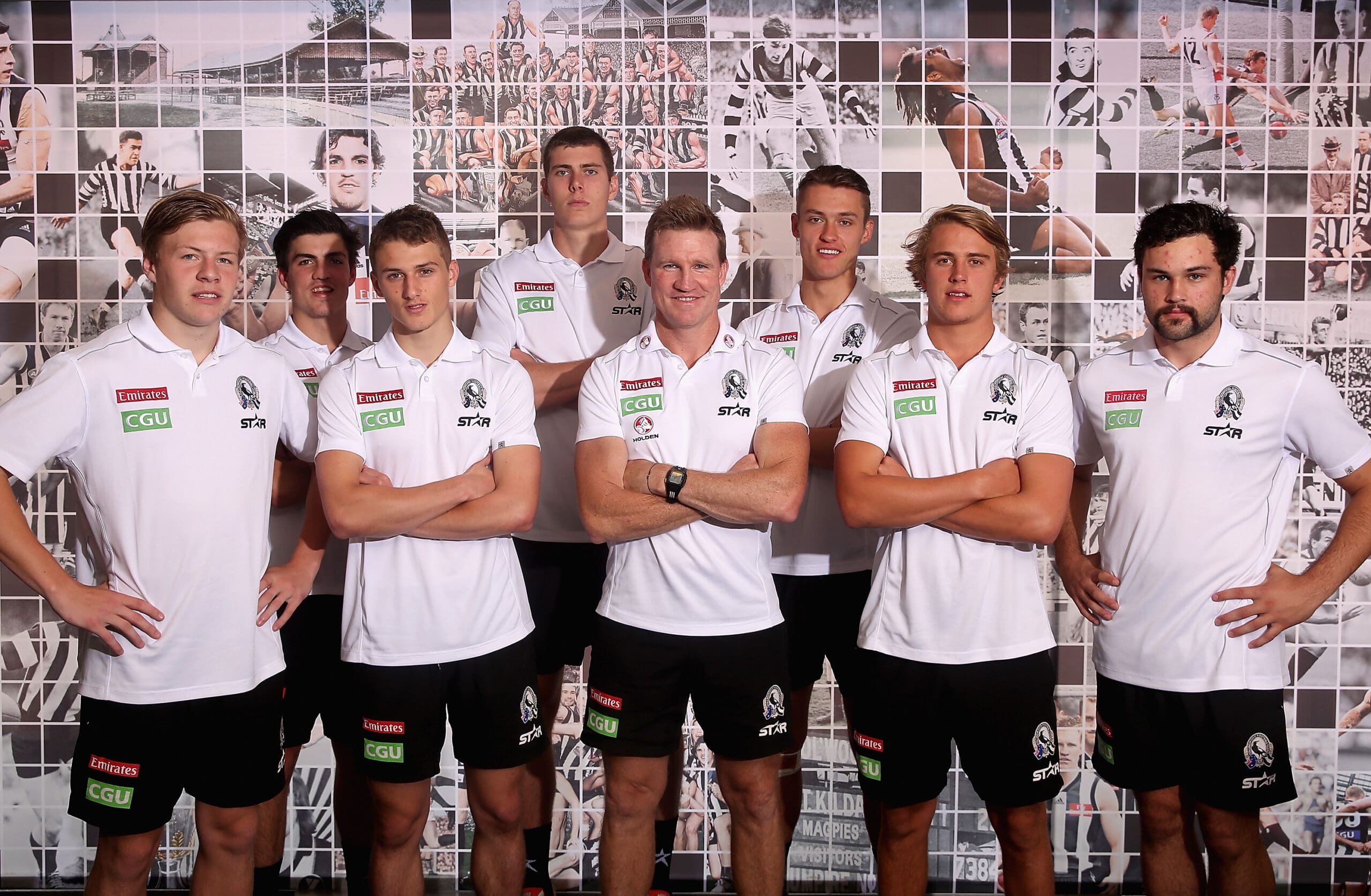 "People couldn't see that sometimes we just did things automatically. It comes from playing a long time together," former Ajax defender Barry Hulshoff said of his side's own mirrored plans.
"Football is best when it's instinctive."
But while De Goey, Moore, and Maynard are unlikely to disagree with the former Dutch international, just like Hulshoff, they too require their own spark; their own personification of the style in the flesh.
The sparkplugs
If McRae and Michels can be seen as the keys that fired these pistons into action, the coaching duo still required ignition to turn their engines over.
For club and country, Michels was served - and eventually usurped - by one of the five greatest footballers to ever beat an offside trap. In Johan Cruyff, Michels had his sparkplug. Even if Cruyff refused to start at first.
Born and bred in Ajax's rood en wit, Cruyff's multi-faceted abilities were matched only by his drive, creativity, indomitability, and irreverence. In order to see his blueprint jump from the page, Michels left his mustang unsaddled, allowing Cruyff to write his own rules.
Although fielded as a centre forward, Cruyff was encouraged to make every blade on the pitch his own, roaming everywhere, creating chances and piercing lines. One through ball - or patented Cruyff Turn - at a time.

At Collingwood, Cruyff's free-wheeling role is performed by a 20-year-old. A young man who seems to have a hand in everything, everywhere, all at once.
In their untethered roles, Cruyff and Nick Daicos share a marked similarity. Inside their respective kits and mindsets, this same sameness can also be seen.
Unlike Cruyff, Daicos' father didn't just love the game, he reinvented it. Still, the man on par with Maradona, Messi and Pelé would grow up in the shadows of the club he would come to sculpt, raised just down the road from the 55,000-seat arena that bears his name.
Cruyff inked his first deal with Ajax at the age of 10, and while Daicos was still wearing a Carlton guernsey at this stage of his childhood, his future was tied to the Pies on July 1, 1984, the date of Peter's 100th game for Collingwood – a game run and won by the Woods more than 18-and-a-half years before Nick's birth.
Not only is it in the blood, as seen by his own shades of marvellousness, but with his papers stamped, Princes Park was never an option for Nick. Unlike Cruyff, Daicos could never turn to the dark side.
Both have also shown near-innate abilities to create opportunities from thin air. Part athletes, part artists.
Total footballers.
By kicking a ball back and forth on the gutters of Akkerstraat as a child, Cruyff learned to turn disadvantages into advantages, training himself to collect the variable rebounds at will. For Daicos, his own ability to turn a sow's ear into a silk purse is built from selflessness, drawing an extra defender when he's up at the contest and creating freedom for one of his more mortal teammates.
"We love it when I get a tag," Daicos offered after Collingwood weathered Sydney earlier this month, and he the close checking of many. "We think we can manipulate the opposition and get one v none. It's a good thing for us".
"We love it when I get a tag!"

Nick Daicos chatted to Chris Johnson post-game.#AFLPiesSwans pic.twitter.com/xyL0gxUfTY

— 7AFL (@7AFL) May 7, 2023
This early shouldering of the load isn't exclusive to rising stars at the AIA Centre, either. In Cruyff's early years at the De Meer Stadium, when playing without their wunderkind, Ajax was slow, stiff, and without flair, creativity, or invention. With their precocious talent on the park, Ajax was transformed into a fast and attacking team.
The same is irrevocably true of the Pies' results on either side of the McRae-Daicos era.
Individually, Cruyff made his Dutch debut after just two seasons under Michels, unanimously becoming the best footballer on the planet after seven. With an All-Australian blazer beckoning this September, these are markers that Daicos appears primed to meet and beat at an even better click.
To both of their sides and stewards, Cruyff and Daicos act as the sparkplugs. The ignitors of the engine. The element that allows the pistons to know they can pump up and down the field.
The pair of generational talents own marked dissimilarities. After all, Cruyff was a troublemaker in his early years and a lifetime smoker. He, in direct opposition to Daicos, made a public point of questioning his contractual terms in his search for greater remuneration. The Dutchman initially resisted his coach's style, a point Daicos seems to have swerved, following McRae's word with the same obedience he would his own father's.
Daicos' dazzling displays have seen him earn plaudits from those of us in the press box. Never known for having the widest lens or the firmest grasp, we have already hailed Nick as the best to do it at such a young age.
Turn the clock hands back and stalk the canals of Amsterdam and the rags said the very same of Cruyff. It was praise that went to his head. They were comments that drove wedges between him and his teammates. It built a confidence that molded into arrogance, seeing Cruyff begin biting that hand that fed him, going toe-to-toe with Michels, over and over again. But while Cruyff talked the talk, he could clearly walk the walk.
Ever smiling, even when under attack from red and white assailants; ever well-mannered, even when the world - he is told - is his oyster, Daicos, like one of his old man's dribble kicks, goes the other way. He deflects the spotlight. He stays in the now. He loves his coach and lauds his teammates. After all, it's a team game, and where would he be without them?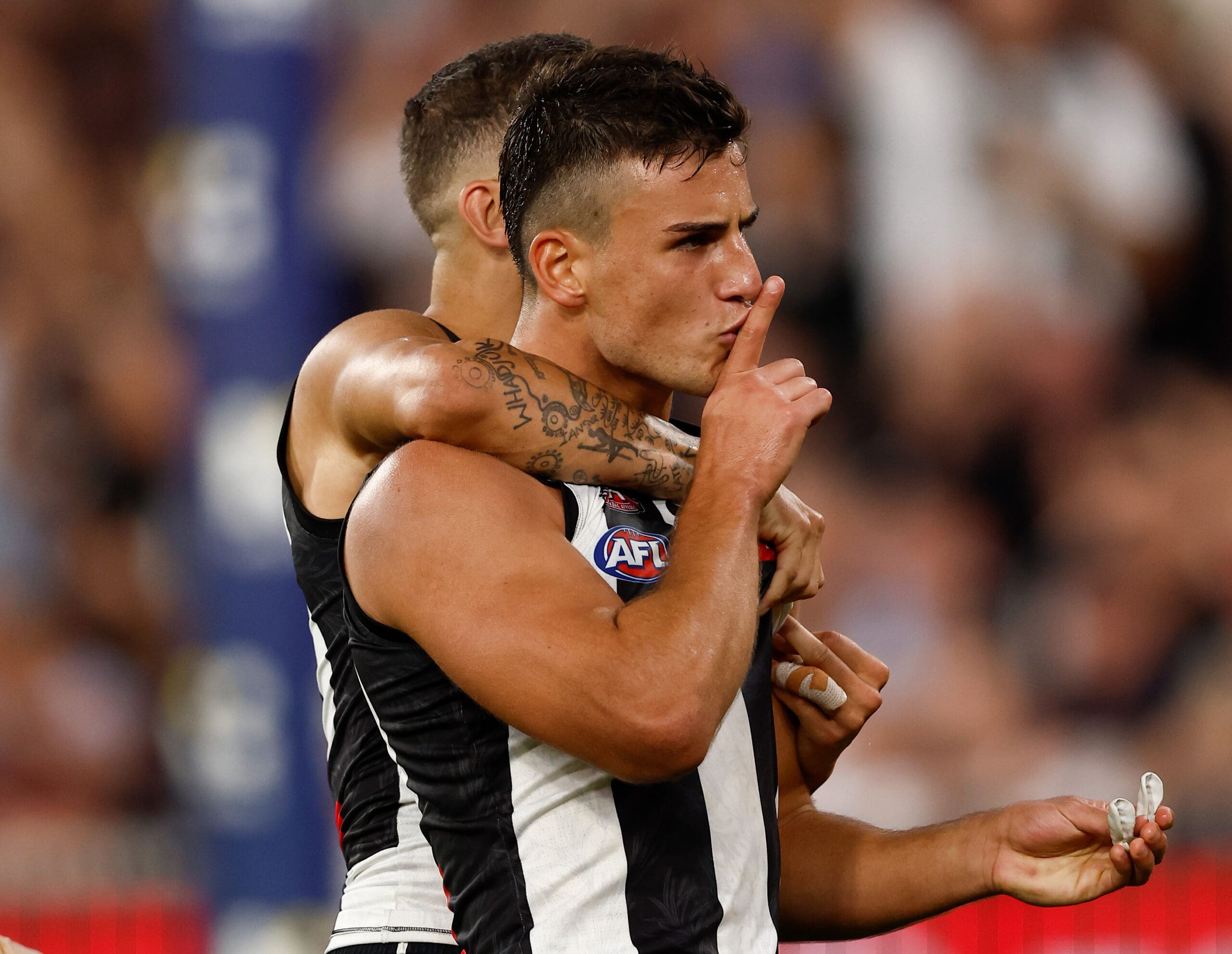 "He's very good at recognising strengths," Daicos said of McRae when speaking to Fox Footy earlier this month.
"He puts players in positions to thrive. We've all done that; we've all got our different strengths and skill sets. For me, early days, it was my skills, so I was put across half-back where I had the licence to create; get a bit more offensive (but) make sure I was still accountable to an opponent."
Daicos even respects his right to roam, even if he is prone to trespassing.
"There has been times (where I've gone too far forward)," Daicos admitted with a chuckle.
"Pendles occasionally tells me to pull the breaks up. Sometimes I'm in the forward pocket and I'm a half-back."
Whether he or those with sense like it, Daicos will continue to be built up, and torn down. Often by the same people. Often in adjoining sentences. He's 20 and he has it all. People hate that. Even from the humble. Even if some won't admit it.
But with a mentor and a father who have both run the race and won, it shouldn't be too challenging to keep the genial star's feet on the ground. Step by step.
By any steps necessary
For those with even the slimmest of inner sanctum access, it's clear that McRae does things his own way. He draws from his own life, his own relationships, and his own experiences to drive those around him. That is when he's not diverting to coach Julie McCreery.
Having worked under the ilk of Mark Williams, Robert Walls, John Northey, Leigh Matthews, Terry Wallace, Michael Voss, Mick Malthouse, Nathan Buckley, Damien Hardwick, and Alastair Clarkson, you could forgive 'Fly' for implementing a hackneyed system.
And yet, he doesn't. He draws from his own life. Even during holiday hours.
"I went overseas and saw there are lots of people using the elevators, and not many using the stairs," McRae told SEN in April.
"I got consumed by it, everywhere I went I took photos of the lack of stairs being used and the following the others' mentality.
"I couldn't help but think we all want to take the easy option in life and get on the elevator ... I came back and presented this to the players about our analogy to get up the ladder.
"For us, we're going to take the steps, everything we do now — you'll see us at the airport and at work taking the steps — that's become our catch cry for the year, taking the steps to rise up the ladder to qualify to make the finals."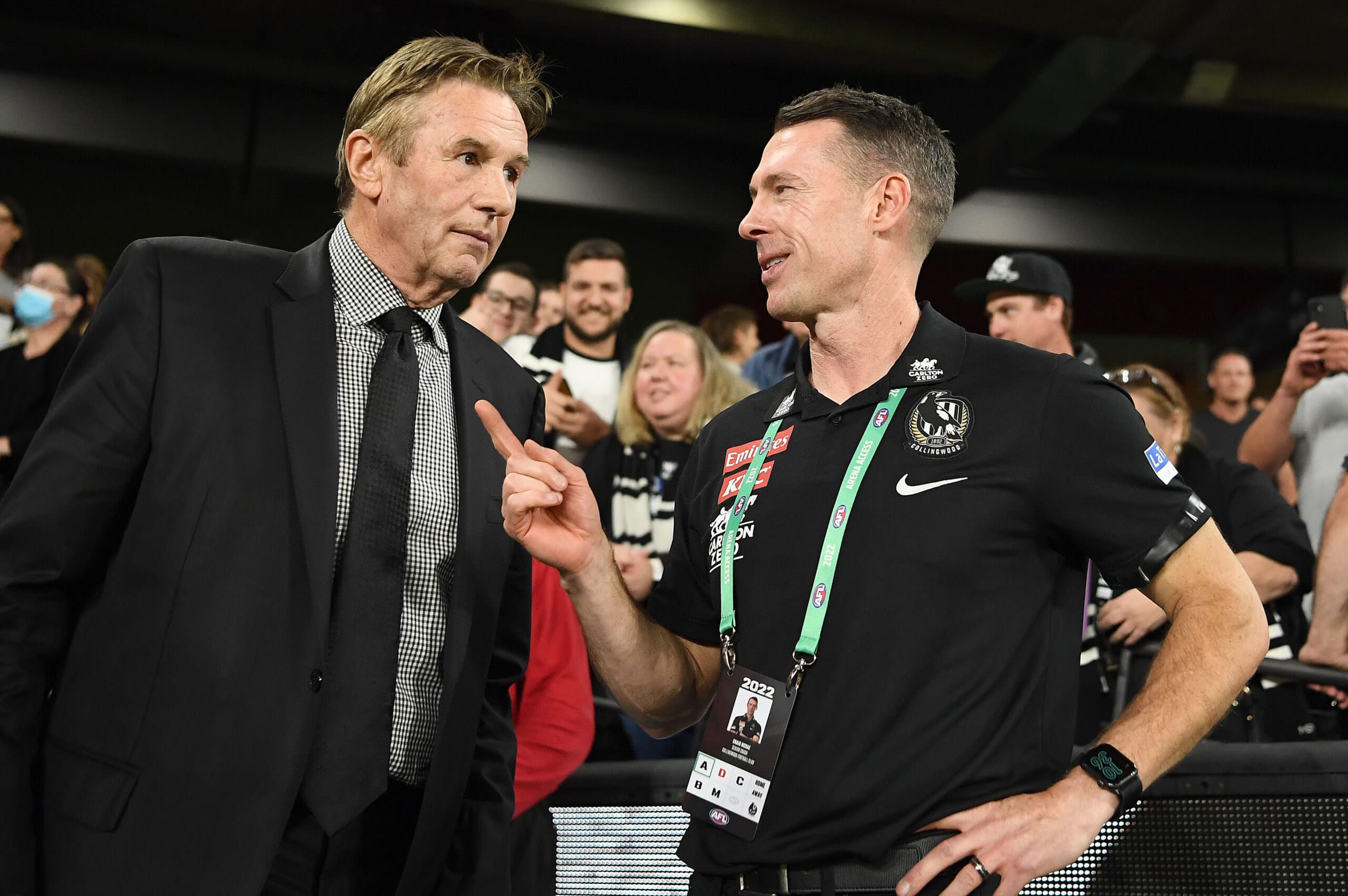 Though his own man, the amateur photographer, qualified teacher, and over-qualified apprentice shares stark similarities with Cryuff, a man who was once a star leader of men.
"Football is simple," the Dutch genius expressed, "but nothing is more difficult than playing simple football."
Never was this shared ideal more evident than during McRae's jubilant boundary line release after the Pies' late escape against the Crows. They had played their way. McRae's way. Grinding out another trademark result.
"Quality without results is pointless," Cruyff famously remarked, "but results without quality is boring." A pair of truisms that have never applied more, and simultaneously less, to the Collingwood Football Club. Winners only is the motto. By any steps necessary.
We can't be certain that McRae is a devout follower of Cruyff, or whether he sits up late watching tapes of Barcelona's Tiki-Taka days following his 'red wine replays'. Stylistically though, the shoe fits.
An embrace of this tried and true style doesn't guarantee any inbound silverware. But whether or not cups 16 and beyond arrive at Collingwood under his watch, McRae's entertaining utilities will be remembered fondly long beyond the end of this season.
While it's worth knowing that Ajax's bubble burst due to the freedom afforded to the hippies hopped up on amphets, it's also worth remembering that the highs of Fly's tribe are far more organic. They come from brotherly love. Coming up together. Succeeding together. They are felt and forged by the entire locker room. They go beyond the Daicos household.
Are Fly's Pies playing Total Football? Not in a traditional sense, no. But they've come about as close as anyone in our pocket of the world.
As the old world-game proverb claims, the ball is round, the game lasts 90 minutes and everything else was just theory. On our island continent, the ball doesn't bounce predictably and the game lasts a little bit longer. But there is one constant. Everything else is just theory.
And McRae has plenty of his own. Stairs and all.