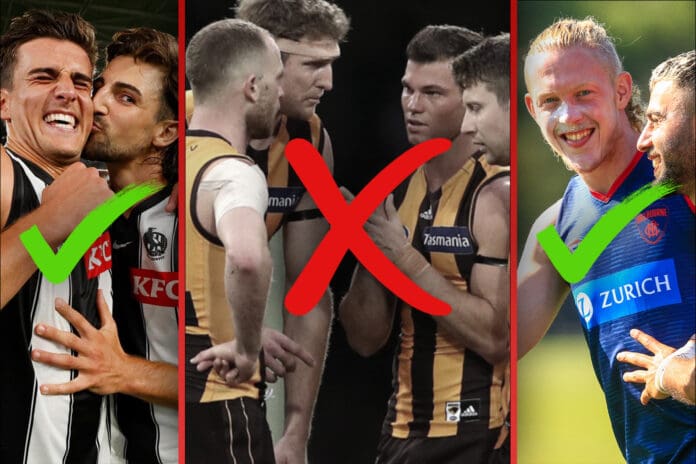 Whether in early Autumn or late August, the gap between the competition's best and worst teams is often obvious to the naked eye.
For the September bound, there is an almost telepathic connection between the familiar faces in their scoring chains. They seem ahead at every stoppage, over every spilled ball and, of course, on the scoreboard.
This excess of understanding isn't only confined to the regular season. It has been sighted deep in September, too.
Take one of the most replayed stretches in grand final history, for example.
With scores locked and red time fast approaching on the soggiest last Saturday in September for decades, a greasy Sherrin sat suspended above the centre of the MCG.
Looped there by a lethargic Steve Johnson after watching Gary Ablett break free for the umpteenth time, the extra air on the in-board kick gave the loping Zac Dawson just enough time to keep the 'Little Master' honest.
Striding in at the spillage, Matthew Scarlett and Justin Koschitzke stood shoulder to shoulder. But as the greats do better than mortals, Scarlett understood his assignment best, assessing the lay, chipping deftly and trusting his little mate to do his job.
Previously sprawled after feeling Dawson's brush, the 'Son of God' rose and sprinted off, feeling Scarlett's defensive presence before sending the ball off down the production line.
Though broken play would ensue at the tip of the goalsquare, as well-oiled machines are wont to, Geelong's cogs clicked back into gear, with Cameron Mooney and Max Rooke crashing as custom, Travis Varcoe playing the percentages and Paul Chapman proving pinpoint as he rammed the longest nail into St Kilda's well-studded coffin.
Clocking in at under 20 seconds from start to finish, the Cats' baton relay would have challenged Usain Bolt's best over 200 metres.
It was all so majestic, but all so predictable at the same time.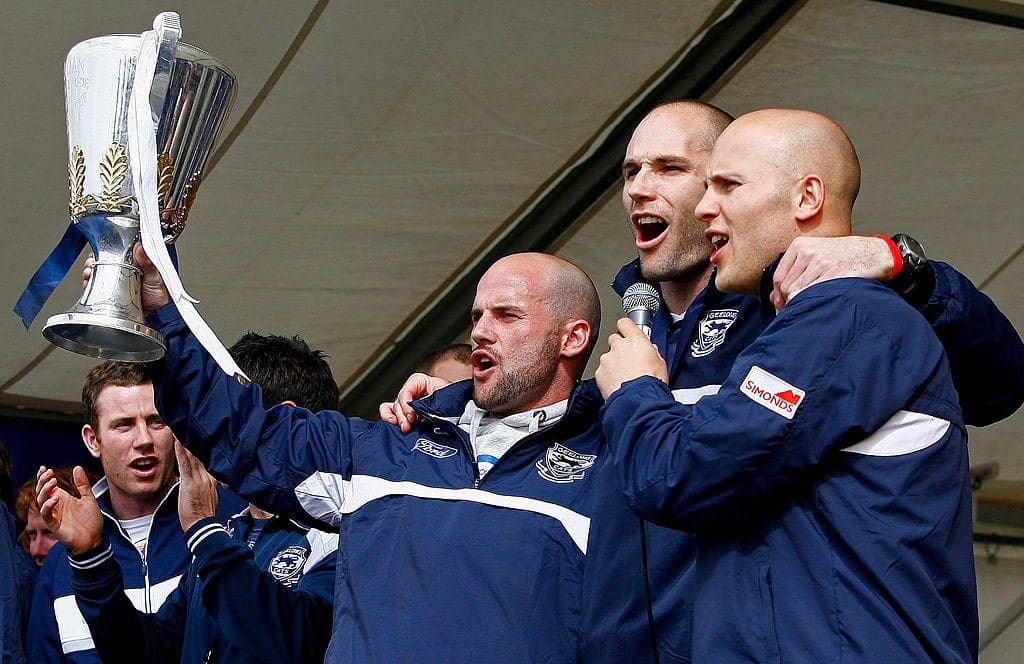 This blow dished out by Pivot City royalty wasn't the last of the fight, but it was the one that knocked the Saints from their feet; forcing their hands down as the final bell approached.
And though the bout was spruiked as a pound-for-pound beauty between fighters on similar trajectories, in truth, the Cats had a significant advantage on their side.
An advantage once thought of as immeasurable.
While Scarlett and Ablett's famous fathers both called the Cattery home long before their sons first donned the hoops, Matthew and Gary Jr - as well as Johnson and Chapman - had each begun their own journies by the dawn of the 2002 season.
By the start of the 2009 Grand Final, Scarlett had 228 senior games to his name. Chapman was featuring in his 175th, Ablett his 168th  and Johnson in his 130th. All had won a drought-breaking flag together two years prior before losing another on the final hurdle the year before.
They had been there and done that, time and time again. And while far from carbon copies of one another, the stoic Scarlett, oft-cutting Chapman, the jawing Johnson and the awesome Ablett had forged an understanding that only time could provide. Creating a bond that money could never buy.
They weren't alone either. There was an entire clowder around them.
On that grey afternoon, 'Bomber' Thompson's faultless machine had played a total of 20,022 games as a collective – the most of any grand final competitor at that stage of the AFL era.
Spin the clock hands forward to last September, and the Cats had rescaled the mountain by using the same crinkled map. Striking down Sydney with the oldest team ever assembled in AFL/VFL history, Chris Scott's mogs were led by a skipper and a Coleman medallist who had laced the boots together on 305 occasions.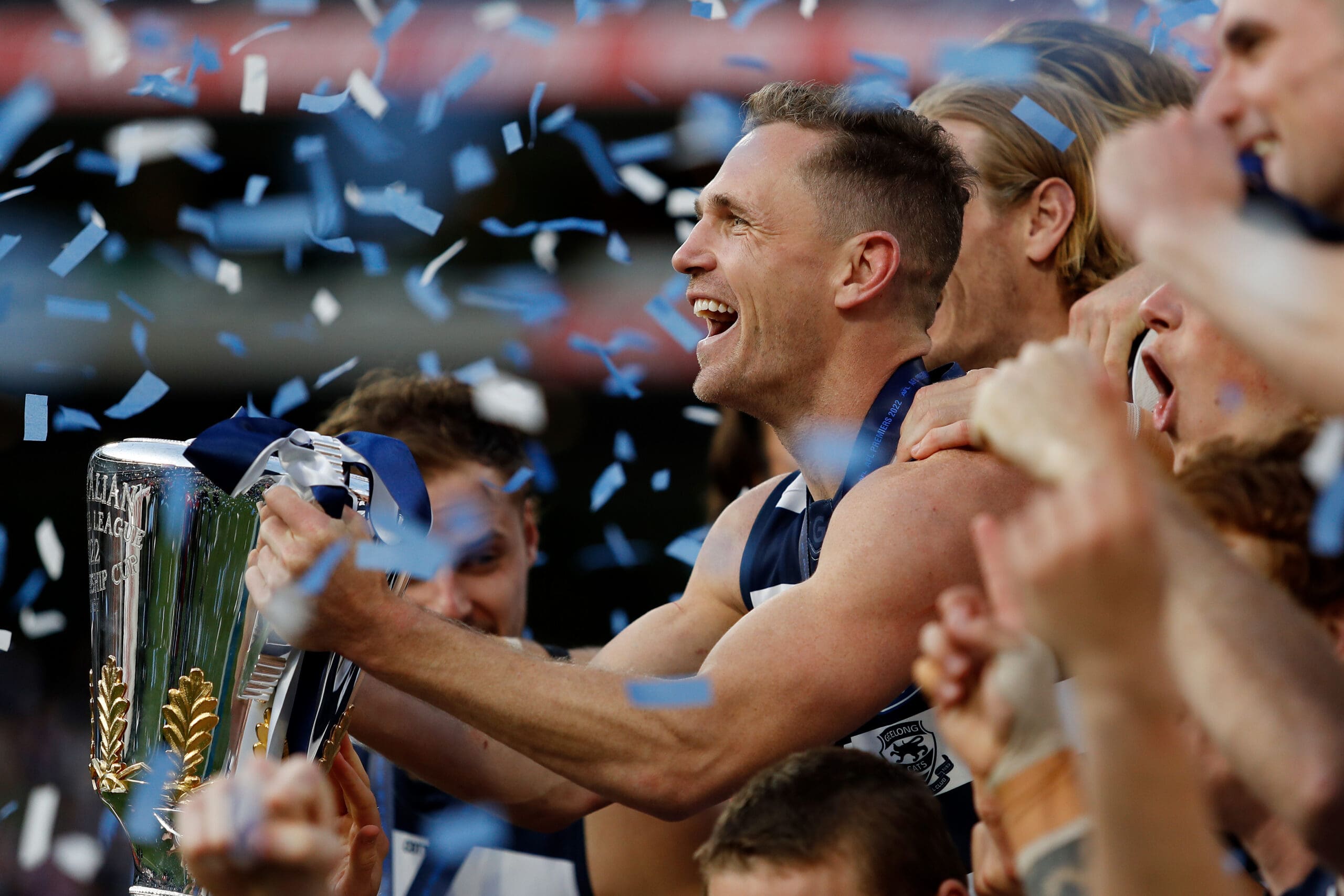 Defined as the action or fact of forming a united whole, cohesion has become a buzzword in the footy sphere, with coaches placing a premium on creating familiarity within their ranks as they build toward the ultimate prize.
But while logic dictates that understanding one's teammates will hold any side in better stead, is it possible to measure a team's cohesion as they make their premiership push?
In the eyes of sports analyst Simon Strachan, the answer is a resounding yes.
Teamwork makes the dream work
Raised on the 15-man game of rugby union, Strachan took his coaching and analytical expertise through numerous schools and universities before acting as the Wallabies' assistant video analyst for over a decade.
However, it was Strachan's four-year stint with the Melbourne Rebels Super Rugby franchise that saw his passion for patterns take root and spread away from clubland.
Partnering with former Wallabies front-rower Ben Darwin, Strachan co-founded GAIN LINE Analytics in 2014, a self-described "operations and management consultancy with a unique perspective on success in professional sport and business".
This unique perspective?
A belief that connectivity makes sporting sides greater than the sum of their parts.
At AFL clubs, this cohesion goes beyond mere camaraderie, it can be seen in the number of years players have spent together, how many games they have combined for and the experiences shared throughout their careers.
But while tallying games and counting cups seems a fine place to start when seeking to measure togetherness, this arduous task will never paint the full picture.
"Ultimately, cohesion is not just about holding a team together," Strachan told Zero Hanger.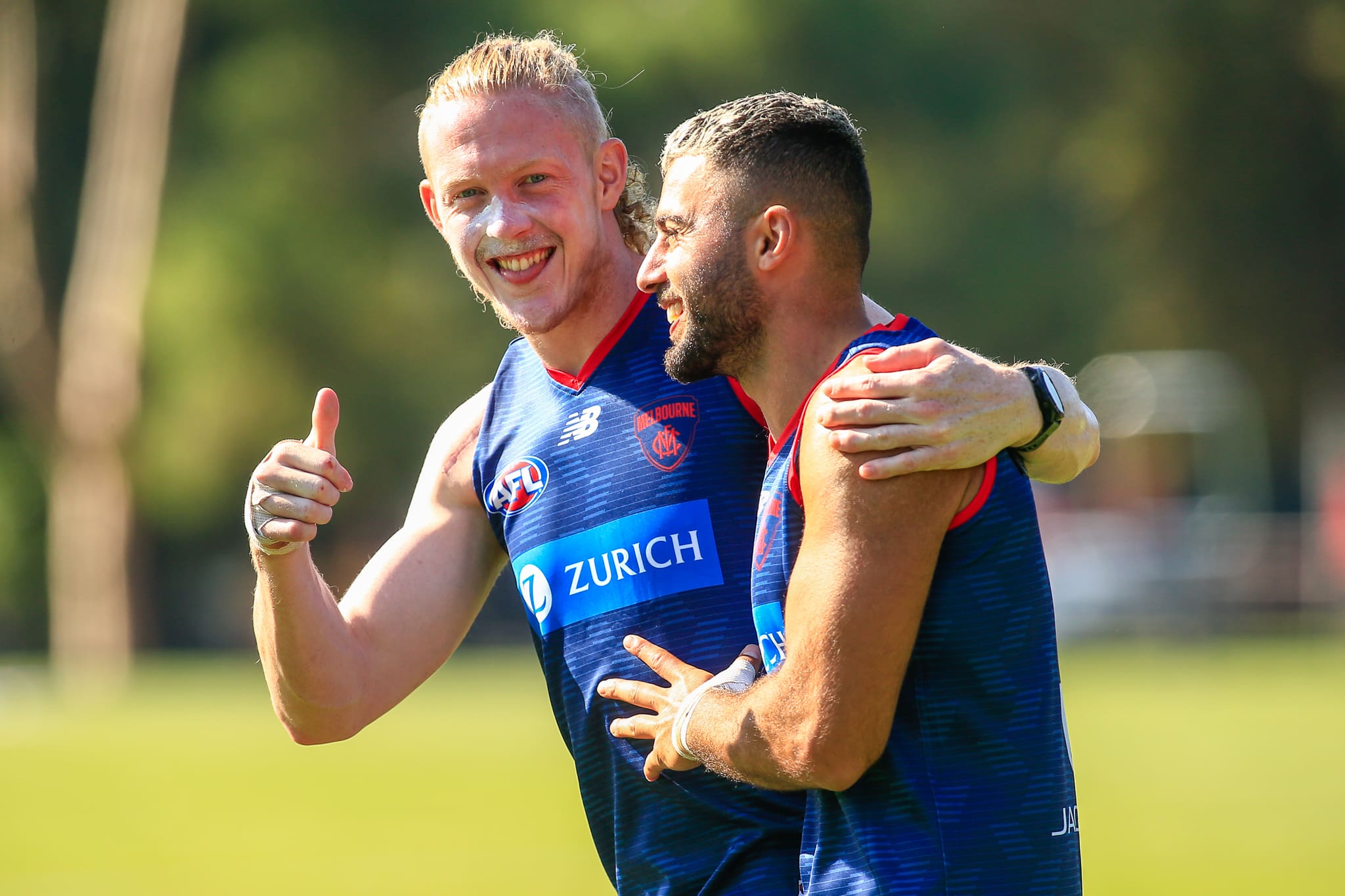 Using their patented tool, the Team Work Index (TWI), GAIN LINE measures the "quantity and intensity of linkages within a team", or, in short, exactly how cohesive any side is at any given time.
Though their specific metrics remain closely guarded against anyone but GAIN LINE clients - a stable that has included multiple AFL clubs since 2014 - Strachan stated that, at its heart, TWI acts as the foreman for building clubs.
"The Teamwork Index (TWI) is the measure of how an organisation puts its squad together," he explained.
"It's effectively a measure of a team's capacity to create cohesion from a game-by-game perspective and a longer-term perspective."
While the players on the park are the ones celebrated or chastised depending on the final score, GAIN LINE assert that the cohesion process must be driven by those in off-field posts.
From his vantage point, Strachan claims that club boards are required to drive long-term cohesion within a club's four walls, with their visions sold, and stability created, acting as the bedrock for on-field performance.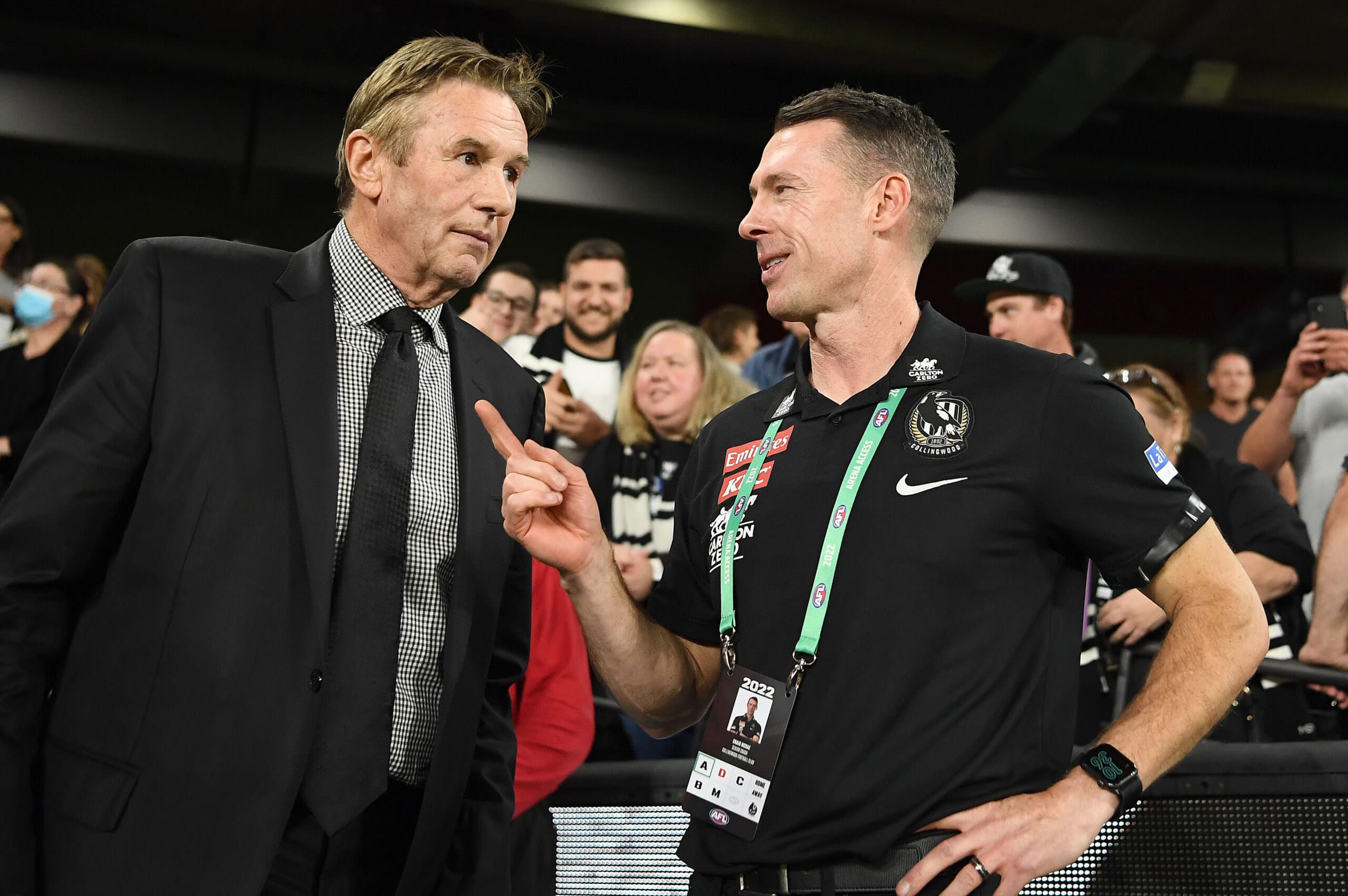 Down the line, season-by-season cohesion is left to the CEOs, GMs, and recruiters to handle, with game-by-game continuity falling at the feet of the senior coach and their crew of assistants. 

Short-term, long-term, or somewhere in between, where is it most important for a club to focus when creating a roster ready for September football?
For Strachan and Darwin, their belief is that a fish rots from its head down.
"For us, it's always about the long-term measure, because that's really indicative of the long-term capacity of the organisation to be successful," Strachan clarified.
"Every organisation, or every club, says they want to be sustainable and be successful. But to be brutally honest, 80 to 90 per cent of organisations don't act that way. For all the great intentions that they have, they still don't act that way."
"If you set yourself up to be sustainable and successful in the long term, the in-game cohesion will come. It will naturally develop that way."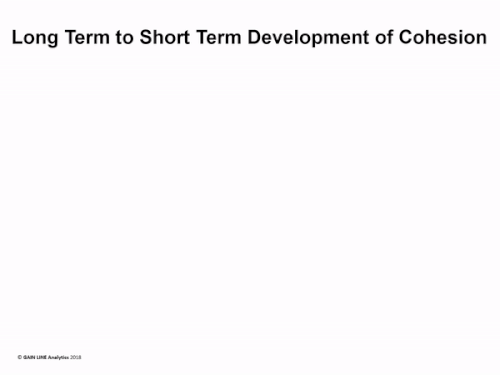 It goes without saying, but there is no one clear avenue to long-term success. There can't be, otherwise, every club would be walking the same path at the same pace. There are, as they say, many different horses for multiple courses.
For the likes of last year's grand finalists, Geelong and Sydney, tweaks were made over the off-season to have them contending again at the business end. For those just below them in Brisbane and Melbourne, off-season shopping sprees had pundits in raptures.
Further down the ladder, far closer to the foundation of their builds, sit the likes of Essendon, Hawthorn, and North Melbourne - clubs with locker rooms full of P-platers still adapting to life under new, or new enough, coaches.
Despite spending all summer on the track bonding, breaking bad habits, and building a game plan, each of these Victorian clubs has opted to walk distinctly alternate paths in the hopes of creating an environment of sustainable success.
But exactly how should these clubs go about climbing the ladder?
Is it better to play the copycat and follow the route of recent premiers, or is the road less travelled the way to go?
Three horses, three courses
76 days into his senior coaching return, Brad Scott delivered Dons fans an unwanted Christmas present.
After earning the role of Essendon's head coach following more than three seasons away from the hot seat, Scott took time to survey his roster before clearly announcing his intentions for the season.
"The reality is, and the facts are, they are very young and they're going to take time to develop. Therefore, the team's going to take a bit of time to get right," Scott said in December.
This tempering of expectations buttressed his initial appraisal, made as the ink was still drying on his four-year contract. An appraisal laced with no guarantees and a clear message: Essendon would either stand united or fall divided.
"The longer you spend in football, the more you realise that you're not entitled to anything," Scott philosophised.
"Regardless of which club you're at and what opportunities you have, it all comes back to the same thing; hard work, discipline, being united, and being really clear on the direction and the role that everyone needs to play.
"That's going to be a big challenge here.
"But if you're not united, and you're not going in the same direction, I don't care what players you've got and what facilities you've got, none of that matters."
Having led North Melbourne into four finals series during his nine full seasons on Arden Street, Scott holds a clear understanding of what is required to build a contender, even without a bounty of first-round draft picks available.
However, after preaching patience and watching on as his youthful charges failed to impress in their sole pre-season hitout, a familiar blowtorch was back on the Bombers, with quick fixes sought by wringing hands.
Robbo slams Essendon's performance

📺 Watch #AFL360 on @Foxtel CH 504 or stream via@kayosports https://t.co/7kvglvquIa pic.twitter.com/Kuh7vWU4Fo

— Fox Footy (@FOXFOOTY) March 6, 2023
And while Essendon proved far too strong for Hawthorn during their season opener, with 13 goalkickers and a 59-point win soothing even their most restless fanatics, the same message was pressed by an even-keeled Scott, even after admitting the win did plenty for the cohesion of his group.
"It does a lot," Scott told Zero Hanger post-game.
"I thought the mix looked pretty good and the energy looked pretty good, but again, the takeout for me is it was a good day for us; our supporters have been through a lot and they should be really excited but don't take your eye off what we're trying to build over the long term."
Although an advocate for building methodically, Strachan claims very few at clubland have the time for such approaches in this day and age.
"It is the best way, but to be brutally honest, nobody seems to have the patience for patience," he offered.
That evening, less than 20 metres from Scott, Sam Mitchell's fledging Hawks sat in stunned silence.
Few may have picked the boys from Bunjil Bagora to finish anywhere outside of the bottom four, but Hawthorn's five-goal to 16 showing after quarter-time was commensurate with a side lacking senior leadership.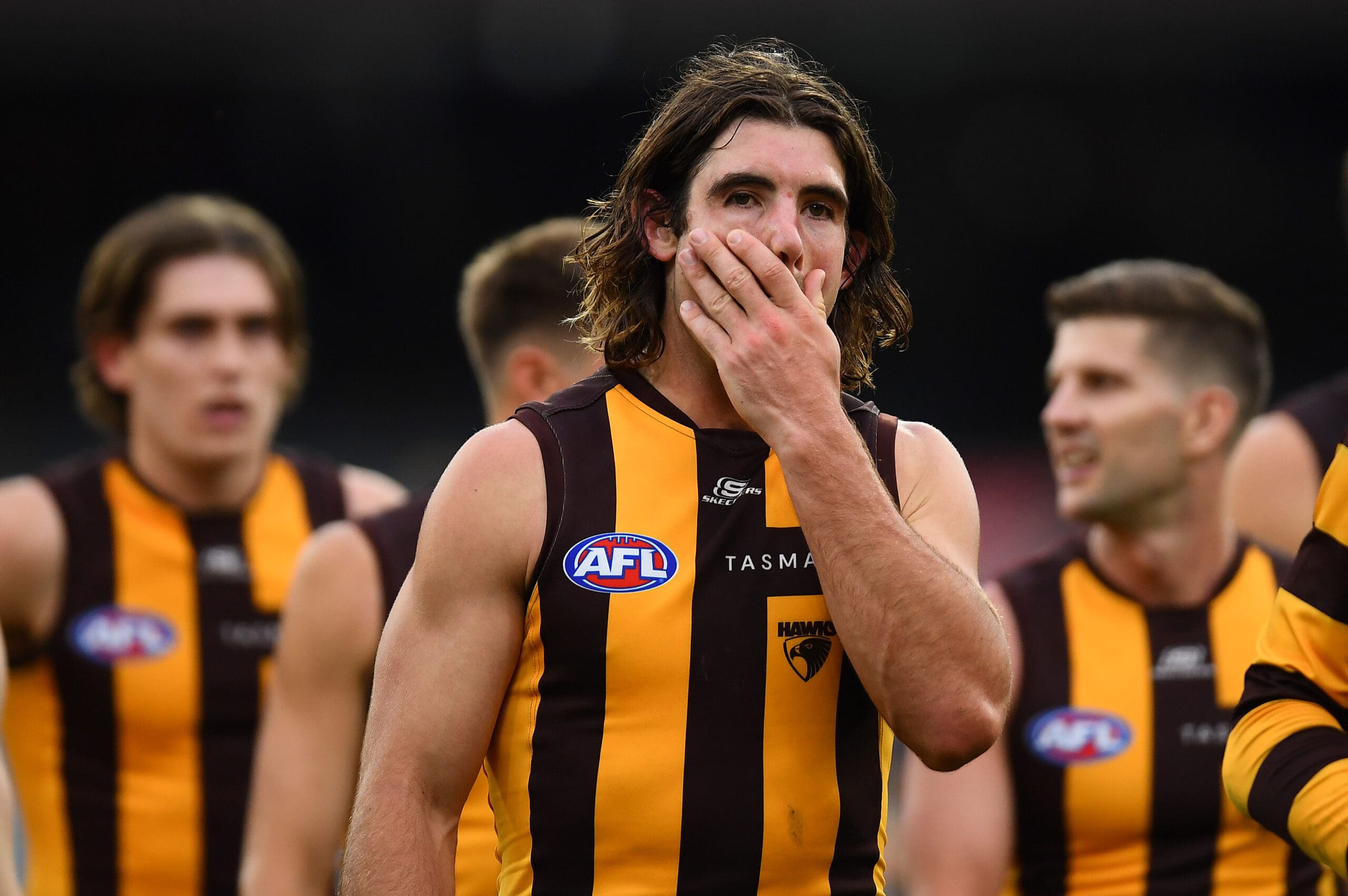 Following an off-season in which 1398 games of senior experience departed Waverley Park, only to be replaced by 151 in return, suggestions that the Hawks had cut too deep became a common catch-cry over summer.
As the only premiership player remaining on Hawthorn's list - and the only Hawk currently aged over 30 - Luke Breust was left to spruik his side's fortunes at a recent family day. And, while on board with Mitchell's messaging, the dual All-Australian couldn't sugar coat the truth, even amongst friends.
"Stick with us," Breust asked of Hawthorn's membership base. "Give us 12 to 18 months, and we'll be heading in the right direction."
Intriguingly, Bruest's own call for calm came after an off-season in which Mitchell revealed there would be 'no speed limits' on how quickly his side could gel. Yet, as the scoreboard told over the opening fortnight, there are sure to be many more bumps for his fresh-faced side.
With more credits than almost anyone in the Bank of Hawthorn, it is unlikely that any nasty losses are going to have Mitchell in much strife with the club's new board. But even if the five-time Crimmins medallist can have his Hawks riding these bumps with a grin, the practice of cutting deep to get back to the start comes with no assurance of future success.
"All it guarantees is pain for the organisation," Strachan said of the oft-tried blueprint for a hard reset.
"There is a level of cohesion needed to perform at a decent level in the AFL, and there is a level of cohesion needed to be really competitive."
"If a team guts their list, they will be the new North Melbourne under David Noble. They will be the Brisbane Lions under Justin Leppitsch, which is no fault of David Noble and is no fault of Leppitsch, it's just the nature of where the club is at."
Cutting deep and working with kids may have yielded more victims than champions, but for clubs that are patient and enter the abyss with a plan, the reward, as Leppitsch can attest to, is sweeter than strawberry wine.
"Arguably, clubs that cut deep will be at the level of the 1998 Brisbane Lions, but that core group stayed together and we all saw what they achieved," Strachan added.
"There will be pain with it, but it's a question of whether the organisation is willing to take the pain."
"You need a coach, in connection with the organisation, that is willing to accept the downs of the period. But it requires context: this is where you are, and this is why you are where you are. You've just got to accept it.
"There are still ways to navigate this. Whenever you go through a period of change, you can still create a level of stability within an organisation to create a period of change without significantly disrupting performance."

Like Kevin Sheedy during his two seasons in Sydney's west or Paul Roos throughout his three with Melbourne, Alastair Clarkson is primed to walk the walk with North Melbourne, creating an environment that strikes a balance between cohesive and challenging.
Though alleged misdemeanours during his time at Hawthorn - and those too of Tarryn Thomas - have brought dark clouds onto the Kangaroos' horizon, with a 2-1 start to his second tenure at Arden Street, his young side will be feeling bulletproof at the minute.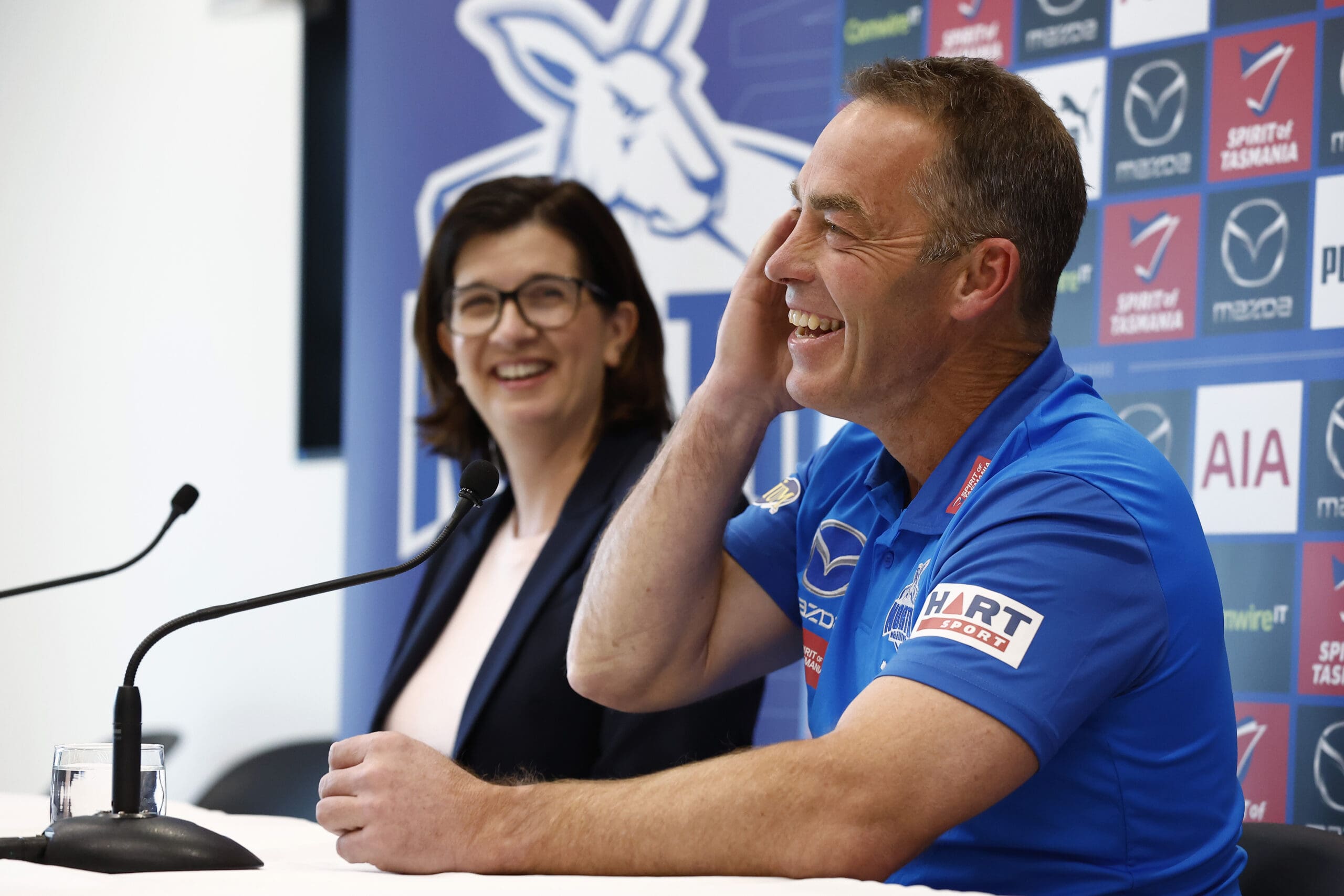 In tandem with Brad Scott's Bombers, and his former side under his former pupil, Clarkson has a clear blueprint for fostering togetherness amongst his joeys and veterans. But unlike the plans put in action by the Roos' fiercest rivals, the master coach is marching to a different beat.
While taking it slow or speeding over the bumps are the Bombers and Hawks' prerogatives, Clarkson has opted to adopt a muse, one that will be familiar to a pair of his off-season acquisitions, Griffin Logue and Darcy Tucker.
"In this caper, you need to learn how to win," Clarkson told Zero Hanger following North Melbourne's first-up result over West Coast.
"We know we've got lots to learn. But we just want to challenge ourselves. We'll get a different set of challenges on the road next week to go to Fremantle.
"They are a very, very good side, one that's shown us the path over the last three to four years of what a side is capable of doing if they can get stable and get on their journey together."
"That's what we're searching to do. We're tracking a couple of years behind them, but that's where we want to go."
Since returning west to commence his head coaching career in September of 2019, Justin Longmuir has led a Dockers resurgence, fueling his old side from an eight-win 2018 season to a drought-breaking finals berth in 2022.
Anchored in his desire to build the Dockers from back to front, Fremantle has used six first-round draft picks under Longmuir's watch, with two spent to snare defenders Hayden Young and Heath Chapman from Victoria and West Perth respectively.
It has been Longmuir's choice to bolster his backline that has paid dividends, with Young's intercepting skills and Chapman's versatility marrying happily with the expertise of Brennan Cox, Luke Ryan, and new skipper Alex Pearce behind the ball.
At North, the choice to spend the club's bluechip picks building a midfield unit of similar ages and varying strengths was made prior to Clarkson's arrival.
Between the end of 2017 and the commencement of 2023, North Melbourne used all seven of its first-round draft picks on kids expected to make a difference in the middle, selecting Luke Davies-Uniacke, Tarryn Thomas, Will Phillips, Tom Powell, Jason Horne-Francis, Harry Sheezel, and George Wardlaw in succession.
Though neither of Freo or North's ploys holds any guarantee of securing future success, similar rollouts have paid supreme dividends in the past. One only needs reminding that every key member of Geelong's 'toe-poke' chain was drafted within four years of one another.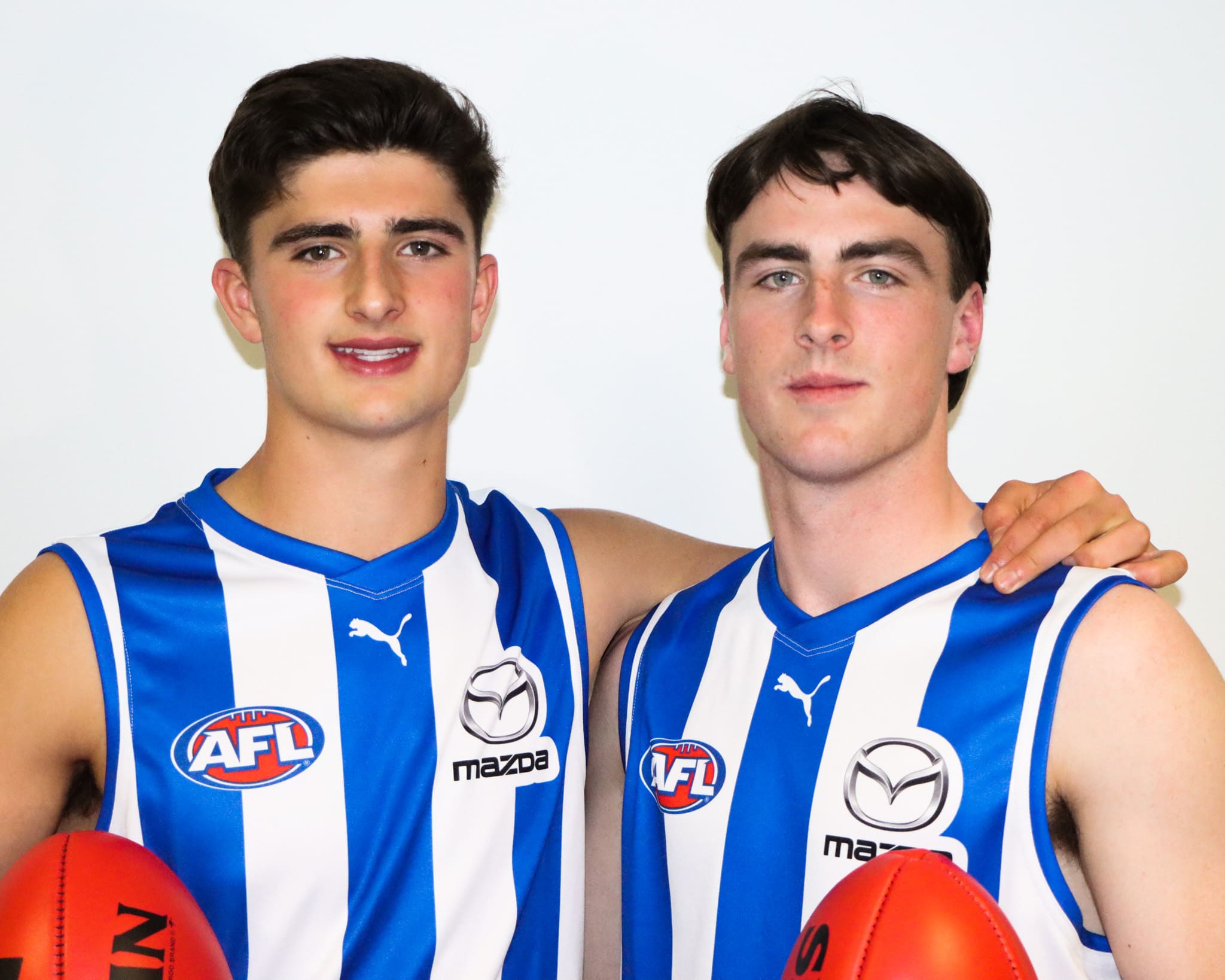 At present, each of Clarkson, Mitchell, and Scott has been tasked with leading heartland sides with rusted-on fanbases back to the promised land, places neither Essendon nor North Melbourne have been since the dawn of the Sydney Olympics.
And in the face of an early string of wins, all three started the 2023 season with squads closer to their foundation than to any culmination. A place clubs are said to find themselves due to their own doing.
"Generally - and the AFL is a really good example of this - we see teams get lumped into certain groups, you've got high-performing teams and low-performing teams," Strachan delineated.
"High-performing teams have their shit together, so there's conscious competence there. They know what they're doing. There may also be a little bit of unconscious competence there too. They do what they do, they don't know why it works, but they continue doing what they're doing.
"Then you've got the teams at the bottom, the ones practicing unconscious incompetence. They just can't do what they need to do. They go around in circles."
"Then you have the teams in the middle. The teams in the middle are the ones that go 'we just need two or three more players. We'll be right. We're nearly there.'
"But the act of recruiting two or three more players is the reason why they sit in the middle. They cannot take that next step to get the level of cohesion that makes them a truly competitive AFL team."
Quick, slow, measured, or borrowed, despite their plans put in place, there is no denying that each of Scott, Mitchell, and Clarkson require further injections of talent before they break out the champagne.
But just what are coaches and untried talent worth when viewed through a wider lens?
Overblown, overstated, and out of context
Like players, coaches, and anyone else in any other professional field, a consultancy firm worth its salt requires a point of difference, something that truly separates itself from the pack.
And while GAIN LINE has this with its Team Work Index, the metric is built on a foundation of challenging preconceived truths found across multiple codes.
Though the word of head coaches holds weight, Strachan pressed that their output and that of their players are often overstated and overblown.
"In a high-cohesion environment, you don't need as much talent to be successful," Strachan professed.
Citing the successes of an NRL powerhouse, Strachan affirms another old adage from the sporting arena: a champion team will always beat a team of champions.
"It's the old cliché of a team being greater than the sum of its parts."
"One of the real signals is when an athlete from a high-performing team then moves to another club and then they don't achieve the same level of success.
"Here in Australia, we call it the 'Melbourne Storm Mirage', where a player leaves a high-cohesion environment, but then don't perform to the same level. It's the cohesion of the team that allows the player to perform to their absolute capacity.
"Likewise with coaching.
"The great thing about high-cohesion environments is that they allow everyone to do their job to their capacity."
And it's for this reason that despite the allure of a quick fix at the trade table, introducing outside talent can often come with a cost.
Much may have been made of Brisbane's off-season - one in which 433 games of senior talent were brought in from four different rivals - but introducing a plan of this nature can often have the direct opposite effect, with a team's stability taking a hit, so too the side's in-game cohesion.
The earliest evidence of this came during Brisbane's 54-point loss to Port Adelaide in Round 1, a contest the Lions led by two clear goals at half-time.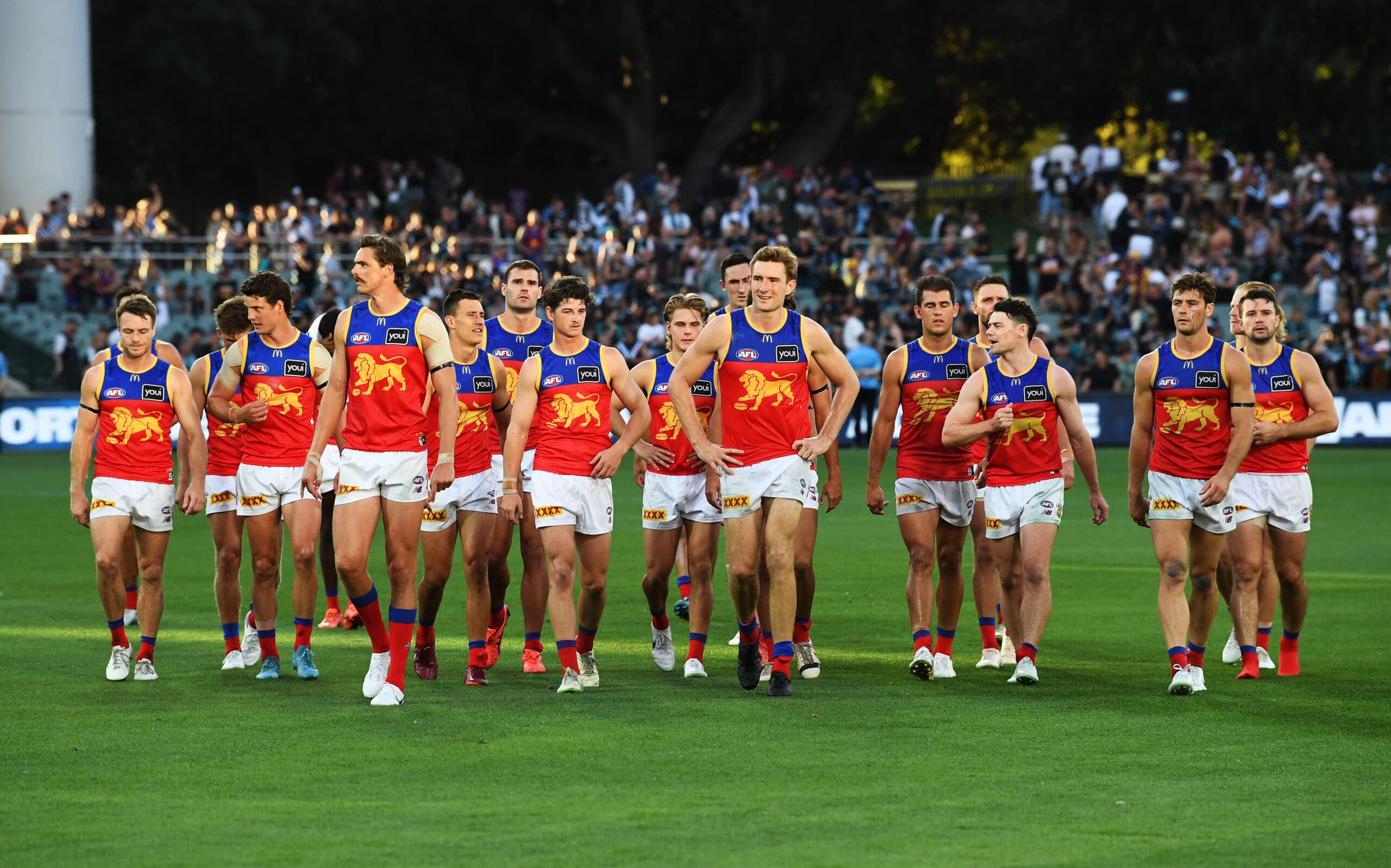 But what then of the top-tier outfits that never seem to fade? The ones that, year in and year out, seem to have a preordained right to play finals?
Famed for their ability to spin straw into silk with recycled players and late draft picks, Geelong and Sydney have cemented themselves as two of the league's most successful clubs of the past 20 years. Since 2005, the Cats and Swans have featured in 11 of 18 possible grand finals, sharing six premierships between them.
But what is the secret to the success found in Sleepy Hollow or Sin City?
For the layman, it has always been about culture.
While some, including myself, have sought answers into how these perennial premiership contenders tick, in Strachan's eyes, there can be no catch-all for results found together.
RELATED: Blood Brothers: Inside Sydney's culture of success
Though Sydney's premierships act as the proof in the pudding, stressing that the club's internal ethos and refusal to recruit 'dickheads' has served a purpose, it can also be argued that the 'Bloods Culture' is oversold.
"The notion of culture is overblown because culture comes out of the way you develop your core group together. You can't impose culture on people," Strachan rebutted.
"There are also lots of examples of successful organisations having poor culture. The West Coast Eagles in the mid-2000s are a really classic example of that."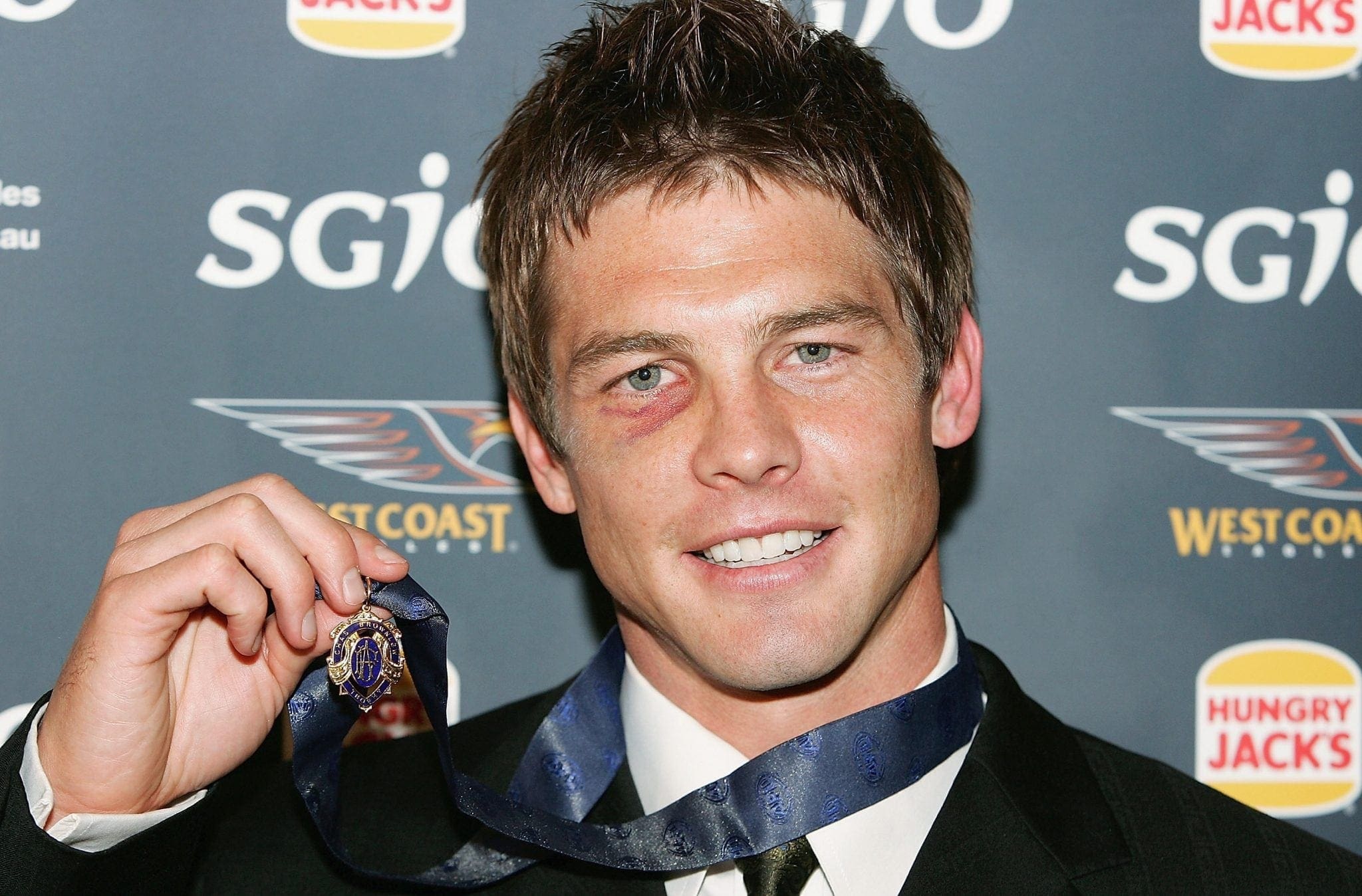 Drafting spectacularly and carefully injecting the right players has served Geelong and Sydney well. But rather than chalking the success of these imports up to the umbrella phrase of culture, it has been one element that has paid the greatest dividends.

"One of the critical things we have found when working with a lot of organisations is around psychological safety," Strachan disclosed.
"If you spend a lot of time with somebody, you naturally develop trust with them. So, in the change rooms after a game, you can actually have an active conversation."
When speaking to Zero Hanger last September, former Swans captain and Bloods figurehead Brett Kirk stated that it was the playing group's role to hold one another to account.
"A lot is talked about setting and driving standards, so if someone is not hitting them, leaders need to be able to help them and steer them back onto the right track," the dual Skilton medallist said.
This sentiment was echoed by triple-premiership Cat James Kelly in 2018, with fearless feedback used as an accelerant in the Cats' golden run.
"You understand that you're friends first, and that creates a platform to be able to provide really strong, constructive criticism," Kelly was quoted in Footballistics, James Coventry's data-led analysis of footballing theories.
"Giving feedback to someone you know really well is always a lot easier because you know how to give it, and they understand you're not giving it from a personal point of view.
"You're giving the footballer feedback, not the person."
"We had players who were best mates and inseparable off the field, but they were as hard as anyone on each other on the field."
Naturally, this ability to be blunt is earned and not given, something Geelong found out in 2006 when the club's senior players held a reticent Gary Ablett to account, initially causing cold shoulders to be turned inside the Cats' inner sanctum.
Still, with Ablett hitting spectacular heights during his days in blue and white hoops, these methods proved adept, with trust causing callouses to form and deserved banners flying high down at Kardinia Park.
Setbacks on uneven ground
In theory, every AFL club has the ability to implement this level of honesty over time. Yet, for those still building their framework, the process cannot be rushed.
During his short stint as a Kangaroo, Jason Horne-Francis' reported reticence the take feedback or adhere to professional standards may have been stamped as individual mistakes made by a headstrong teenager, but without trust and stability surrounding the boom draftee, the final result speaks for itself.
Now back in South Australia, the Nathan Buckley clone has become the latest poster boy for the go-home factor's effect, a fact of life clubs from non-traditional bases have been dealing with since inception.
Horne-Francis wasn't alone in heading for the exit, with at least one top-five pick from every draft since 2010 making the choice to head home.
Ahead of last year's national draft, GWS footy boss Jason McCartney spoke openly about his club's battles to retain talent, claiming the Giants had to look at the draft board through an altered lens.
"When you're an interstate club and the draft board is predominantly, at the top end, looking like it's littered with Victorian talent, you've got some risk there," McCartney said.
"You might think it's fine, that you just pick this player and you get them into your environment and your system and it's all fine, but if there's apprehension about a player right from the word go about making the move interstate and they may go home, you just can't take the risk unfortunately."
McCartney's honesty begs the naive question: is the AFL competition a level playing field?
"No, it's not," Strachan said bluntly, channeling his inner Kirk and Kelly.
Even when these fledgling franchises can build a cohesive group and begin to challenge at the season's pointy end, their best-laid plans face further challenges.
With a core group of budding stars that had grown together for seven seasons, the Giants of 2019 were primed to strike. Running with the ilk of Davis, Coniglio, Greene, Cameron, and Whitfield among others on his goal-to-goal line, Leon Cameron's cohesive percussion had opponents quaking in their boots.
A 13-9 record, including seven wins at home, propelled the newcomers into the eight, with Cameron's Ferrari speeding past the Dogs, Lions, and Pies en route to grand final day. Of the league's expansion sides, only West Coast and Adelaide had achieved the feat at a greater pace.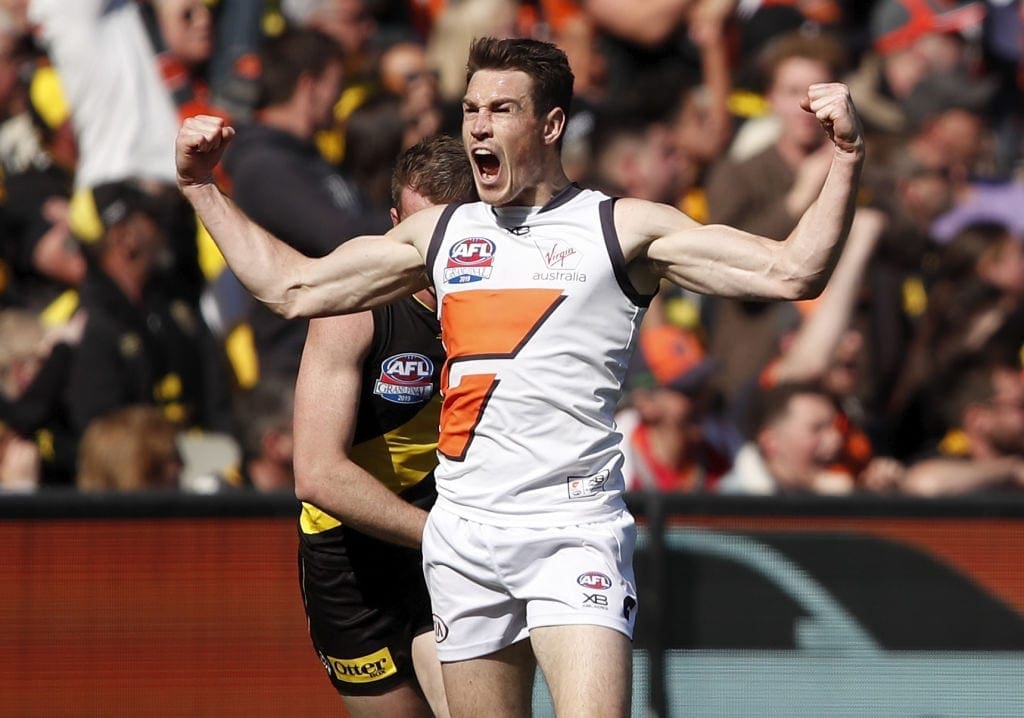 Yet, by half-time of the decider, Cameron's GTO was up on its blocks, a situation that was unlikely to have shocked those at GAIN LINE headquarters.
"In the AFL, our view is that you need a specific level of cohesion to be competitive; to win finals, and to be grand final competitive. For that, you need time. There are no silver bullets," he said.
"To be a non-Victorian AFL team, you need high cohesion to win a grand final at the MCG. There's common sense at play there because it's often the home ground of the team that wins.
"Not only are these non-Victorian teams at a disadvantage when maintaining their squads in comparison to Melbourne-based teams, once they do make the grand final, they also have to be working with a much higher level of cohesion."
The raw numbers back up Strachan's contention, with 17 of 33 (56.6 per cent) of AFL-era grand finals played at the MCG won by a club that plays home games at the venue.
And since Geelong's era of dominance began in 2007, of the 10 deciders contested between a Victorian team and a non-Victorian rival, the locals have prevailed on eight occasions.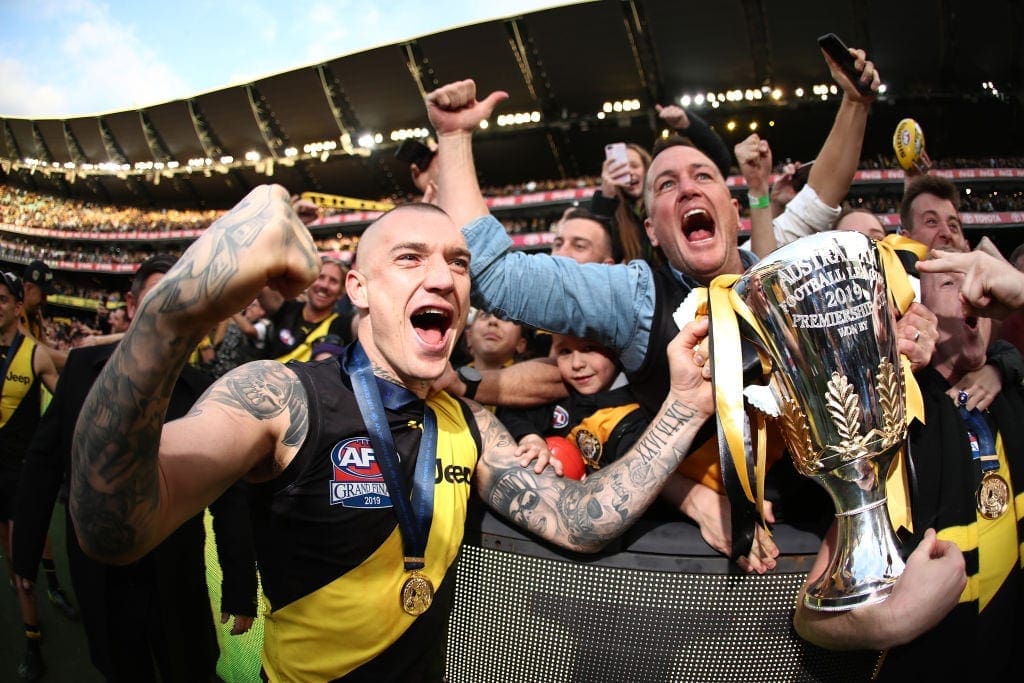 But while start-up franchises routinely find themselves snookered behind the eight-ball, even the league's most storied clubs face qualms when attempting to create cohesion.
After using two first-round picks on a pair of offensive pillars, Carlton fans hailed the return of the club's heyday after Harry McKay and Charlie Curnow landed at Princes Park.
However, since joining forces ahead of the 2016 season, while the duo may have won the last two Colemans on offer, they have only played together in 46 of a possible 151 fixtures.
Without unfettered use of their spearheads for large stretches of Brendon Bolton and David Teague's tenures on Royal Parade, Carlton's on-field form suffered. And while McKay and Curnow have featured together in 21 of the Blues' last 24 games, this missed opportunity to mesh is one of the many reasons why Carlton hasn't played finals football in a decade.
There may be no substitute for the bonds created during the heat of battle, but has the implementation of the draft - the avenue that allowed McKay and Curnow to become Blues in the first place - actually hurt clubs like Carlton when its high-end stars go down?
Previously, clubs were able to use under-19 and reserve pathways to introduce entire squads to their overarching vision, creating cohesion between youngsters long before any made their senior debuts.
North Melbourne used these pathways to perfection in the late 80s and early 90s, winning four under-age premierships under Denis Pagan and seeing the likes of Wayne Carey, Corey McKernan and Glenn Archer rise from pimply kids to premiership heroes.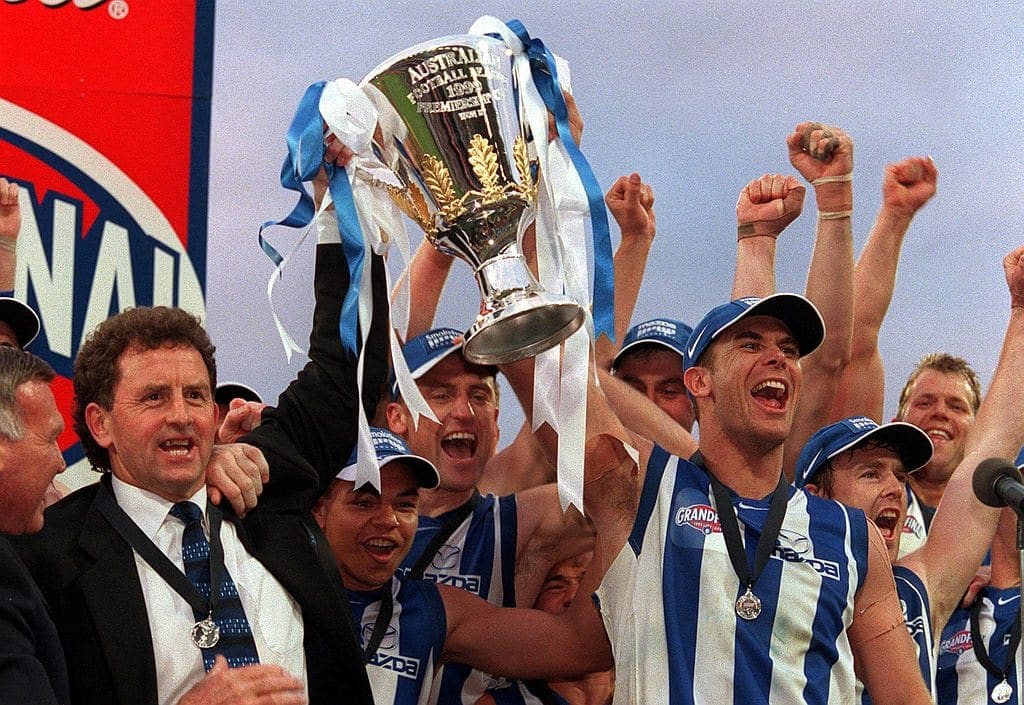 Sydney, GWS, Brisbane and Gold Coast are still able to sculpt talent via their Northern Academy pathways, since the application of the near-socialistic draft in 1986, clubs elsewhere have instead been asked to mesh unfamiliar individuals into a winning unit at pace.
"Sport is sport, so there are always going to be those sorts of injury situations. Sometimes teams can be unbelievably lucky and get through unscathed, or they can be unbelievably unlucky," Strachan acknowledged.
"That's the issue with the fact that there isn't really an AFL pathway. When those young players go down, there's no redundancy in the AFL. You can't bring a player through that will have previous levels of in-game experience with other players in that team.
"But if you've got a core group that has been together for some time, you end up building that redundancy across seasons."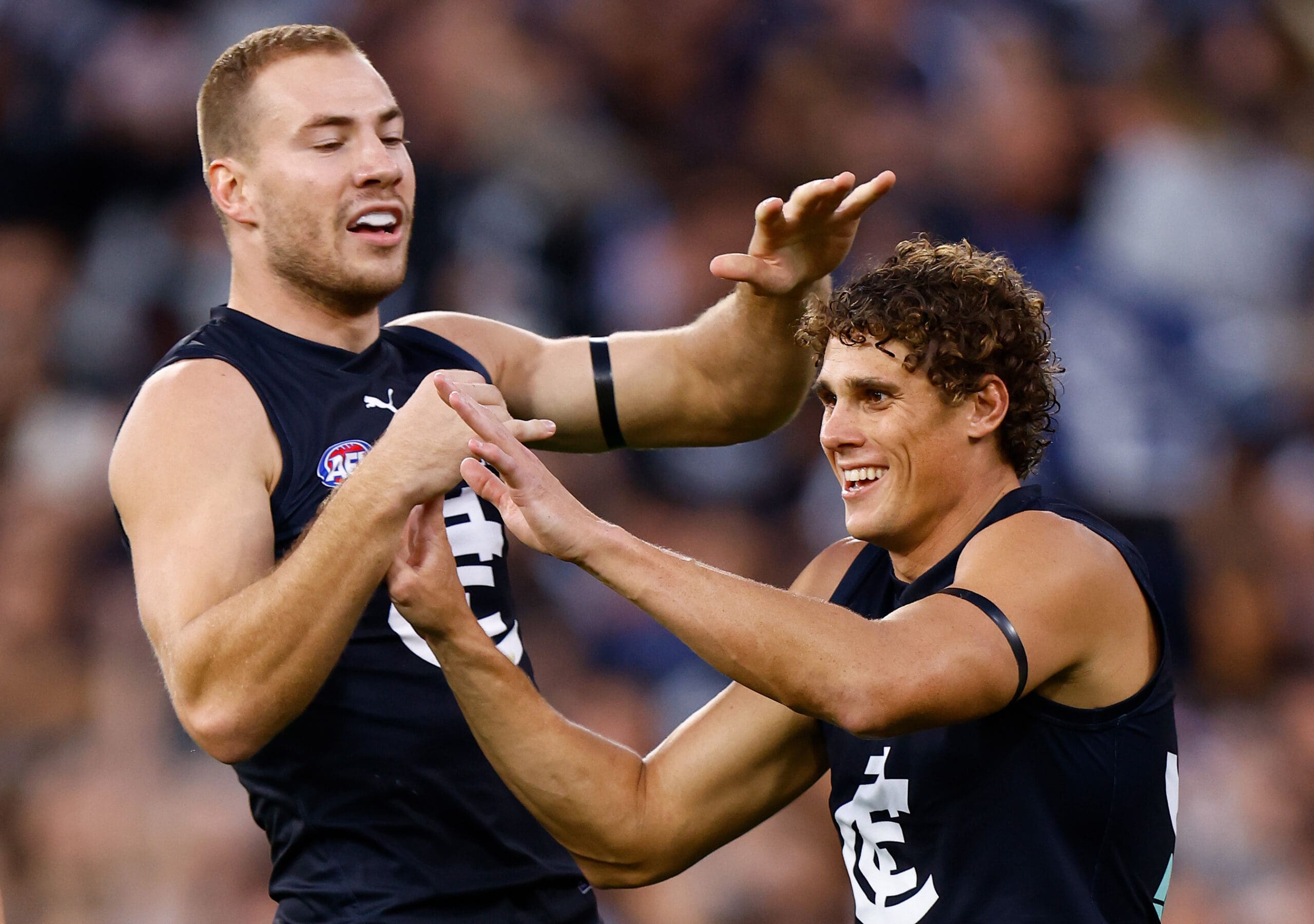 To the naked eye, cohesion can be tough to measure in building sides, with moments rather than entire matches acting as evidence of growth.
What is known though is that even after acknowledging their 0-3 start to 2023, every single AFL club is still chasing what Chris Scott has built with Geelong, including those led by his identical twin.
English poet William Langland once said that patience is a virtue, and patience is exactly what is required to get all levels of a football club to sing from the same hymn sheet.
But, in a multi-million dollar business drawing hundreds of thousands of paying fanatics through the turnstiles every week, exactly how much patience can be afforded to build relationships can be even tougher to quantify.
Still, if you find yourself desperate to fire off hot takes on a footy forum about your side's present form, or when you are next in line to spit chips about your coach on talkback radio, take a deep breath and ask yourself: what would Geelong do?