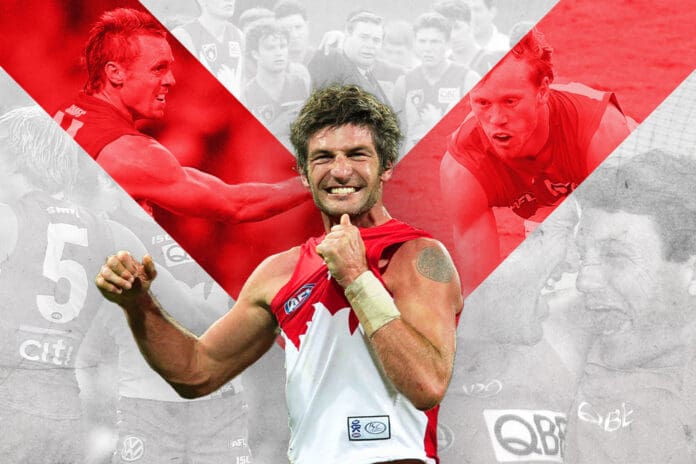 It never appeared necessary.
Five goals up. Under a quarter of an hour left. The job, for all intents and purposes, done.
But for those told that every act matters and whose guard remains up until the final siren's sound, it was business as usual. A determined defender proving ruthless while points were on the line.
To the naked eye, Dane Rampe's luscious quaff and eclectic Instagram presence present a profile of a man familiar with every front bar between Dulwich Hill and Darlinghurst. A beaming hipster, more adept behind the decks than with a Sherrin in hand.
But for the 32-year-old who travelled numerous back alleys before being blooded at AFL level, appearances can be deceiving.
As is his wont, Rampe went the extra mile to run down Collingwood's Brody Mihocek, sending commentator Alister Nicholson's composure into the stratosphere.
Though this dogged effort defines the defender perfectly, the will of the man with the laissez-faire fashion sense is a product of nurture over nature.
Still thinking about this effort from Ramps 😤#Bloods pic.twitter.com/YU3PEn9n3d

— Sydney Swans (@sydneyswans) August 15, 2022
For nearly two decades, it has been impossible to mention the Sydney Swans without delving into the discourse surrounding their once-secret society – 'The Bloods'.
While the tag has come to represent grit, determination and an inability to ever say die, the inner workings of the all-encompassing culture remain largely under lock and key.
Still, what is known is that it works.
Opposition outfits may also be miffed about exactly where the X's and O's lie, however, each member of these routinely vanquished sides can attest to its success as they drag their bruised bodies from the field of battle.
Having sewn up a ninth double chance this century in 2022, few clubs, if any, have been as synonymous with September action like Sydney in recent decades.
But what is the secret behind the ugly ducklings' comprehensive fledge into such hard-billed Swans? And what is it that keeps them so perpetually on track?
Like any truth, there is always a healthy dose of myth mixed in with the mirth. So, for answers, we sought the words of those tasked with shaping a culture that has become the envy of all others.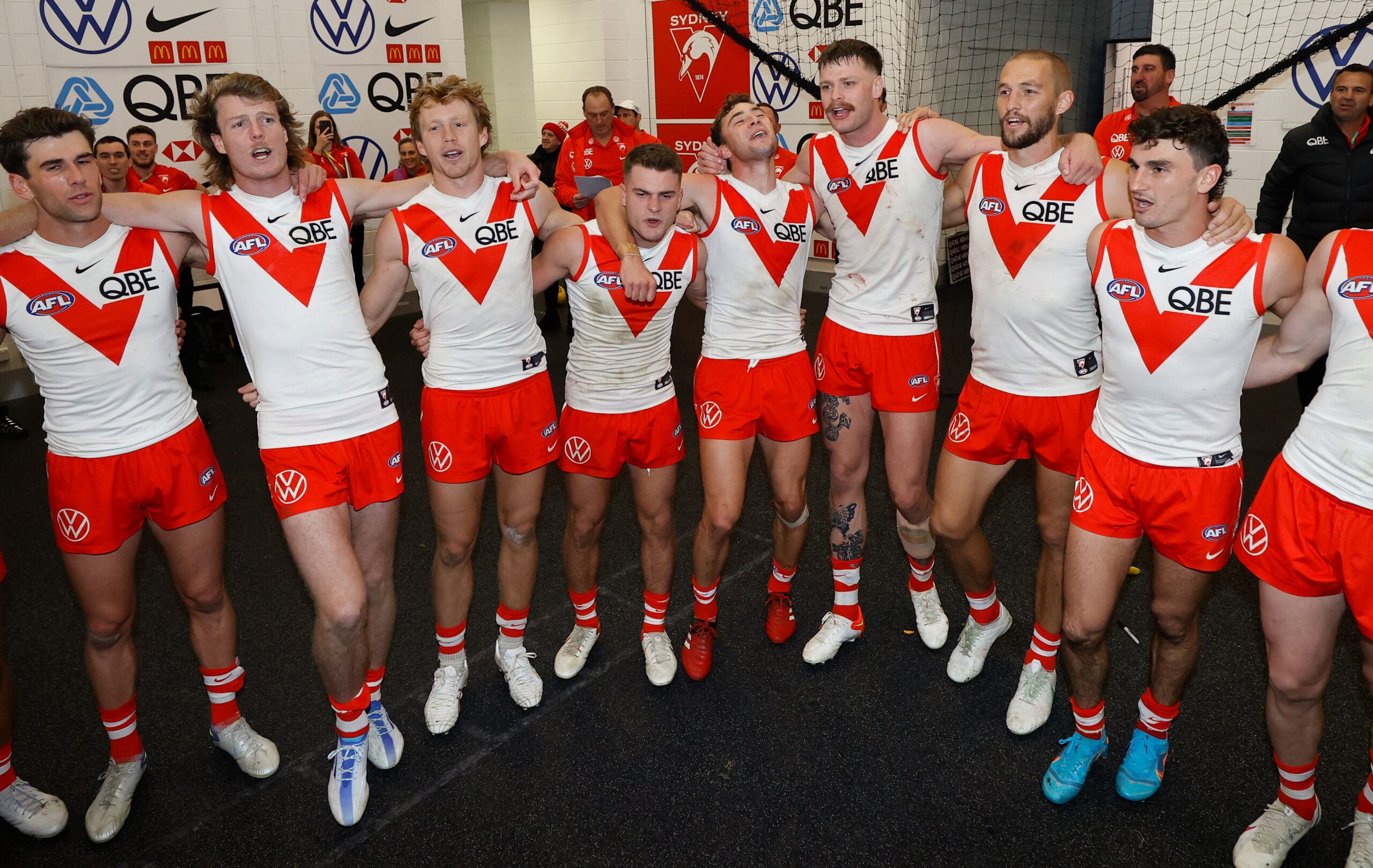 Cheer, cheer the red and the white
You can't know where you're going, the revolutionary mind of Maya Angelou mulled, until you know where you've been.
And in the eyes of three generations of Swans, a successful future cannot be paved without first paying homage to the past.
For Sydney, a club with roots on both sides of the Murray, life began back in Emerald Hill, a world away from the bright lights of the Harbour City.
At the end of rows of cottage dwellings, once the homes of merchants, dockers and prospectors of varying fortunes, lies a lake, its incongruous palms and an oval, once the home to seven Brownlow medallists and countless throngs of heroes.
Born in the shadows of the town hall, and solidified with an amalgamation, the South Melbourne Football Club began life in 1874, claiming a quintet of VFA flags before joining the breakaway big league less than a quarter of a century later.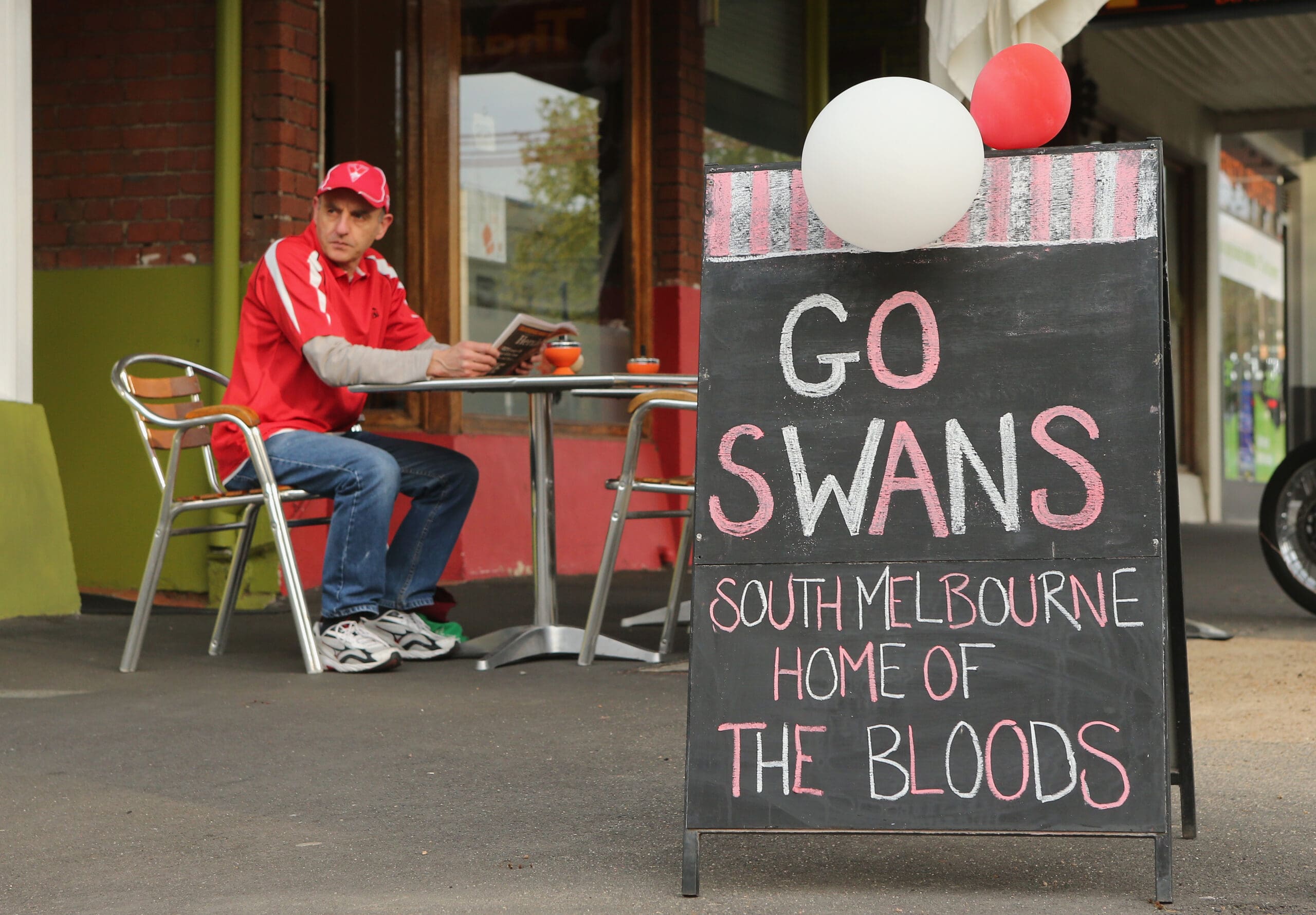 From there, the club - colloquially known as the Bloods, due to their red-hooped, sashed, and, eventually, chevroned guernseys - would reach the premiership summit on another three occasions before the world bore arms for a second time.
Though able to call on the glittering services of Skilton, Goldsmith and Clegg, South soon faltered, playing finals only twice between 1946 and 1981. Their decaying home and keeling balance book further evidence of an entrenched also-ran's status.
Politics, red ink, and expansive views placed the Bloods on the chopping block as the 70s spun into the 80s, a brutal reality creating rifts wide enough to wage civil war. Member votes, board coups, offshore brawls, and gallons of tears were spilled and stoked, however, by Christmas of 1981, the guns fell silent, and the Swans flew north.
The wounds of the smattering of members that remained loyal following the exodus were met with an orchard's worth of citrus as a trifecta of wooden spoons and an 0-4 finals record were amassed throughout these first 13 seasons in Sydney.
Stability was found after the league and powerbrokers convinced Ron Barassi to trade time behind his Richmond bar for the open-air coaches box at the SCG. Still, it would take an on-field recruiting spree to bring drought-breaking clouds back onto the horizon.
Off the broad back of Tony Lockett, the genius of Paul Kelly, and the nous of Paul Roos, Sydney attacked the 1996 season with an old vigour under new coach Rodney Eade, sweeping aside all challengers and securing their first grand final berth since the infamous Bloodbath of 1945.
While the ultimate prize remained out of reach, seeds for substantial change were planted when a floppy-haired former Tiger played every game during his debut campaign in an Opera House crested guernsey.
Eade's tenure steering cygnets and cobs would close mid-way through the 2002 season. A 1-4 finals record following '96 became insufficient fodder for a club with a barren flag run about to enter its seventh-straight decade.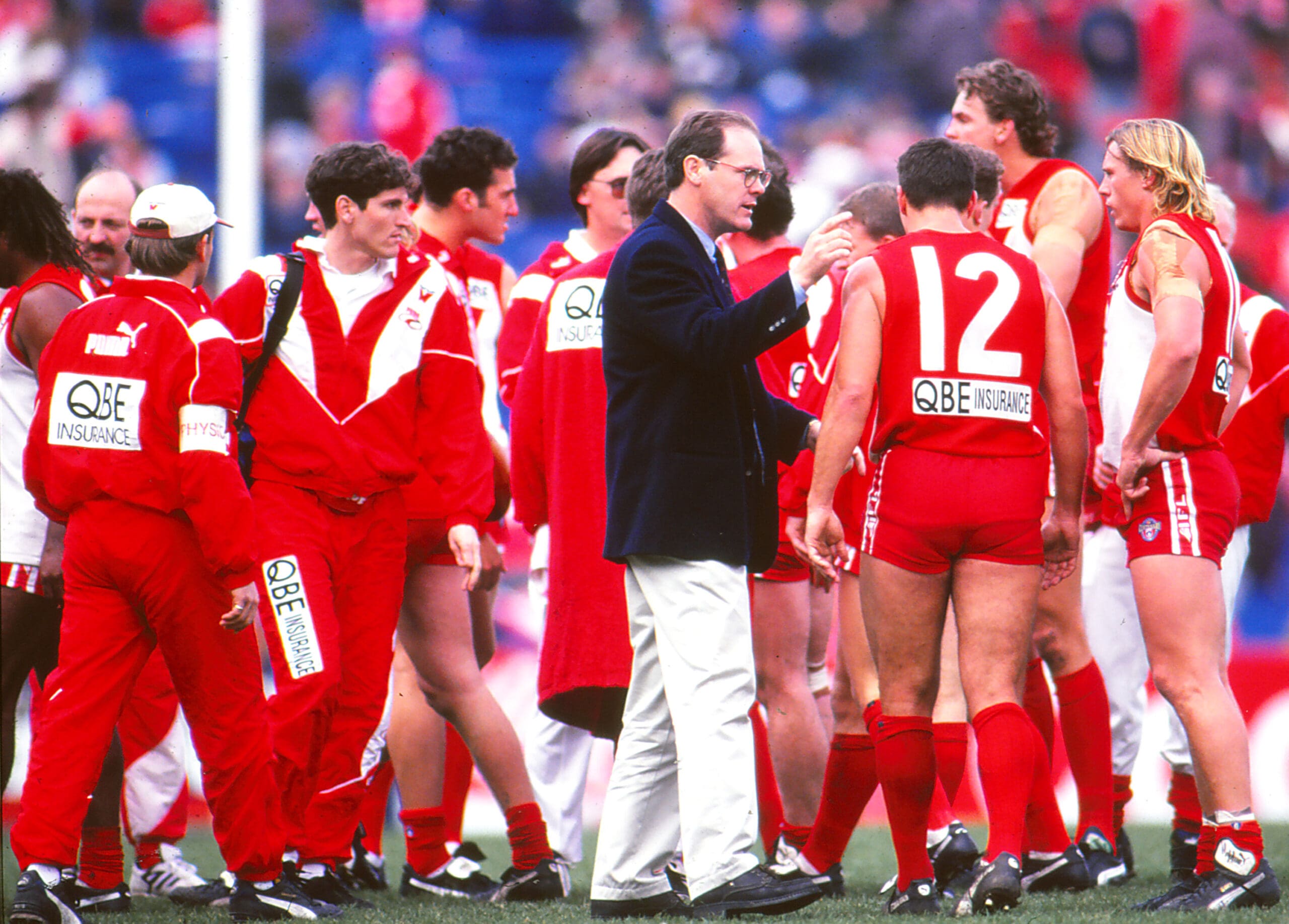 Having answered the Swans' trumpet, Roos was handed the coaching reins following a successful fan-led campaign and a perfect final month.
But while the teething issues of the 80s had departed, so too had the one-two punch of Kelly and Lockett, with both Brownlow winners hanging up the boots for good by the end of a season stamped with just nine wins.
With the role of Roos' next skipper up for grabs, it would take a pivot to the past and a search within before a successor was found. And in the same vein of Bert Lucas, Jack Bisset, and Charlie Pannam, it would be a tenacious import that would eventually earn honours.
Although the Bloods' old lakeside abode is now the home to Victoria's best track and field athletes - sprinters, hurdlers, and hammer throwers - the spirit ensconced beneath the palm fronds would become central to a rebuild that would honour the past and alter the future.
Honour the name
For those who have witnessed a Swan in its natural habitat, their kinked necks, and ivory plumage present a picture of grace as they glide across vitriform surfaces, safe within their bevy.
But beneath the surface and amongst the algae, their webbed feet paddle frantically to maintain this spurious façade.
During Stuart Maxfield's days as a Swan, this grace was traded for grit, with his studded feet peddling furiously in pursuit of the pill. While never flailing, the unswerving midfielder was also far from calm when it came to calling on those around him to demand more of themselves.
Regarded as one of the league's toughest midfielders in his own right by the time his days in boots were up, Brett Kirk's route from the rookie list to All-Australian status has become one strode by Swans since.
Still, when speaking to Zero Hanger, Kirk himself claimed it was the callous swings of Maxfield's machete that cleared the way for him to follow in step.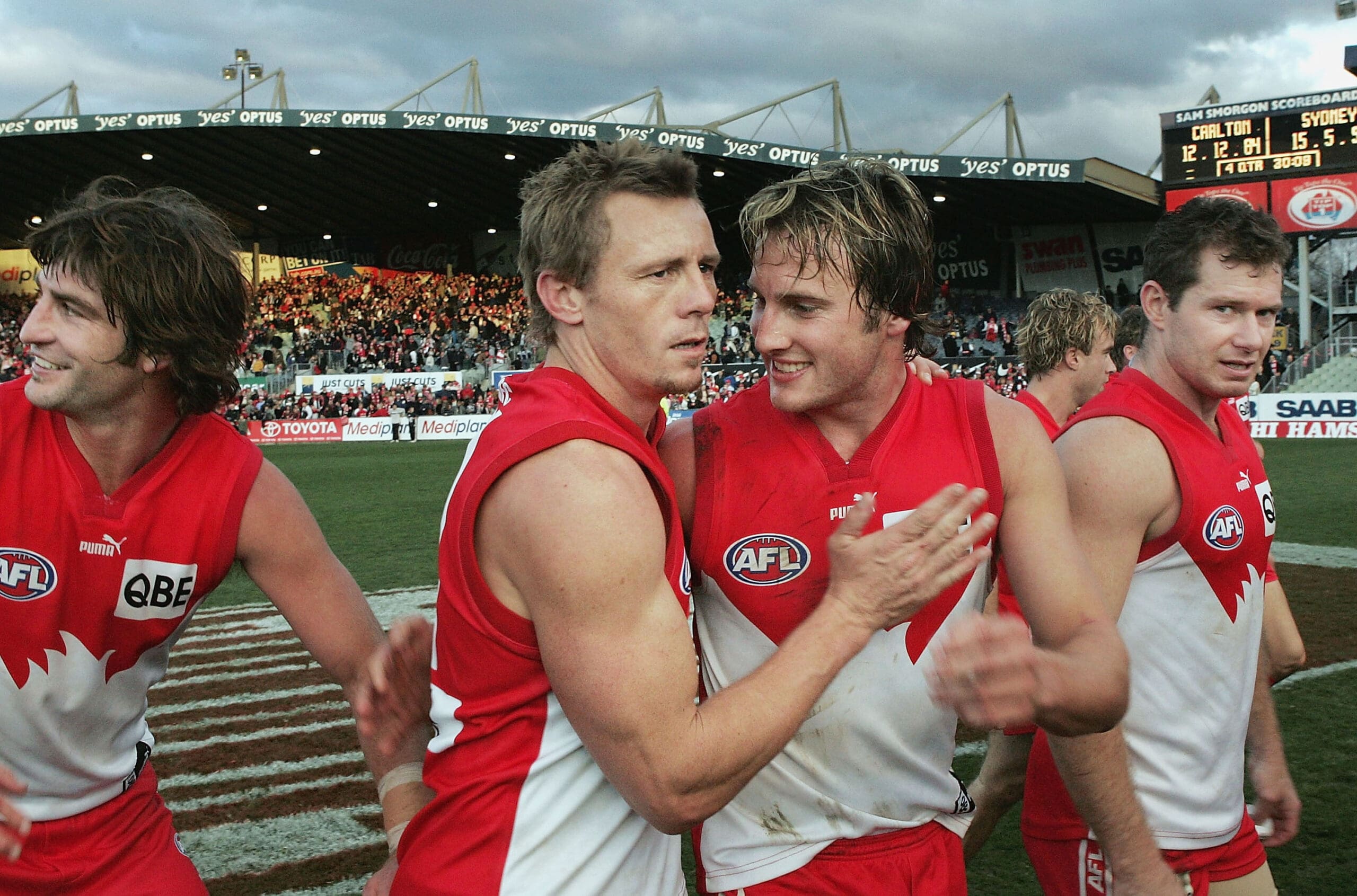 "'Stuey' was really pivotal in helping develop a culture at the footy club. He was hard and ruthless. That's not the same space that I came from, but I learned so much from him and it was what the club needed at that time," Kirk said.
"We were going along pretty mediocre there for a while, so we needed to change the standards and 'Stuey' drove that really hard. Guys underneath were pulled along and we all brought in our different styles.
"'Stuey' let it be known pretty early on that when he came to club and was a leader, we weren't going to settle for anything less."
As a remnant of the club's class of '96, it caught few by surprise when Maxfield was named as Sydney's skipper for the 2003 season.
Nevertheless, a different process was used to proclaim him.
Over 2300 days after their last grand final visit, and more than 2600 weeks since their fading flag from '33, Roos' charges took the 90-minute flight up the east coast to Coffs Harbour.
But while the temperature sat in the 30s as Andre Agassi backhanded his way to a final crown at Melbourne Park, there would be no frolicking at Emerald Beach or any choc-dipped bananas on the menu.
At the behest of Roos, himself a seven-time All-Australian who never sipped from a premiership cup, external aid was called in to empower his players and create a trademark that would redefine the perception of a club still bearing the burden of the longest drought in league football.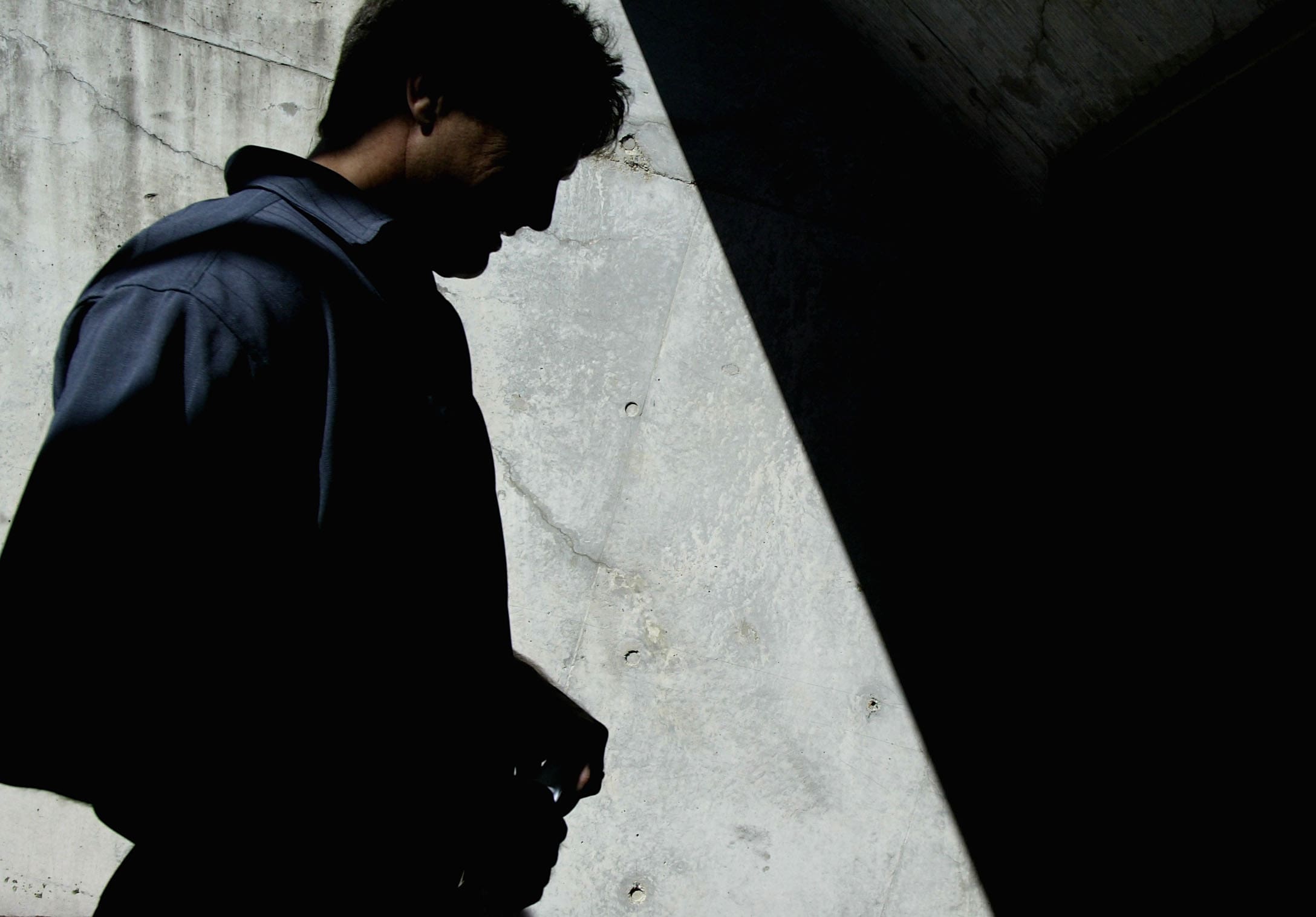 Implementing the progressive - and confronting - Leading Teams methodology, the entirety of Sydney's roster was asked to craft a blueprint of their own values and how they wished to be perceived, both by their opponents and the punters in the stands.
The deeds from the club's Lake Oval days acted as the scaffolding for the renaissance of the Bloods moniker, with those in the room subscribing to a selfless, 'no-bullshit' mantra.
While Kirk shielded the specifics of those pillars, the 45-year-old expressed that they were hardly revolutionary.
"It's a pretty simple model in terms of standing for some key things, and then having people believe in them, and the leaders driving them," Kirk said.
"The foundations of what has been put in place still carry through the club now. Obviously, with different people coming in every year, things change and evolve, as they should. But those underlying foundations of team, hard work, and contest are still really important to what Sydney's all about."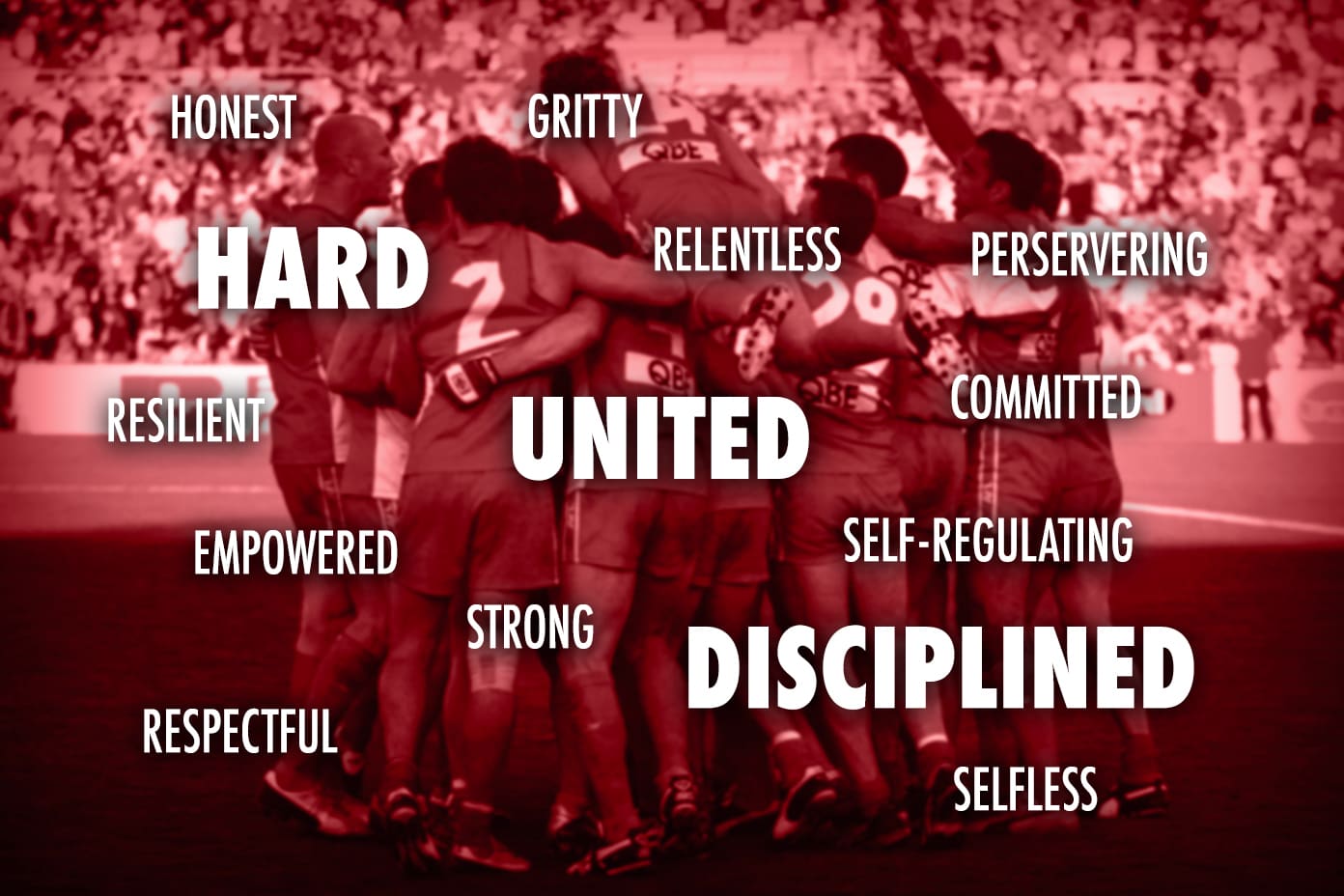 With back-to-back premiers Brisbane seen as the Bloods' aspirational benchmark, the group containing pre-peak names in O'Keefe, Barry, Goodes, and Kirk himself ranked their teammates from 1-to-40 based on how well they embodied their own traits and those of the league-leading Lions.
But just as a proverbial omelette requires eggs to be cracked, few holds were barred as the status quo gave way to brutal honesty, with many supposed stars sitting outside of the roster's top 10.
Though sessions of this nature had been trialled at other clubs, the vital tinker applied by the team who finished 11th the season prior came when Roos handed his players the keys to drive their own destiny.
"They were eye-opening initially," Kirk said of these sessions.
"All through my junior footy and my initial stages at AFL level, it was very much 'I tell, you do'. The coach was the one that made the decisions, and everyone just played their role within that."
"It was the first time that Paul Roos got up the front and said, 'this is your footy club, you decide where you take it'. It hit me between the eyes then, as that was Paul's empowerment model coming to fruition with the guidance of Leading Teams."
While the wheel lay outside of his capable hands, far from every aspect of Roos' role was delegated, with the champion defender guiding on from the passenger's seat, map book in hand with sights set on the horizon.
"As coaches, we make it very clear to the players what we want from them, so there is great communication between the coaches and the players and everyone has a full understanding of what it takes to play for the Swans," Roos divulged in 2006.
Found a @sydneyswans game review from 2004.

Fair to say Paul Roos was hammering us as a group! @AFL pic.twitter.com/6wWPLHdJed

— Jude Bolton (@Jude_Bolton) June 23, 2022
Loyal to the cause, the culture, and his coach, Kirk echoed these sentiments some 16 years later.
"The coach definitely is a big part of it. He has to believe in it as well and he's part of helping guide it," the current development instructor and game-day runner stressed.
"The most important relationships are between the coaches and the leaders. That then becomes the connection piece between the rest of the group."
With fresh routes of communication becoming clear and apparent, the old-school notion of top-down demands was discarded, with rookies green-lit to haul veterans into line.
But while a summer spent honing skills and meshing moralistically under new leadership had the Swans seeing themselves in a different light, a crucial query remained.
Could their off-field transformation translate to success on it?
Lift that noble banner high
Trudging back into the bowels of the MCG after being humbled by the Hawks, only a month into the season, Sydney's 2003 required a defibrillator.
The goodwill to round out their 2002 campaign had evaporated, with Maxfield's men consigned to the ladder's 12th rung after ambling out of the blocks at 1-3.
The bar had been set high in an attempt to mimic Leigh Matthews' pride, but as April careened into May, the Swans sat miles behind their idols from 'BrisVegas' who sat unbeaten atop the ladder with a percentage north of 120.
Faced with the prospect of another losing season and an option to prematurely sledgehammer their cultural beams - as has become custom in the decades since - the struggling Swans set their sights within, opting to build up rather than tear down.
"As a leader, you're continually just checking the pulse in terms of how things are going," Kirk said of the correction process.
"A lot is talked about setting and driving standards, so if someone is not hitting them, leaders need to be able to help them and steer them back onto the right track"
With the plug in place and the baby still bathing, a recommitment to the cause paid instant dividends, with victories over grand finalists, Collingwood, and the vaunted Lions ahead of the bye.
Though prods to the sternum, stern words, and early morning beach sessions at Maroubra have routinely proven the tonic in adjusting the trajectory of wayward Swans, chances to champion the cause are also snapped up.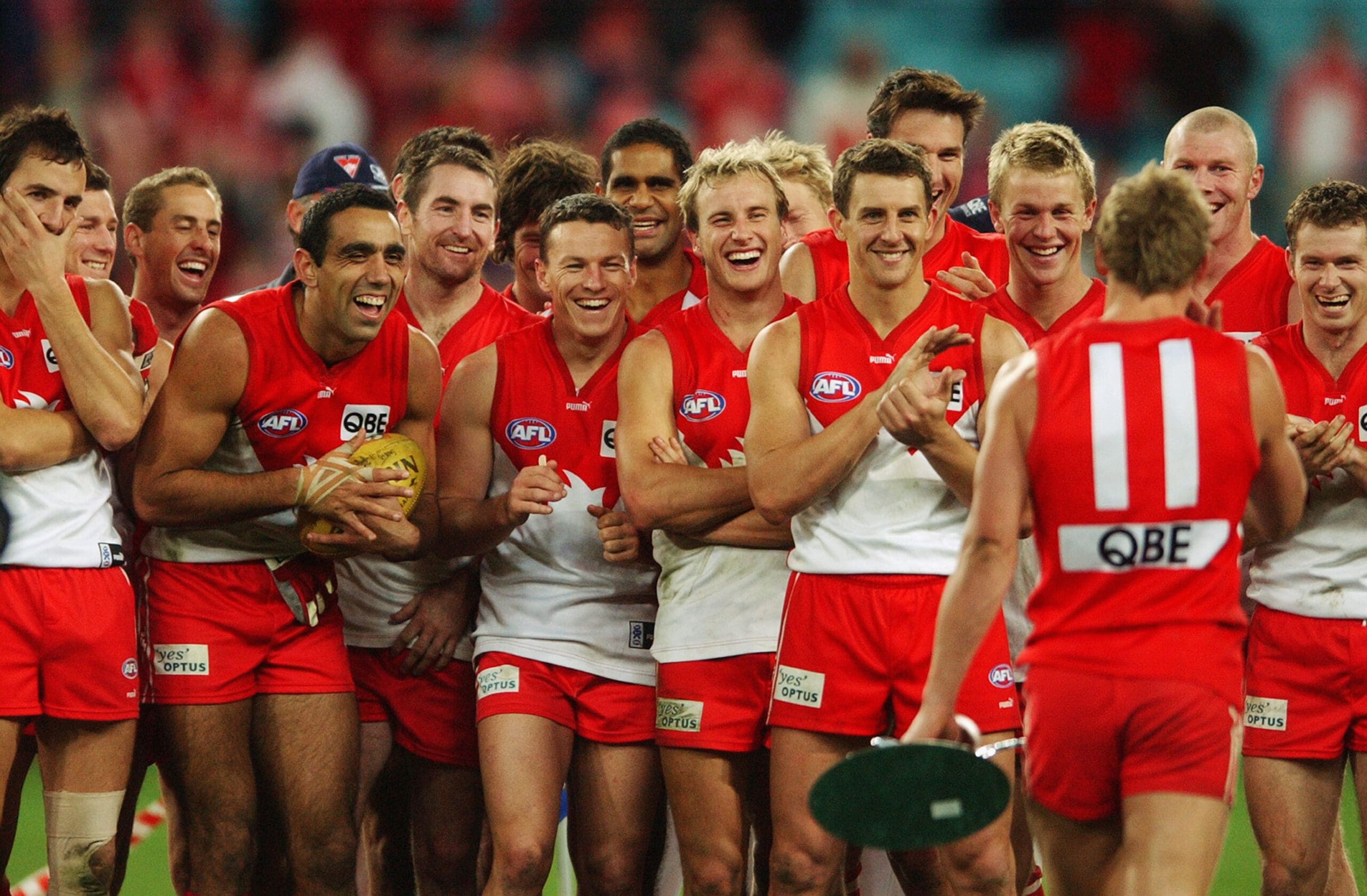 "It's also about rewarding people for doing the right things and sometimes that can be missed when you're hard, driven, and pulling people across the coals," Kirk disclosed.
"I think in this day and age, it's more about celebrating when people are doing the right things so then people want to get on board even more.
"That's what's been done really well at the moment in terms of just putting things up in lights, whether that's playing a selfless role for the team or whether it's on the training track or in the gym.
"It's something that's consistently done, and everyone just wants to be a part of it."
While most of the Swans' million-plus supporters largely miss these celebrations, trapped in their office cubicles, dreaming of the weekend, the moment in which the Bloods cemented their status played out before all to see.
As all parties are prone to, the stereo's blare will reach its crescendo, with the dancefloor anthems washing away the worries of yesterday.
And though leaned-on forward Michael O'Loughlin (hamstring) and underrated ruckman Jason Ball (shoulder) would miss out on the festivities, the Bloods' announced themselves as a genuine threat when they pipped Port Adelaide during the first qualifying final of 2003.
The significance of the win was signposted by veteran Daryn Cresswell as the sun dipped behind AAMI Stadium's since-demolished roof.
"It was a victory for the Bloods today," the Team of the Century Swan sounded. "We dug really deep, like the old South Melbourne days."
Still, as all raucous gatherings are wont to, the authorities eventually arrived to dial down the amp and stamp out the embers.
Within touching distance of their benchmark in Brisbane, and their first grand final berth of the new millennium in sight, Roos, Maxfield, Kirk, and the remainder of the Bloods' flock were blown off the Sydney Olympic Stadium turf the following week, conceding 4.6 to just 0.1 in the final quarter to inch their barren premiership run into a 71st season.
Irrespective of the hurt, the pillars remained intact and their trademark ironclad. There would also be one last post to toast when a cherubic Adam Goodes shared Brownlow Medal honours with midfield dynamos, Nathan Buckley and Mark Ricciuto.
A champion then. A champion still.
While some ground would be lost in 2004, a prophetic elimination final win over West Coast saw the Swans win games in successive Septembers for the first time since 1936. However, the tables would be turned when travelling south to face St Kilda on semi-final night.
Yet, for a team with unparalleled belief and a locker room of stars launching into their primes, the ugly ducklings of yore were no more.
After an off-season spent reconvening, familiar writing was etched on the Bloods' four walls, only this time a casualty was claimed.
Struck down to 12th with a 2-4 record and with Stuart Maxfield's career closing after his knee called time involuntarily, the pillars felt the squad's weight again and new names were drawn on to drive them.
As the first team to introduce the term 'leadership group' to the league's lexicon, the notion of operating with several skippers was as foreign to the Swans then as it is now. In Maxfield's absence, Kirk was passed the baton, sharing the sprint through the home-and-away season with 'Leaping' Leo Barry and 'Bustling' Barry Hall.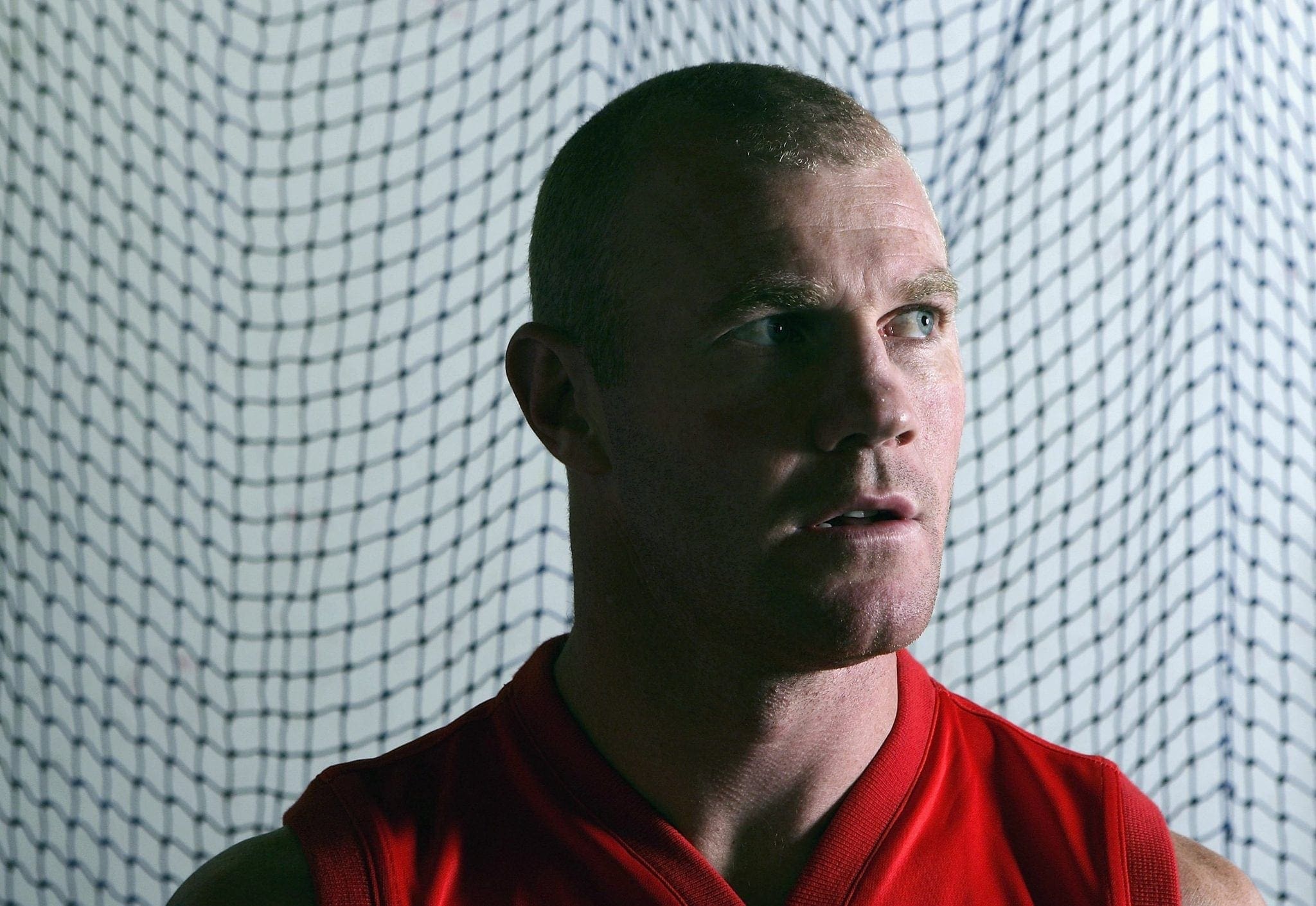 Like B.A Baracus and his A-Team, Sydney's special forces unit had every base covered when it came to personality and credentials.
In the same vein as Maxfield, Hall led from the front, bringing brawn up forward, with Barry acting as the brains down back. In Kirk - a devout Buddhist - walking in step with his own beopgo drum, the Swans had access to a skipper with a softer touch.
"I grew up more of a follower and I was less confrontational. I had emotional intelligence and the ability to be able to support and care for people. However, I needed to have a harder edge about me, and eventually, I was able to balance both of those out," Kirk said of the call-up.
"In spending time with 'Stuey' in conversations and meetings, that broadened me as a leader, because you need to have a good balance of both."
In the wake of the impromptu promotions, Sydney's form spun on a die, stringing 13 wins from 16 starts between the start of May and the end of August. Back in the upper echelons of the eight, the Bloods' double-chance, married with their 'never say die' bond, gave birth to a September to remember.
A late Adam Hunter hanger, and the diving talons of David Wirrpanda denied them during week one over west.
Nick Davis, more phoenix than Swan with his four late goals, came to save them famously in the semi.
A three-quarter time deficit was no match for the Swans pluck, as they pasted the Saints with seven goals to none in the last stanza of a punishing preliminary final.
At half-time of the decider, the Bloods had bounded out to a 20-point lead, and their band of cagey barrackers were daring to dream. Yet, with a cardinal-sinning slice across goal and the Eagles accelerating, Sydney's lead vanished along with fingernails on both sides of the border.
Ruthless, relentless, and allergic to bullshit, Maxfield's marque was picked up by the new guard, with Hall goaling from outside the arc, Kirk diving into spaces Bloodstained Angels feared to tread, and Barry ultimately plucking the cup from the clouds, bringing with it a deluge strong enough to wash away 72 long years of heartache.
When his number was called to claim his medal on the dais, Kirk capped the day with a cry, tugging at his grass-stained guernsey. No hint of artificial toil in sight.
"This is for the Bloods."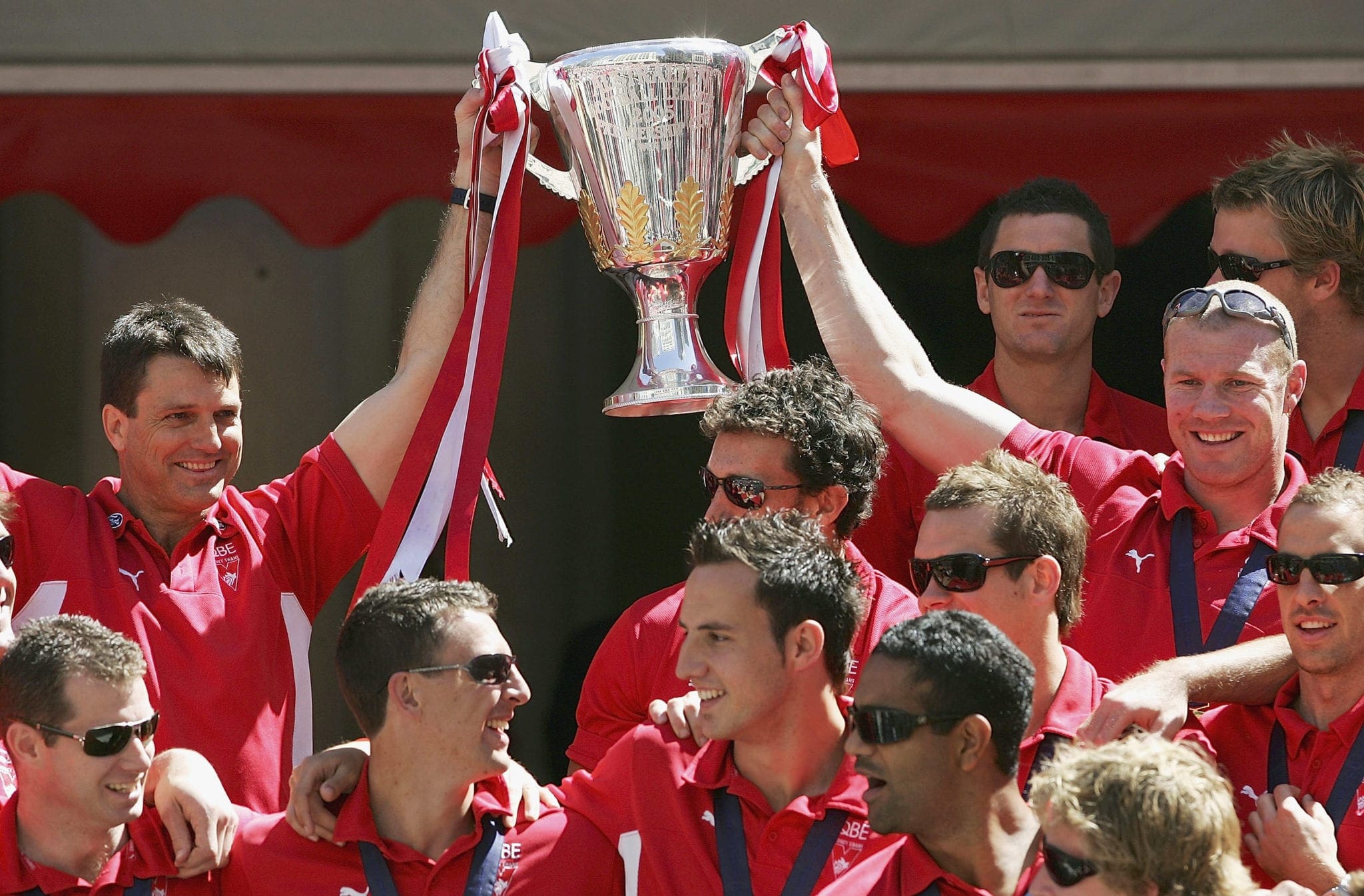 Within a 2014 piece for The Guardian, premiership Swan Luke Ablett cracked the window open further, musing that the solidification of Sydney's culture lay in the rewards it reaped.
"If the group of team-mates I played with hadn't changed at Stuart Maxfield and others' urging in 2003, or if the 2005 season had continued the way it was going after a 1-3 start, then 'The Bloods' wouldn't have lasted very long," Ablett penned five years after retiring.
"It might have lasted three years, and people would have said, "Well, that wasn't the right way to do things". So ultimately these things are defined and reinforced by the successes they bring."
With their fourth cup finally in the cabinet, a heartbreaking miss twelve months later and a fifth gathered in 2012, Sydney's red and white blueprint of challenging one another to conquer opponents was rooted in having the group at the forefront of all minds.
But what then of the individuals set in their ways and resistant to critique?
What of the dissenters, the freethinkers, the oddballs, and the mavericks?
Is there room for these non-conformists within a locker room marked by its team-first mantra?
Shake down the thunder
With his ever-morphing haircuts, pioneering sleeve tattoo, and checkered rap sheet, Peter Everitt made himself hard to miss.
Though the ruckman's skillset had seen him earn All-Australian honours on three occasions - as well as pair of best and fairests as a Saint and Hawk - the man known as 'Spida' had also fallen foul of the league's vilification laws twice before the turn of the century.
By the completion of the 2006 season, several elements of the Bloods' trademark had become household knowledge, with much made of the club's hard and fast 'no dickheads' policy.
So, how was it that a 31-year-old with Australia's most eccentric barber and a history of crossing boundaries was deemed a must-have for a side with such fixed morals?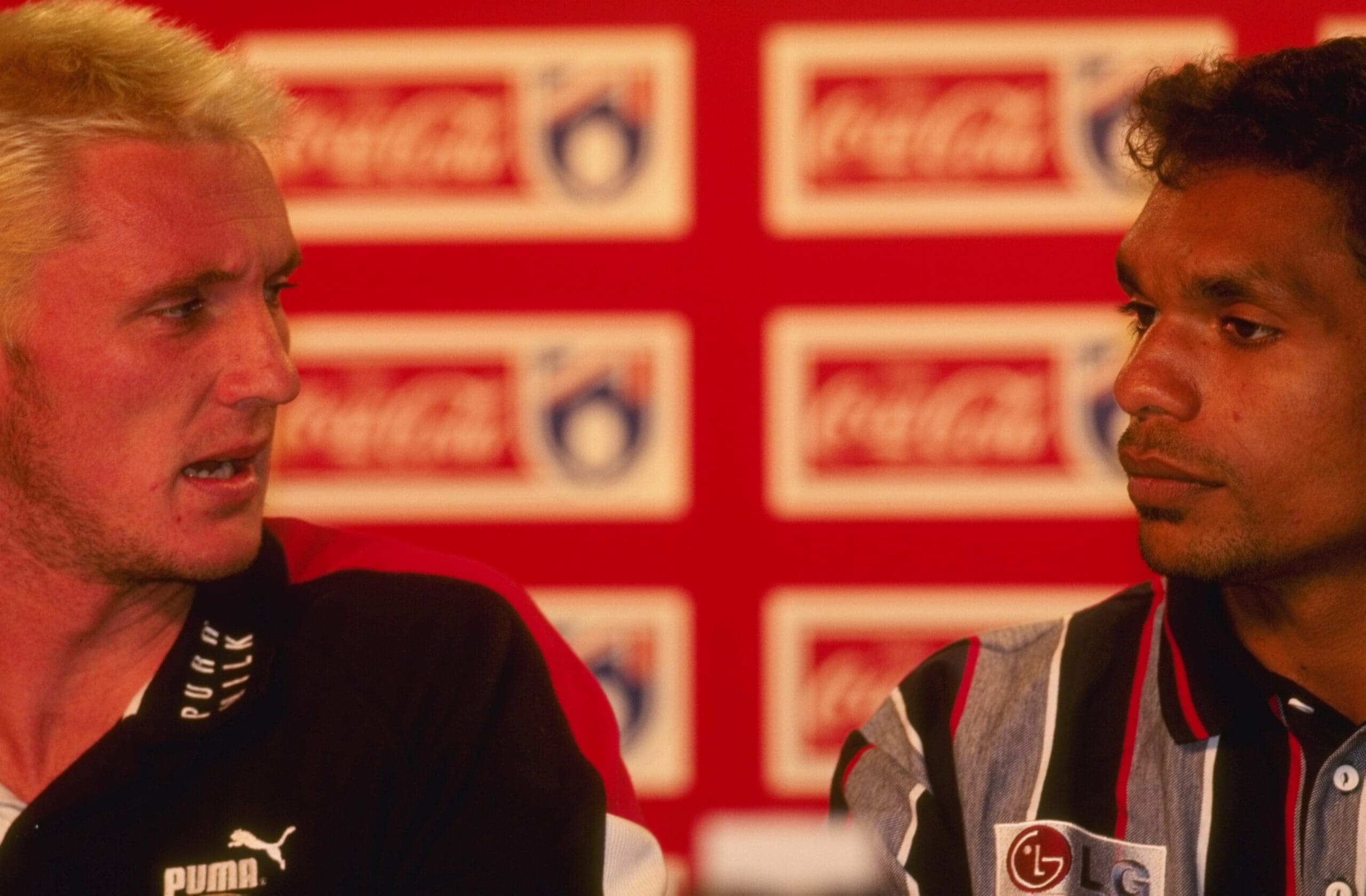 "I remember reading an article that Peter FitzSimons wrote saying, 'I don't know why they've picked up 'Spida' because they've got a no dickheads policy'," Everitt explained to Zero Hanger.
"He apologized to me about two years later."
Since the construction of the cultural contract in Coffs Harbour, a slew of Swans had been chewed up and spat out after failing to adhere to standards. And though no riot act was read after landing in Sydney, the laws of the land were spelled out to 'Spida'.
"I remember 'Roosy' picking me up from the airport and talking me through the club itself, about the team and what my role and responsibilities were," Everitt explained.
"You don't sit down and study an exam, but you just talk through the expectations of the individual and what it means to play in Sydney, as well as what the differences are compared to the rest of the competition."
With the peroxide shelved, opting for a business-like buzzcut instead, although Everitt's image had been muted, his individuality wasn't, with Sydney's core allowing for fun to creep between the graft.
"The hair and the tattoos, they bring you notoriety, but they also force you to deliver," he admitted.
"By the time I got to Sydney, I was very content with my role and what I could do. I think if I had gone there in the early 90s, when things were a bit affray in certain areas of my life, I probably would have been hampered.
"Sydney still had their individuals. Nick Davis was still able to be an individual. They still had their players of individuality, but more importantly, when it came to team time, they were still able to deliver. I think we saw that at Brisbane with 'Aker' (Jason Akermanis)."
Everitt happily claimed that Sydney's system was the best he had seen during his 16 years at the level, stressing that the structure suited his sensibilities down to the ground.
"As they say, a fish rots from the head down. But at Sydney, with Richard Colless (former chairman) and Andrew Ireland (former GM of Football) and Paul Roos, what I loved about it, and still talk about today, was that they all played their roles to make the club better," Everitt asserted.
"'Roosy' was there to coach, and that's what he did. Andrew Ireland was there to build a team, and that's what he did. Richard Colless was there to overlook the whole football club, and that's what he did.
"That's what I loved. That's what I learned about. A football club needs everybody on the same page at the same time."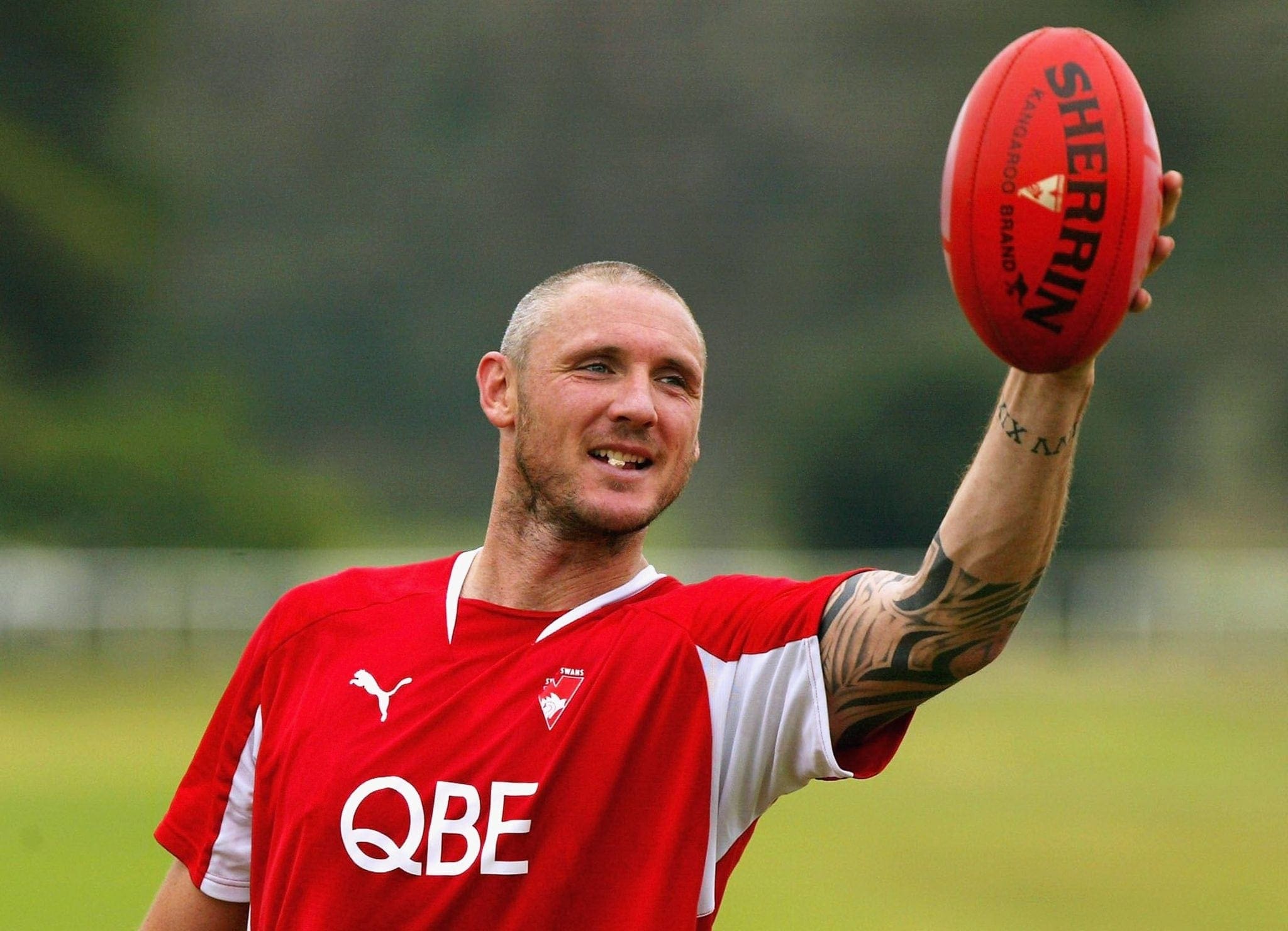 Despite the permanency of the ink adorning his left wing, Everitt's thinning follicles showed that the sands of time could not be stilled. And with success eluding him throughout his stays at Moorabbin and Glenferrie, the towering tap-man was happy to wear brutal feedback in a trade for more agency across his final winters.
"You see clubs at the moment really struggle when the game changes, but Sydney never do. They're able to adapt," the 48-year-old revealed.
"What I like the most is that players will pull other players up on the ground and players will keep going and just accept the criticism. You see other clubs individually fight and abuse each other back, whereas Sydney players understand that it's a role for the team and that's what needs to be done."
Now 14 years removed from the AFL's rigours, wing sprints, diets, and skin-folds no longer play a role in Everitt's life as a breakfast radio host. However, in testament to the strength of Sydney's construction, their pillars still prop him up, in and out of the booth.
"Without football, I don't know what I'd be doing," he proclaimed.
"Today, I do breaky radio and the pillars all apply. It confuses me why we can have a 10 o'clock meeting and people walk in at five past. I'm like, 'hey, we started five minutes ago'.
"Be at work early, get prepared, have everything ready, I think football, and the way it was structured around my life, has definitely helped me today. There's absolutely no doubt about that.
"I love it. I absolutely love it. I've been able to influence people at work with what I've learned in football and from the Swans as well.
"Football can be very cut-throat as you tend to get a lot of honest feedback, but I reckon workplaces could probably take some that on at times. If people took it the right way, so many businesses would be doing so much better."
The culture of calling others into line even worked for the more bohemian of heart, mind, and soul.
Within his unflinchingly frank debut tome, 28: A Memoir of Football, Addiction, Art, Masculinity and Love, former Swans utility Brandon Jack provided his own read on Sydney's cultural refrain, in amongst anecdotes of loose drinking sessions, Kings Cross commotions and red light sexcapades.
"Every football club tries to con itself into thinking that they work harder than everyone else. So, I write these next few words with both conviction and a grin: there was a culture at the Swans around hard work that I'm confident was unmatched in the competition."

"When guys from other clubs joined our list, they'd always remark on how tough our pre-season sessions were, and we'd take pride in that."
Jack's new-age status as an athletic empath is confirmed across the course of his nigh-on 300 pages, but throughout his five seasons at Moore Park, he too participated in a system which, at times, toed a dangerous line.
"Within the playing group, there was this bloodthirsty hunger and drive that to an outsider would border on bullying, such was the intensity with which things were demanded from you. But as insiders, we liked how stoic we could be as we repeatedly told ourselves that we were hard on each other because we wanted to get better, and because we cared."
Still, for the author and muso, now half a decade out of the system, the Bloods' trademark still rings true in his new life, one spent with a pen or plectrum in hand.
"I had a red sheet of paper with the Bloods trademark printed on it taped to the back of my locker, as well as on the wall above my bed, and I could still recite it to you word for word today because it became the epicentre of my entire universe during those years.

"My old diaries are filled with the constant tinkering of my own personal trademark which was a trickle down of the Bloods mantra. Three words (hard, disciplined, united), repeated time and time again, always burning into my brain, telling me who I hoped to be."

Down the Paul Kelly race, a premium has always been placed on being respected over being liked.
But within a routinely developing locker room, often fleshed out with unique individuals, these birds of a different feather weren't dipped white and forced to swim in line. At least not off the field.
While her loyal sons are marching
With wins over the Dogs, Dockers, Crows, Giants, Roos, Pies, and Saints, Sydney entered September on the back of seven straight victories.
A victory over the reigning premiers Melbourne at the MCG followed in the first week, with the remaining finals contenders certainly not jumping for joy at the prospect of facing John Longmire's side, given their sterling skills on both sides of the ball.
But what is it that stands Sydney apart from those left in the race? How do their constantly evolving groups continue to see success on the run whilst failing to cede ground in the aorta of rugby league country?
For the recently recuperated Paddy McCartin, the catalyst lies in a camaraderie born of circumstance.
"I think it's just the connection," the former Saint told Fox Footy of the group's bond.
"The biggest thing I find about Sydney compared to Melbourne is that there's not many people that are from Sydney. A lot of people are from interstate.
"They come to Sydney as young men and all they've got is each other, so there's just this connection amongst the group."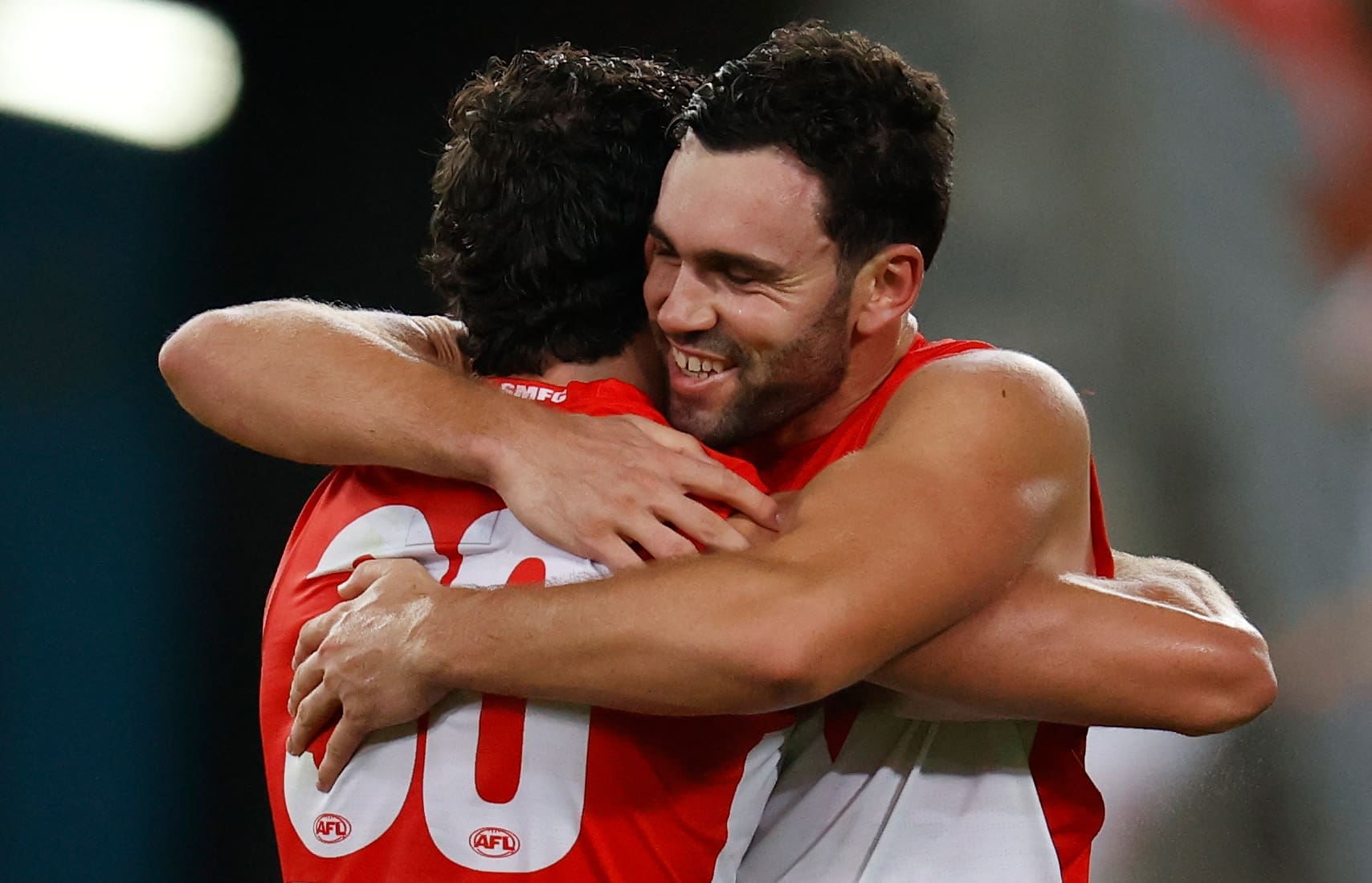 Akin to the Melbourne Storm across the code line, this ability to allow displaced youngsters space to chase individual dreams as a collective has provided intoxicating highs, played out in near anonymity.
Both modern families can also lay claim to having the best possible foster fathers on offer, with Longmire's country style of splitting work and play matched by Craig Bellamy's similar principles, forged during his own childhood spent in the Central Tablelands of New South Wales.
Sydney's proficiency in keeping their young Bloods in each other's company via their own housing program had paid untold dividends, with structure and familiarity flowing from the kitchen to the coalface.
Though opposition fans are prone to howling over the quality streamlined through the doors from the Swans' Academy, at present, just 12 players on the club's 45-man roster have roots in the baby blue state. And, of this collective, only 8 have tasted senior action throughout the 2022 season.
Still, for the majority of the roster, drawn to Moore Park from all over the continent, there are streetwise chaperones available to them, two of whom lead the pack on the park.
As a kid, Callum Mills watched many of his current teammates from the SCG's Brewongle Stand, bracketing treks from the North Shore to the cricket ground with game-day dinners in Darlinghurst.
As a teenager, the redhead played the young contrarian. The only name is his year nine class that preferred kicking a Sherrin over spinning a Steeden.
As a 24-year-old, the leather-poisoned midfielder ascended to the top of Longmire's class, becoming the eighth New South Welshman to skipper the Swans, following in the footsteps of Carroll, Kelly, Kirk, Barry, McVeigh, Jack, and current collaborator, Dane Rampe.
Inside a system designed to elevate performance and reward those that raise the bar, Mills' ascent to armband status seemed inevitable, especially when the notion of 'passing the baton' between leaders has served the Swans so well this century.
Having learned the ropes from names that adorned his bedroom walls, the Brownlow fancy's chance to live out his childhood dream at his boyhood club is a thought tattooed on his frontal lobe.
"It's been enjoyable," Mills told Zero Hanger following Sydney's Round 23 win over St Kilda.
"The back end of the year has been good after getting a few wins on the board, but I've really loved it."
Despite the 14-point win, the skipper's joy remained restrained, and so too were his words, due to the hullabaloo dominating the air in Marvel Stadium's away sheds.
Still, for Mills, the acapella renditions of Scouse football songs and Celtic folk hits reverberating around the rooms were a microcosmic representation of his group's greatest strength.
"It's the energy that we bring and how united we are," Mills offered amongst the off-key warbling.
"We're just looking forward to being able to get out there in September because we were pretty disappointed in how it all ended last year. We're ready and we're really looking forward to it."
Mills' ability to roll smoothly through contests and proven proficiency behind the ball in years gone by has seen him blossom into a near-perfect mesh of his fellow leaders. With Luke Parker's brute strength and Rampe's rebounding at the core of their captaincy, how does Mills' methodology work in?
"I don't think it's necessarily different, I just think we complement each other, and the dynamics have worked really well together this year," the junior leg of the tripod declared.
Content to play a straight bat on the matter, for a clearer articulation on Mills' aptitude, we went straight to the Horse's mouth.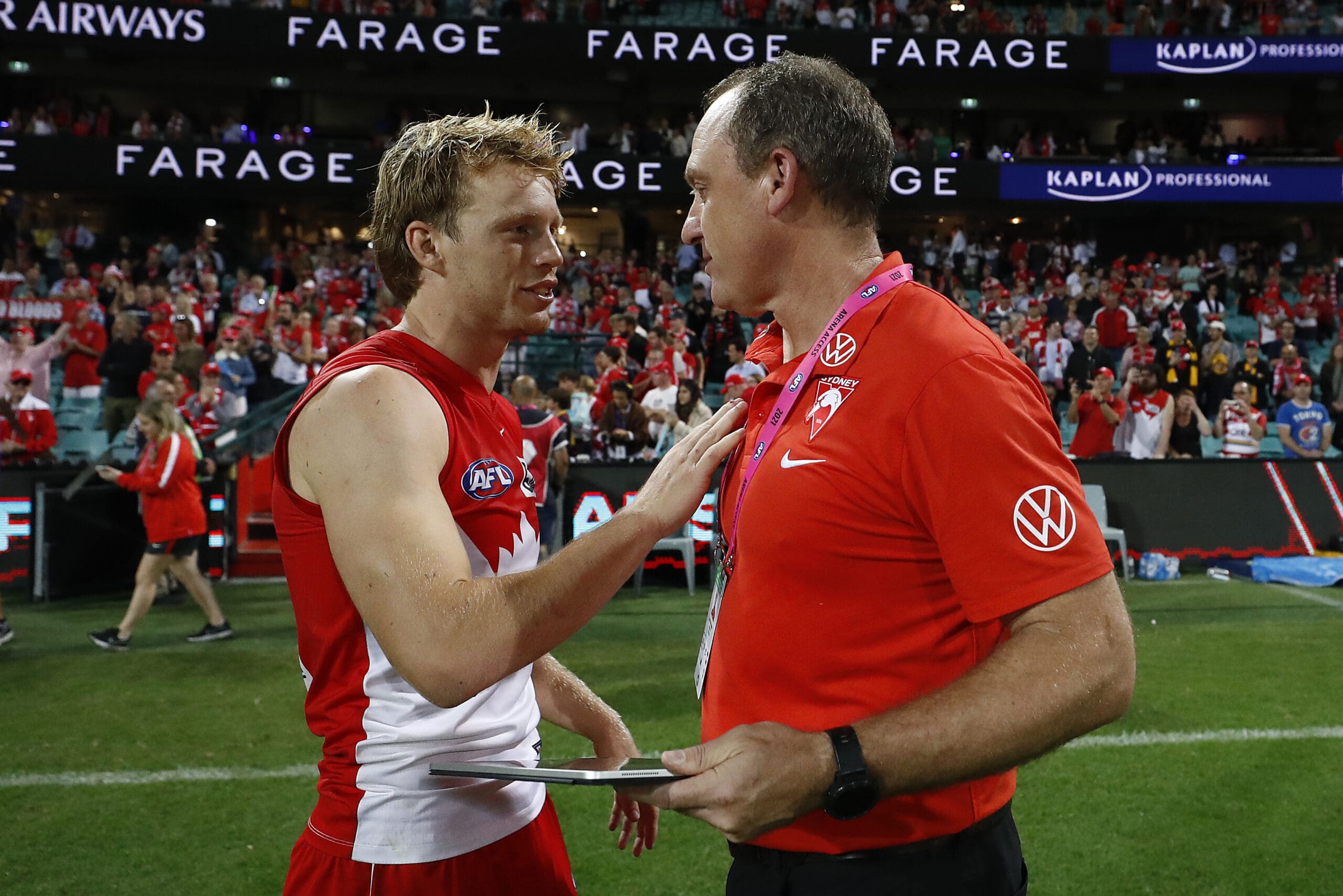 "He's (Mills) been fantastic (but that's) not a surprise," Longmire told Zero Hanger ahead of the finals.
"He works hard. He works hard at his game. He's a really good two-way midfielder. He's still growing into his leadership and he's enjoying it. He's had a good year. A really good year."
When pressed on whether it was action rather than words that defined Mills on-field, Longmire was quick to expand on the 25-year-old's versatility.
"Oh no, he does both. He's always been that way," the premiership steward said.
"From the moment he was a young bloke, he's always been happy to put his opinion forward and that's why we love him. He's got a good balance. He knows when to be one of the lads and enjoy himself and have a good laugh, but then he knows when to drive standards. He's also very good in that space."
In spite of his recent retirement, made in the wake of his latest hamstring setback, veteran Blood, Josh Kennedy, is still holding on to hope for one last shot at September glory.
But with the likelihood that his finish line has already been crossed, the champion's selfless choice to run the rod through to a worthy recipient is as on-brand for a warrior all too happy to bleed for the cause.
Just where the Bloods' new barometer eventually ends his own run is now at his own studded soles.
Onwards to victory
Throughout this pursuit to tap into the Bloods' vein, consistent messages on trademarks were routinely conveyed.
So too an apprehension for predicting the future.
In spite of this coyness to share what lies inside their crystal ball, long-term supporters can take solace that the future is likely to resemble the recent past.
Now 40 years since South Melbourne remade themselves up north, the growing pains of yesteryear have given way to an expanding trophy cabinet and a fanbase adept at reading precision plays from stars right across the park.
Still, nothing worth doing comes easy, with bad cheques, sorry seasons, and pink sportscars punctuating the years before an eventual breakthrough.
But what is the key to Sydney's sustained success?
In short, it's an unflinching unity forged after striding a multitude of avenues.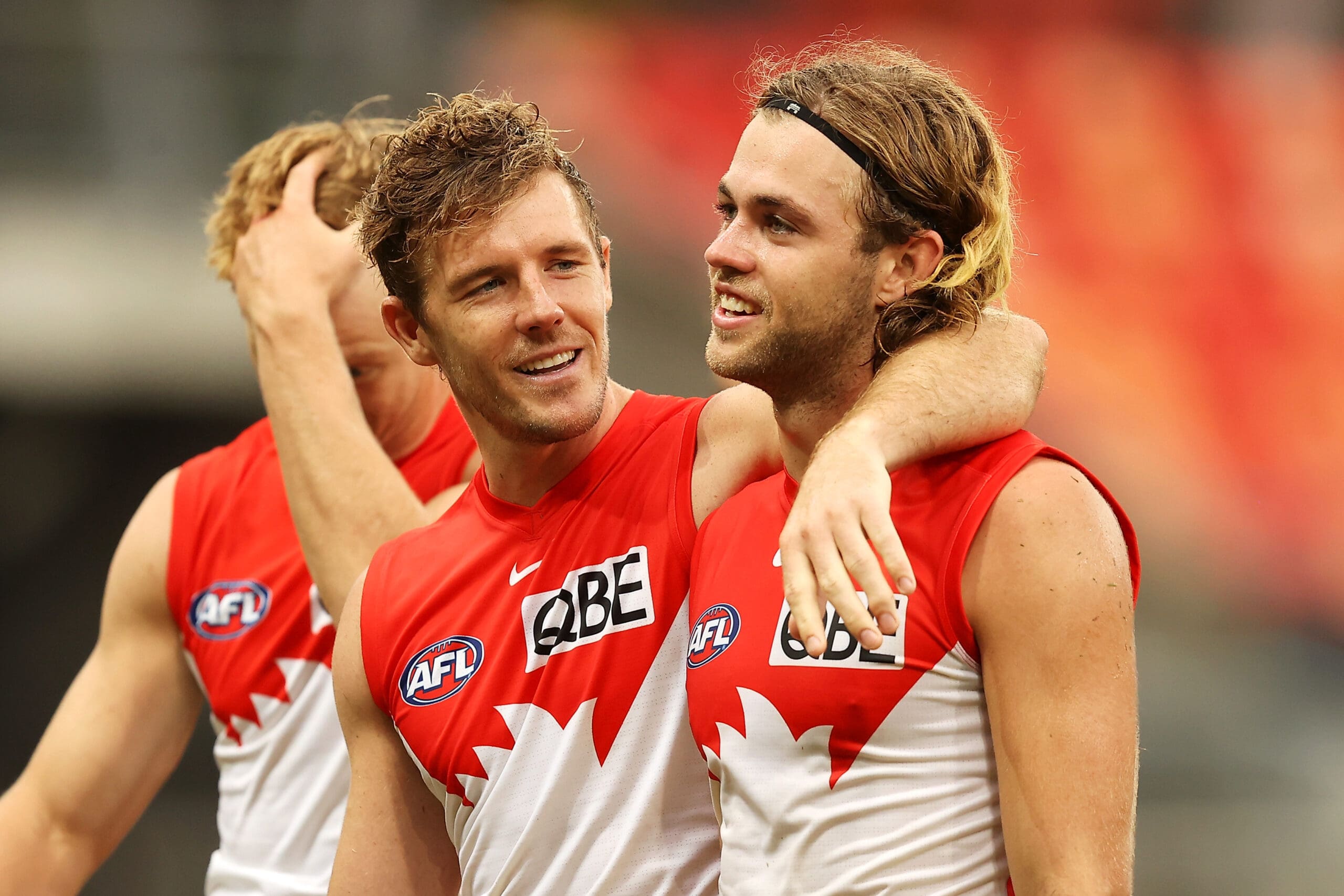 The Bloods have an ethos of togetherness.
A cultural credo. A bind. A collective struggle, goal and triumph.
And, while their system is often convoluted by the minds of the masses, it remains simple enough for those made to ingest it.
Teams of the past have shared before. Sometimes words. Sometimes aims. Sometimes partners. Sometimes cells. But for the Bloods, a line between glory and pain; work and play has scored and straddled.
In this age where studio executives only wager on safe bets and predictable plotlines, the Swans act as the AFL's equivalent. Still, that's not to say there is no action or flare; no imagination or dare. It's just that their predictability to one another has become the norm.
Their deeds define them, both on and away from the SCG's confines. Their values tie them too. A vow has been made to be their best by doing their best.
This promise is permanent.
It's a blood oath.