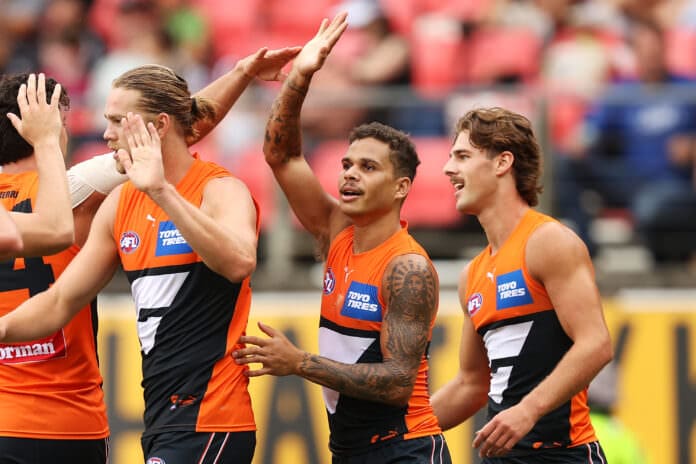 Despite the fact that their 3-8 start to the season is sure to have spirits sitting low in the west of the Harbour City, the brief return of Bobby Hill to the Giants' fold on Friday was sure to have buoyed the club's collective mood.
After GWS announced that Hill would be taking a protracted leave of absence after the 22-year-old was diagnosed with testicular cancer last month, the Western Australian went under the knife last week.
And while further time away from Mark McVeigh's percussion remains on the cards, Hill was able to make a short appearance at the Giants' headquarters ahead of their date with North Melbourne on Sunday.
Speaking in the wake of the livewire's drop-in, former skipper Callan Ward claimed Hill was in "good spirits" despite his serious setback.
"His surgery went really well and he's in really good spirits," Ward told the media on Friday.
"I think he'll spend a couple of weeks away from the football club but he has a big smile on his face and it's great to see him here today."
As reported by AAP, given Hill has been told to reduce his chances of perspiring due to his surgical wounds, it is unlikely that he will spend any time on the training track at any stage soon.
Still, with the ability to commence weights and cross-training as soon as July, Hill may yet return to McVeigh's senior side before the cessation of the home-and-away season.
Yet, in Ward's eyes, the bigger picture was all that mattered when thinking of the future.
"In terms of a return to play, at the moment I don't think it really matters for him," Ward said.
"He's trying to get everything else right and when that will be, it will be."
Having played in each of the Giants' opening 11 fixtures, Hill has re-staked his claim in the expansion franchise's forward line after seeking a trade away from Tom Wills Oval at the end of 2021.
However, with the cousin of St Kilda's Bradley Hill set to complete his current contract at the end of the 2022 campaign, it is not yet known whether a similar request will be entered again.
Both Essendon and Collingwood were willing to offer Hill a deal to fly south and ply his trade during the 2021 AFL Trade Period. It is also unknown whether the pair of Victorian powerhouses will extend kindred contracts 12 months after the fact.
The Giants and Roos will do battle at Marvel Stadium at 3:20pm (AEST) on Sunday in what could well be the most sparsely attended fixture in the stadium's 23-year history.