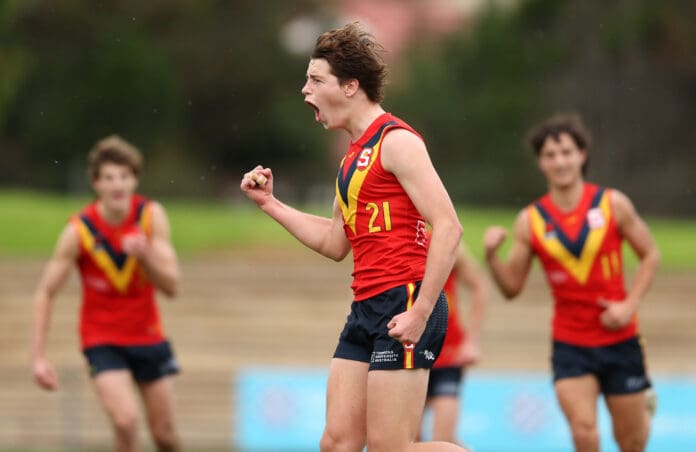 Blue-chip South Australian prospect Mattaes Phillipou has stressed that he wishes to become a one-club player, stating that lessons learned from NBA legends have only strengthened his desire.
As a midfield-forward hybrid in the mould of Bulldogs superstar Marcus Bontempelli, Phillipou is expected to be selected with a top 10 pick at this month's national draft.
Across the course of his 2022 campaign for Woodville-West Torrens at the Under-18 level, the 192cm talent averaged 28 touches and a goal-and-a-half each week. And though an ankle injury in August would eventually curtail Phillipou's output, the 17-year-old's influence was plain to see for all AFL suitors.
Speaking to Sportsday SA, Phillipou revealed that while he had spoken to 17 of 18 AFL clubs ahead of draft night, the side that eventually calls his name will be able to call on his services for some time.
"I've always been a guy that's wanted to go to one club and have a long career there," Phillipou said.
"I've studied Kobe Bryant and Michael Jordan quite heavily coming through, being a basketball guy, looking at those two characters they're very loyal and that's how I aspire to be like with whichever club I get drafted to.
"I see myself taking an opportunity interstate and then staying there for a very long time."
SEE ALSO: AFL Draft Profile - Mattaes Phillipou
Phillipou's comments come in the wake of Jason Horne-Francis' defection from Arden Street to Alberton after spending just a single season as a Kangaroo.
Intriguingly, the South Australian also professed that his heart lay with the Power when Showdowns rolled around in the City of Churches.
"I barrack for Port, I got a message from Robbie Gray today which was pretty surreal, just encouraging me, showing a bit of support which was unreal," the teenager added.
"Whoever I get to will be the team I want to go to, at the moment I don't really know where that's going to be, so we'll have to find out."
Though Jordan's loyalty to the Chicago Bulls' cause between 1984-1993 and 1995-1998 has clearly piqued Phillipou's interest, the six-time champion's return as a Washington Wizard for three seasons in the early 2000s must also be noted.
Still, as the eye-catching talent was still months away from being born when 'MJ' eventually hung up his signature sneakers for good in 2003, all can be forgiven.
The 2022 AFL Draft is set to be held across two days, commencing on Monday, 28 November, and concluding on Tuesday, 29 November.