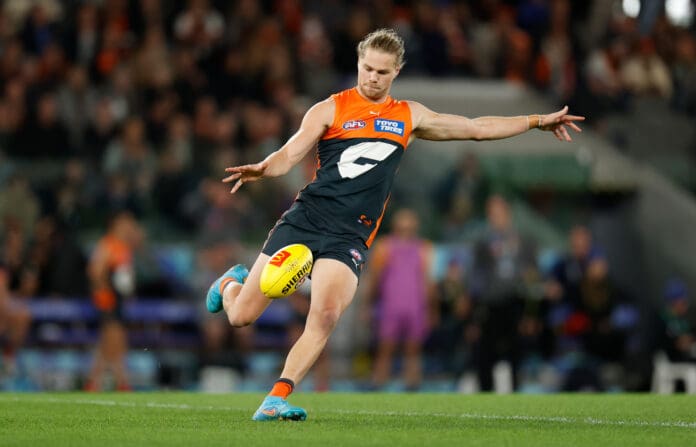 Collingwood have emerged as the latest rival club linked to GWS free agent Harry Himmelberg, who is seen more likely to leave the Giants than re-sign with the club for 2024.
Himmelberg has already gained reported suitors in Richmond, Sydney and Brisbane this year as he weighs up his future in the Harbour City, being one of seven restricted free agents in the AFL in 2023.
The versatile key position talent would be a tempting asset for clubs to consider moving on given his ability to hold down a role comfortably at either end of the field, with the Tigers likely seeing Himmelberg as an answer to life after Jack Riewoldt in attack, while the Swans and Lion could call on the Canberra junior to aid their defensive woes.
The Giants have labelled Himmelberg as an "enormous priority" for their retention plans for the future, however a deal is yet to be signed after the 27-year-old hit pause on contract talks through the early periods of this season.
While Himmelberg is seen to be treading water as the end of his contract nears its expiry, Collingwood have been named as the latest club showing some level of interest in the 195cm swingman.
Speaking on the Tradies Podcast, journalist Sam McClure said the Pies are also in consideration, but are likely coming to the table with a shorter offer than the likes of Richmond or Sydney.
"We can add Collingwood to the mix as well," McClure said on the Himmelberg race.
"Collingwood might have to move a few things around, and we know they went after and got Dan McStay last year. We know they're not the same player, but not dissimilar.
"Given (they've got) Howe, Murphy, Moore and Frampton down back, you would think if they're going after Himmelberg it would be as a forward.
"Himmelberg just makes sense at Collingwood because he's an excellent kick, a good decision make and he's versatile. What we know about Craig McRae is that he loves versatility with his players. There's so many players that can add so many elements to Collingwood's game.
"I don't think they're going to be as potentially high-paying as some of the other teams that are interested in Himmelberg, but right now the aura surrounding Collingwood is worth something more than money per year."
As recently as last week the Giants expressed their confidence in retaining Himmelberg beyond this season, with the club's Academy graduate seen to be satisfied with life in Sydney's west.
According to McClure, while Himmelberg is happy in the orange and charcoal, there is a view he is more likely to depart at season's end, with Richmond seen as the leading landing spot for his services.
"Don't discount the Giants, he's happy there. He's happy where he's living," McClure said.
"He's always been a Giant, but I would have him more likely to go than stay. I still think he'll go, but the Giants aren't completely without hope.
"... I'd have Richmond one, Sydney two and Collingwood three (for ranking the interest clubs). But very much a moveable feast week to week."
Himmelberg has played 138 games for the Giants since making his debut in 2016, booting 159 goals.