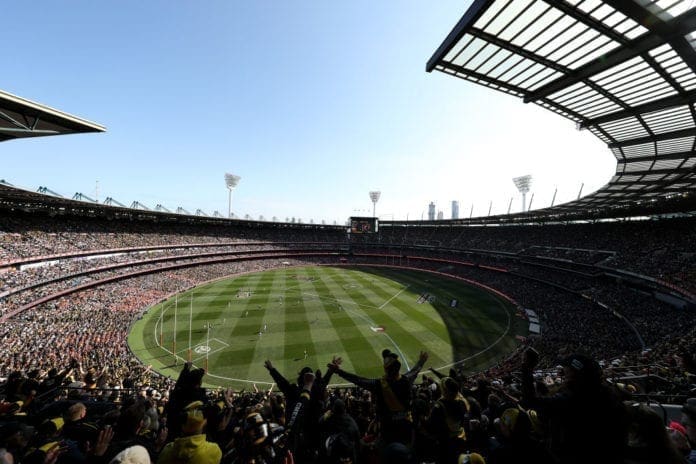 Newshound Tom Browne has reported that the AFL will confirm a twilight Grand Final as it returns to its traditional home at the MCG.
With two separate lockdowns in 2020 and 2021 forcing the Grand Final interstate, the AFL opted to trial night and twilight kick-offs at the Gabba and Optus Stadium respectively.
Those trials look to have confirmed to the AFL that a later timeslot is the way to go.
Browne reports that the AFL Commission will meet on Wednesday to make the historic decision, and is expected to "rubber-stamp" a twilight Grand Final.
The starting time of the AFL's most sacred of games has been an enormously controversial topic since murmurs emerged of a goal to push the game to night-time.
Outgoing AFL CEO Gillon McLachlan has said as long ago as 2016 that a twilight Grand Final is "inevitable" as the AFL looks to cash in on the prime-time evening slot.
McLachlan lauded the 2021 twilight Grand Final as "spectacular", but confirmed that the AFL would do its due diligence in regards to the MCG, with strong pushback to the prospect of moving the traditional starting time.
In a statement in April, the AFL Fans Association affirmed their support for a day Grand Final, after a Twitter poll run by the Association saw nearly 80% of responses supporting a day Grand Final while only 20% favoured a change in tradition.
What time should this year's #AFL Grand Final be played?
Cast your vote and tell us why in the comments. 👇

— AFL Fans Association (@FansAFL) April 14, 2022
"Most fans want a day Grand Final, which has worked well for many years," said AFL Fans Association Cheryl Critchley in a statement by the Association.
"The build-up and atmosphere at the ground and in private parties around Australia are part of what makes footy unique."
The AFL commission are expected to meet as early as next Wednesday to approve the timeslot for the 2022 AFL Grand Final.