Since the very first National Draft held on November 26, 1986, some of the game's greatest names have earned their starts following the abolishment of the VFL's zoning system and the capping of unfettered player purchases.
With the AFL Draft rewarding lesser teams with greater talents, the league is no longer seen as a two or three-horse race, as clubs of every level are able to obtain future stars without having to break the bank.
While this time of the year usually sees mock lists and re-drafts flooding social media feeds right up until the first selection is made, we here at Zero Hanger have decided to take a different tack.
Rather than ponder how each of the league's 18-sides will be using their current hands this month, we have attempted to create the Ultimate Draft of names selected across the past 35-years.
Counting down from the 30th choice until the opening selection, we have cross-referenced, counted back and come to a conclusion on each of the best names that were ever plucked with each pick.
Given a fixed metric wasn't employed to weigh the achievements of this litany of legends, many of you are likely to disagree with many of our choices, but then again, where is the fun in total agreeance?
So, without further ado, here are the players we view to have been the best to have ever been chosen with every top-30 selection.
20 - 11
While a Coleman Medallist and a 300-game champion earned their starts in the AFL after being selected with the 20th pick of their respective drafts, the efforts of Scott Cummings and Kane Cornes pale in comparison to a dynamic Docker.
Since trading Lake Grace for Perth's port city, Nat Fyfe has gone from a skinny kid with a routine haircut to a man-bunned superstar with a pair of Brownlows to his name.
Although Fremantle's errant kicking in the 2013 grand final saw Fyfe's singular shot at premiership glory fall short, the 30-year-old has stacked his mantel with other honours, including two league MVPs, a trifecta of All Australian blazers, three best and fairests and a quintet of oft-forgotten Geoff Christian Medals.
Despite a down year punctuated by injury and inaccuracy in front of goal, the Dockers' skipper has a CV that remains unparalleled throughout most of the league.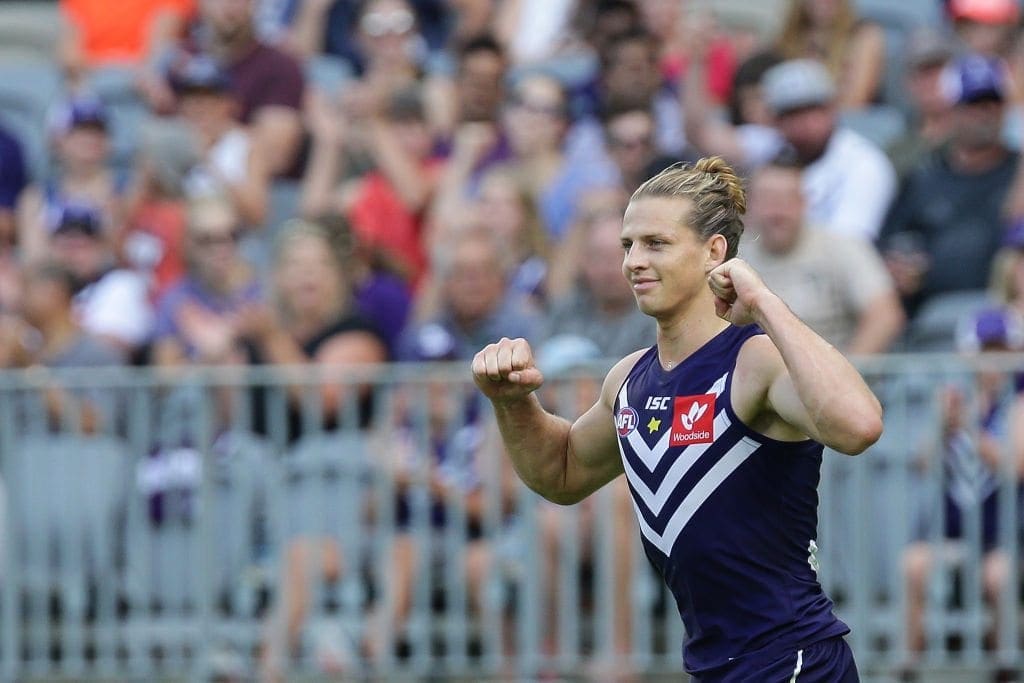 Pick 19 – Barry Hall
As we inch closer to the commencement point of every draft, the quality of competition for spots on our list has continued to heat up again.
While lists compiled by other folks may have Isaac Smith, Callan Ward or David Mundy earning the crown at this point of the exercise, we've selected a Saint-come-Swan-come-Dog instead.
After being plucked by St Kilda ahead of the 1996 season, Barry Hall hit more than just the weight room and the scoreboard across his 16-season career between the west of Melbourne and Sydney's east.
The former boxer from Broadford may have drawn ire as much as he drew the opposition's best defender, but with a premiership Medal, an AFLCA Champion Player of the Year Award, four All Australians, a best and fairest and 11 leading goalkicker awards, the shaven-headed spearhead also gained our eye at pick 19.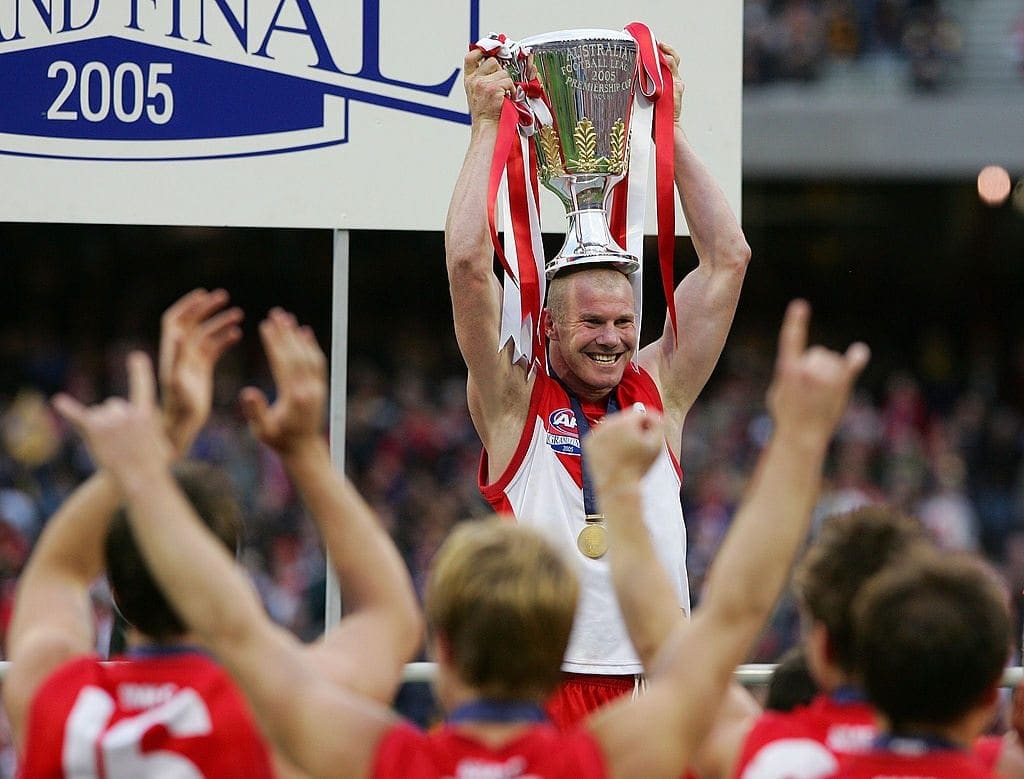 Given pick 18 has always been a first-round selection, it should surprise nobody that there are many options to choose any number of dangerous players to fill this opening.
Even though an array of sterling stoppage time champions in Daniel Kerr, Anthony Stevens, Luke Shuey, Isaac Heeney and Brodie Grundy are on the board, our selection has been spent on a name that played his game behind the ball.
Despite the profile of defenders often falling short of star status, the same cannot be said for Richmond's former stopper Alex Rance.
Irrespective of the fact that the Western Australian missed out on the final two of the Tigers' most recent triumphs, Rance's 2017 premiership medallion still sits alongside his pair of B&F victories and his wardrobe full of All Australian jackets.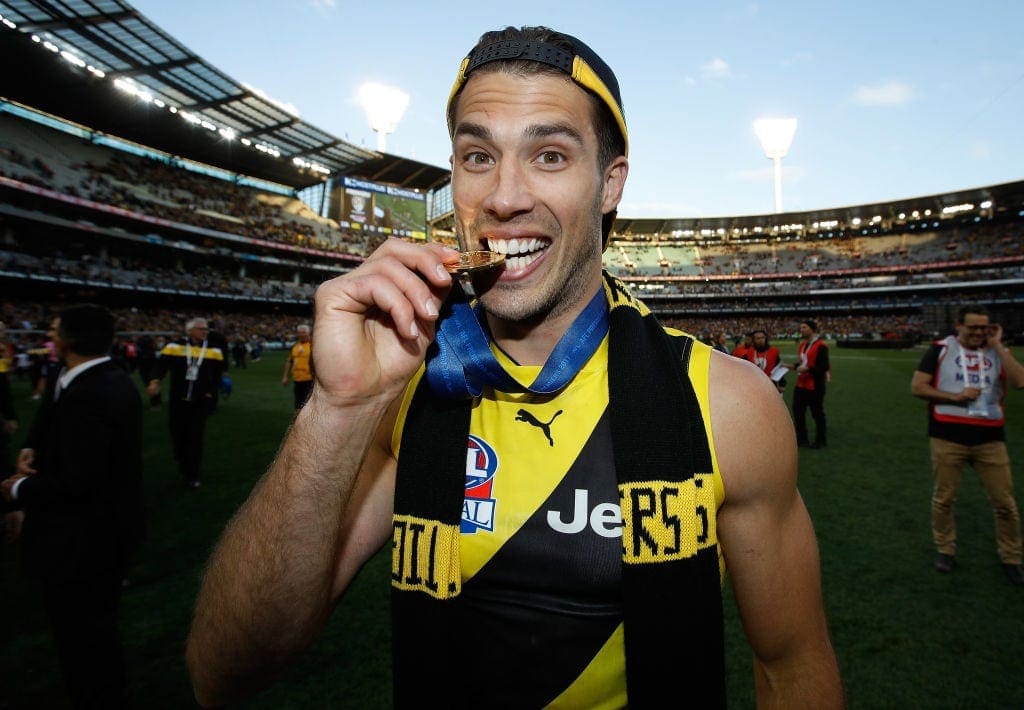 We've continued the trend of selecting stoppers with the 17th pick by choosing Harry Taylor over one of his Geelong teammates.
While a sound case could be made to pick Cat-come-Bomber James Kelly with this selection, the kooky Western Australian's list of achievements has him pipping 'Pops' as our pick.
Although Kelly is the proud owner of three premiership wins in comparison to the East Fremantle product's two, Taylor's pair of All Australian honours have him edging the Calder Cannon who was selected by the same club with the same pick six years earlier.
Even though the pair of mogs may not agree with our contention, at least they will have something to debate when they meet up for a beer or twelve at their next premiership reunion.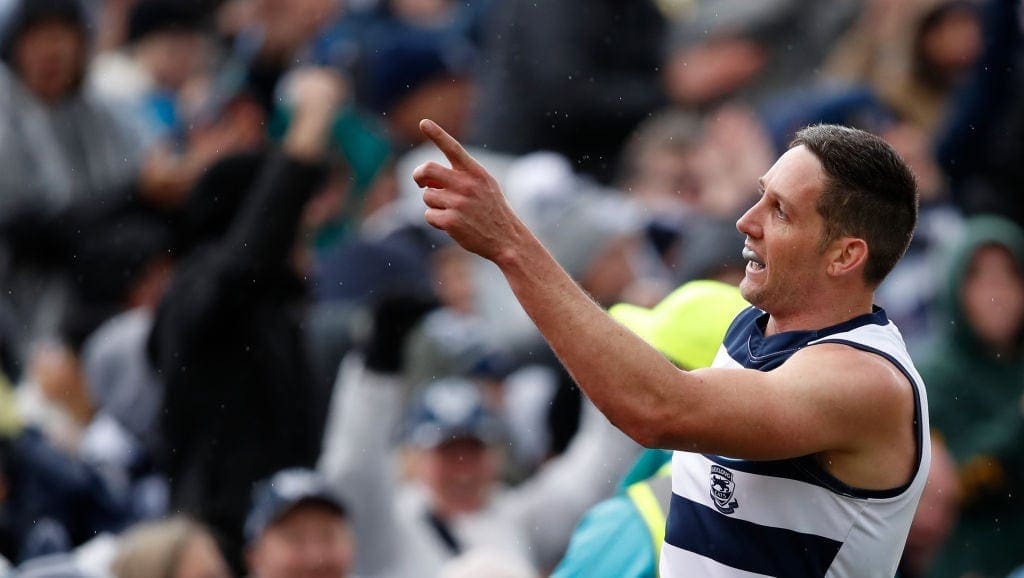 Pick 16 – Fraser Gehrig
While Melbourne managed to select talented duo Adem Yze and Scott Thompson across their history with the draft's 16th pick, we have landed on a dual Coleman winning cult hero for our choice.
Although Fraser Gehrig is best remembered for his muscle, his menace and his mullet during his days in the goal square as a Saint, the Murray Bushrangers product actually started his AFL life between the forward pocket and the wing out west.
Despite initially playing as a full-back after trading Perth for Moorabbin, Gehrig's star was at its most incandescent after heading to the other end of the ground.
Between 2003 and his second retirement in 2008, the 'G-Train' earned five leading goalkicker titles, a second All Australian blazer and became the second last player to ever top the tonne in 2004.
Given the fan favourite averaged more than 3.3 goals per game across this six-season stretch, one wonders just how damaging Gehrig could have been had he spent more time as a key forward.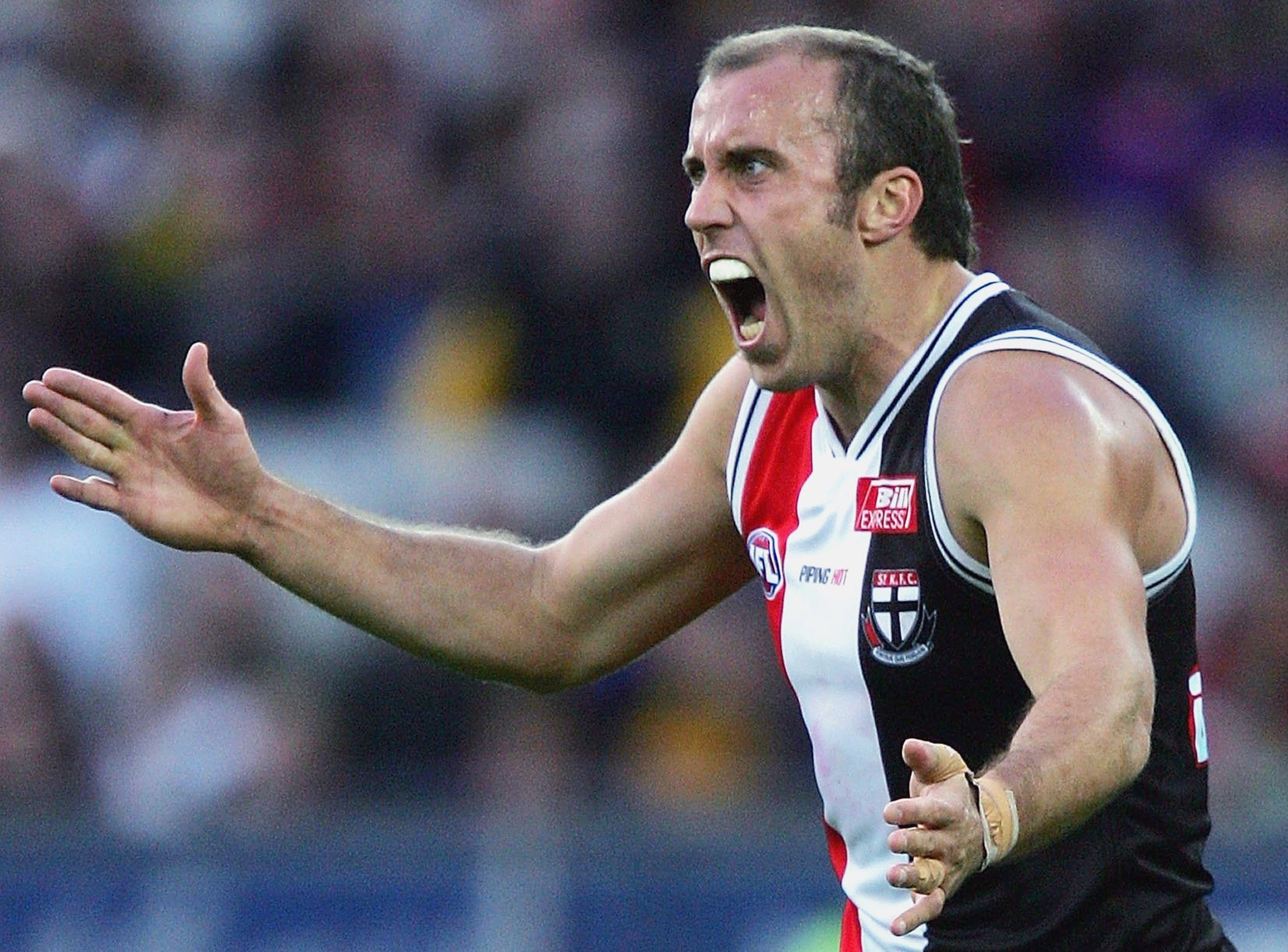 Pick 15 –Scott Camporeale
With a plethora of premiership medals and best and fairest wins to their names, Travis Varcoe, Brady Rawlings and Daniel Rioli were in contention for selection here.
But as the only player plucked with the 15th pick to win All Australian honours, it's a Blue-come-Bomber that gets the nod.
While only 20-years of age when Carlton last tasted premiership success, Scott Camporeale managed to end his 24th game of senior football with a premiership medallion.
Although the heights of his debut season remained out of reach across his next 12 campaigns, the South Australian strung together a consistent career that peaked in 2000.
Having found the Sherrin at a rate of 27.8 times per game, as well as averaging a mean of 3.4 clearances from his 25-appearances, it was little wonder why Camporeale was adjudged as both the Blues' best and fairest player and as an All Australian winger.
Despite defecting to the Dons for a pair of seasons before retirement, the second youngest member of Carlton's 1995 premiership team has always been remembered fondly by his first club's faithful.
Despite having names like Jake Lever, Adam Simpson, Lewis Jetta and Ben Allan at our disposal with the 14th selection, we've instead chosen an under the radar Hawk that ended his days in boots as Lion.
While Grant Birchall is not one of the four players drafted at this position to have earned club best and fairest honours, his swathe of premiership medals and his All Australian nod in 2012 was more than enough to see his name called.
Irrespective of the fact that his profile remains below that of Rioli, Lewis, Roughead, Mitchell and Hodge, the Tasmanian is the sixth member of Hawthorn's dominant era to have played in all four of their flags between 2008 and 2015.
Birchall's badge may not have been a best seller at the Hawks' club shop, but given his almost innate ability to repel opposition attacks and simultaneously launch them back the other way, the defender's name will forever be etched into the storied side's history books.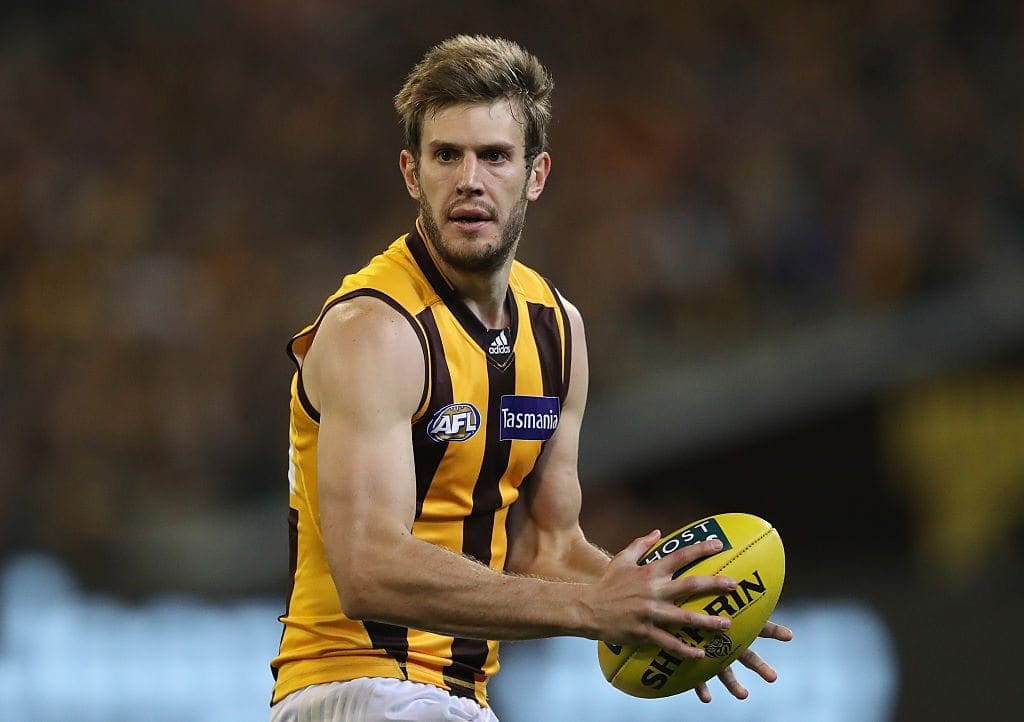 Having worked backwards throughout this catalogue, the lack of a weighted scale for career achievements has sometimes made it tough to make each selection.
However, in the case of the 13th pick, our choice landed away from a name with a league MVP and another with a resounding Brownlow Medal win.
While many readers will have been happy to pluck Patrick Cripps or select Shane Crawford at this point, we've instead jumped at the chance to take Jack Riewoldt in this hypothetical exercise.
Given his key forward status, the likelihood of the Tasmanian Tiger claiming a 'Charlie' or Leigh Matthews Trophy like his cousin has always remained slim, but with 715-goals from 305-games, Riewoldt's offensive efforts haven't gone without honouring.
With this rate of 2.3 majors per game across 15-seasons, it is little wonder why the talisman has earned three Colemans, a trifecta of All Australians, two best and fairests, a trio of flags and an incredible 11 leading goalkicker titles at Tigerland.
Despite sitting seven games in arrears of the legendary Jack Dyer and another 98 behind Kevin Bartlett on the Punt Road honour roll, should Riewoldt's footballing journey continue beyond 2022, there's no telling just how many more awards will make their way into his jam-packed trophy cabinet.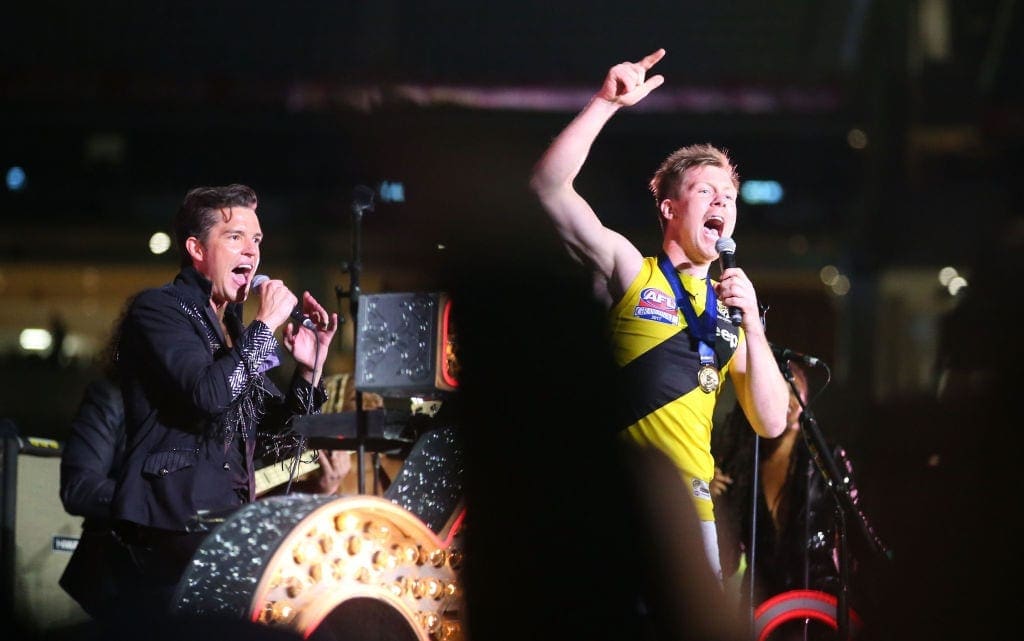 Pick 12 – Gavin Wanganeen
While we snubbed a Brownlow Medallist with our previous pick, we won't be making the same move with our 12th choice.
Despite a 400-gamer, a 300-gamer, a Norm Smith winner and a courageous captain having been taken at this point on draft night, our pick has gone to the superstar selected by Essendon in 1989.
Although Gavin Wanganeen wouldn't make the move to Windy Hill until 12-months after being drafted, by the time he departed the Hangar at the cessation of the 1996 season, his legendary status was cemented.
Having claimed three AA awards, a premiership medallion, a Brownlow and a place in the Bombers' Team of the 20th Century, the South Australian made the move back to Alberton to become the Power's inaugural captain.
And by the time he had hung his boots up following eight seasons in teal, Wanganeen had added a best and fairest, two more AA blazers and another flag to his swag of honours
As a monumental contributor in both Essendon's 1993 success and Port's debut flag in '04, the Australian Football Hall of Famer remains a beloved figure on either side of the MacCabe corner.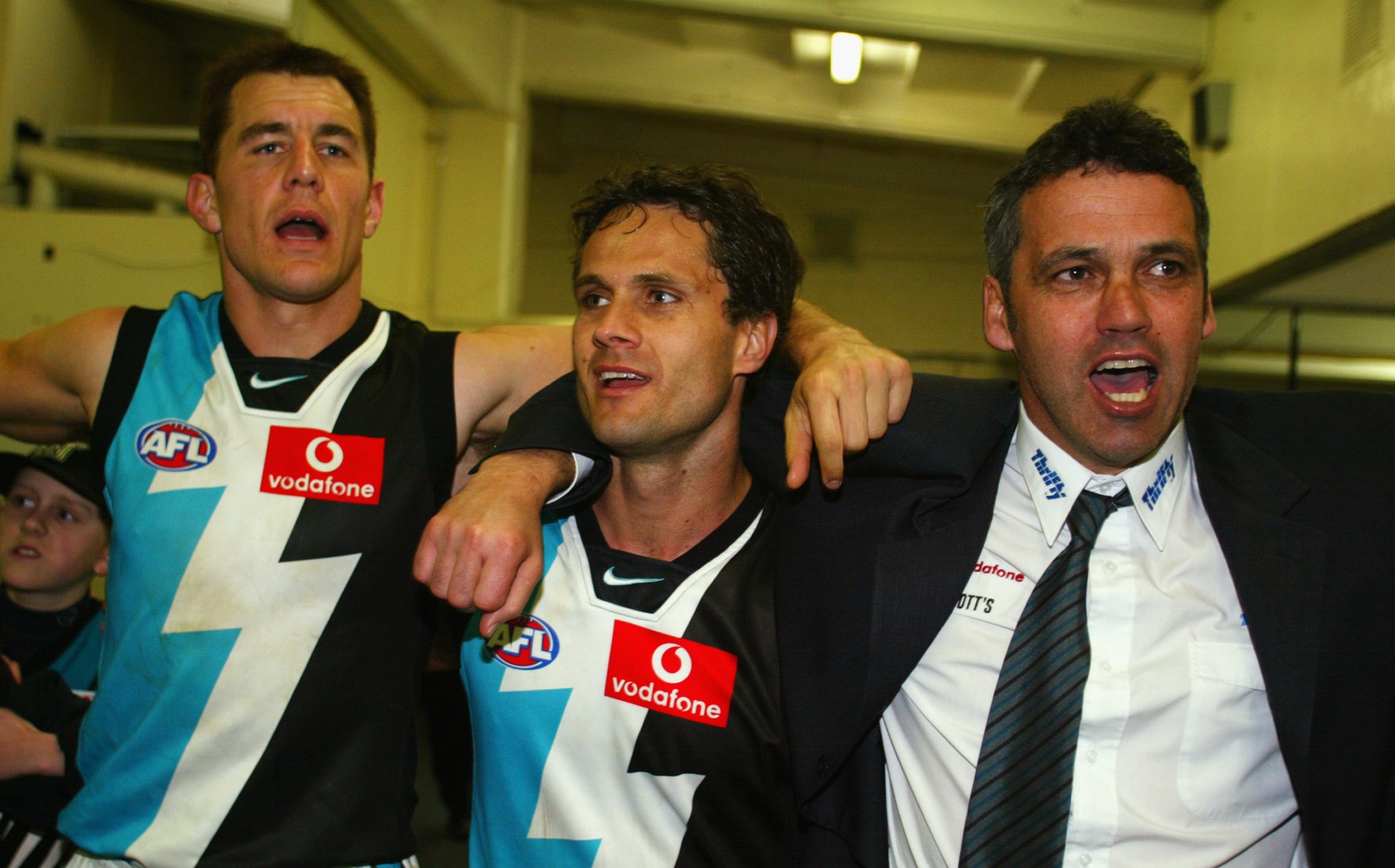 Pick 11 – Brad Johnson
While the ultimate goal in the game eluded him across his 17-seasons at the Kennel, selection in our ultimate draft hasn't passed Brad Johnson by.
Although a bevvy of premiership players, a Norm Smith Medallist and a controversial Giant earned their births at pick 11, the 'Smiling Assassin's six All Australian selections between 1999 and 2007 were enough to see him rise above Lenny Hayes, Darren Glass, Steele Sidebottom, Tom Lynch and Toby Greene.
The Boyhood Bulldog's trifecta of best and fairests honours are also tied with Hayes for the most for any player selected at this spot.
And given the fact that Johnson shared a locker room with names like Chris Grant and Scott West, as well as Brownlow Medallists in Scott Wynd and Tony Liberatore, this stretch of personal success remains no mean feat.
Should you still need more to see our reasoning, Johnson's career average of a goal-and-a-half across a club-record 364-games and his Team of the Century status should help eliminate any lingering aspersions.