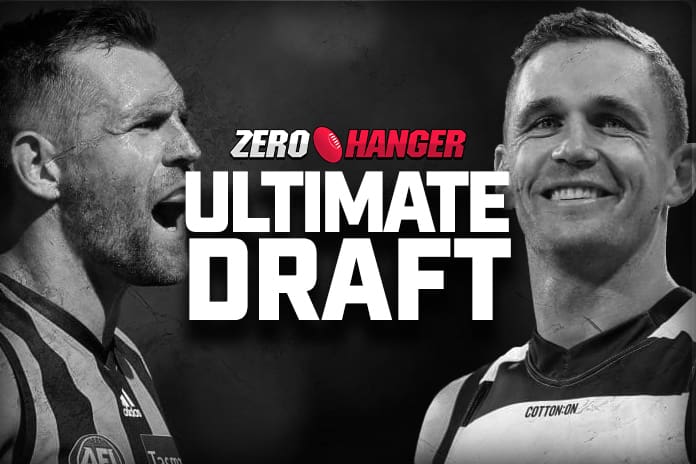 Since the very first National Draft held on November 26, 1986, some of the game's greatest names have earned their starts following the abolishment of the VFL's zoning system and the capping of unfettered player purchases.
With the AFL Draft rewarding lesser teams with greater talents, the league is no longer seen as a two or three-horse race, as clubs of every level are able to obtain future stars without having to break the bank.
While this time of the year usually sees mock lists and re-drafts flooding social media feeds right up until the first selection is made, we here at Zero Hanger have decided to take a different tack.
Rather than ponder how each of the league's 18-sides will be using their current hands this month, we have attempted to create the Ultimate Draft of names selected across the past 35-years.
Counting down from the 30th choice until the opening selection, we have cross-referenced, counted back and come to a conclusion on each of the best names that were ever plucked with each pick.
Given a fixed metric wasn't employed to weigh the achievements of this litany of legends, many of you are likely to disagree with many of our choices, but then again, where is the fun in total agreeance?
So, without further ado, here are the players we view to have been the best to have ever been chosen with every top-30 selection.
30 - 21
Pick 30 – Jonathan Brown
While pick 30 has predictably thrown up more 'misses' than it has 'hits', an array of unbelievable footballers have been plucked with the second-round selection.
Premiership players like Elliot Yeo and Dan Hannebery must be mentioned as options for this slot, but as only one name can be taken, neither of these two-team midfielders ranked as realistic options.
Having slotted 594-majors across his 256-games in maroon, blue and gold, Jonathan Brown is the obvious choice for any side selecting in this Ultimate Draft.
If the fearsome Lion's brute force isn't enough to sway you, the Victorian's three flags, two All-Australian blazers, five leading goalkicker awards, three best and fairests, as well his Coleman Medal should be enough to cease any debate.
Given Brown is the only player selected with the 30th pick of any draft to have earned a place in the Australian Football Hall of Fame, this preference has become almost irrefutable.
Although another series of quality names have been taken at this point across multiple draft nights, it is a former Crow and current Hawk that has earned selection here.
While arguments could be made for the selection of several midfielders such as Wayne Campbell, Dayne Beams and Touk Miller, triple premiership-winning forward, Jack Gunston, has earned a guernsey from us.
Despite Adelaide selecting the Victorian in 2009, it has been the club from Waverley Park that has reaped what Gunston has sewn since returning home ahead of the 2012 season.
Along with his three-successive flags, the Sandringham Dragons product has also claimed the club's goalkicking title on a trio of occasions, as well as winning a Peter Crimmins Medal and earning All-Australian honours in 2018.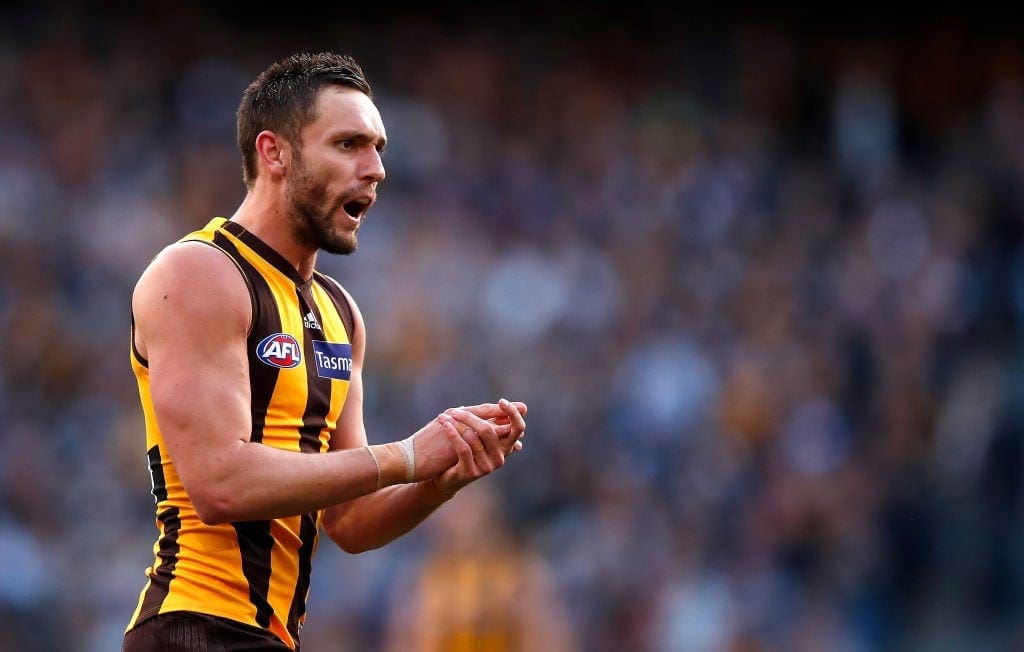 Despite the fact that Jason Johnson flew under the radar during his 12-seasons at Windy Hill, the hard-nosed midfielder's pair of Crichton Medals and All Australian blazer was proof that he was no slouch.
Still, even though Johnson was far more incandescent than many were willing to give him credit for, the Calder Cannons product has managed to be outshone again in this mega draft.
Although AA and B&F honours have eluded Mitch Duncan over the course of his stint at Kardinia Park, the football he has managed to produce has seen him shade the more decorated Bomber.
While Johnson's career averages for disposals, goals and tackles are of sound quality, the Victorian still sits off the Western Australian's pace in all three of these categories.
Duncan's lone career achievement may have come in just his 29th game, but even if the midfielder's 2011 premiership medallion remains the only award that currently resides on his mantel, he still remains the best player ever selected at pick 28.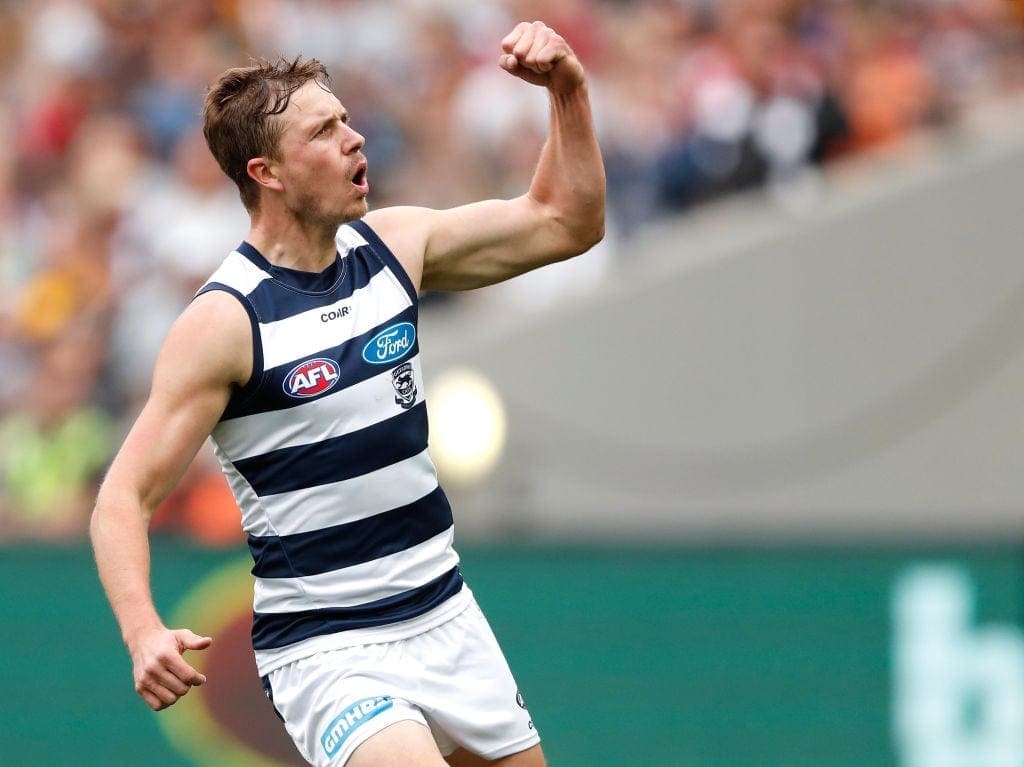 Despite Kane Johnson skippering the Tigers with aplomb during some dark days and Brendan Gale leading his former club back to glory from the boardroom, neither of these Richmond leaders has earned the 27th pick's top gong.
Although Johnson did end his career with a pair of premierships from his days as a Crow, we've selected a decorated bird of a different feather.
While Essendon were the club that gave Ted Richards his first chance at AFL level, the defender hit his straps after trading Melbourne for the Harbour City.
Backmen quite often fail to earn their fair share of praise, but over the course of his 228-games in a red and white guernsey, it would take a tough judge to deny Richards his dues.
Irrespective of the fact that the Don-come-Swan's premiership haul is only half of Johnson's, Richards is the only player selected at this point of any draft to have earned All-Australian selection.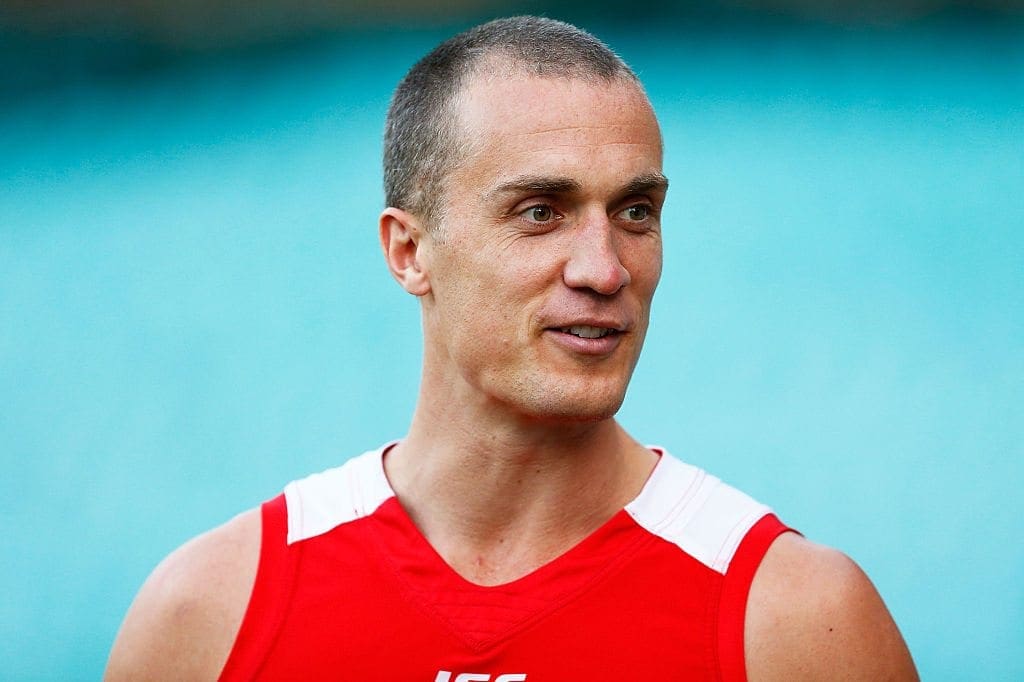 As we start to slowly make our way towards the pointy end of this all-inclusive re-draft, the bandying for selection in each slot has naturally become a touch fiercer.
While pick 26 sees a trifecta of players available who have produced a combined five premierships, four All-Australians and a best and fairest, none of Jack Viney, Liam Ryan or Shane Edwards has reigned supreme at this rank.
Although a premiership has remained out of reach for Zach Merrett since his debut in 2014, the midfielder has managed to make hay across his next 164-games by claiming three Crichton Medals and a pair of All-Australian blazers in 2017 and 2021.
Despite already producing a career average of nigh on 27 disposals per week over the course of his eight seasons in a red sash, the country Victorian still has plenty to provide the Bombers as they continue striving for a drought-breaking finals victory.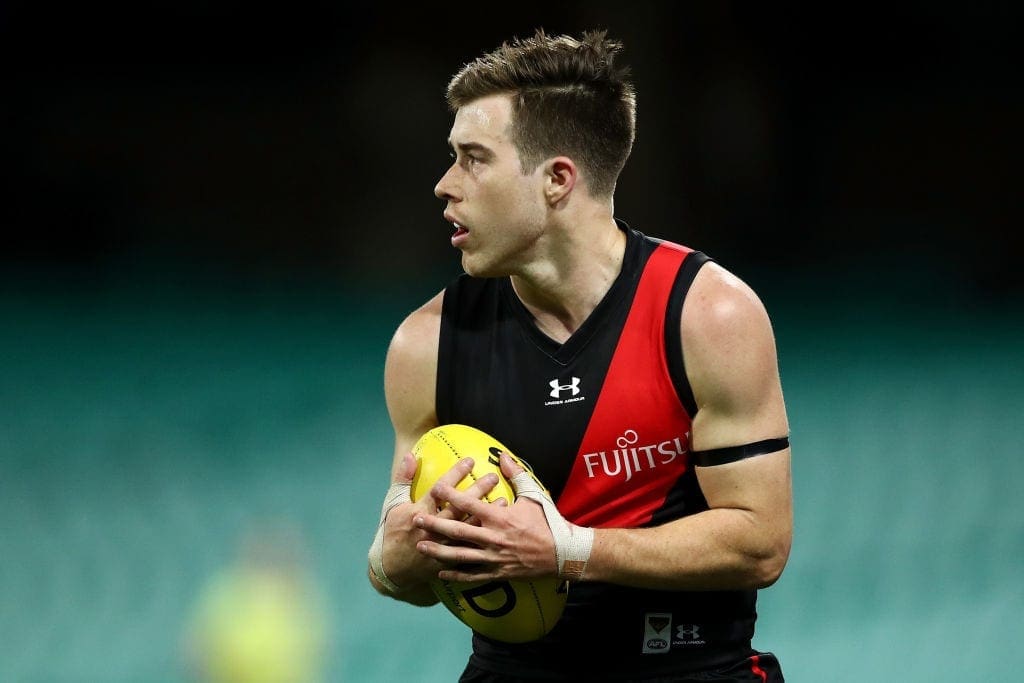 Pick 25 – Daniel Chick
While the 25th pick of any draft is yet to yield any insurmountable gold nuggets; a plethora of noteworthy contributors have seen their careers commence at this point.
Despite five players taken at the position having won premierships, only Daniel Chick has climbed the dais whilst also having won a club best and fairest.
Calls could be made to include contemporary names such as Jack Redden, Seb Ross and Josh Dunkley, but when their current career highs are placed next to Chick's, the 1995 draftee still comes up trumps.
Although the Western Australian's 252-game career never saw him routinely haul in high marks or regularly contend on Brownlow night, the now 45-year-old's style of committed and unselfish play can best be summed up by his famous shepherd to help West Coast win their third premiership.
As no player selected at this point in any draft has earned All-Australian honours, the ex-Eagle and Hawk with nine fingers currently holds sway at this point of our mega draft.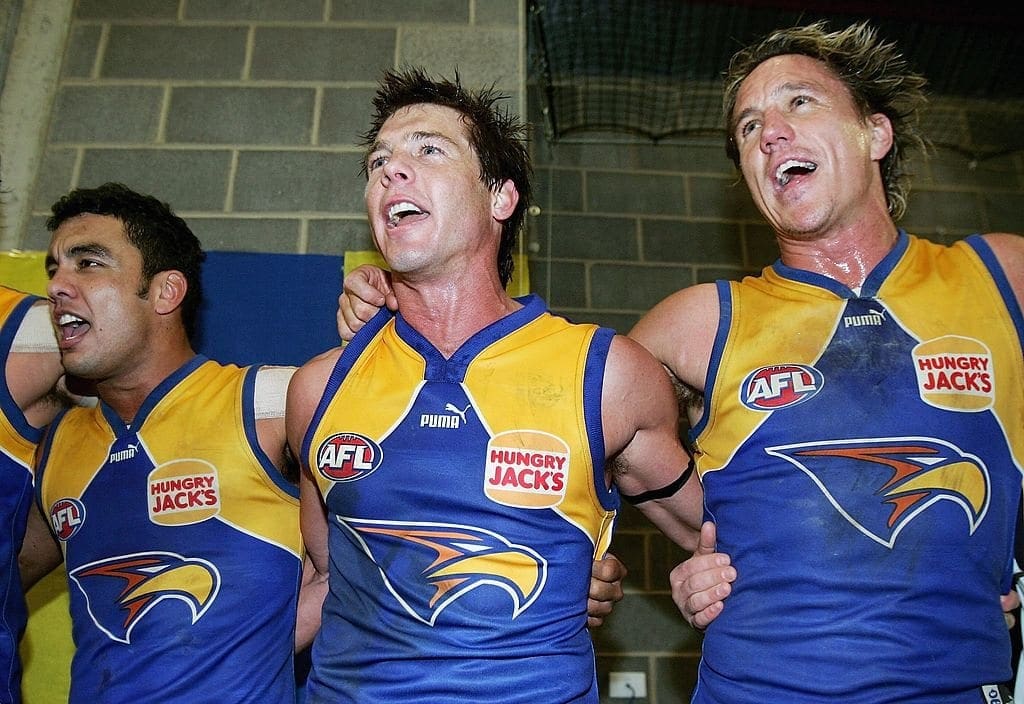 Although some of these selections require number crunching and thorough examinations, others can simply be passed by an eye test.
While David Wojcinski managed to claim a premiership medallion for every 68-games he played in blue and white hoops, and Jack Steele has enjoyed a seismic rise since trading the Harbour City for Linton Street, both men's efforts pale in comparison to an offensive savant who requested to be called 'Norm'.
Averaging more than 1.7 goals per game across the course of his 16-season career, Steve Johnson stands in rare company among modern-day forwards.
Add in the fact that the Murray Bushrangers product won three flags, earned a trifecta of All-Australian blazers and claimed a Norm Smith Medal, and the former Cat and Giant is also one of the most decorated dead-eyes of the recent past.
Johnson's lead in the 24th position in this ultimate draft currently appears unassailable, but if Steele is able to skipper the Saints to a drought-breaking premiership, the gorge between him and 'Stevie J' is sure to shrink.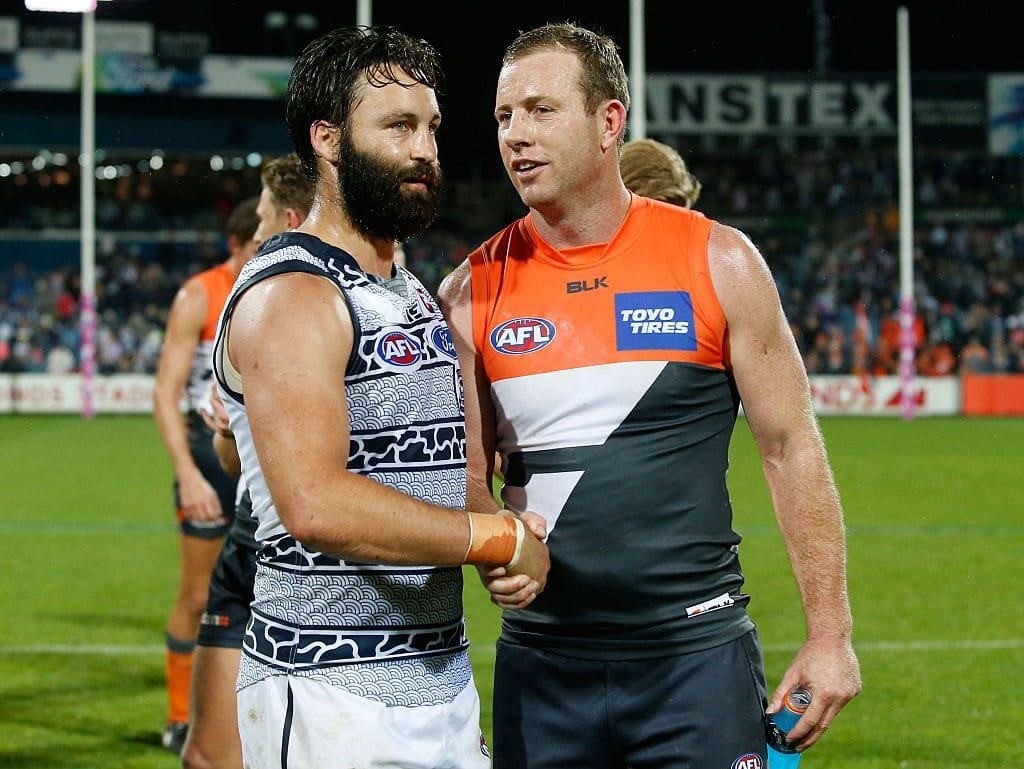 Pick 23 – Michael Long
While the individual outputs of Drew Petrie, Cameron Guthrie and Matt Crouch have been nothing to sneeze at, the collective of decorated pick 23s have run a distant second to a pioneer of the game.
Across the past fortnight, I wrote that the act of merely listing Michael Long's on-field achievements could never do justice to his standing as a footballer and as an Australian.
RELATED: Where would the AFL be today without Michael Long?
Still, when done, it's clear that the proud Anmatyerre, Maranunggu and Tiwi Aboriginal man still sits head and shoulders above the chasing pack.
As the only player selected with this particular pick to have won multiple flags, an All-Australian selection, a Norm Smith and a place in his club's Team of the 20th Century, Crouch and Guthrie will need to fill their boots for the remainder of their careers to catch Long on the trail he blazed for himself.
Although some slots in this re-draft have wildly obvious clubhouse leaders, others sit on the flip side of the coin.
Take the 22nd pick of our Ultimate Draft for example.
While there have been a pair of premiership players taken with this second-round choice, and another trio of best and fairest winners, none have gone on to claim any honours that separate themselves from their counterparts.
Winston Abraham, Richard Hadley and Mark Seaby may have won flags in 1999, 2003 and 2006 respectively, but given the lack of individual honours on their CVs, the trifecta of Western Australians have supplied little else that elevates them above their peers.
Adam Selwood, Jackson Trengove and Jordan Ridley may have had respective career years between 2011 and 2020, but as team success and an ability to repeat their efforts have eluded them, it's challenging to place any one of them ahead of anyone else.
Given this stalemate, I'm willing to go out on a limb by suggesting that if Jordan Ridley can maintain, at a minimum, his form of the past two seasons, then it won't be long before he is being measured for a representative blazer.
And should that be the case, he will be the first player plucked at this position of any draft to have earned the honour.
Call it misguided or call it a future's bet that I'm unlikely to be held to, but I'm banking on the 2020 Crichton Medallist to eventually create a gulf between himself and those whose runs have already ended.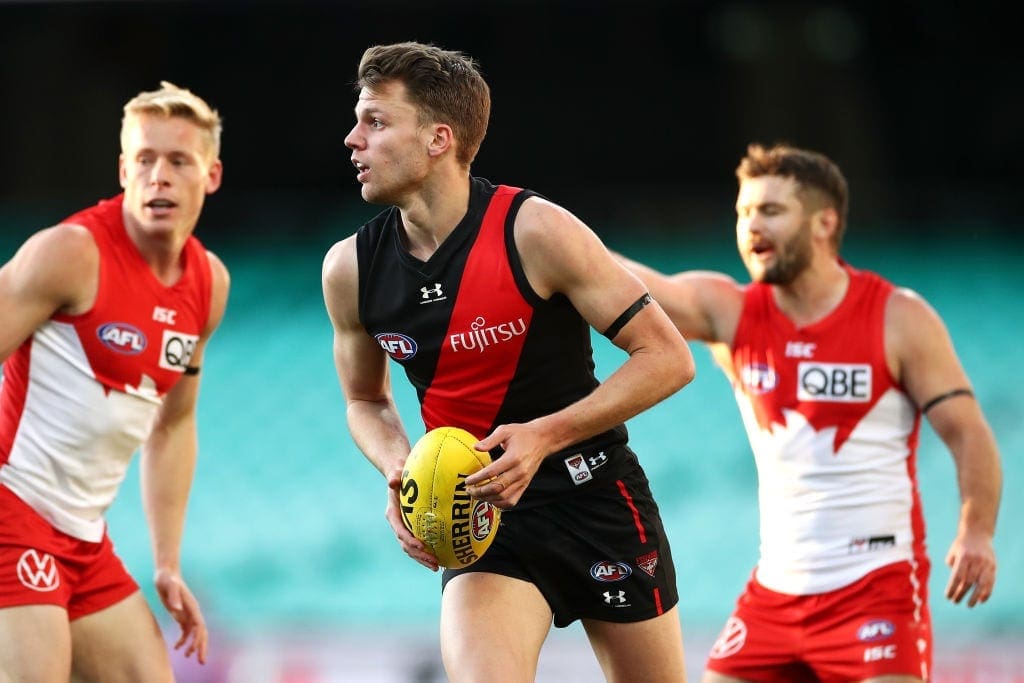 The 21st selection in any of the past 35 drafts may have yielded a pair of premiership players (Jake Bowey and Shane Bond), as well as a one-time All-Australian (Hayden Ballantyne), but with a trio of best and fairest awards, a pair of AA blazers, a league MVP and a Brownlow Medal, Tom Mitchell has passed the post for this prize before the others have even jumped from the gates.
Given the number of statistical records he has broken across his time at both Moore and Waverley Parks, even if Mitchell had never claimed his 'Charlie', the Hawk would have very little opposition for this particular selection.
With averages of 29.68 disposals and 4.82 across the course of his 150-game career, hindsight shows us that Sydney got a bargain when they picked up the father-son gun in the second-round of the 2011 National Draft.