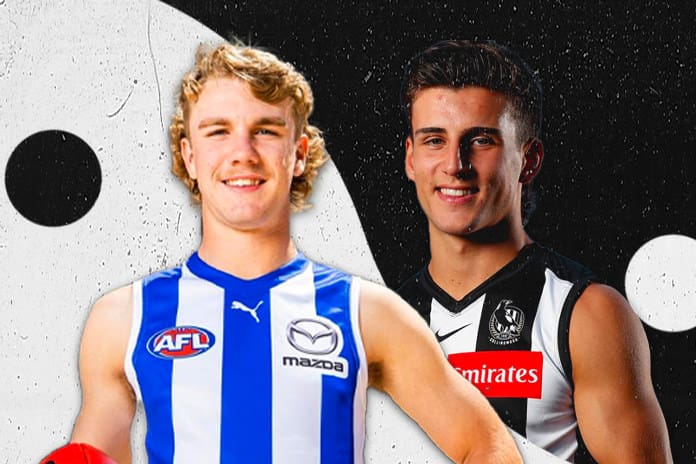 Ever since Chinese philosopher Lao Tzu put his ponderings onto parchment more than 2400 years ago, the concept of 'opposites attract' has been alive across at least one sect of society.
While the belief that contrary forces can, in fact, become complementary is more often attributed to rom-com directors like Richard Curtis and Nora Ephron, the notion was in fact born within the midst of the Jin Dynasty (266-420 AD).
And although this lead may seem too cosmic for what is just a simple footy column, it doesn't require a Ph.D. in ancient history to have stumbled across the idea – or at least the symbol – of yin and yang.
In present times filled with military invasions and social media stoushes, it is comforting to know that distinctly different individuals can be seen as interdependent – even if the concept has been co-opted by Byron Bay beatniks and modish musicians.
It's likely there are many wondering how any of this relates to the AFL's most talked about teenagers, but with Nick Daicos and Jason Horne-Francis' value often seeming to rely upon their similarities, perhaps there is a better way to view the precocious pairing.
Before either the father-son Pie or the number one selection of last year's National Draft had even walked through their respective doors at Olympic Park and Arden Street, the question of which prospect would have a greater career had already been dissected ad nauseum, with some crystal ball owners believing they had already landed on a solid answer.
AFL ROOKIE RANKINGS: Shock Bomber tops Daicos' dream debut
However, even if shared traits such as age, power, and poise were publically evident ahead of their respective debuts at the weekend, by the time the half-time siren had sounded at the MCG on Sunday, those that had acutely watched the duo's first steps in league football were sure to have noticed a handful of disparities.
For the uber-confident Daicos - a son-of-a-gun who pestered his manager for a diamond stud ahead of November's draft - a place in new coach Craig McRae's defensive-50 would act as the starting block for his senior career.
While the mulleted maestro with the million-dollar smile's earliest action saw him hit an opponent lace out, the third Daicos to don black and white bars settled into a rebounding role alongside skipper Scott Pendlebury with both the contrasting exuberance of a Labrador puppy and the calm of a hurricane's eye.
Despite being held out of all but one centre bounce and staying off the scoresheet completely throughout Collingwood's 17-point victory over the Saints, the polished Pie proved that he had added another string to a near faultless bow after ending the night with 27 disposals at 70.4 percent efficiency, three score involvements and covered from head to toe in Gatorade.
Even if Collingwood's cohort of spellbound supporters will be itching to see Nick unleashed further afield - weaving like his brother, Josh, or rummaging deep into his bag of tricks akin to his father, Peter - with the minute hand barely shifting on his professional career, there is time enough yet for the Carey Grammar graduate to produce the works of George R.R. Martin twice over.
For Jason Horne-Francis - a battle-ready man-child who previously earned a wage stacking milk crates before joining the Roos' chorus - his debut began deep inside David Noble's forward arc, before being spouted into the centre square on six occasions.
Though statistically muted (13 disposals, 1.1) in comparison to Daicos' outing off half-back, the Christies Beach local showed glimpses of Patrick Dangerfield when he twice strolled from stoppages before spearing lace-out passes to the lead of Nick Larkey.
Despite a first-up win denied for the South Australian and his band of new brothers, a second-quarter snap, off one step, was also reminiscent of the 2016 Brownlow Medallist and was enough to draw both tears and cheers from the outer.
HEAR THAT ROAR!

Jason Horne-Francis has kicked his first AFL goal 🌟#AFLHawksNorth pic.twitter.com/JXINuT3QLL

— AFL (@AFL) March 20, 2022
Given footy fanatics have long claimed that it is unfair to compare players who have plied their trades across different eras or on different patches of the playing field, with Daicos and Horne-Francis combining to cover roles across every blade of Marvel Stadium and the MCG, it is, naturally, far too early to assess them on a head-to-head basis.
Still, even with both the beaming Magpie and the seemingly unflappable Kangaroo proving themselves as independent of one another due to their different routes to the league, their seemingly alternate personalities, and their opposing tasks on debut, it will continue to remain a challenge to separate them entirely.
But, as they deserve to stay as such until graduating to full-time onballers, battling each other at stoppage after stoppage every time their sides are fixtured to meet, it is right and just that we currently view each as just one half of the whole; a single side of the athletic yin and the yang.
Nevertheless, this brand of realism will not stop us all from parking our bums on the edge of our seats when Daicos and Horne-Francis first meet head-to-head in Round 17, as, admittedly, it's hard not to get excited about what both youngsters represent to themselves, their sides and the remainder of the league.
Whether right or wrong, with both Daicos and Horne-Francis still dividing the straw polls as to which kid was the consensus number one pick, this is likely to remain over their level heads until both pairs of boots are hung in their respective dressing rooms.
If this is to be the case, why not have fun with it? Why not lean into the fact that each of these wildly talented teens appears to have arrived at a club that perfectly befits them just like Larry Bird connecting with the blue-collar Boston Celtics, and Earvin 'Magic' Johnson the 'Hollywood' LA Lakers ahead of the 1979-80 NBA season.
RELATED: Suns move to lock away top draftee
Again, this may appear to have deviated too sharply from the point, but with both of these generational stars fulfilling their unique, yet starkly similar, talents within homes that perfectly represented their personas, this is something we should look forward to for both the first and fourth selections plucked last November.
And again, it is almost certainly too early to be sweeping so broadly with statements like this, but it certainly appears as though each performer, and each half of this dichotomy, has arrived on the right stage, with the marketable Daicos under the bright lights of Collingwood's Times Square, and the head-down Horne-Francis in front of smaller crowds off-Broadway.
However, as almost every scene is left to play out, and the oval Sherrin's bounce is never going to be as predictable as that of an orange Spalding, the majority of excitement should be born from the fact that each actor's script is still unwritten.
With many seasons and summers yet to pass until both talents truly reach their zeniths, even if you support one of the 16 other clubs not boasting either of these prodigies, make sure to sit back and enjoy the pair forged together by similarity and circumstance, but also focusing on their brilliant differences as they fledge towards a shared midfield dominance.
Though those of us outside of the locker room cannot profess to understand the psyche of each side of this duality - or whether the pair even care for comparisons - it is hard not to believe that as Horne-Francis plunged himself into an MCG ice bath on Sunday, the only real difference bothering the draft's no#1 pick was that he too wasn't left to wash away the stick of sports drink following his own debut win.
Yet, with an iron will to win shown against men in the City of Churches' SANFL last season, it won't be too long before the unassuming 18-year-old begins edging closer to his Rising Star running mate in that column, too.