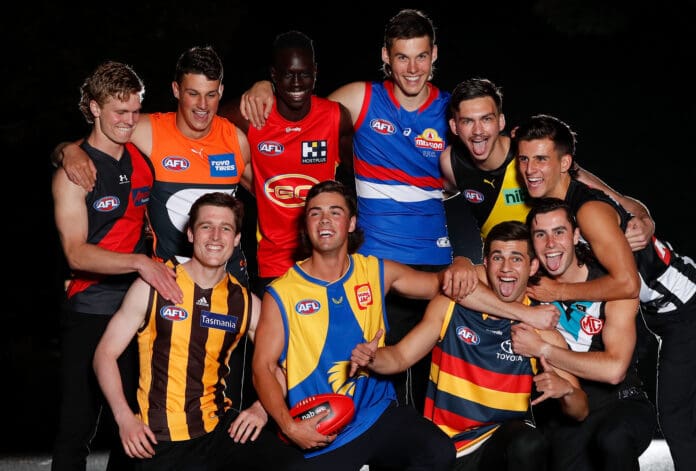 The Gold Coast Suns are quickly building on what has been a strong start to their 2022 campaign as they're already in talks to extend top-five draft pick Mac Andrew.
The Suns secured their first victory over West Coast in Perth on Sunday night after convincingly winning the majority of the key statistical categories. The win was gutsy and highlighted Gold Coast's willingness to be daring with the footy when on the attack.
In an attempt to continue building upon their current crop of talented youngsters, the recent re-signings of highly touted forward Ben King and former pick seven Elijah Hollands have prompted the Suns management to quickly garner a long-term commitment from Andrew.
Despite the obvious growing pains associated with big men in the AFL, The 201cm athletic specimen is likely to get some games under his belt as 2022 continues. It's believed that the Suns view Andrew as a perennial threat who can shift around the ground, playing a utility-type role in the ruck and up forward, despite likely getting his earlier reps down back where the game can come to him as he continues to get acclimated to footy's top flight.
The reported contract extension will tie Andrew to the Suns until 2025, which provides Gold Coast with an extended period to which they can persuade him to commit further into the future.
Kall Burns, the Suns recruiting manager, commented on Mac's immediate upside.
"We've scouted Mac for several years and see great potential in him as an exciting ruck prospect who has versatility to play other positions," Burns told News Corp.
"What appealed to us about Mac, first and foremost, is his competitiveness.
"On top of this, Mac shows tremendous physical attributes. For someone two metres tall; he's fast, agile, has a great leap and is quite skilful, and those players don't come around very often.
"Like many draftees, Mac still has a lot of development ahead of him and we are excited to see where he can progress to in years to come."
Another play in securing their top pick's services prior to his debut is that others will feel inclined to follow in Andrew's footsteps which will, in turn, assist in developing the club's seldom culture. Furthermore, the aggressive list move coincides with Gold Coast's pursuit of Izak Rankine and Connor Budarick's signatures, which too are likely not too far off.
If the Suns are to eventually make a finals push, then this forward-thinking approach may be their best bet as they need to establish a solid core in order to develop a premiership contender.