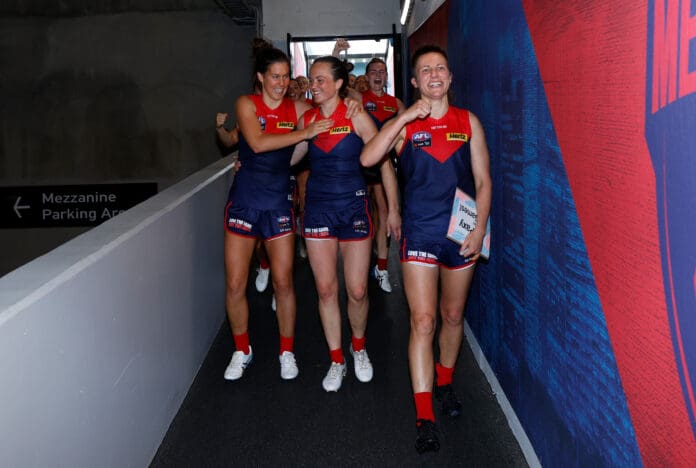 AFLW premiership defender Libby Birch has gone in to bat for captain Daisy Pearce, who has faced multiple waves of scrutiny from fellow members of the media in recent weeks.
Pearce, a stalwart of Channel Seven's Friday night broadcast team, was placed in the centre of damning comments and opinions from both prominent ex-footy caller Rex Hunt and Hawthorn great Dermott Brereton this month.
In opening up on the constant unwelcomed backlash she has faced throughout her rise through the AFL broadcasting ranks, Pearce has admitted she has grown a "thick skin" in recent years, opting not to "give it any oxygen".
Birch, also a member of Channel Seven's broadcast team, has seen Pearce's work behind the scenes firsthand, labelling her teammate, colleague and friend an inspiration.
"I did some work experience with Channel Seven on Friday night and just to see the work that she does behind the scenes, but also the amount of work that goes into the production is extraordinary," Birch told Zero Hanger. 
"If anyone's going to make any comments, you need to understand how much work goes into it and how much prep goes into it.
"I just think she's an inspirational leader, not only on an off the field, but on that TV front and obviously explaining the game of football. She's incredibly insightful.
"I think it's only natural when they're headlined to read through and be disappointed for not only a teammate but also a really good friend."
Birch condemned the comments made in regards to Pearce's position and gender, before making further note of her captain's professionalism.
"We're bigger than that now," Birch added.
"We know how good Daisy is and we don't need to read into those comments too much."
Pearce broke her silence on SEN on Thursday in an honest discussion with panellist Gerard Whateley, revealing she wasn't offended by Hunt's or Brereton's comments, which have become an ugly and regular occurrence in her line of work.
"It was funny, [I was] driving along [and] start getting a flurry of messages... 'don't listen to what they said', naturally you think 'oh no, what have I done? What have I said'" Pearce recalled.
"It's the night after I'd done the Melbourne and Geelong game and I'm always on edge that I'm going to be accused of being biased when I do a Melbourne game.
"Just straight away I thought 'oh no'. That's my insecurity in that moment.
"And then when I get it sent through, what's happened, I honestly just started laughing because it was almost a relief that it was 'oh just that again'.
"Personally, I've just wanted to sit there and not give it any oxygen whatsoever.
"But then as the weeks go on, and Dermott gave it an extra week by coming out and going out of his way to give more to a gossip column about it, I get this sense of almost responsibility, because other women and non-binary people who aspire to be in the industry, or are already in the industry, or just love footy and want to connect with footy, that they're disheartened by it and offended by it.
"So, whilst I'm not, because I've done this for 20 years either through trying to play footy or now working in the media, having your credibility question because you're female isn't a new thing that I'm just starting to deal with. I'm pretty thick-skinned when it comes to that.
"I'm reluctant because I know it just breathes oxygen into it again, and even me talking about it will create another week of discussion about it."
EXTENDED CHAT | @DaisyPearce6 joined @GerardWhateley to discuss Rex Hunt's comments and the debate that followed. @WhateleySEN | #AFLW #AFL pic.twitter.com/mtufH9wcHW

— SEN 1116 (@1116sen) July 21, 2022
Pearce went on to reflect on the criticism she receives on a weekly basis during her special comments role with Channel Seven, noting messages across social media often arise each time she steps in front of the camera.
The three-time All-Australian said she isn't seeking to be the most revered analyst in the game, stating no one person should be the "gatekeeper of credibility" in the AFL media landscape.
"If I want to go looking for it, I can hear comments like that every week. Every time I do Friday night footy or work in the media," she said.
"I can find on Twitter '@JoeBlow69' thinks that I've got no clue because I'm a female and never played men's footy.
"I guess this is a little bit different and unusual in my opinion, because another member of the AFL media fraternity both current in Derm past and in Rex have gone out of their way to give an opinion on who their favourite is.
"It is I guess a bit unusual for someone to kind of be put up in a comparison not from a member of the public but almost a colleague of sorts given that Derm and I both work here.
"I'm not out there trying to be everyone's favourite commentator. And I'm, to be honest, not all surprised that I'm not Derm's or Rex's favourite commentator.
"I'd say that whilst it might be ruining football for Rex, there might be people out there that can connect and engage with football better now that there is greater diversity in the broadcast team, whether it'd be gender, race, background, whatever it is.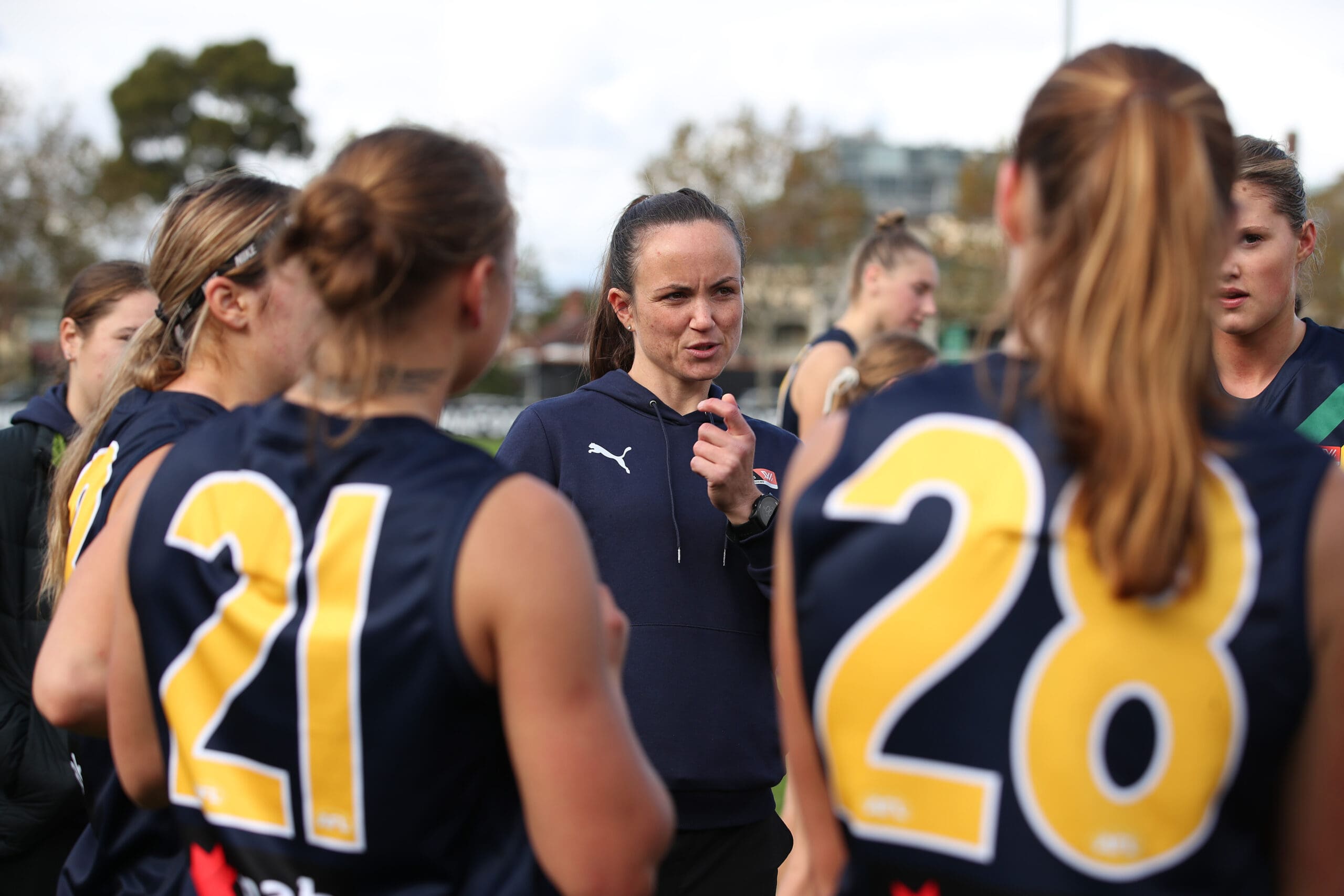 "I'm not trying to be the most popular or anyone's favourite. I don't feel like any one person is the gatekeeper of credibility in the industry."
Pearce will begin her 15th season in top tier women's football, having amassed five seasons with the Demons after a decorated nine-year stint with the Darebin Falcons from 2008.
The triple best and fairest winner will also join Geelong's men's coaching cohort through the AFL's Women's Coach Acceleration Program, whci hash provided nine AFLW players a minimum two-year position between now and 2025 at several clubs.
The Demons will begin their 2022 AFLW campaign against Adelaide in a grand final rematch at Norwood Oval on Friday, August 26.