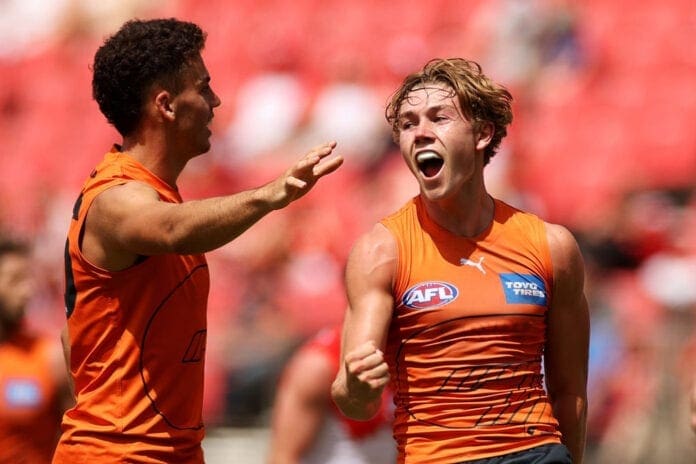 Wantaway Giants youngster Tanner Bruhn could be clad in blue and white bars next season following revelations that the uncontracted midfielder has already commenced conversations with new Roos boss Alastair Clarkson.
With Clarkson's clear desire to bolster a playing unit that has claimed wooden spoons in each of the past pair of seasons, the 20-year-old may soon become the latest promising joey to join in the Kangaroos' chorus.
According to reports from The Age, Clarkson has already met with the former first-round draftee, sounding out his interest in making the hop to Arden Street.
While the four-time premiership coach is still yet to officially begin his tenure at his old home as his contract isn't set to commence until November 1, Clarkson has already busied himself in compiling a transfer list.
The former Hawthorn steward's sit down with Bruhn comes in the wake of reports within the past 24 hours that West Coast's Junior Rioli and St Kilda duo Brad Hill and Ben Long are also on the Roos' radar.
Having donned the Giants' charcoal and orange on 30 occasions since debuting last season, GWS held high hopes for Bruhn, with their optimism shifting to chagrin upon the realisation that he will likely become the latest young name to set sail from Sydney's West.
Bruhn is far from the only Giant linked with a shift, as Tim Taranto, Jacob Hopper and Bobby Hill have all been linked with moves south of the Murray River.
The landing spots for each of this quartet will be determined across the course of the next month and change as incoming head coach Adam Kingsley begins tuning his percussion.
At the present, North Melbourne hold picks 1, 55 and 66 in their arsenal to satisfy the league's youngest side in the struggle for Bruhn's services.
However, in a break from last season's narrative, the Roos could be coaxed to part with the draft's opening selection, providing the price is right.