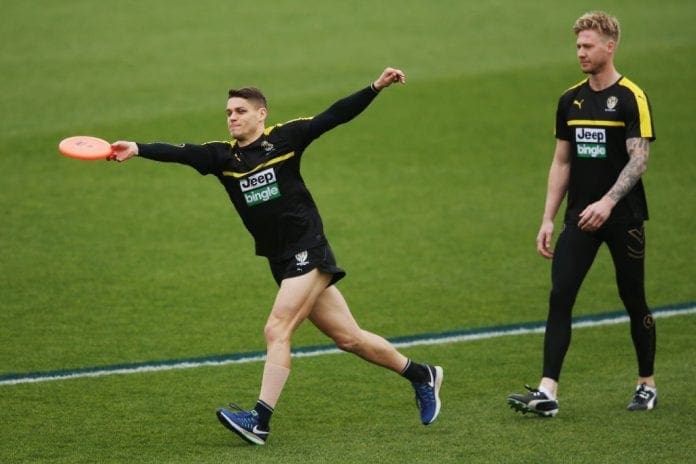 It's something we hear all summer long from the reigning premiers and it's no different with Richmond in 2018.
The latest Tiger to dismiss talk of a premiership hangover is small forward Jason Castagna, saying 2017 was simply the "start to a journey" of what's ahead.
"It's easy to look at that and think about that, but we're pretty confident about the way we're going so I think we'll go well," Castagna said.
"We didn't really see last year as the end, it was more so the start to a journey, so we're just looking at this to keep going up from here.
"We base a lot of our program around having fun. I think when we're having fun we're training well, so we've just been going in attacking each session as it is and we've been having a lot of fun, so I think we're tracking well."
The Tigers, who are currently in a community camp in Bendigo, will get their 2018 underway on Saturday in AFLX Sydney with Castagna saying he's looking forward to the event.
"I'm looking forward to it," he said.
"I think it should be pretty exciting. It's a bit different. With a smaller kind of group it should be fun."
That smaller group Castagna is referring to will be without Trent Cotchin, Alex Rance or Dustin Martin, with the trio to be rested like many of the game's other stars.
Assistant coach Ben Rutten said the team will feature guys who have had exceptionally strong pre-seasons.
"We'll pick the team that we think is firstly going to suit that style of play, although we haven't seen it so we're not sure what type of players [to pick]," Rutten said.
"Also, it will be some of the guys who have had pretty good pre-seasons, we want to look to see a bit more competitive nature in them.
"At this stage, we're not going to be sending [Trent] Cotchin, [Alex] Rance and [Dustin] Martin up there, but the players that we're going to send up are going to have a real crack and (are) looking to put themselves on show, because we've got important pre-season games coming up."