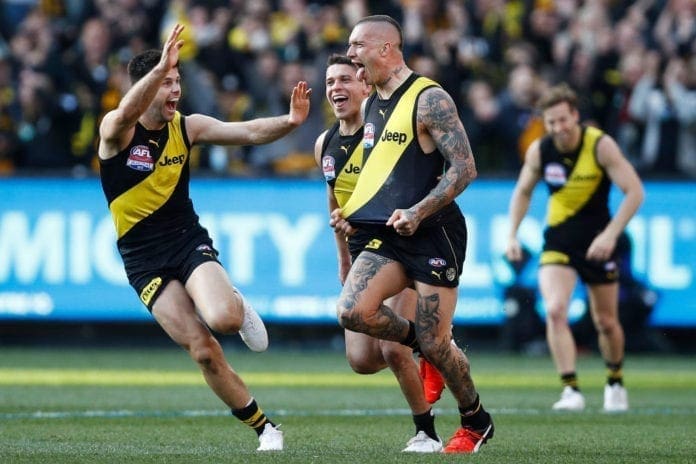 Adelaide Crows football director Mark Ricciuto has revealed the Crows narrowly missed out on signing Dustin Martin several seasons ago.
Martin capped off another stellar season on Saturday, winning his third Norm Smith Medal in four seasons as the Tigers won their third premiership since 2017.
Speaking on Triple M's Roo and Ditts, Ricciuto revealed the Crows had pushed hard for Martin before he signed a major deal with Richmond.
"Back in 2017 he was out of contract, he was a free agent and we were on top of the ladder," Ricciuto said.
"I thought it'd be good to get Dusty Martin to the Adelaide....we had a genuine crack at him as a football club.
"We had just lost Paddy Dangerfield and it was sort of like for like," he added. "We got involved pretty heavily.
"We met with his manager and had a meeting at his house with him and Dusty to do all the things you do when you want to court a player.
"He was absolutely open for it."
Ricciuto revealed the Crows were one of three clubs leading for Martin, with Adelaide throwing a record pay deal to the Tigers star.
"We knew it was going to have to be a big offer at that stage," he said. "It was probably the biggest offer the Adelaide football club had offered anyone."
Ricciuto added that he even got special permission on his passport to visit Martin's father overseas.
"I actually got my passport changed to go and see his father in New Zealand," Ricciuto revealed. "I wanted to show him how serious we were.
"I think we were down to the top three, there was us, Richmond and North Melbourne.
"North Melbourne offered the most, he got $9 million for seven years to stay with Richmond.
Ricciuto lauded Martin's success and skill, stating he is the best onballer of the modern era.
"I think he's the best midfielder going around for the past 30 years... he's up there for one of the all-time superstars if the game."