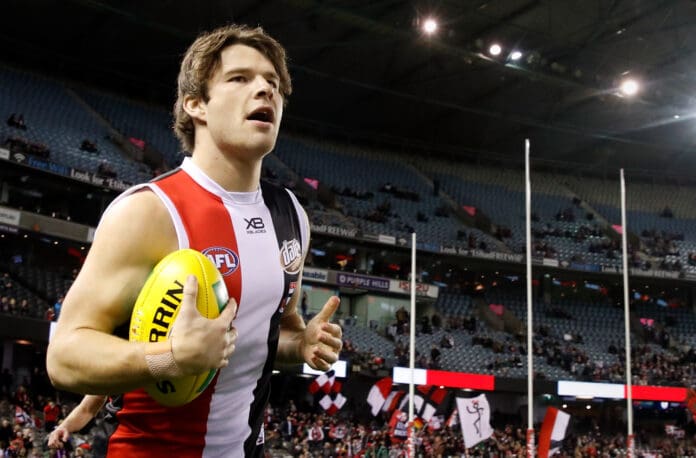 Ever since the first ankled boot collided with tanned leather, the spasmodic career life-spans of league footballers have been likened to rollercoasters.
While the dizzying heights and gunfire pace of the profession marry up with the theory, the combination of twists, turns, and troughs meted throughout are what truly brings the metaphor to life.
For every starry-eyed kid bringing their dreams to life, claiming cups and popping corks on the game's greatest stage, there is an opposing litany of players who battled uphill, eventually falling short of standing on that premiership dais in a deluge of confetti.
In a brutal industry where aspirations are so often left unmet, the vast majority of athletes who donned the colours after hearing their names called out on draft night are shown the door with empty hands.
However, the vast majority of these unfulfilled footballers can hang their hats on the fact that having given their all, were at least afforded every opportunity to scale the summit.
Following a glittering junior career with the Dingley Dingoes, Sandringham Dragons - and, eventually, Vic Metro - Nathan Freeman's life cycle in the big leagues began in November of 2013 after Collingwood plucked the powerful bolter with the 10th pick of the draft.
Yet, after five seasons and more surgical procedures than senior games, Freeman was sent into the footballing afterlife, a choice out of his hands, and one the now 27-year-old believes was premature.
Having flipped a quarries worth of stones in an effort to overcome a never-ending streak of soft tissue injuries between 2014 and 2018, Freeman expressed to the Unpluggered Podcast that his feelings of frustration were only natural.
"My whole career was one thing after another, with the rollercoaster of emotions and frustration. There were more downs than ups, obviously," Freeman said.
"At the time, it was definitely frustrating, but I think I've moved on pretty quick.
"I guess it's just the way footy is, it's pretty brutal. For every Joel Selwood that wins flags from day one, there's (somebody like) myself who has gone as a high draft pick and never got on the park or had a real crack at it."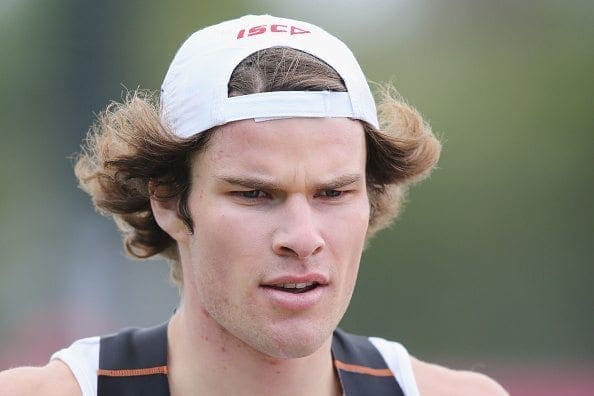 While Freeman's days as a Magpie would close without ever donning the club's famous black and white stripes, the precocious junior stressed that a shift from Olympic Park was far from the first thought on his mind.
"I would have liked to have stayed at Collingwood. They drafted me, and you want to stick it out and give back to the team that took a punt on you," he delineated.
"I didn't want to speak to any other team before the end of my second year at the Pies because I wanted to stay and hopefully get a bit more of a secure contract.
"It was only two years that we were looking for. Some other teams got involved and asked the question."
Though debuting in front of the Magpie Army would ultimately remain out of reach, Freeman was afforded the opportunity to live out a fantasy as the second chapter of his career began, as - for the princely sum of a future second-round selection - Freeman joined his boyhood club, St Kilda.
"I grew up in Dingley, which is 5-10 minutes from Moorabbin, I grew up as a Saints supporter," Freeman said.
"I went and toured the facilities at Seaford, and Dave Armitage was there, so it sort of just felt right at the time."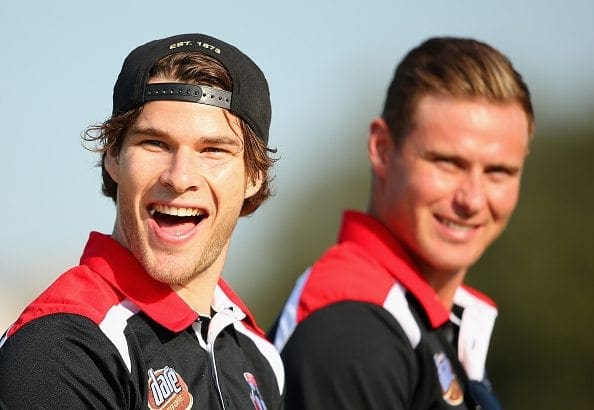 Still, as the trite idiom has long suggested, the grass isn't always greener on the other side, just as a cure to sustained tendon woes may not lie on the other side of town.
"When I arrived (at Moorabbin), I was coming off a year out with hamstring surgery," Freeman stated.
"We felt (St Kilda's medical staff) that the first year was going to be [me] back finding my feet again.
"I was coming off, ultimately, two and a half years out of playing football."
Differing weight programs and altered running patterns were employed by a collective comprised of Marcus Krygger (rehab coordinator), Andrew Wallis and Richard Citreon (physiotherapists).
Yet, at the cessation of 2016 - his third season in the AFL system - Freeman claimed he was both "out of touch and out of form."
Though the Saints had opted for the 'softly-softly' process, Freeman's 2016 came to a close after just a handful of development appearances to his name - a hard fact that Krygger and company worked overtime to soothe.
"I had times where I hurt myself and thought 'I'll never get any better' and then four weeks later, I'm back out on the track, I'm flying, and it's a thing of the past," Freeman added.
No stranger to adversity, NATHAN FREEMAN fought through injury after injury to make his AFL debut five years after being drafted as a Top-10 draft talent.

LISTEN:
🔴 https://t.co/90R4bvNzgi
⚪ https://t.co/7EQEZIooUU
⚫ https://t.co/SCI0m6F9OT#Unpluggered #TogetherWeRise pic.twitter.com/tWhFfaXqkT

— Unpluggered Podcast 🔴⚪⚫ (@unpluggered) August 10, 2022
"Sometimes it might not feel like you're actually improving or getting any better, but they've got the hard data and the graphs to bring out and show you that 'hey, you're actually a lot further along than what you (think) you are'."
As has become a league-wide custom, Freeman and Wallis even made the trek to Germany to rehab under the 'healing hans' of vaunted orthopedist, Hans-Wilhelm Müller-Wohlfahrt.
"He (Müller-Wohlfahrt) has his techniques and his physios and his chiros and his whole set-up in Munich," the ex-midfielder said of the soft-tissue savant.
"We went over there, but we missed out on Oktoberfest by about a week. All of the setups were still there, but there were no beers to be drunk... not that that's what we went there for."
But few miracles were worked, with Freeman's 2017 season becoming a blur before more surgery snapped him out of a familiar funk the season after.
Still yet to debut, Freeman expressed that opting to keep an eye on the bright side of life proved to be a vital antidote as the finish line kept creeping off the horizon.
"I was the most talked about zero-game player for a couple of years," Freeman said with a chuckle.
"At the start, you do get a little bit annoyed, but then the more time you spend in the system, you understand the media and you understand the fans and all of that sort of stuff that comes into it.
"I would have deleted social media apps and redownloaded them a million times over those five or six years."
Freeman, now a member of Paul Connors' player-management stable, also paid praise to family, friends and teammates for keeping him upbeat.
"As funny as it sounds, my best way of coping with it was humour," he claimed.
"I went through the path of just being so down and being a bit of a sook at times, to 'it is what it is', I'd get back on the horse pretty quickly, especially towards the end."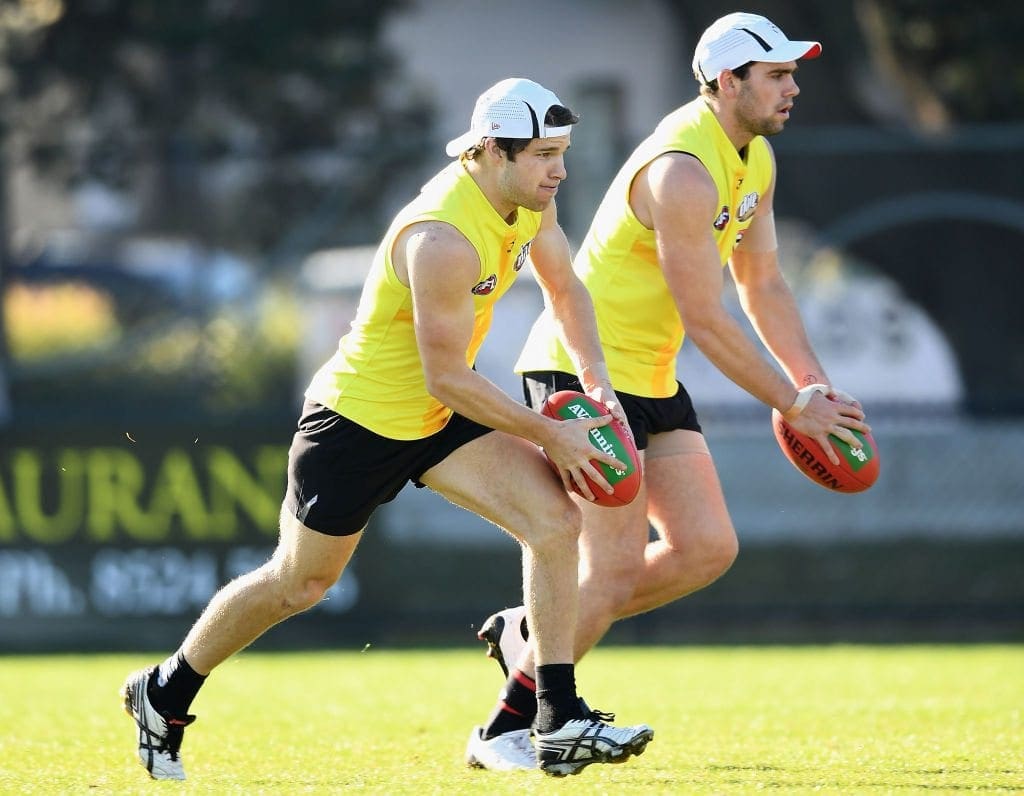 As anyone who has ever paced through a theme park, every wild ride has a peak.
And although Freeman's ride through the AFL system had become infuriatingly stalled, the Bayside boy hit the heights in Round 20 of the 2018 season, finally breaking through for an emotional debut with the men from Moorabbin.
But while 19 touches - and fourteen plus a goal, the following week - acted as poetic punctuation for a career spent chasing the dream, that dream remained short-lived, with the Saints delisting the once-dynamic ball-winner in his belated prime.
With just the pair of AFL games to his name by the time the sun had set, Freeman says there is a contentedness in his ability to finally break through.
"Everyone was just rooting for me to get a game. It was at the point that if I got on the park and contributed at AFL level, it was going to be a bonus," he reminisced.
"If I was going to play, I would be so happy for myself, but also my family, my mates, and the fans who would send me messages on Instagram.
"Towards the end, as much as I wanted to play and to prove it to myself, it was almost like I wanted to do it for the people that believed in me and supported me. When I did play those two games, it was a relief. It was a bit of a good-feel story."
However, the off-field mover and shaker stressed that he still had more to give, whether the Saints wanted it or not.
"I probably knew I was 50-50 (to be retained), but it was a bit shattering because I felt like I got my body right," Freeman added.
"The player I was when I finished, that was still AFL standard.
"There was a little bit of interest from other clubs when I did finish at the Saints, but the view was that I needed to go back and play a full season in the VFL, show up, get through a full season and be durable.
"I would have liked to have gone on one more year to see what I could have done with having AFL experience, going into a pre-season and being fully fit for once in my life, but that's just the way it goes."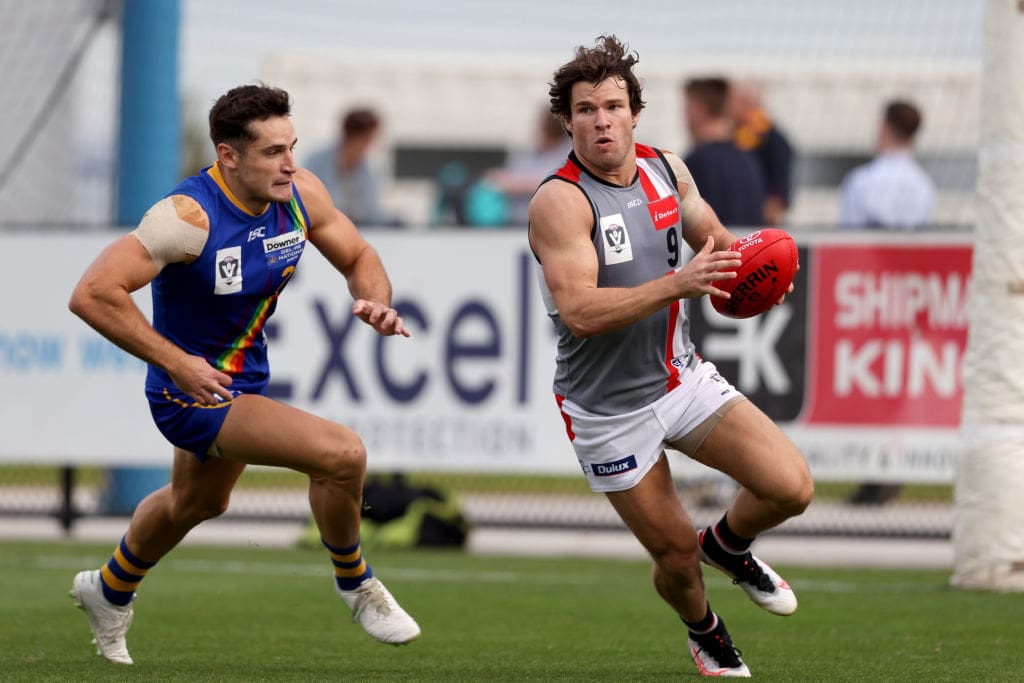 With this lingering taste still present, Freeman trialled as a Sun ahead of the season in an effort to push his back for one final winter, yet after James Tsitas was pulled north from the SANFL instead, the Victorian crossed the continent for a crack with Adelaide's state league side.
But just as all rides eventually end, each route proved fruitless for one of football's most fervent journeymen.
Though the ticker tape never rained, and the corks remained intact, few footballers can claim to have weathered the wreathes and rambles hammered upon Nathan Freeman, the challenge now lies in stepping off the rollercoaster and regaining some semblance of balance.
Catch the full Nathan Freeman interview on Unpluggered Podcast on Spotify and Apple Podcasts.