As more than 60,000 sets of feet trudged overhead, a line of aching premiers made their way down the race and out of the September running.
Over their shoulders, the umpteenth run of a bastardised La Marseillaise played them off, the soaring vocals replaced by the crunch of studs on concrete.
This solemn march was soon interrupted by the heckles of a bare-faced vendor.
'Nice game, boys,' the teenager called, carting slabs of soft drink around the ground's bowels ahead of another cut-throat fixture scheduled for the following night.
The backhander was met with a bearded scowl but no return of serve.
Even if Max Gawn had a snappy retort to offer, there was no way he could. Neither could those on his heels. They had all run out of puff.
After leading their do-or-die semi-final against Brisbane by as many as 28 points during time-on of the second quarter, Melbourne fell in a heap, conceding 70 points in the second half and handing back their crown without protest.
Not since Hawthorn in 2016 had a reigning premier been bundled out in straight sets. Still, those Hawks of yesteryear had already showed they could back up their efforts, and then go again.
As the victorious Lions roared down the hall, the vanquished Demons sipped silently on Furphy stubbies, wrapped by groups of friends and family. Although Sunday would sting as the group, to a man, ran the rule over yet another fade out, the promise of a Monday at the drip tray offered some balm for the burn.
Wedged between the celebrations and the sombreness, Simon Goodwin sat down without huff, admitting that like cracks in a dam wall, his Demons had shown clear weaknesses.
Weaknesses that were exploited at will.
For Goodwin, it was a bad loss at the worst time, but it wasn't one that had come completely out of the blue.
"In finals, your vulnerabilities come out in games," Goodwin expressed in his post-game press conference. "And we've had some throughout the second half of the year.
"Your vulnerabilities find you … they find you in big games when it matters. If they're not corrected, they'll keep finding you."
It hadn't always been this way, though.
If a week is a long time in football, then four months must be an eternity.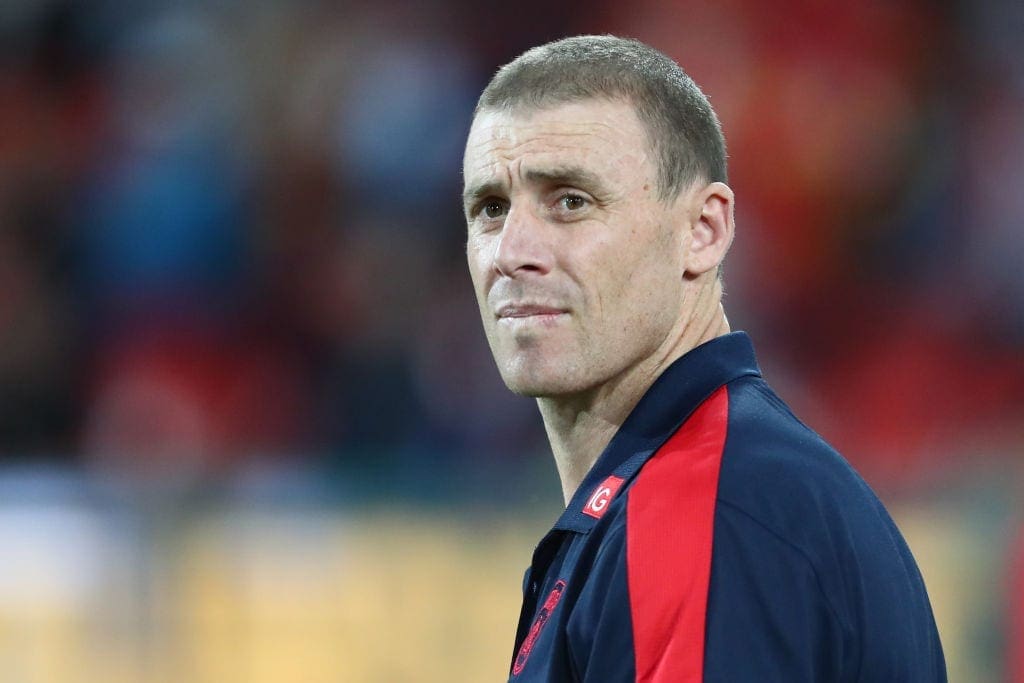 For the first 10 weeks of the 2022 season, Melbourne had taken all before them, picking up exactly where they left off the year prior. The game's talking heads saw no chinks in their armour; no vulnerabilities on the ground or off it.
None in their collective mind, either.
But as data from a black box will always tell, there is a catalyst for every crash. There is always a reason why things have come off course. The first signs of a deviation from thoughts of successive flags to the cold, hard truth of a straight-sets exit came well in advance of the September action.
Predictably, this turning point can be traced back to Melbourne's frailest line.
The catalyst

Steam was pouring off Max Gawn's shaved head. It was an apt sight on a groundbreaking day under the Docklands roof. Just like their skipper, the Demons were hotter than hell.
Having just knocked off a spirited Kangaroos side destined for their second successive wooden spoon, Melbourne, or Naarm on this day, had equalled the record set by Norm Smith's Demons of 1955, winning their first 10 games of the year on the bounce.
Up high in the Fox Footy commentary box, former Saint Nick Riewoldt riffed on the competition's benchmark.
"They are a cut above," the legendary forward said of Goodwin's men. "Even when the game got tight today, you never really got any sense of panic from this Melbourne group."
Riewoldt then turned to his crewmate, Jason Dunstall, another offensive engineer familiar with how a well-oiled machine should run.
"You spoke about the gears they possess, Jase, and we saw them utilise them all today," Riewoldt prompted, before handing the microphone to his childhood hero.
"The problem when you're facing a team like Melbourne is you look for weakness and you can't find it," Dunstall began. "Down back. Up forward. In the midfield. The game style that they play. The pressure they put on. It just makes life very difficult."
Convivial and correct in their assessment, the pair swiftly moved the conversation on, all the while ignoring the one key cog that had slipped out of place.
Hobbling below them with his boots in hand, was Tom McDonald. His foot, broken, and his season, for all intents and purposes, over.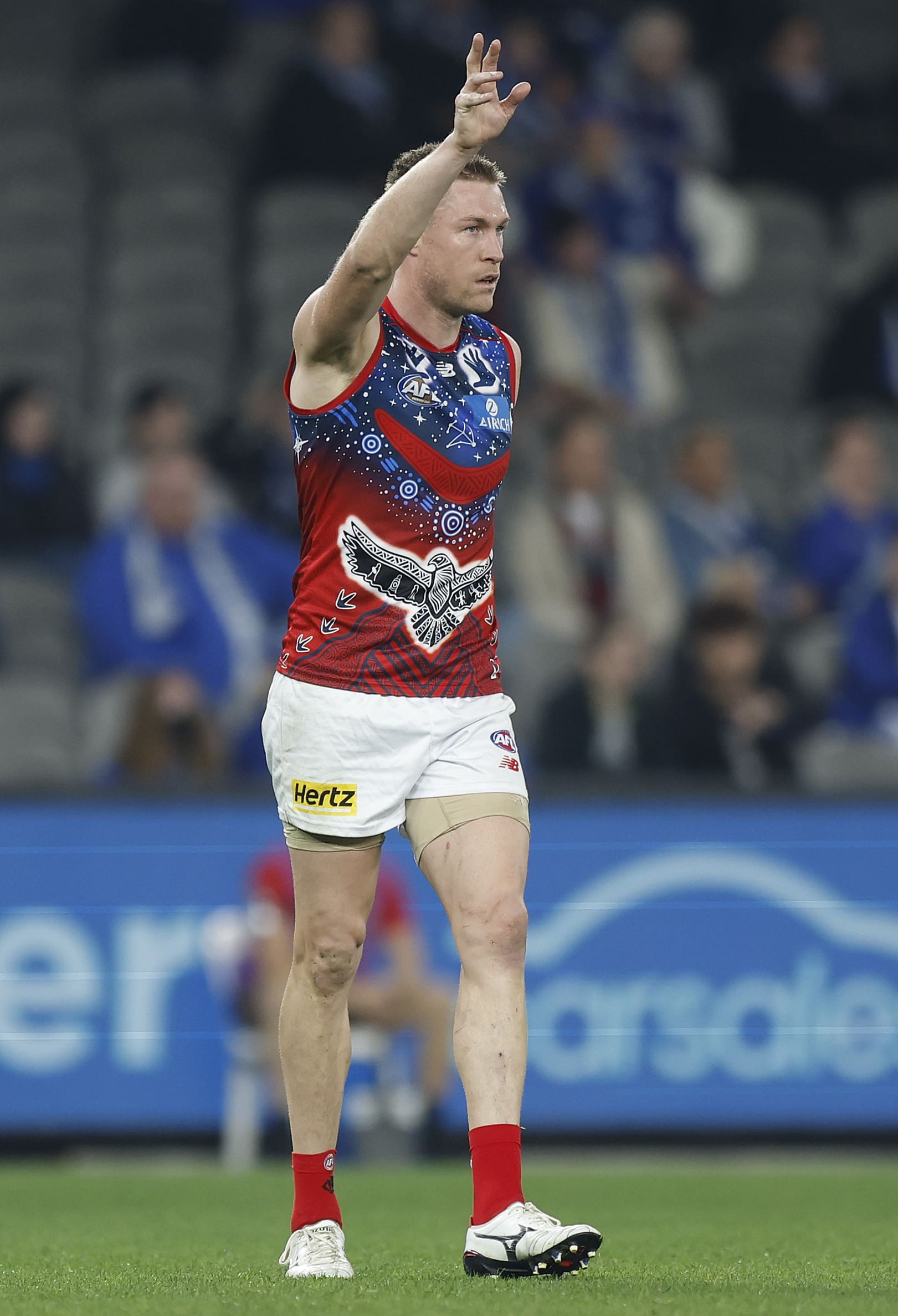 Diagnosed with a Lisfranc injury - the result of broken bones or torn ligaments in the midfoot - McDonald eventually went under the knife in early June, before bravely returning for the VFL finals with a plate and screws still sitting under his boot.
Prior to his afternoon ending early against the Roos, McDonald had been on something of a tear, slotting 11 goals in his past four outings after being dropped to the twos for Round 6, a one-week demotion that saw him slot three against Richmond's reserves at Punt Road.
From his nine starts at senior level last season, McDonald produced sound numbers up forward, proving most potent when assisting others to score and when marking inside 50, a metric in which he ranked 18th, on average, in the competition.
While his figures were far from record-breaking, in the wider context of Melbourne's machine, McDonald's cog proved integral as the season elapsed, with his void becoming discernable, and, in the end, unfillable.
The fadeout
When placed under the microscope, Melbourne's 2022 season is best viewed in two halves: the perfect period with Tom McDonald and the slippery slope without him.
Throughout this second half, it was, ironically, the Demons' second halves that caused them the most concern.
It wasn't just the individual cogs that came a cropper after Round 10, the entire machine shut down. The very same machine that only days prior had been spruiked as faultless.
Despite Melbourne's recent success, it's tough to deny that, comparatively, its forward unit is the frailest of its three lines. This isn't to say that this front six is entirely flawed, but with just one name averaging better than two goals a game for their career, and without any full-time All-Australians or Coleman medallists, Goodwin's offensive line appears just solid without sparkling.
The steel of this unit was tested without McDonald. A test that those within forward 50 ultimately failed, as they showed, time and again, an ineptitude for capping the work of their superstars further upfield.
Throughout Melbourne's 10-week winning streak, the Demons proved good for 93.8 points per game, whilst stingy enough to keep their opponents to less than 10 goals each outing. Strong goal-assist numbers were also ticked off after producing nigh-on 60 inside 50s over that stretch, with the front-six combining for an average of 10.7 marks inside 50 and more than 26 scoring shots per game.
However, after McDonald was put on ice from Round 11, the vast majority of these trademarks eroded, with wastefulness replacing efficiency almost overnight.
Put simply, in a theme that would haunt them over the summer, Melbourne created chances, they just couldn't capitalise.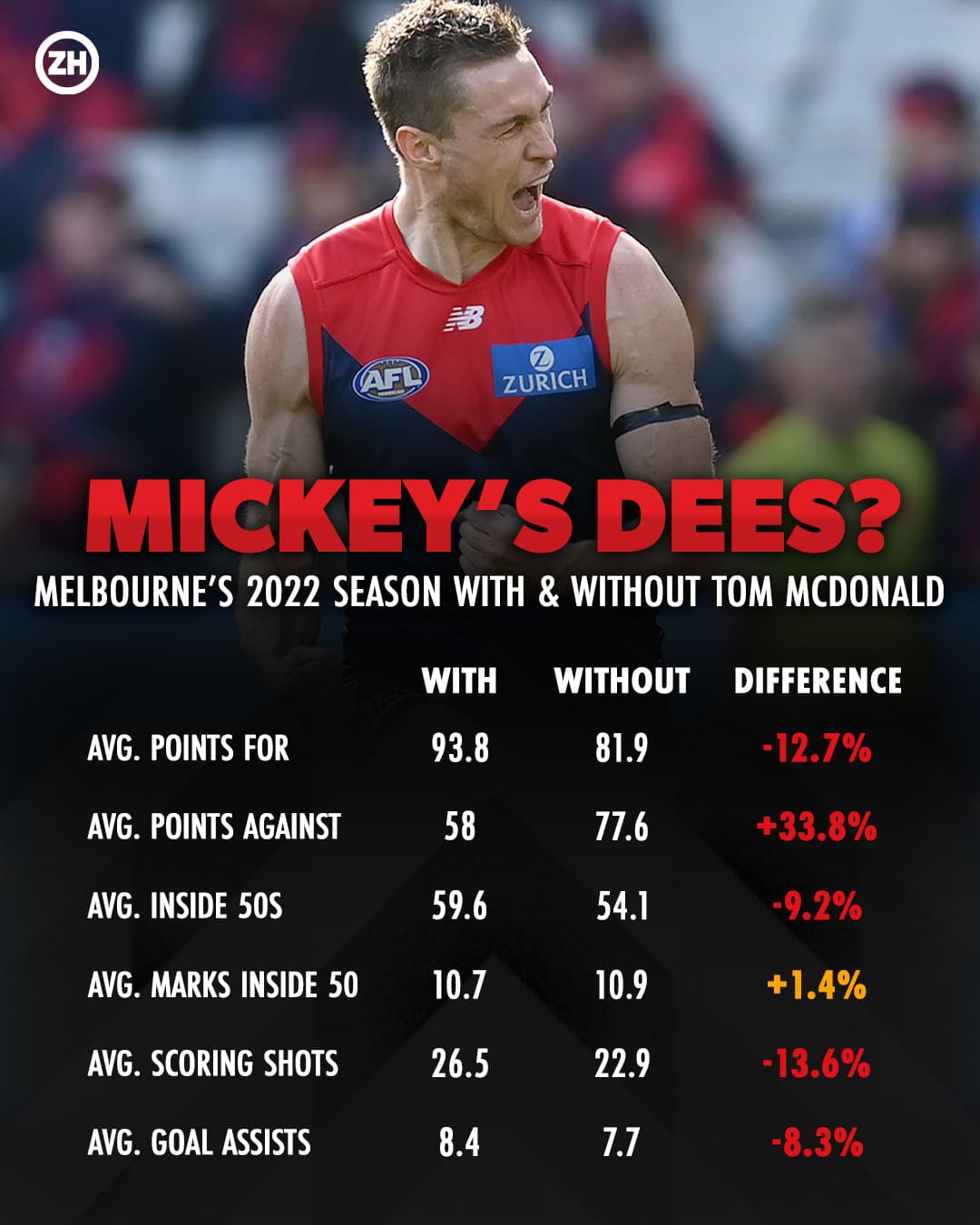 Despite producing 29 shots at goal, including the five that fell short or flew out of bounds, Melbourne finished its semi-final defeat with a final score of 79.
Routine squandering was a factor that Goodwin was content to highlight in his post-match presser. But by that stage, these missed opportunities had morphed from a twig in his shoe to a foot-long thorn in his side.
With an ability to start games brightly, Melbourne remained a threat in almost every game along the run home, including that very night against Brisbane, having entered half-time with a healthy lead of 22 points.
Yet, after their pep talks, rubdowns, and oranges slices, the Demons proved a perennial liability, fading in second halves on an almost weekly basis.
Following their win over North Melbourne, Goodwin's side led at half-time in 11 of their remaining 14 fixtures, eventually losing five of them before bowing out earlier than expected.
Whether it was complacency, fitness, or missing personnel that was the root cause of these fadeouts, the numbers paint a stark picture, as Melbourne conceded an average of 45.1 points after the main break whilst putting up just 29 of their own in return - a total differential of more than 36 goals over the period.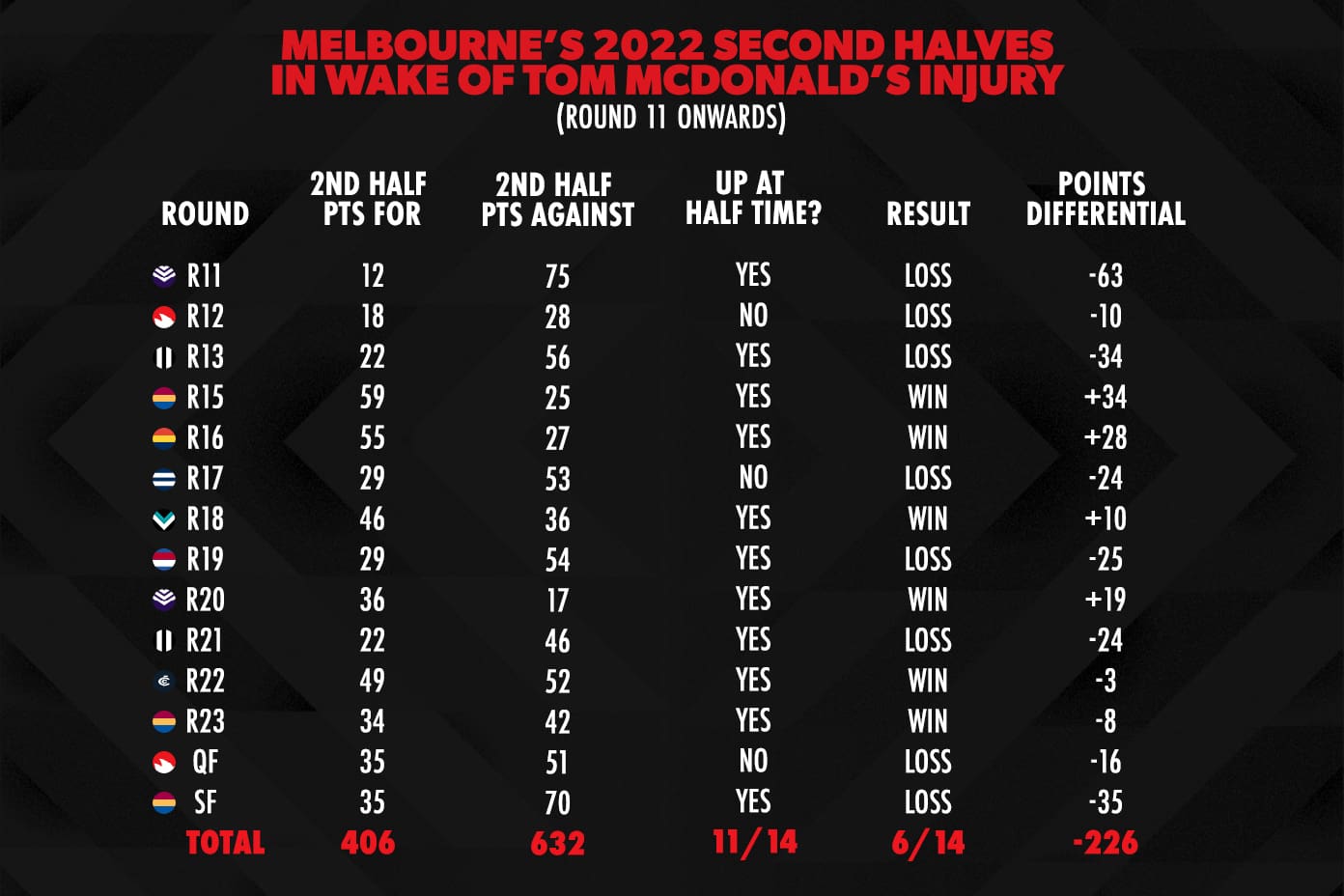 In the past, punters and pundits alike have been quick to point to the loss of a significant player as the real stage at which a team's premiership dreams had been dashed.
But when McDonald went down last May, his injury didn't even rate a mention in the broadcast team's wash-up.
Understated to the point of going unsaid, McDonald's absence not only saw his side spiral on the path back to September, it had a noticeable impact on several of his teammates, not least the yin to his yang up forward.
The victims

If the maxim 'you are what you eat' were true, Melbourne's key forward pairing would sit at opposite ends of the supermarket.
A flat-out carnivore and a devout vegan; a right-wing think tanker and a staunch climate change activist. On the surface, Tom McDonald and Ben Brown share very little in common.
Still, when standing side by side, the Demons' odd couple has paired to create the most underrated strike force in the competition.
In the duo's 17-game combination since 2021, the Demons have constructed a 15-1-1 record with an average winning margin of 39.7 points - 6.2 points better than Melbourne's actual average winning margin (33.5 points) over the last two seasons.
Across their six games together in 2022, the Redlegs ran undefeated, with Brown and McDonald combining for 26.13 in front of goal - 31.3 per cent of Melbourne's total majors for the period.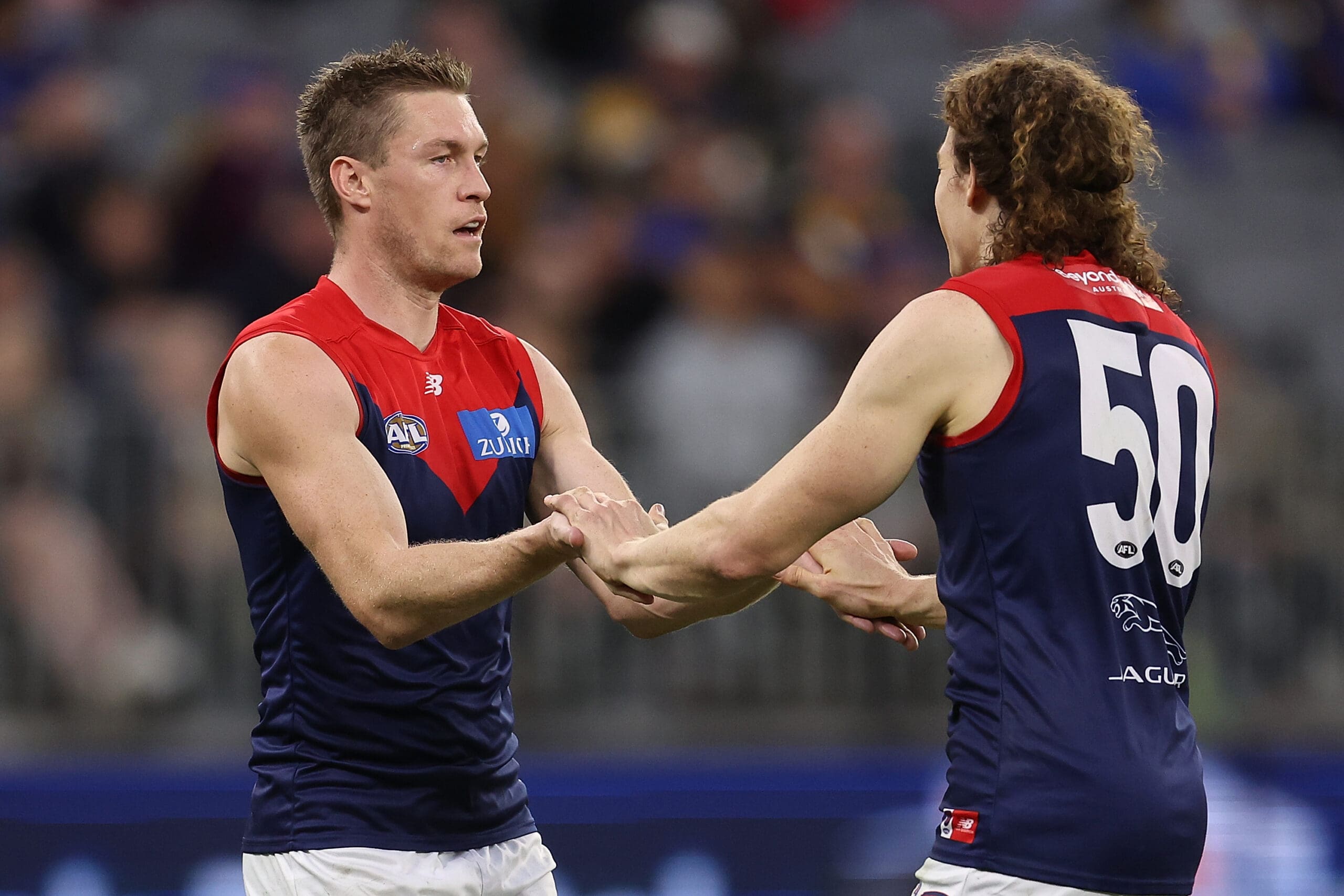 Brown averaged 2.1 goals during this condensed, but happy, stretch, however, when playing without the prime rib to his steamed veggies, Brown's mean goals per game dropped to just 1.25 across his last 12 appearances.
Predictably, without McDonald beside him from late May, Brown found the ball inside 50 more often, taking 1.9 marks within the forward third, up from 1.6 prior to Round 11.
And while the set-shot specialist has never been noted for his goal assist numbers, Brown expectedly wound his assists back from one every three-and-a-half games to one in four, despite also seeing his scoring shots fall from 3.1 each week to 2.25 after McDonald went under the knife.
| | | | |
| --- | --- | --- | --- |
| | Brown with McDonald | Brown without McDonald  | Variance (%) |
| Goals Per Game | 2.1 | 1.25 | -40. 5 |
| Scoring Shots | 3.1 | 2.25 | -27.4 |
| Goalless Games | 1 | 3 | +200 |
| Percentage of Shots as Goals | 68.2 | 55.55 | -18.5 |
| Marks Inside 50 | 1.6 | 1.9 | +18.7 |
| Goal Assists | 0.3 | 0.25 | -16.7 |
This statistical wind back continued to prove a trend for Brown last year, with the former mop-top seeing further slides in offensive scoring metrics, including his percentage of scores as majors and his number of silent nights before goal.
RELATED: Demons' forward unrecognisable after charity chop
However, the most noticeable tumbles came elsewhere on the stats sheet, with Brown diving from the league's 17th-ranked player for goals per game in 2021 to 41st in 2022, and from 13th for marks inside 50 to 30th between seasons.
When Brown and McDonald are together, the Demons are undeniable. But, divided, the final result is far from set in stone.
| | | | |
| --- | --- | --- | --- |
| | Brown: 2021 |  Brown: 2022 | Variance (%) |
| Goals Per Game | 1.9 | 1.6 | -15.8 |
| Scoring Shots | 2.9 | 2.6 | -10.3 |
| Goalless Games | 2 | 4 | +100 |
| Percentage of Scores as Goals | 65.8 | 61.2 | -7 |
| Marks Inside 50 | 2.5 | 1.8 | -28 |
| Goal Assists | 0.31 | 0.26 | -16.1 |
Some may question the overall importance of McDonald's impact on Melbourne's fortunes, but the fact remains that as soon as the curtains closed on his season, the Demons took an almost instant dive.
In the three weeks after McDonald limped out of Marvel Stadium, Melbourne stumbled to the bye with an 0-3 record, dropping successive fixtures against the Dockers, Swans, and Magpies on their home deck.
Throughout the nosedive, Brown split the big sticks just twice, going goalless against Fremantle in the wet, and Sydney under lights. While the Tasmanian's form clearly suffered as on-the-fly adjustments were made in vain, he was far from alone in this regard.
With Melbourne's last three goalkicking gongs taking pride of place on his mantle, Bayley Fritsch may act as the understated member of Melbourne's offensive trio, but the mature-aged selection has also been its sharpest tool.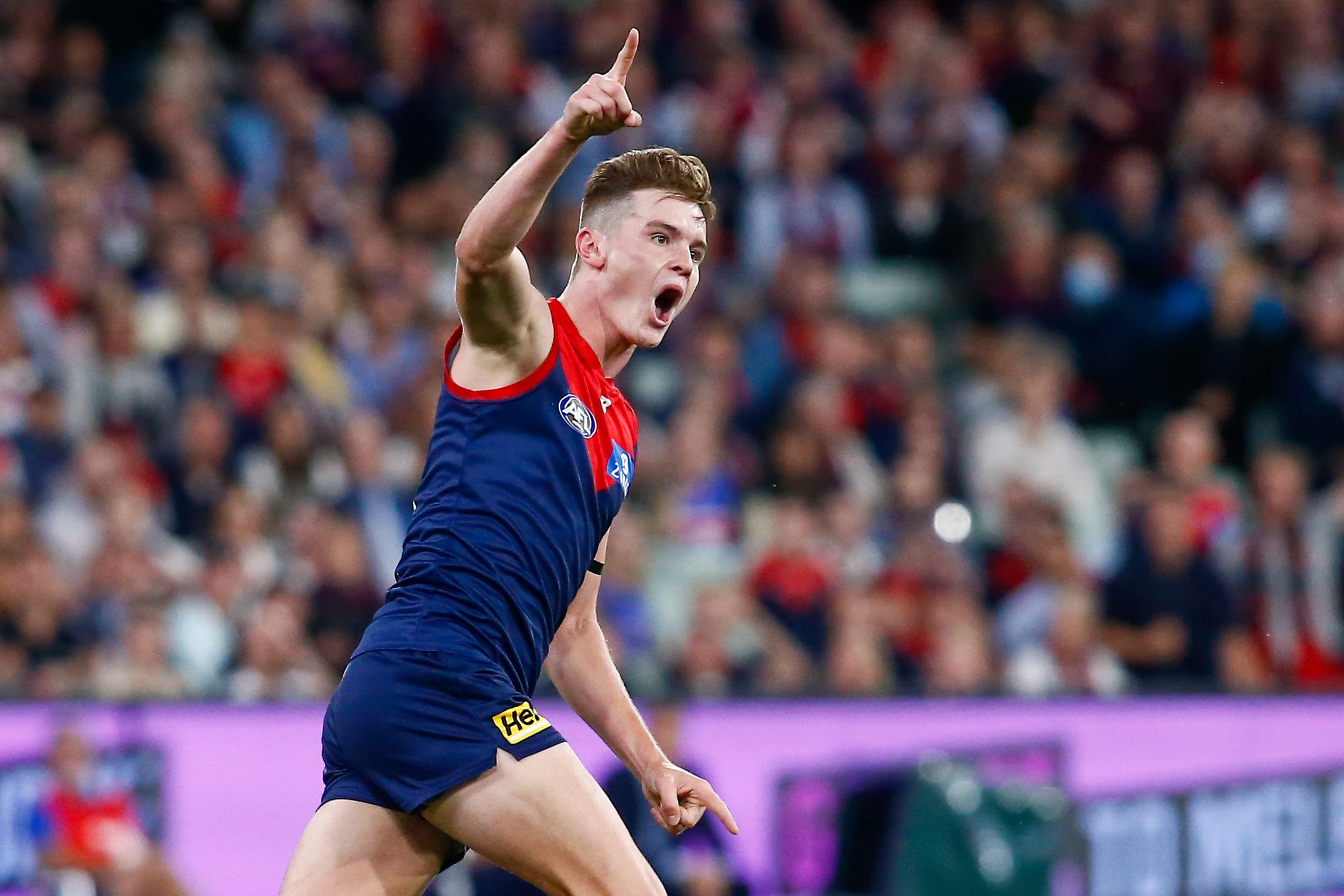 Over the course of his 2021 and 2022 seasons, Fritsch created 150 scoring shots, with 104 - 69.3 per cent - resulting in goals.
While able to send an improved 71.4 per cent of his scoring shots through the big sticks last season, the Coldstream product's goals per game average dipped from 2.46 to 2.29 between 2021 and 2022, seeing him slide from 7th in league rankings down to 13th.
During McDonald's couch-bound stretch, Fritsch remained stable for marks inside 50 and predictably down on goal assists. Nevertheless, he produced a minor upturn in his goals per game column, averaging 2.35 majors over his final 14 appearances, up from the 2.2 seen in his opening 10 games of the season.
Yet, as history shows, Melbourne's most potent forward couldn't eat a large enough share of McDonald's workload, even if Fritsch's radar was fine-tuned on the way to the finals.
| | | | |
| --- | --- | --- | --- |
| | Fritsch: Rounds 1 to 10 | Fritsch: Round 11 to Semi-Final | Variance (%) |
| Goals Per Game | 2.2 | 2.35 | +6.8 |
| Goal Assists | 0.9 | 0.5 | -44.4 |
| Marks Inside 50 | 2.0 | 2.0 | 0 |
| Percentage of Scores as Goals | 68.75 | 73.33 | +6.6 |
Others felt McDonald's absence more keenly than Brown and Frtisch, most notably a pair of barometers found higher up the ground.
Playing in all 25 of Melbourne's fixtures throughout their premiership year before backing it up with 23 of 24 last season, Alex Neal-Bullen has become a spiritual leader inside the Demons' locker room, and a key fixture on Goodwin's teamsheet.
But as 2021's ticker tape gave way to the solemn silence of last September, the pressure forward known fondly as 'Nibbler' found himself another victim of a statistical slide.
Though Neal-Bullen's numbers took a knock right across the board, it was his plummet from the game's most dangerous tackler inside forward 50 to his current league ranking of 57th that will have left the sourest taste in his mouth over the summer.
And while the South Australian may have created more scoring shots and assists during the Demons' reign as premiers, his raw output of 9.17 before goal paints a picture of pure frustration.
| | | | |
| --- | --- | --- | --- |
| | Neal-Bullen: 2021 | Neal-Bullen: 2022 | Variance (%) |
| Goals Per Game | 0.6 | 0.4 | -33.3 |
| Scoring Shots | 0.1 | 1.1 | +10 |
| Percentage of Scores as Goals | 57.7 | 34.6 | -40 |
| Goal Assists | 0.6 | 0.7 | +16.7 |
| Inside 50s | 4 | 3.6 | -10 |
| Tackles Inside 50 | 1.7 | 0.8 | -52.9 |
After the plug was pulled on McDonald's season, Neal-Bullen kept in step with Fritsch, opting to face goal more often in an attempt to keep the good times rolling. Yet - unlike Fritsch - Neal-Bullen's waywardness proved the tell between the imitation and the genuine article.
Neal-Bullen also deviated from his trademarks across this 14-game stretch, shifting away from his defensive moxie and altruistic assist game, in an effort to keep the scoreboard ticking.
Not only was his 'one-wood' tossed, but it was also snapped and left at the 11th tee, an unwanted passenger for the sprint to the clubhouse.
Though creating slack in the front half, it was eventually picked up by others, with Kysaiah Pickett coming into his own as a two-way forward, averaging 1.07 tackles inside 50 and 1.93 goals a game from Round 11 onward.
However, with Pickett spending a sizable portion of this pre-season playing in the guts, as well as being no certainty of calling Melbourne home beyond the end of the year, the near future for both smalls still appears murky.
| | | | |
| --- | --- | --- | --- |
| | Neal-Bullen with McDonald | Neal-Bullen without McDonald | Variance (%) |
| Goals Per Game | 0.25 | 0.5 | +100 |
| Scoring Shots | 0.9 | 1.2 | +33.3 |
| Percentage of Scores as Goals | 28.6 | 41.2 | +44.1 |
| Goal Assists | 1.5 | 0.3 | -80 |
| Inside 50s | 4 | 3.4 | -15 |
| Tackles Inside 50 | 0.9 | 0.8 | -11.1 |
Ambiguity and downturns weren't reserved solely for Goodwin's role players last season. Even the cream of his crop felt the pinch as autumn turned to winter.
As the owner of a hefty seven-year deal and more than 120,000 TikTok followers, Christian Petracca is one of the AFL's most conspicuous stars. Wildly threatening with and without the ball, and up for the challenge when the pressure is on, it's little wonder why the 27-year-old already has three All-Australian blazers in his closet, and a Norm Smith Medal to his name.
Still, if you dig beneath the surface, past the accolades, and onto the stats sheet, no Demon missed McDonald more than Cash Converters' most recognisable customer.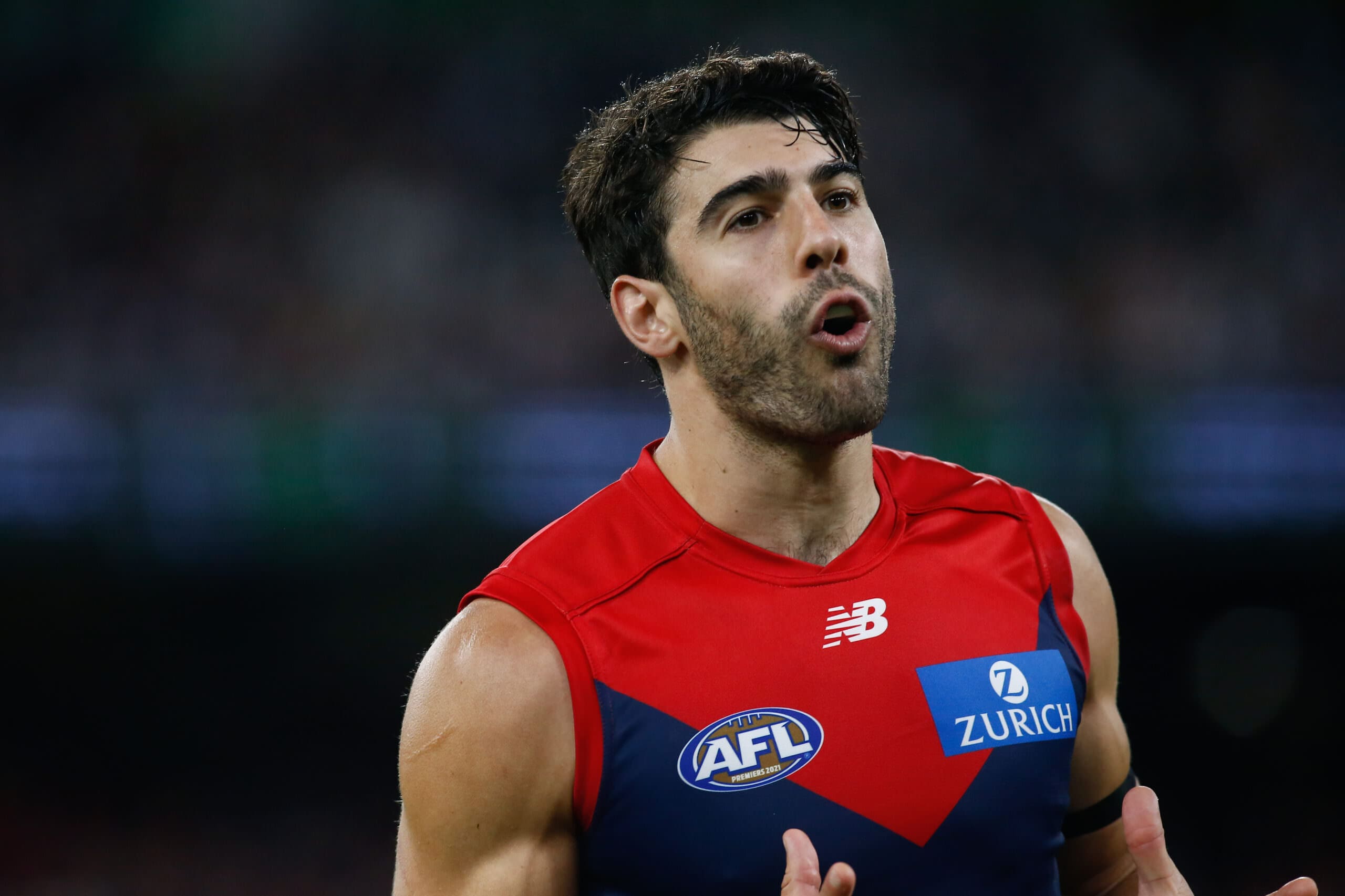 Following Melbourne's Round 10 win, Petracca became the most high-profile, yet rarely mentioned, victim of the McDonald void, with the superstar seeing a decline in almost every offensive metric.
In keeping with those around him, Petracca's goal-assist average dropped from Round 11. However, the hybrid threat's radar also failed him when needed most, seeing a downturn in his goals per game and scoring shot means, all despite seeing a spike in his completion rate from scoring shots.
Still, with this spike showing up from a singular goal added across four extra starts, the upturn isn't worth popping corks over.
| | | | |
| --- | --- | --- | --- |
| | Petracca: Rounds 1 to 10  | Petracca: Round 11 to Semi-Final | Variance (%) |
| Goals Per Game | 0.9 | 0.7 | -22.2 |
| Scoring Shots | 2.6 | 1.7 | -34.6 |
| Percentage of Scores as Goals | 34.6 | 41.7 | +20.5 |
| Goal Assists | 1.4 | 1 | -28.6 |
Despite completing five of his seven seasons with a greater number of goals than behinds, and a career tally of 142.118 from 151 appearances, Petracca entered a tailspin before the big sticks last season, registering 19.31 and finishing with more behinds than goals in 13 of 24 starts.
Petracca's ability to impact the scoreboard has stood him apart from many of the greatest midfielders of the modern era. It also saw him earn his second All-Australian blazer after being named as a half-forward in 2021.
But while clearance grunt and social media recipe-sharing have become hallmarks of the Petracca brand, so have spurned scoring opportunities.
In the five-season window between 2018 and 2022 - the same window that Melbourne has largely proven a premiership threat - Petracca created a total of 205 scoring shots, 101 of which registered behinds.
Though Petracca still sat ahead of parity with 104 goals inside the frame, Melbourne's most marketable player also proved one of its most inaccurate, as Petracca became one of just 15 players to score a century of behinds over the stretch, the most of any non-pure forward in the competition.
Once a flip of the coin chance when shooting for goal, Petracca's near-even odds evaporated last season, with just 38 per cent of his shots to register a score resulting in goals.
In addition, the one-time club goalkicking champion went goalless on 12 occasions, with five arising in critical losses for the reigning premiers. Remember, the Dees dropped just six games prior to their straight-sets exit.
Beloved within Melbourne's locker room, lauded by fans, and nightmare fuel for his opponents, even without back-to-back flags, Petracca's place in the game's contemporary pantheon seems set in stone.
But break out the bolster, though, and the numbers suggest the clearance king should be seen as football's equivalent of a Rorschach test when playing forward of the ball: an incomplete picture still up for interpretation.
Practice, they say, makes perfect, and with the wayward bull hinting that he would be spending more time forward this season, plenty of chances to shoot straight or dish off will soon be afforded. The early signs appear ominous, with Petracca finding his radar against the Saints last month, slotting three in a dialled-up scratch match.
Distance is no issue for Christian Petracca 😯 pic.twitter.com/Z9ESzdg3ch

— AFL (@AFL) February 24, 2023
Petracca showed further growth in this area against Richmond last week, passing up scoring chances in order to create shots for others, even when facing goal and within range. While his goal on the run in the final term was the maraschino on top of a spectacular afternoon, it was his three assists that will earn him higher internal praise.
But while Petracca has a tailored fix available for his individual problem, is there a fix-all available for the club that faded out together?
Those quick hands 🙌

Full Petracca Highlights 🎥 | https://t.co/oVJmigq4KR
All the Goals 🎥 | https://t.co/JR5qWib9Ik pic.twitter.com/tZR9j9sKX2

— Melbourne Demons (@melbournefc) March 5, 2023
The amendments
If one player's absence was enough to create a chasm between Melbourne's best and its worst, then the return of said player should be enough to right the ship.
Right?
Whether McDonald's comeback will alone be enough to spur the Dees back to the summit is highly unlikely, so as good groups tend to do, Goodwin and his coaching team have made an array of tweaks, tune-ups, and additions to make sure Melbourne's forwards are primed for the marathon ahead.
The Redlegs' most noticeable amendments ahead of the ball, as well as their aces up the sleeve, are as follows:
Jacob van Rooyen's stellar first year as an apprentice now means that Melbourne has genuine cover should one of their aging talls go down at any stage. The 19-year-old's debut season may have been spent entirely at VFL level, but with an average of two goals a game across 18 starts, it was enough to see him take Sam Weideman's role as the third-string tall over the off-season. While playing muted minutes in the Demons' first practice game and clocking a DNP in the second is proof enough that van Rooyen will be made to wait for a senior debut, having a hungry and able understudy is an upgrade on this stage last season.
The arrival of Lachie Hunter from the Kennel will give Melbourne's forwards improved service, with the premiership Pup set to join Ed Langdon on a wing this season. While only featuring in 10 games for the Dogs in 2022, Hunter produced an average of 3.6 inside 50s each week, going at a disposal efficiency of 75.9 per cent. For context, Melbourne's main conduits, Tom Sparrow (3.1 inside 50s and 74.4% disposal efficiency), Charlie Spargo (2.8 and 71.3%) and Langdon (2.8 and 69.1%) all ranked behind the 28-year-old last season. With the Demons parting with a proverbial packet of chips - a future third-rounder - to land him, Hunter could well prove the bargain buy of the year.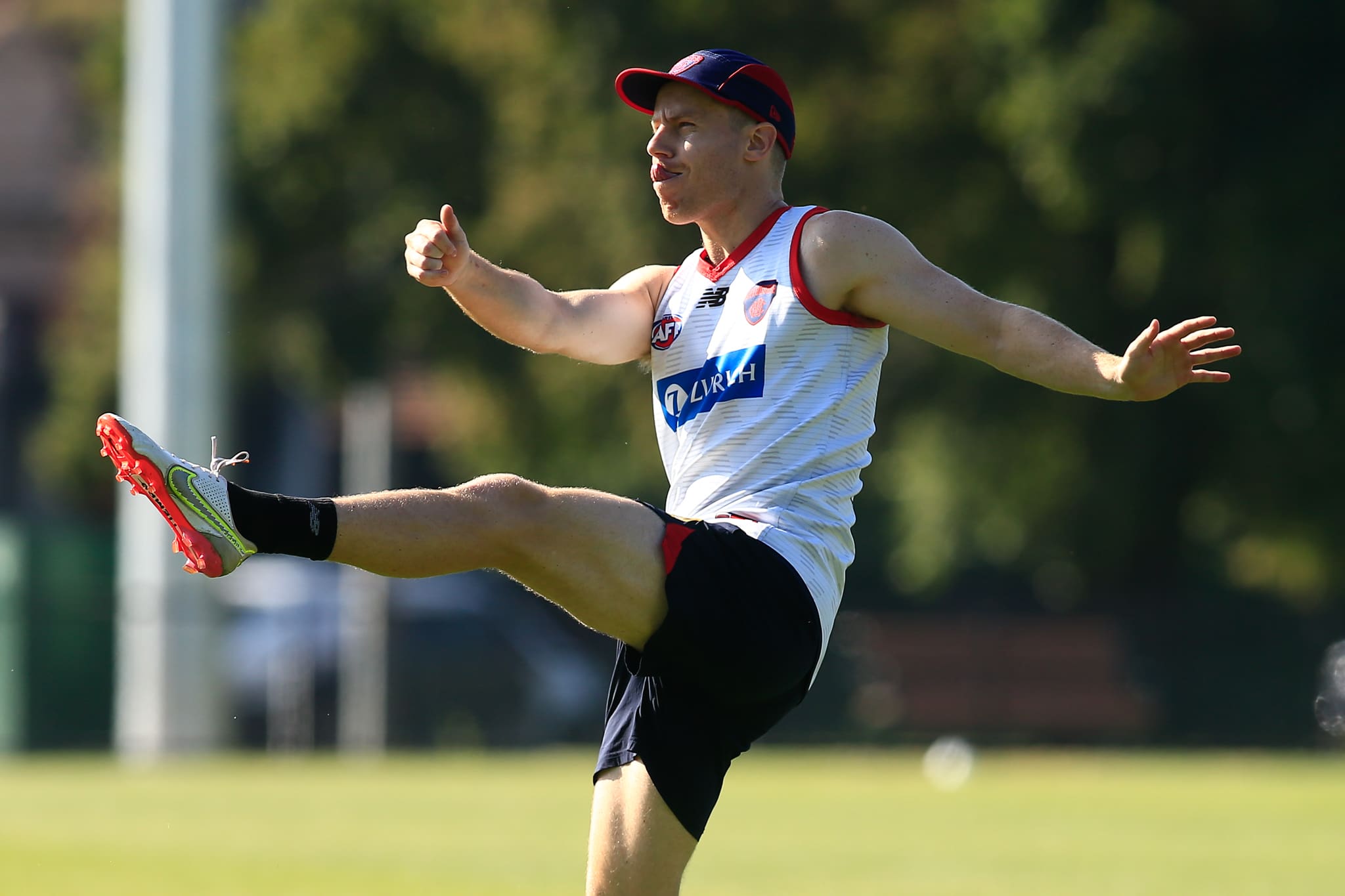 Another Dog-turned-Demon, Josh Schache, adds to a trifecta of depth charts, with the former first-round draftee adept as a tall forward, intercept defender, and a pinch-hitting ruckman. Although hardly hailed since joining Melbourne at the trade deadline, if the injury bug hits the Dees hard, Schache could play a key role if and when push comes to shove.
After meshing spectacularly in their final pre-season hitout, Melbourne's 'Tap Brothers' are the talk of the town. Though the arrival of Brodie Grundy has obviously steadied the Demons' ruck stocks in the wake of Luke Jackson's departure, it has the dual benefit of buoying their plans forward of the ball, with a key defender now needed to mind Max Gawn or Grundy when either All-Australian is inside 50.
Finals heartbreak can often leave fans missing the forest for the trees, but with Gawn also spending time behind the ball in the pre-season, the possibility of seeing Harrison Petty's second chapter as a swingman remains live. Swung forward in the final term of Melbourne's semi-final defeat, the interceptor showed his offensive wares with a quickfire goal, assist and mark in the arc. Whether or not Goodwin and forwards coach Greg Stafford pull this rein is yet to be seen, but, albeit small, the South Australian's body of work is there.
With as many as three talls now camped inside 50 at any one time, Melbourne has added another avenue to goal, taking a leaf from the world game by employing the cross. Twice against Richmond, McDonald led to the edge of the forward flank before flicking the ball to Brown and Grundy respectively. Though the plan's success levels are yet to be seen when premiership points are up for grabs, Demon fans will be happy to see their side playing to its strengths rather than simply hitting and hoping.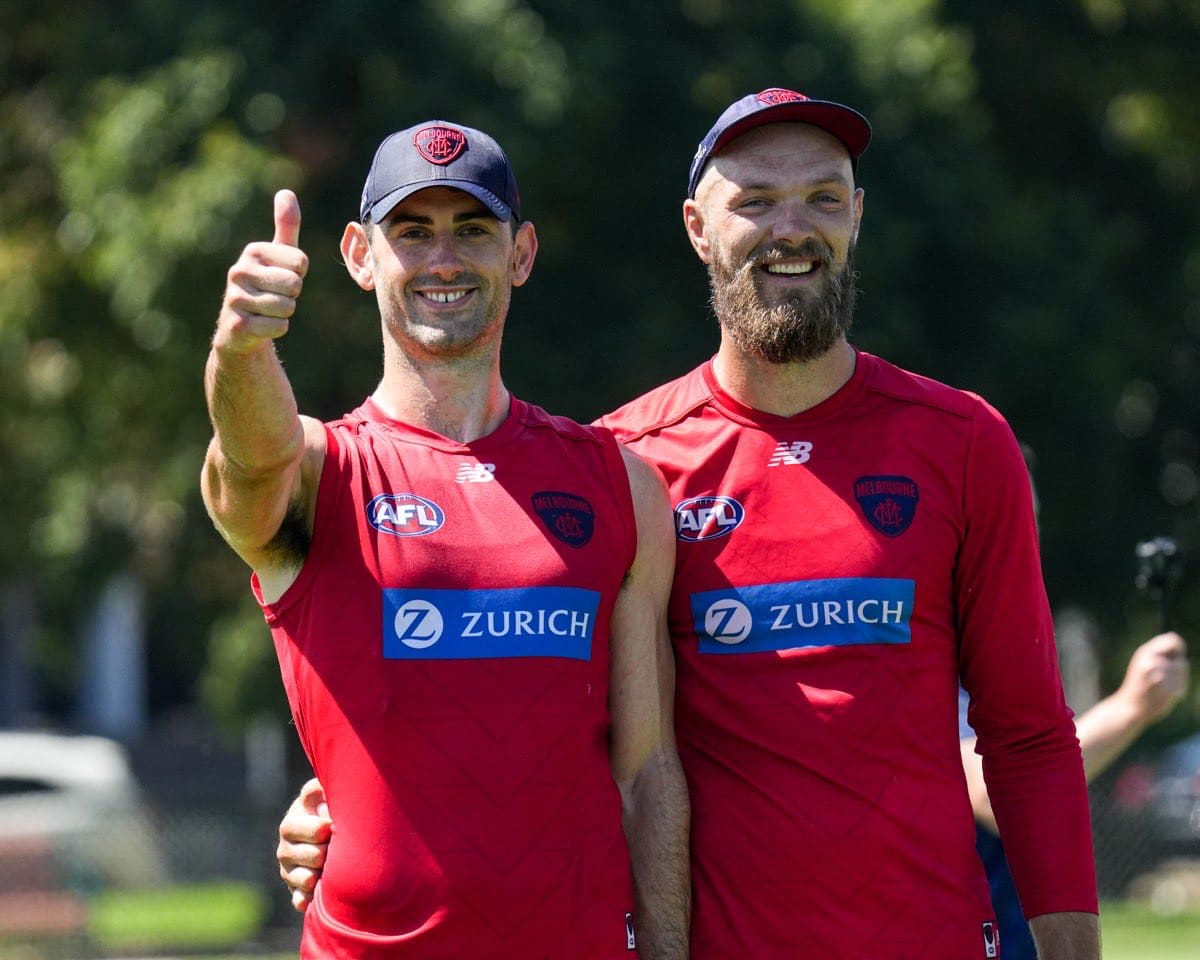 Whether keeping the game's most threatening spearheads silent or driving the ball swiftly from the centre and into the waiting arms of their own forwards, Melbourne remains one of the deadliest teams in the competition.
And with a flag already in the bank, and seven All-Australians to call on, it comes as no surprise to see the Demons sitting on the second line of premiership betting ahead of Round 1.
Goodwin's men, however, won't simply be out to return to their previous peak. Over the summer, they have re-tooled to go beyond their benchmark, bringing in fresh faces for specific purposes and honing the roles of their hungry returnees.
"This is the start for our footy club," Goodwin said in the hour after becoming the first man in 57 years to guide Melbourne to premiership glory.
"This is what we want to be."
With their vulnerabilities stared down and, hopefully, shooed away, it appears as if it won't be the end either.