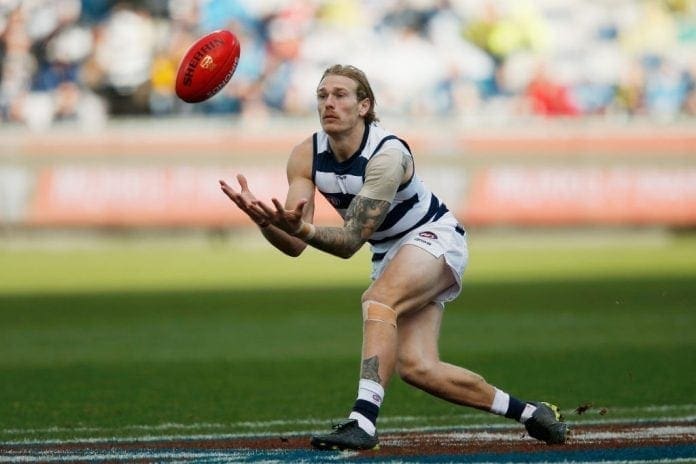 Geelong defender Tom Stewart has been revealed as the Cats' new AFLW assistant coach, along with former teammate Aaron Black.
Stewart will help shape and take control of the defensive end of the Cats inaugural women's side, meanwhile Black will work with the forward line.
The defender will spend two days a week with the girls on the training paddock, as well as majority of match days, depending on his own pre-season playing commitments.
With his third pre-season with the Cats fast approaching, Stewart told geelongcats.com.au he is looking forward to this amazing opportunity.
"It's a great initiative that we've got down here, to have an AFLW team is fantastic and it was an easy decision for me," he said.
"Over the last two years at Geelong I have been able to develop significantly as a player, and I'm looking forward to being able to develop my coaching skills over the next few months with the AFLW group."
After being recruited to Geelong due to starring for local club South Barwon under Matthew Scarlett, Stewart says he will rely on the advice and guidance from the current backline coach.
"I was just asking him then about his training regime and the sort of drills we've been doing at AFL level," Stewart said.
"As much as I can trickle down from the AFL boys I'll bring it straight to the AFLW program."
Stewart will join Black, as well as Natalie Wood (midfield coach), under the direction of senior coach Paul Hood.
Black will continue to play in the VFL for Geelong as well as combining it with a development coaching role with the young VFL defenders.
On the same day, new recruit Luke Dahlhaus was eased into his first day of pre-season training with Geelong, completing half of the session alongside the first-to-fourth year players.
Dahlhaus explained he feels fit and is ready to put in his all.
"It feels really good, my ankle's all fixed and ready to go," Dahlhaus said.
"I just need to work on the tank and get that going a bit and get back into working with the footies."
Former Swan Gary Rohan was also on the training paddock, along with Nakia Cockatoo, who is limited to stationary work after complaints of soreness to his troublesome knee.
Geelong got their first pre-season scare with Quinton Narkle limping off after tweaking his right knee but received treatment to the area and later returned to running laps.